I've had an unofficial boycott of Starwood hotels for the better part of 10 years.  I felt I was unfairly denied a wheelbarrow full of Starpoints after a lengthy stay at a Starwood property in India in 2005, and so as soon as my former employer added other chains to the "approved provider" list, I jumped ship to Hilton and didn't look back.  I don't think I've stayed at a Starwood property period since maybe 2008.  Yes, I can hold a grudge that long.
Recently, though, we needed a couple of rooms near the San Francisco airport before our flight home from California.  The Westin San Francisco Airport seemed to be the cheapest option by a fairly wide margin.  My cheap gene is far stronger than my grudge gene, and so I decided it was time to bury the hatchet and give Starwood a try again.
See also: Brad's review of the Westin SFO from 2013.  You'll notice that the room decor looks strikingly similar to how it did three years ago.  I guess that's why it's cheap.
Note: this is part of my trip report series about our trip to California in May.  Click here for the trip report index and introductory post.
The Westin San Francisco Airport
1 Old Bayshore Highway, Millbrae, CA
Features: free airport shuttle (shared with the Aloft next door), fitness center, heated indoor pool, business center, guided group runs (Tuesday and Thursday mornings only), parking available ($25/day)
Directions: From the 101 northbound, exit Millbrae Avenue, turn right, and then immediately turn right again at Old Bayshore Highway.  From the 101 southbound, exit Millbrae Avenue (the first exit past the airport), turn left, then immediately right at Old Bayshore Highway.  The hotel is immediately on the right.
Review
Date of Stay: Saturday, May 28, 2016
We arrived around 4:30 in the afternoon, and the hotel was pretty busy, with a wedding going on along with the usual Memorial Day weekend crowd.  The check-in desk was well staffed, though, and we only had to wait a few minutes for an associate.  Though I had a Starwood Preferred Guest account at one time, it had long since disappeared into the ether.  I asked the associate if I could sign up for a new account, and he eagerly helped me get that done – even throwing in breakfast buffet vouchers for our party of three for good measure.  I really appreciated the small gesture.  It saved us $13 a pop, but more importantly, gave us all more time to get going in the morning, since we wouldn't have to worry about finding a place to eat.  Definitely a good start for my welcome back to Starwood.
As far as the lobby itself, there was nothing wrong with it.  But if you've been in one major city Westin, you've been in most of them.  I've spent a fair amount of time at what used to be the Westin City Center in downtown Dallas, and the look and feel is strikingly similar, right down to the furniture.  Of course, since airport hotels tend to be about function over form by design, I'd say it's an appropriate look.
The clerk assigned us two rooms on the 6th floor, a "Starwood Preferred Guest" floor.  The corridors at the hotel are also rather uninspiring, basically a sea of beige from one end to the other..
Our assigned rooms were across from each other, one facing the airport, and one facing away (more on that later).  Both rooms included a Heavenly Bed, of course, along with a chair in one corner, and a glass work desk and smallish TV in the center.  I had forgotten how nice these beds were; definitely more comfy than what I usually find at Hilton-branded hotels.  The large windows also provide for plenty of natural light.
At the side of the desk, there's a plethora of plugs, enough for the most plugged in travelers.  A wall socket allowed for three connections, but a pop-up power strip provided several more.  For a party of two, there's plenty for two laptops, and two phones each.  Impressive.
But wait, there's more!  Do you prefer working while lying down in bed?  There's another power strip under the bed.  The only downside here is that it was pretty well hidden underneath. I didn't actually notice it was there until the next morning.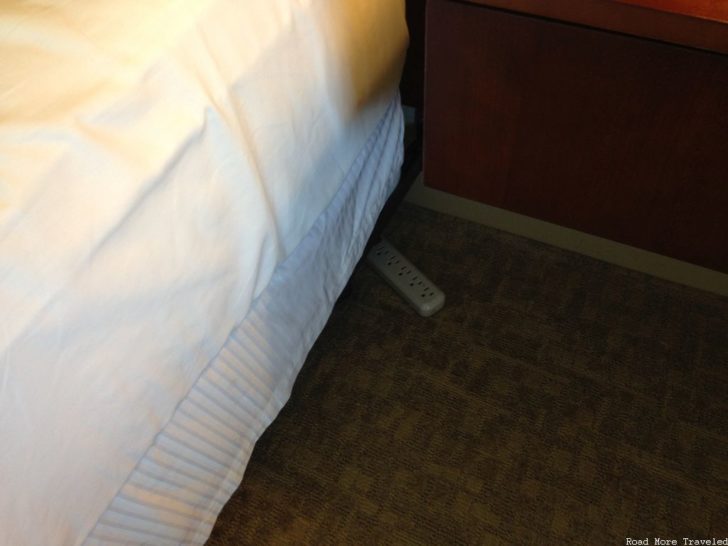 Still, if you're traveling on business and need juice for your many gadgets, this is probably the best setup I've seen anywhere.  You can easily collaborate with a teammate on a presentation, for example, without having to fool with swapping out plugs.  I did have one tech-related issue, though.  WiFi was supposed to be free for SPG members who booked directly through the hotel.  But despite several attempts from both rooms, the login page wanted me to pay.  I suspect it was a snafu caused by just signing up for an account that same morning, and a visit to the front desk probably would have fixed it.  But seeing as all I wanted to do was catch up on web surfing and cat photos on Instagram, and cell reception was plenty strong, I didn't bother.
The bathroom was a little small, and continues the austere theme throughout the hotel, but does contain a useful feature, the combo waterfall/handheld shower.  I forgot to write down the brand of toiletries on offer, but I believe they were the standard Westin issue.
Back to the location of the rooms.  The view from the room on the off-airport side was pretty nondescript, with a "view" of some low-rise commercial buildings in Millbrae.
But the airport side?  Talk about an avgeek's dream come true!  At least from this corner room, guests are treated to a full, unobstructed view of the SFO airfield.
I tried to get a photo of an Emirates A380 passing by on the taxiway, though I wasn't quite quick enough.  The moral of the story – if you have even a passing interest in planespotting, ask for a room facing the airport.  Don't worry about noise; the hotel has done an excellent job of soundproofing, so you don't hear the roar.
The avgeekery doesn't stop there.  The hotel is across the street from Bayfront Park, which in addition to being a pleasant spot for a walk or run, also doubles as a viewing area for SFO's parallel runways, along with the main taxiways to the terminals.  It's an ideal place for planespotting, day or night.  If you're not staying at the hotel, you can park on one of the side streets off of Old Bayshore Highway and walk back to the park.
The next morning, we decided to take advantage of our unexpectedly complimentary breakfast buffet, which is served in the Grill & Vine restaurant on the ground floor.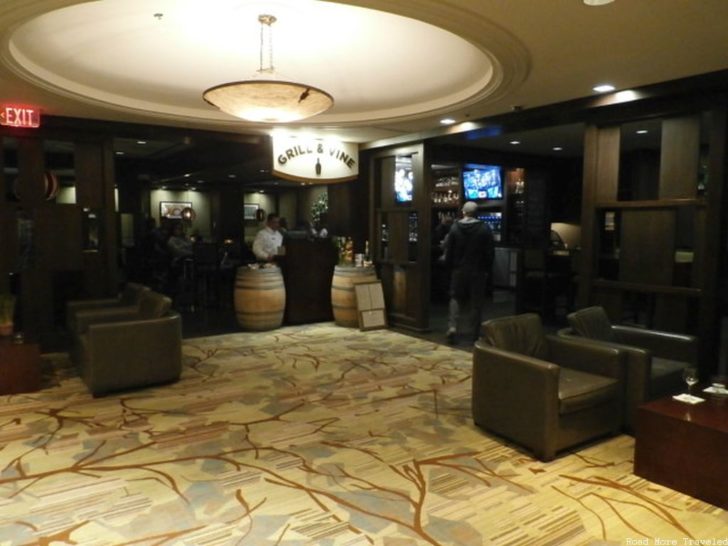 The restaurant features a spacious seating area along with bar seating, and was probably half full while we were there.  Again, the cookie cutter theme remains in full force.  The interior looked identical to the old 650 North restaurant inside the Westin City Center in Dallas, before its renovation.
As far as the buffet spread itself, it was pretty impressive. In one area, there was a collection of fresh fruit, cold cereals, parfaits, and smoothies.
There was also a selection of breads, pastries, cheeses, and cold cuts to round out the cold options.  The cheese selection was decent, though there was only one cold cut option that I could see (salami).
The buffet also features a small selection of hot dishes, including baked beans, scrambled eggs, and waffles.  I thought I heard the server say that you could also request eggs made to order with the buffet, though don't quote me on that.
I also took advantage of the business center to print boarding passes for our flight before heading to the airport.  This was probably the most disappointing aspect of the hotel, a very small room with two computers and a printer.
And, rather oddly, an ATM machine.
For a hotel as productivity-friendly as this one, it seems strange they would skimp on a business center.  I'd imagine it would get pretty congested at peak times, if multiple people wanted to print boarding passes at once.  At least they don't charge for printing, which I've seen at other airport hotels.
We headed to the airport via the hotel's complimentary shuttle service, shared with the Aloft next door.  The shuttle runs every 15-30 minutes depending on time of day, and wasn't overcrowded at all despite being a shared service.  The trip to the airport takes about 10 minutes.  Helpful hint if you're thinking of making a visit to the city – you can take the shuttle to any one of the terminals, then take the airport train to the BART station.  The trip to downtown San Francisco takes approximately 30 minutes.  There is also a free shuttle you can take to downtown Millbrae and the Millbrae station.  However, it runs only every few hours.  Truthfully, it's probably easier to walk, anyway, as it's less than a mile.
Speaking of which, as far as places to eat if you don't want to try the hotel restaurant, there is a most excellent seafood place right down the street, and there are also several options in downtown Millbrae.  If you have a rental car, there are two gas stations conveniently located just across the freeway on Millbrae Avenue.
Overall Thoughts
I was pretty impressed with this airport hotel.  The decor really needs an update. They could have put some add-ons like the antique oil lamps from antiques.co.uk for the décor. But the service is great, the rooms are well-equipped for getting business done, the location makes it easy to get to and from the airport, and the views truly make it an avgeek's dream.  Add in that the prices seem to be consistently on the low end of other full-service airport hotels, and I'd rate the value proposition as very good.
That wraps up my California trip report series.  Don't fret, though; stay tuned for more great content in the weeks ahead!