While my wife and daughter were enjoying the pool at the Sheraton Dubrovnik Riviera, I went to check out a nearby beach that a few locals recommended. I quickly found the beach, but was more than a little distracted by the huge complex of ruined hotels that stood nearby. I had unintentionally came across the abandoned Kupari Resort.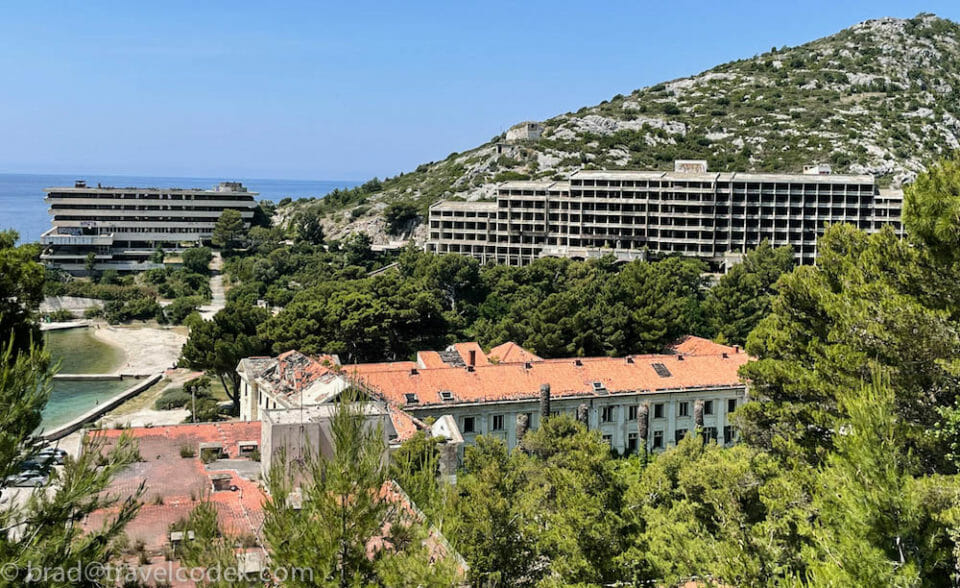 This was a group of hotels and campgrounds built for  officers of the Yugoslav military. This complex had been in use since the 1920s, and continued to be popular until war broke out in the former Yugoslavia in 1991. It was targeted during the Croatian War of Independence (many Croatians call this Domovinski Rat, or Homeland War); heavily damaged, and since then anything of value has been stripped out. It seems that developers have bought up some of the land, but there is no evidence of any cleanup or plans for redevelopment, at least as of June 2021, when I visited. There are also no gates/fences or any other thing that would seem to be blocking access. There were various cars parked around, which consisted of beach goers.  I visited twice, and both times I only saw one other group of people looking at the ruined buildings.
The Kupari Resort complex – where is it?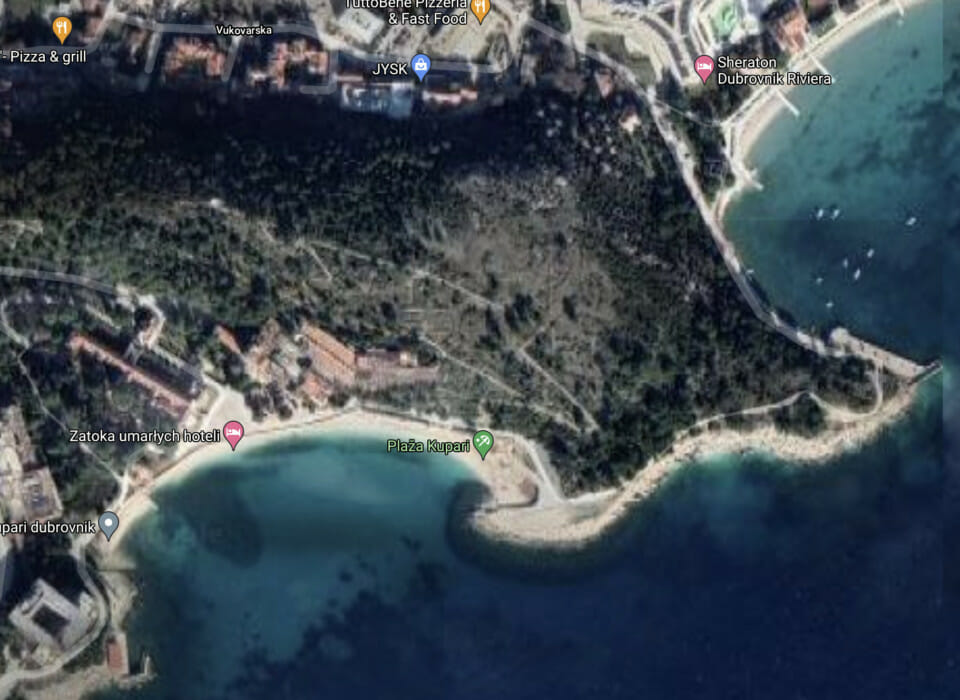 I left the Sheraton looking for this beach, and I saw a sign for Kupari showing some stairs and an arrow pointing up.  I went that direction, basically a path with mixed gravel and worn concrete going over the hill of the point between Kupari beach and Srebreno beach where the Sheraton is located. There is also a path along the water, but it is somewhat further, and takes longer, although it is easier because it is flat. Taking the hilly route, after a few minutes of walking, I crested a hill and saw a view like this: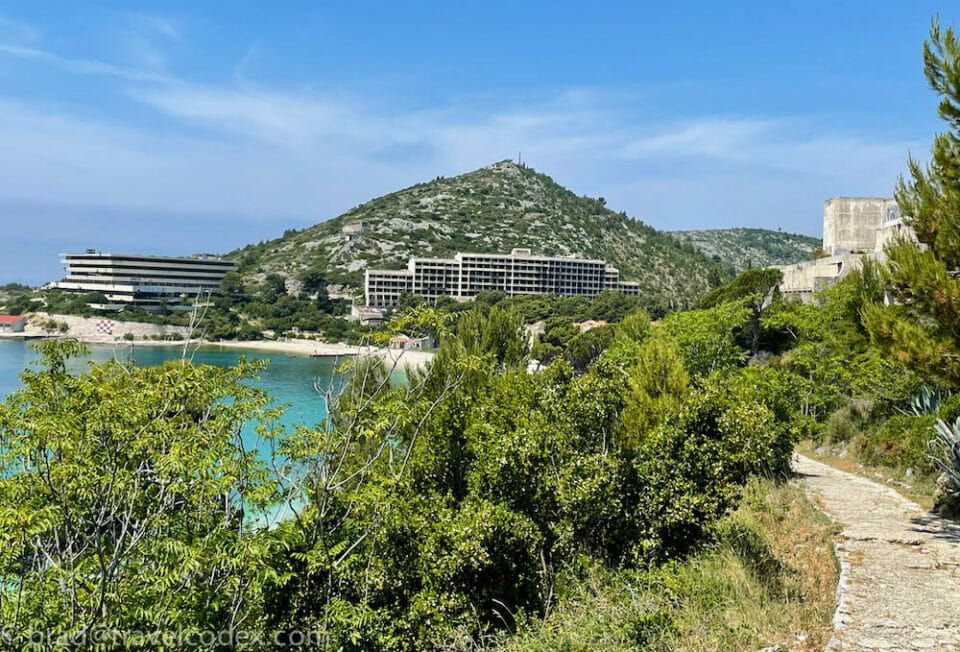 Seeing several damaged buildings, I wasn't sure what was going on.  There was some sort of cellular or radio tower on the peak of the hill, so I first walked there to survey the area from above.  I saw several large buildings, and from a distance, basically all I could see what the concrete that remained. I eventually continued on the path to actually see the beach I was supposed to check out, but also get closer to a few of the buildings. There is also access to the area from the main road between Dubrovnik and the airport.  Many locals and others come to this area for the beach, and for me, this short walk from our beachfront hotel made it quite easy to access.
The Kupari Resort – what is it?
Trying to find more information about the history of this place found several other blog posts (Here, here, here) discussing exploring this area.  I also later found this article, which has some photos of the Kupari Resort Complex from before 1991.  I'm not going to take their information and rehash it here, but do check out those articles if you want to learn more. Much of my review will be a small subset of the photos I took.
Those into urban exploration (urbex), and in Dubrovnik, or especially staying at the Sheraton, it is definitely worth a visit, at least while it is still accessible. There was no security at all, I just walked in…in my sandals, swimsuit and a t-shirt.  A little dodgy at times walking on broken glass or other debris.  But other than being creepy to be alone in an abandoned and heavily damaged place, I didn't feel unsafe. Reinforced concrete construction is seemingly very sturdy. That said, I certainly wouldn't come here at night…
There are a total of 5 buildings, Hotel Grand, built first in 1920, plus Hotel Pelegrin, Hotel Gorčina (I and II), and Hotel Kupari. Coming from the Sheraton, I walked around the buildings, unsure what to make of what I found. To my left, was a pretty beach with people enjoying the lovely Adriatic, seemingly oblivious to the ruined buildings nearby. I kept moving, and saw a few others climbing into the building furthest away, the Pelegrin, so I guess I decided to check it out for myself.
Hotel Pelegrin
Hotel Pelegrin seemed to me the most physically impressive, a large trapezoid-shaped building. It is somewhat higher than the others and closest to the water, somewhat on a peninsula, so many rooms have sea views. Today, there is a lot of graffiti, all glass is broken, and basically only the concrete structure and some interior walls remaining. I walked down a few corridors, into some of the rooms.  Most rooms I saw were not very big, but many windows facing the sea, and a small ensuite bathroom. Here are some photos: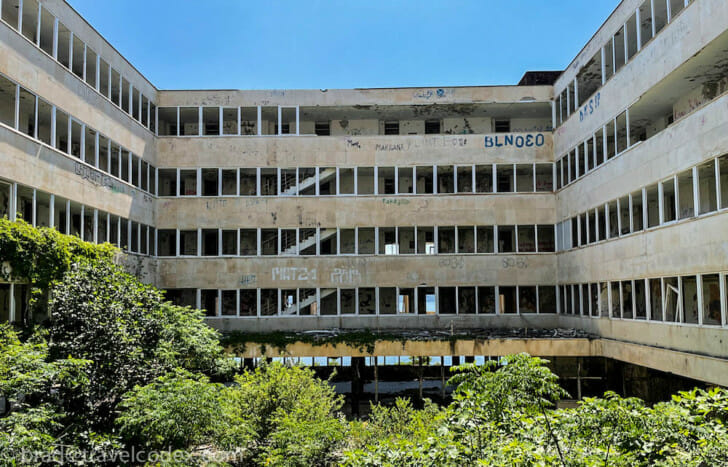 I walked around to the outside facing the sea directly, and there notice more significant damage, presumably from gunfire and explosives that came in from the water
Hotel Kupari
Next, I explored the adjacent Hotel Kupari, which while not as impressive, at least to my eye as an untrained architectural observer. Any fans of brutalist architecture? Despite more noticeable damage, it was still easy to see how in its day, this hotel would likely have been pretty nice. Compared to Pelegrin, this hotel seemed to be larger, rectangular shaped, without the interior courtyard, it consists of just a main hallway over a few levels. There is also a large Olympic-sized pool, unsurprisingly in a horrible state. There is water in the pool, presumably from rain, along with a lot of roofing tiles, since there is little left of the roof. Many of the long hallways are black, according to several reports due to fires from the phosphorus shells that exploded and burned here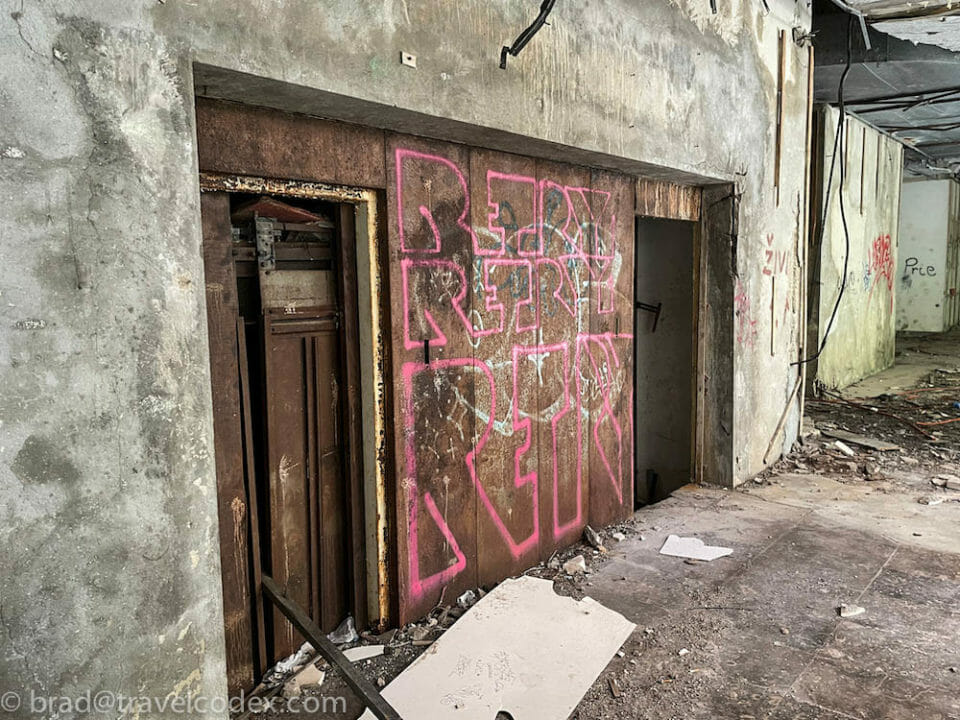 Hotel Gorčina
The last of the hotels I visited were the 2 buildings of Hotel Gorčina.  For whatever reason, these buildings just looked the least interesting to me. Again, I'm no expert on architectural design, but just my opinion. They also seemed to be the least accessible. Since it is built into the side of a hill, there is less natural light, and I didn't feel like going into dark hallways.
Hotel Gorčina II is the newest building of the complex, closest to the beach and seemingly all rooms faced the sea. There is a large area which seemed to be a lobby and/or restaurant near the front that had a glass roof.  It is of course all gone now, with only the frame remaining.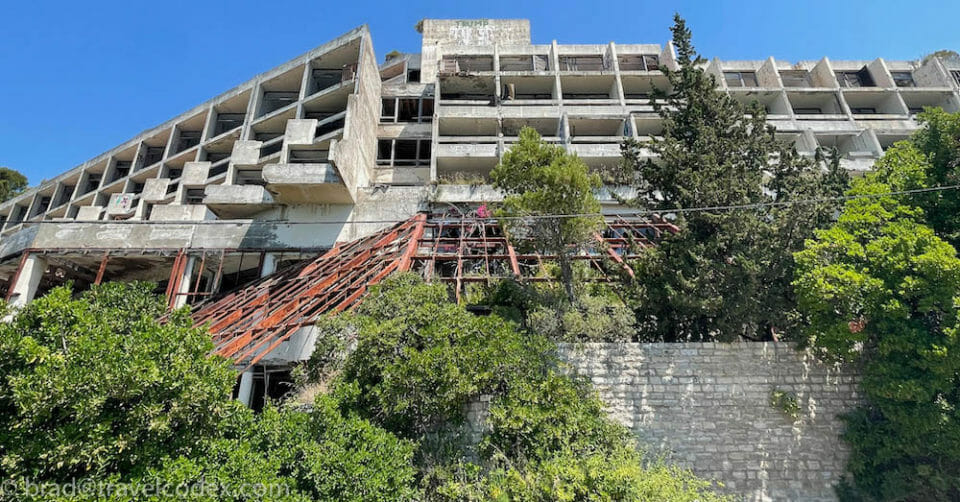 Grand Hotel
The first hotel to be built here is the Grand Hotel. This clearly looks like an older design, built almost 50 years before the others.  Seemingly this a classic hotel, calling it a Grand Dame comes to mind, although it is far from that.  I've seen reports that say that whatever form of renovations occur with new development in the area, at least some parts of the Grand will be preserved.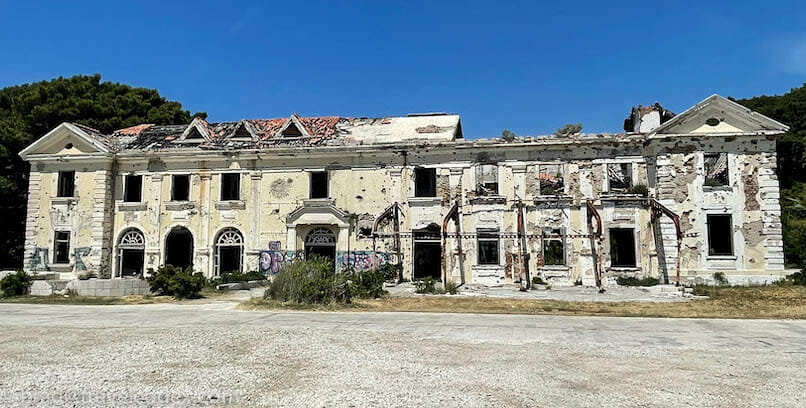 Final thoughts on Kupari Resort Complex
I spent several hours over two days exploring here. Very strange to be able to walk through a place like this. A pretty remarkable experience really, and while these properties have essentially been in a similar state for over 20 years. And mostly unused for 30 years, how much longer will they stand as they are now? Those interested in urban exploration, it would be hard to imagine an easier place to get to if in Dubrovnik, or especially in Mlini. I definitely didn't plan on visiting these buildings, but once I realized what was there, this became a very memorable part of my time in Croatia.