This hotel review is for the Hilton Hawaiian Village Waikiki Beach Resort. This property should not be confused with the Hilton Waikiki Beach. The Hilton Waikiki Beach is a less desirable hotel not located on ocean front property. The Hilton Waikiki Beach will be less expensive but if you're looking for that true Hawaiian experience, the Hilton Hawaiian Village Waikiki Beach Resort will be the better of the two locations.
But in the interest of full disclosure, I should let you know that I'm not a Hawaii fan. I think the islands of Hawaii are uninspiring, overrated and overpriced. For the travel time and money, I find you can get a much better experience outside of Hawaii but that's just my personal opinion. So because of that, I don't visit Hawaii much nor do I ever recommend it to anyone that asks. But if you still insist on going to Hawaii, the Hilton Hawaiian Village is not a bad place to stay and visit. The Hilton Hawaiian Village is located in Honolulu on the island of Oahu.
The Hilton Hawaiian Village is a massive property. It really is the size of small Hawaiian village. There are several towers sprawled across 22 acres of ocean front property. There are five pools (with water slides), a giant manmade lagoon, green spaces and more retail and restaurants than you can count.
The hotel is approximately 10 minutes from Pearl Harbor and 25 minutes from Honolulu International Airport. Here's a map of the property.
But keep in mind, not all rooms are created equally. From my limited experience with this property, the rooms in the Ali'i Tower or Rainbow Tower are the ones that you want to stay in. The Rainbow Tower is the most famous tower of the resort and the one that is shown most prominently in TV shows and movies. But (I think) the rooms in the Ali'i Tower offer more luxury and amenities including a private pool, fitness center with massage treatment rooms and complimentary hors d'oeuvres on the terrace.
There may be ocean view rooms in the other towers but I think the views from the Ali'i Tower and Rainbow Tower are the best as they closest to the water and offer incredible views of the ocean, Diamond Head and the Duke Kahanamoku Lagoon.
On this trip, my friend and I came here to spend a quick weekend trip away (Friday to Monday). We booked a standard two-double bed, ocean view room. We arrived from our Alaska Airlines first class flight from Seattle on Friday at approximately 8:35 PM. After collecting our bags and picking up a rental car, we got to the hotel at approximately 10:00 PM. There is a parking garage for the resort and parking is $29/per day. Valet parking is available for $36/per day.
The registration counters are located in this beautiful open air lobby overlooking the pools and grounds. At our time of check-in, the lines were empty but here's the check-in lines the next day at noon.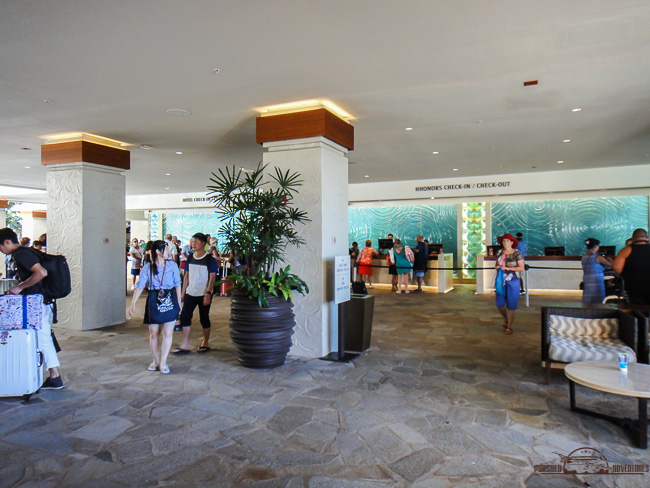 Upon checking-in, we were assigned an ocean view room in the Kalia tower (ugh). As a Hilton Gold (or Diamond), you qualify for space available upgrades. Not being automatically upgraded, I asked the friendly desk agent if an upgrade was available. He checked for a little bit and saw an ocean view room was available in the Rainbow Tower (yay!).
Hilton Gold and Diamond Elite members are entitled to the following benefits when staying at this property:
Space available upgrades.
Use of the fitness centers.
Premium internet.
Dining credit/HHonors points*
There are no Executive Lounges on the property so you can either elect to receive 2000 Hilton HHonors points for your stay or a $10 dining credit (per person) for each night of your stay. Since we were booked for three nights and there were two registered guests, we got a $60 dining credit at the end upon checking out. The dining credit applies when you eat at any of the on-site restaurants and charge your bill to your room.
Note (and I really hate these) there is a $30 resort fee added to your bill per night. The resort fee (allegedly) covers:
Guest internet access.
PS3 console with games/DVD movie rentals.
Cultural activity lessons
Resort audio tour
Outdoor exercise classes
Personalized postcards
Dive in movies
Local/toll-free calling
The majority of these "amenities" were pretty BS but the one useful thing was the PS3 console. It sounds a little silly but it actually comes in handy. There are several DVD kiosks on the lobby floor and this allows you to rent one DVD at a time. It's basically a RedBox so there are some new-ish Hollywood movies here. We took advantage of this one night and watched a movie in our room with a pizza that we got downstairs. If you have kids and need to keep them entertained indoors, the DVD kiosks also dispense PS3 video games.
For our upgraded room, we were assigned room 1527. The room is pretty standard and appropriately decorated for a Hilton property. There are two double beds, a working desk, dresser, PS3/DVD player, alarm clock/MP3 player, in-room safe, coffee maker and mini-fridge. Space-wise, there's plenty of empty space for a roll-away bed if you need it.
There are giant floor to ceiling windows that let in a lot of natural light and the large patio is fantastic for relaxing at night. From the balcony, you have uninterrupted views of the pool, ocean and Diamond Head. Opening the balcony doors will let in a lot of fresh air and some island music from the Tropics bar below. The blackout curtains and double-pane glass do a pretty good job of blocking out the light and muffling the music and sounds of kids swimming below if you want to sleep in. Check out this view.
The bathroom is pretty standard with a single sink, toilet and shower/tub combo and is stocked with Peter Thomas Roth products. The bathroom is on the small side so it's only good for one person at a time.
I love locking my stuff up so I appreciate the in-room safe that you can set with your own personal combination and the mini-fridge comes in handy to store leftovers for the next day.
What I really liked about this resort was how convenient everything was. The Rainbow Tower is literally steps from the main pool and the beach. Beachside, you can rent anything you need from snorkels to stand up paddle boards and even get surfing lessons if you want. Want to leave your kids to hang out with other kids? They offer day camps for kids with various activities. You literally don't have to leave the grounds of the resort if you don't want to and you will still have a great time.
But all that will come at a price. I find the rooms aren't necessarily that expensive but once you are here, the Hilton Hawaiian Village makes it so convenient to do everything from shopping and dining to surfing lessons and cruises, you don't really need to go anywhere else to spend money. And the Hilton knows this also as every service they provide is ridiculously expensive. From $4.00 bottles of water to $190 submarine rides, they will provide anything you can think of for a price and with the convenience of charging everything to your room. Even with minimal dining and with no activities, our incidentals were over $200 for 3 days! That's ridiculous. I mean, check out these prices below!
Let me give you another example of how crazy expensive this place is. My friend and I are both breakfast guys. It's the most important meal of the day and it really sets our tone for the rest of the day. We both eat a lot so the breakfast buffet downstairs at the Rainbow Lanai was the obvious choice for both days. It's $30 per person for the hot breakfast buffet or $20 per person for the continental breakfast buffet. The hot breakfast does come with an omelette station and a good selection of hot items including pancakes, sausages and bacon but that's still ridiculously expensive.
Hawaii is a great place to visit for some folks and it will always draw major crowds. I can't really compare this resort to any other hotel options in Honolulu as I haven't stayed anywhere else but (despite the prices) I think it's a pretty cool place to stay if this is the type of Hawaii experience you are looking for.
This review is part of my trip to Hawaii. The other reviews in this series are: