My dad was in town last month and had a few hours to hang out on a Friday afternoon. Since he has his own plane, a Piper PA-24 Comanche, he flew up to Boeing Field and took us on a sightseeing tour. Last time we went up in his plane, I got to fly over the Sonoma wine country. This time Megan took the co-pilot's seat, and I took pictures from the back.
Several operators will do commercial tours in the Puget Sound area, which is fairly scenic with the lakes, sea, islands, and mountains. I watch Kenmore Air and Seattle Seaplanes landing all day from my office near South Lake Union. The Museum of Flight at Boeing Field will even take you out in a biplane. But expect to pay a couple hundred dollars for an hour in the air.
I like Boeing Field because it offers a great view of Mt. Rainier in one direction and in the other you head straight over Elliott Bay, so there's a good view of the city.
In our case, we didn't really have a goal in mind when we set out. I suggested Friday Harbor on San Juan Island because it was someplace I'd visited before by boat and the airport there provided a good fix for the onboard GPS. We were operating under VFR conditions (visual flight rules), which meant we could go pretty much where we pleased and didn't need to file a pre-planned route as long as we stayed out of other peoples' way.
Just past downtown, we flew over the Chittenden Locks, letting boats in and out between Lake Union and Elliott Bay. Definitely stop by if you're visiting in town to see the salmon climb the ladder. The best viewing time will be here soon, in September.
And past the locks is Golden Gardens Beach. You can actually ride your bike here along the Burke Gilman Trail for an evening bonfire or afternoon barbecue. Several hotels have bike rentals, and there's also a new bike share program. I like this perspective because you can follow that street to my first apartment at the other end of the city.
Adding to the convenience of exploring Golden Gardens Beach and its surroundings, there are also options for alternative modes of transportation that enhance the experience. Apart from biking, you can now consider the ease and freedom of scooter rentals to navigate the area effortlessly. Whether you're cruising along the Burke Gilman Trail or venturing to your first apartment on the other side of the city, scooter rental services offer a fun and efficient way to travel. For those interested, you can explore scooter rental options through websites like http://www.scooterrentalhawaii.com/, allowing you to embrace the coastal beauty and urban charm of the area while enjoying the flexibility of two-wheeled transportation.
Next stop was Bainbridge Island. It's a quick ferry ride from downtown (many people live on the island and commute daily). It's another good place to take a bike if you can pedal up a few steep hills and reach the beaches on the other side.
Correction: This is the Kingston Ferry Terminal, but I still recommend you visit Bainbridge. It's a lot closer to Seattle than Kingston.
The rest of the trip north was still surprisingly populated. I never realized how many homes were out among the islands and Olympic Peninsula. It's definitely a great place to own a boat.
Unfortunately we only made it as far as Port Townsend. My dad's plane has wheels, not floats, and he'd never taken it very far over the water. He saw the vast ocean in front of us and changed his mind about Friday Harbor.
We still got some great views. I had a better perspective of the Olympic Mountains once we turned around, finally seeing some definition instead of the usual vague outline from Seattle.
And on the return we got to pass over Paine Field, where Boeing builds the 777 and 747. You can visit the Future of Flight Aviation Center and take the Boeing Tour if you make it up this far, about 30-45 minutes from downtown. It's a good destination for avgeeks. The Museum of Flight we saw before takeoff is more convenient to the city but is not operated by Boeing (despite being located at Boeing Field).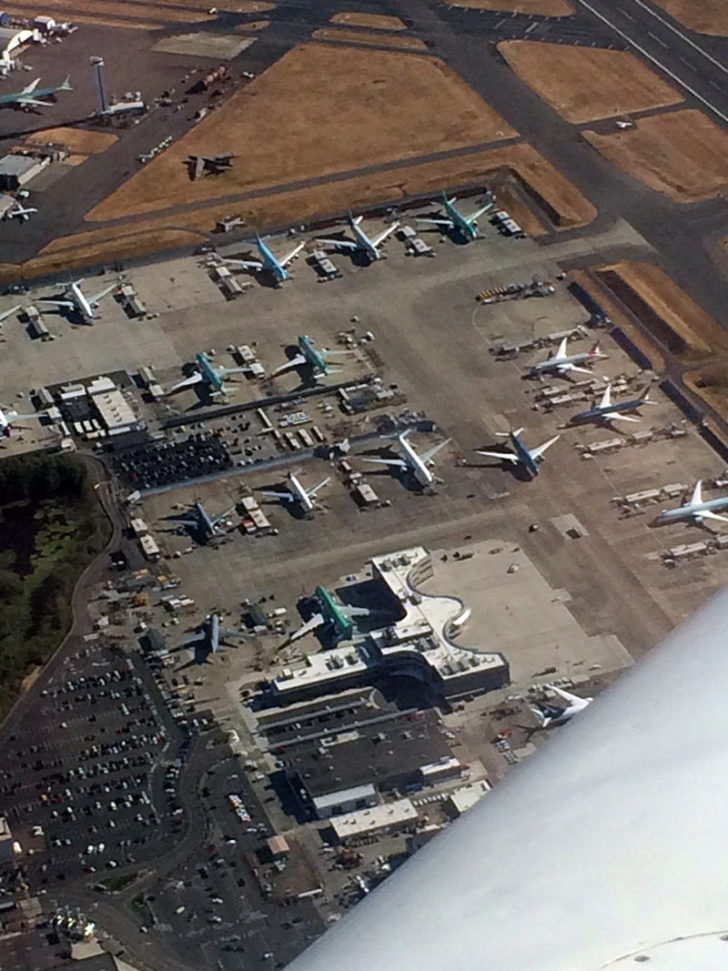 On returning to Boeing Field we got to taxi by a Boeing 787 destined for Scoot, Singapore Airlines' discount carrier. I'm not sure what it was doing there, as I wasn't aware that Boeing has a delivery center on the east side of the runway. Maybe it was just being parked. Usually the 787s are parked on the opposite side, and you can see a whole row of them as you drive into the city from SeaTac.
But overall it was a fun to take a quick trip for an hour over Puget Sound before heading to dinner. My dad's iPad integrates with the GPS to track our route, and although it didn't kick in until over Shoreline you can get a good sense of where we went, starting on the west before crossing back to the east and returning via Bellevue.
You can even see that sharp turn at the end where Megan flew into Renton airspace, got yelled at by air traffic control, and promptly lost her place at the controls. At least I survived to tell the tale. 😉