I was recently working in India. For the trip home, I routed through Dubai to save money on my ticket.  Like many things when planning my travel, it seemed like a good idea at the time, but ultimately worked out better than planned. Basically an open jaw ORD-LHR-DEL, DXB-LHR-ORD was drastically cheaper than a roundtrip. So I bought a separate ticket from Delhi to Dubai.
There were some nonstop options on Emirates, but timing worked better for Air India. I had pretty mediocre experiences on past trips with them. But in this case, the timing worked out, and I'd earn some miles in my United Mileage Plus account.  Better yet, I figured a 787 would be more pleasant than a 737 on Jet Airways or an A320 on IndiGo. Air India isn't highly regarded by most anyone, but likely thanks to my free upgrade, I had a rather nice experience.
Air India doesn't allow free seat assignments other than the back few rows, so I decided to pay to reserve a seat.  It cost 300 rupees, so for about US$4.20, I was happy to confirm a seat closer to the front, in case of the need to rush off the plane. Thankfully that wasn't an issue at all. Once I got to the departure gate in Delhi and scanned my boarding pass, I saw "seat mismatch" on the screen. The agent wrote seat 2A on my boarding pass.  Apparently I was operationally upgraded to business class for the 3 1/2 hour flight to Dubai. Nice!
Air India Check in Terminal 3 Indira Gandhi International Airport (DEL)
As a reminder, make sure to have a printout of your flight itinerary when departing India. Unlike my last time, it seems like showing departure information from a phone could work, but I passed through security checks at the airport door faster than others who seemed to struggle with their phones. I continue to value my United Million Miler status which gives me Star Alliance Gold status for life.  I found my way to the Air India First/Business Class check in.
My plan was to travel only with hand luggage, in large part due to my offline transfer in Dubai. Air India does offer online check in, but requires a printed boarding pass for international flights. Unfortunately, I quickly found out that Air India has an 8kg limit for carry-on bags.  My bag was over 11.5kg.  The agent insisted I check my bag. I resisted because I didn't want to have to deal with collecting it in Dubai. My plan was to change clothes before the flight anyway, so I went to the bathroom, and reorganized my bag somewhat, moving several items into my backpack.
I returned to the check in desk, and my bag was a little over 9kg, and thankfully the new agent let it go. For the record my bag is a 20″ Briggs and Riley roller bag, and was not over stuffed. Size isn't an issue with this bag, but weight apparently is. The bag is 4.8kg empty. Thankfully, on most trips, I don't have issues like I did here.
Clearing Security Terminal 3 Indira Gandhi International Airport (DEL)
Crisis averted, I got in the long line for departure passport control, and then got to security.  Apparently all electronic items are to be removed.  Not just laptops.  All cords, batteries, anything like that. This wasn't made clear to me until I had passed through the metal detector.  Maybe I missed something, but having to unpack everything and then wait for a re-scan of my bags took a while. Sigh.
Air India Maharaja Lounge, Delhi Terminal 3
After the long delay to check in and get through security, I didn't have that much time in the lounge. Various Priority Pass lounges were tempting, but instead I visited the Air India lounge, figuring on a decent option for a flagship lounge in their home airport. The Business Class side was fine, nothing too special. Pretty large, and not too crowded. There is a choice of hot food items, both vegetarian and non-veg. I did have a little food, not knowing the options on board. While in the lounge, I also tried a local beer. I suppose it could be called a craft beer, brewed in Delhi.
The lounge provided codes for wifi when I checked in, and although annoyingly there was a 10+ digit login and password, these codes worked throughout the airport, not just in the lounge. I finished my beer, and with a posted boarding time an hour before departure, I headed off to my gate.  This was a good thing, since the Air India lounge is on one end of the terminal, my boarding gate was easily a 10 minute walk nearly at the opposite side of the terminal.  Even with moving sidewalks, it took a while, and the boarding process had already begun.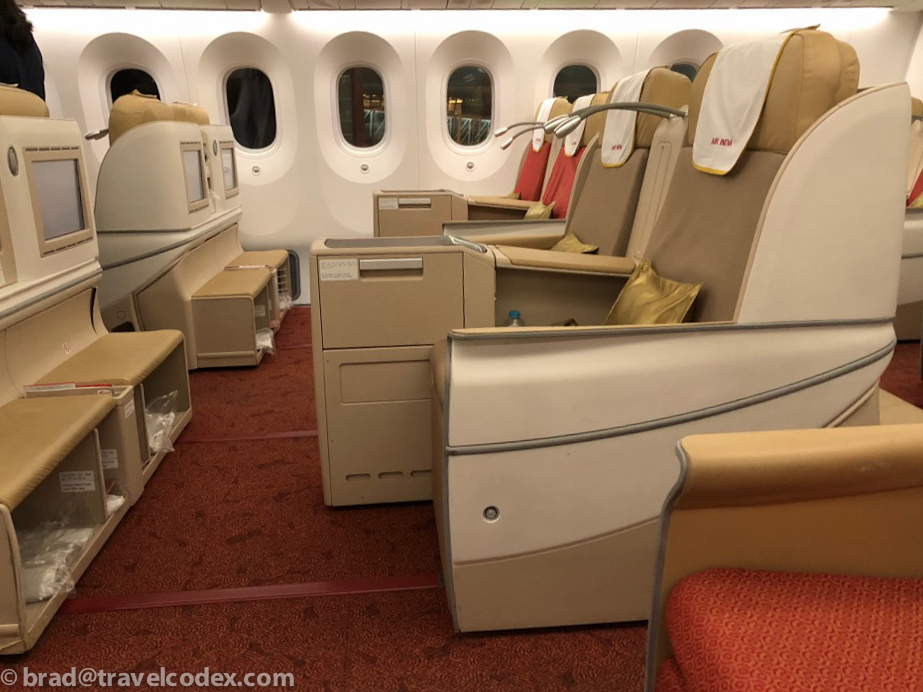 When I got to the gate, it appeared that many people had already boarded. I went to the priority line, and there my boarding pass beeped, and the gate agent wrote down my new seat assignment. I boarded at door 1, and a flight attendant took me to my seat, 2A. The cabin is not large, with 18 seats between doors 1 and 2 on the 787-8. The seats are fully flat, and like the LOT Business Class product on their 787, also like Turkish Business Class on the 77W.
Air India 787 Delhi to Dubai before departure
As seen in the photo on the top of this section there were only a few other passengers in business class when I boarded, but the cabin was full upon departure. Clearly I wasn't the only person not at the gate at boarding time. After sitting down, a flight attendant welcomed me aboard, and offered a hot or cold towel, and later an envelope containing some socks and eyeshades. Nice for a relatively short flight.
The seat was comfortable enough, but not exactly modern with 2-2-2 seating on the 787. There are air vents above seats, which is always appreciated. The seat is not built for someone over 6 feet tall. I didn't attempt to sleep very long, but fully reclined, I didn't fit in the seat in bed mode, unless I curled up on my side. There are headphones in the cubbies between monitors, and ample storage below the ottoman. I also noticed some slippers there, as well as more eyemasks/socks, and presumably these were from the previous flight. Additionally, 500ml water bottles were given to each business class passenger before departure.
After more passengers came into the cabin including my seatmate, a flight attendant came around with a tray of drinks. This included, orange juice, water, and a mint lemonade. My seatmate asked for apple juice, but apparently this isn't available onboard. The flight attendant seemed willing to pour any drinks requested before departure, but I was content with mint lemonade.
In flight Air India 787 Business Class Delhi to Dubai
Soon after departure, the flight attendants came through the cabin with a beverage cart. They put down a tablecloth, which is nicely embroidered and has the Air India logo. There was also a small plate and a napkin along with a packet of peanuts.
Options seemed to include a wide array of cocktails, and various wines in 375ml bottles. There wasn't a menu or a drink list, so I just went with a gin and tonic. At some point meal orders were taken, and the choices were between veg and non-veg. I opted for the non-veg which had butter chicken and a much of other items. The meal was quite large.
There was a bread roll, a piece of roti, crackers, processed cheese. A small bowl of vegetables and some yogurt. The main course consisted of butter chicken, rice, and some vegetables, plus a bowl of daal. For dessert there was a mango cake and some chocolates. I didn't come anywhere close to eating all of this food. I enjoy Indian food, and even after a week of eating it routinely, and with this many options I found this a pretty tasty meal.
Air India Business Class 787 In-flight Entertainment
There is a IFE monitor for each seat in the cabin. The western movie/TV selections are somewhat limited, but that isn't a negative. There are a lot of Indian movies, as expected. The entertainment magazine showed options in Hindi, Telugu, Malayalam, Tamil and more. I checked out the IFE guide to see what options there were, but the guide was from June.  This flight was on September 1, so technically both magazines were out of date
There is a moving map, and even a tiny screen on the IFE remote that shows flight progress. Under the armrest, there is a USB port and a universal power plug.
Final thoughts on Air India Business Class on the 787
I didn't pay for a business class seat, but I was very fortunate to get upgraded at the gate. This made my flight much more comfortable. We arrived early in Dubai, but taxied for a long time, and ultimately pulled into a bus gate for concourse D.  It took a while for the truck to bring stairs to the plane, but once it did, I realized that the 18 of us in business class got our own bus to take us to the terminal.  That was another pleasant surprise.
After the short bus ride, most passengers got on the train to immigration, but I was connecting, so I headed to the transfer area. Once there, I cleared security, and then headed to the transfer desk to get my boarding passes for my flights home. From there I opted for the excellent Dubai International Hotel Business Class lounge. It is a priority pass lounge, and I prefer that to the British Airways lounge in Dubai.
In all, this was a pleasant flight. Although I wanted to find a better option for this trip, and likely would do the same in the future, I wouldn't actively avoid flying Air India in a similar situation. The timing worked out well, and the free upgrade was a very pleasant surprise.