Air India has operated nonstop flights from New York JFK to Delhi for almost ten years. Flights AI 101/102 are flown on the 777-300ER, and Air India is the only airline that offers a First Class product between the U.S. and India. Although Air India's First Class product is not among the latest generations of First Class products out in the market (compared to Emirates' new First Class suites on the 777s, for instance) it isn't a bad option if you're looking to cut down on travel time.
There are five nonstop routes that Air India operates to the United States: from Delhi to San Francisco, New York JFK, Chicago O'Hare and Washington Dulles, and from Newark to Mumbai and London Heathrow (which continues onto Ahmedabad).
Note: This is a "guest" trip report that was written from the perspective of Ronan Anand, Rohan's younger brother, who flew on this route. The review and photos belong to him. 
Air India U.S. Schedule, Frequencies, and Aircraft: Winter 2018
The schedule is the same for both U.S.-bound and Indian-bound flights
Newark to Mumbai: daily, 777-300ER
Newark to London Heathrow: Mondays, Wednesdays, and Fridays, 787-8
San Francisco to Delhi: every day except Tuesday on the 777-200LR
Chicago O'Hare to Delhi: daily, 777-300ER
New York JFK to Delhi: daily, 777-300ER
Washington Dulles to Delhi: Sunday, Wednesdays, and Fridays, 777-200LR
First Class is not offered on Air India's Boeing 787-8 aircraft. On the 777-300ER, Air India has only 4 First Class seats, whereas the 777-200LR has 8 First Class seats. Air India announced in January 2016 that it would eliminate First Class from its 777-200LRs, indicating that the San Francisco flight would no longer have First, but it appears that First is still available for sale, based on a search for January 2018.
Other airlines that offer nonstop service from North America to India include United (from Newark to Delhi and Mumbai), Air Canada (Toronto to Delhi and Mumbai, and from Vancouver to Delhi).
Booking
Air India releases very limited award availability on its own Flying Rewards programme, and even less so on fellow Star Alliance carrier programs (Avianca, Air Canada, etc). That said, my Mom had accumulated many Air India points over the years and they were set to expire. As she was flying Etihad to India prior to the expiration, she offered to splurge her points on my ticket to India.
Playing around with the availability search, I noticed that one-way award availability searches were producing null results, but round-trip searches were allowing me to book First on the outbound (New York JFK – Delhi) and Economy class on the return, for 157,000 miles.
This was obviously a pricey ticket, but it made sense given the fact that these miles were due to expire. My Mom had neglected to credit the Air India award miles to a non-AI program (like United, for example) and actually managed to attain Star Alliance Silver status flying Air India alone several times per year between Chicago and Delhi. That said, it was okay with me to fly Air India in Economy on the way back as it was an evening flight.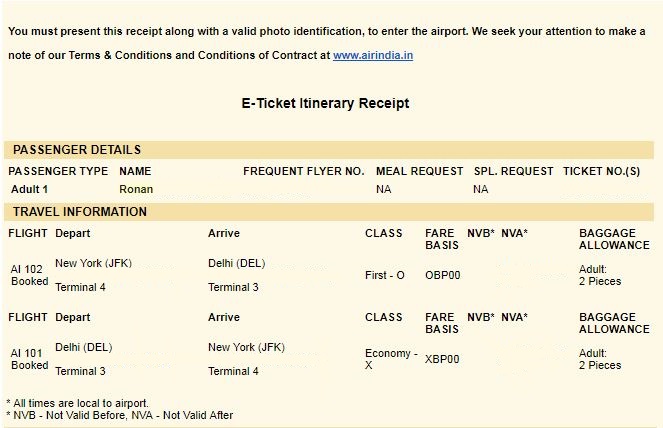 The outbound flight on AI 102 leaves New York JFK at 2:25 PM and arrives into Delhi the following afternoon at 2:50 PM. The return leaves Delhi at 1:35 AM and arrives in New York on the same day at 6:35 AM. I figured I'd just sleep on the return and handle it in Economy, hopefully with empty rows in the back to stretch out!
Day of Departure
Air India does not offer Ground Services for their First Class customers, although this was something that they once did provide if memory serves correctly. I decided to Uber to New York JFK and arrived at Terminal 4 roughly 2.5 hours prior to departure.
The lines at the Air India Check-In counter were basically empty. The agents were friendly and issued me a pass to the Maharaja Lounge, which is located airside. You can actually see the aircraft at the gate once you are there. Today's flight was on VT-ALK, a 777-300ER that was delivered to Air India in October 2007.
The Maharaja Lounge is pretty bland. There isn't really much to do besides check out some magazines, sit around, and watch TV.  I wasn't really interested in eating any of the snacks. I also had REALLY slow WiFi and had read that it was better to connect to Emirates' WiFi from the Emirates Lounge next door (which I did).
Boarding time was supposed to be 1:15 PM, but the check-in agent at JFK had said to not worry about what was printed on the boarding pass, and that as long as I was in the lounge, the agents would come and tell us when to board. This is a very Indian thing to do: just operate on your own standard time knowing that Air India is unlikely to leave on-time, so you can chill until you're told.
Boarding and First Impressions
When it was our actual boarding time, they called First and Executive Class customers and I headed down the jetway for what would be my first-ever long-haul First Class flight. Turning left never felt so good!
The "suites" on the 777-300ER only take up one row of seats, arranged in a 1-2-1 configuration. This ensures all-aisle access. As a window guy, I selected to sit in 1K. Seatguru did not have any suggestions on where to sit in First given that there are only four seats. Each of them folds into "flatbeds" that measure 23″ in width and come with an 80″ pitch.
There is a nice, large flat screen TV and entertainment console at each suite, although it looks a bit dated compared to what I've seen on other airlines. The ottoman is large and used when the seat is in full, lie-flat mode, but also can be used to seat another guest (you can tell because there is a seatbelt there). There is plenty of storage place, and while the seat cushion felt a bit worn, it was nevertheless comfortable.
On the ground, menus and amenity kits were distributed. I liked how I could play around with the entertainment console as we waited for boarding to complete.
In-Flight Dining Experience
After take-off, I watched the airshow as the cabin crew came around for the late lunch/dinner service for the flight. It is not dine-on-demand, but there was only one other passenger (besides me) so I did not expect the service to be very slow on this flight.
Drink orders were taken shortly after we were at cruising altitude. I ordered a bloody mary, and after it was served, we were given a selection of hot Indian snacks, including samosa (which is like a vegetable empanada with potatoes and other yummy items), mater kachori (a flaky, fried pea dish), aloo tiki (potato pancakes) and flaky bread. These were served with mint and tamarind chutney.
After this, I had the cream of mixed vegetable soup, which was served with fresh garlic bread.
For the main course, we could choose one of five selections:
Grilled Lamb Kebabs
Prawn Malai Curry
Chicken Curry
Vegetable Dumplings
Vegetables With Tomato Sauce
These were served with yogurt, paratha (fried bread), mango pickles, and chutney.
In First Class on Air India, the main course service is special because the food is served from a cart. You basically watch the cabin crew serve you your dishes straight from the pan and onto your plate. It is a neat concept, but I also feel like it is a tad wasteful.
For the main, I opted to go with the Grilled Lamb Kebabs with Manchamantel Sauce, and this came with rosemary potatoes and vegetables.
I skipped the fruit and cheese plate and instead went straight for the dessert, which was a Kahlua Mocha Mousse.
Mid-flight, I had a snack which included deviled eggs and an Idli dish, which is like a rice cake with lentils, coated in coconut. It was eclectic, to say the least.
Finally, prior to landing, I started with a fresh fruit, yogurt, and bread basket selection, and for the main course, I had eggs benedict. This was a freaking cool dish. Who gets to have eggs benedict on a plane! It came with two potato latkes and a tomato "cup" filled with baked beans.
The dining experience was unlike anything that I had ever experienced before, but then again, this was also my first time traveling in a premium class cabin on an international flight. The only thing I would do away with is the use of Upstate Farms yogurt, which is a really cheap, sugary yogurt that is tacky to serve in First.
Entertainment and Seat
The entertainment system on Air India is pretty outdated. There is not a very wide selection of non-Hindi films and TV shows to choose from, but a dozen or so at least to keep one entertained. Personally, I have found more and better options flying in Economy class on U.S. carriers, but my standards are fairly low anyway because I am accustomed to flying Lufthansa to India (and they generally don't have very many options, either).
After the first meal service, I watched a movie and relaxed for a bit, before dozing off until I woke up for my mid-flight snack. I watched a few more shows and then just relaxed as I watched the airshow while we made our way into Delhi. While I didn't manage to get a lot of sleep, I was extremely comfortable flying in First Class. I had never taken the nonstop flight to India on the Eastbound sector, which basically allows one to experience daylight while crossing into the Eastern Hemisphere. All of Westbound India to U.S. flights leave at night and are essentially night flights, so you do not get to see much outside.
Overall, I enjoyed just relaxing in the seat because it was just such a new and rare experience for me.
Landing and Arrival
It felt like the flight went by way too quickly for me. We began our initial descent about an hour prior to wheels down and then taxied into Delhi Indira Gandhi airport. Despite being my 6th visit to India, I had never actually experienced the new Terminal 3 at Delhi (the last time I had been here was in 2010). I have to say, it is much improved. The other nice thing about a mid-afternoon arrival into Delhi is that there are practically no lines at customs, which is generally not the case when you fly in on a European carrier and land during the heavy arrivals bank at IGIA.
Air India First Class: Final Verdict
Air India's First Class was an enjoyable experience for me because it was novel and because it was a bargain price for miles that were basically unusable for my Mom. I really didn't have to invest anything and got the best end of the deal. Having said that, I would argue that it is probably not the best use of frequent flier miles to spend on Air India First Class using United miles, Avianca LifeMiles or Air Canada Aeroplan miles because the First Class product on Air India, while pleasant, does not go above and beyond by any means.
Specifically pertaining to First Class, I have read a lot of reviews of the Etihad Apartments, the new Emirates and Singapore Airlines First Class suites, along with the Cathay Pacific and Lufthansa premium products. Air India does not hold a candle to any of those guys, based on pictures I have seen. But, I suppose this is the reason why they are removing it from the 77L's sometime soon?
I probably won't have the chance to fly Air India again in First Class, but I am still very grateful that I had the opportunity to do so. As I've started collecting points and miles pretty avidly over the years, I am looking forward to reviewing more airline in-flight products in trips to come.