Air Tahiti Nui Lounge at Papeete airport offers one of the most basic airport lounges I've ever visited from a long-haul premium location. As the only lounge at PPT, there is no competition, and the airline only has to offer the most basic options to remain competitive. After all, travelers have no other choice. The Air Tahiti Nui Lounge is operated by ADT. Not Air Tahiti Nui. It serves all Air Tahiti Nui flights plus Delta, Qantas, Air France, and United Airlines Business class passengers. The lounge closes by midnight, therefore Hawaiian premium passengers have no lounge access in Tahiti.
As of December 31, 2022; this lounge is not available to Priority Pass members, leaving no options except for those invited by the airlines or who purchase a lounge pass via Air Tahiti Nui.
The Air Tahiti Nui PPT lounge is located above the main terminal past security. The airport is very small making it easy to locate the only lounge. Once upstairs, the lounge occupies most of the floor.
The Lounge
The Air Tahiti Nui lounge consists of one large room. There are windows overlooking the tarmac and a false wall to divide the room into a few different spaces. There are mostly tables for couples, which makes sense for the location. French Polynesia is full of honeymooners and vacationers, fewer business travelers than beach seeking enthusiasts.
There is a couple of TV in the Air Tahiti lounge with a few couches and chairs around each TV. The design is good for a family or a few people who know each other. During my visit the area was occupied by a family of 5 until it was time to board. A few couches and other seating options near the first open part of the lounge, before the dividing wall.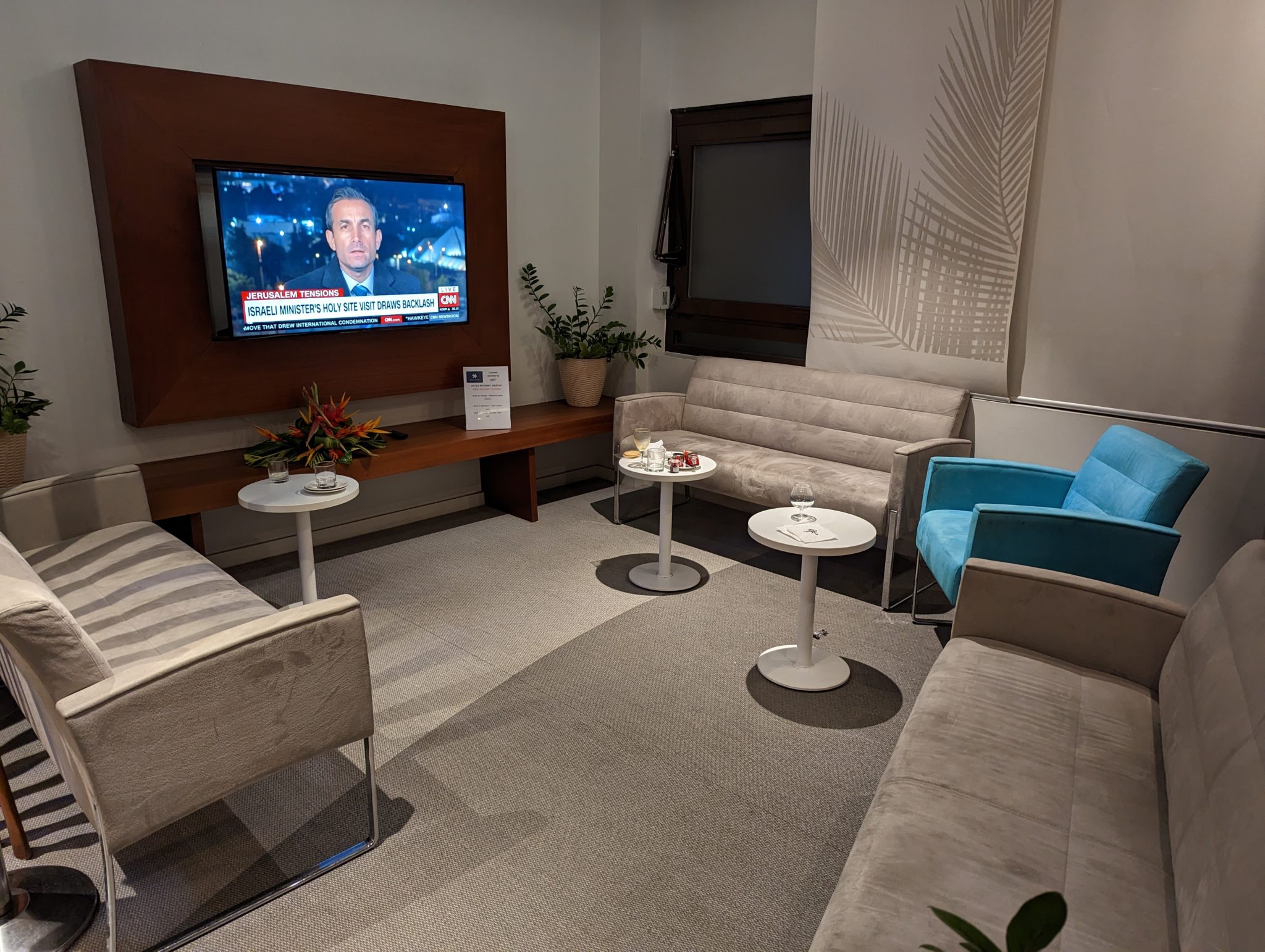 There are some bar stool seating looking back at the kitchen and more looking towards the open room. Finally, there are also computers which can be utilized.
The lounge has a single shower stall in both restrooms. You need to ask a lounge attendant for a towel before utilizing it.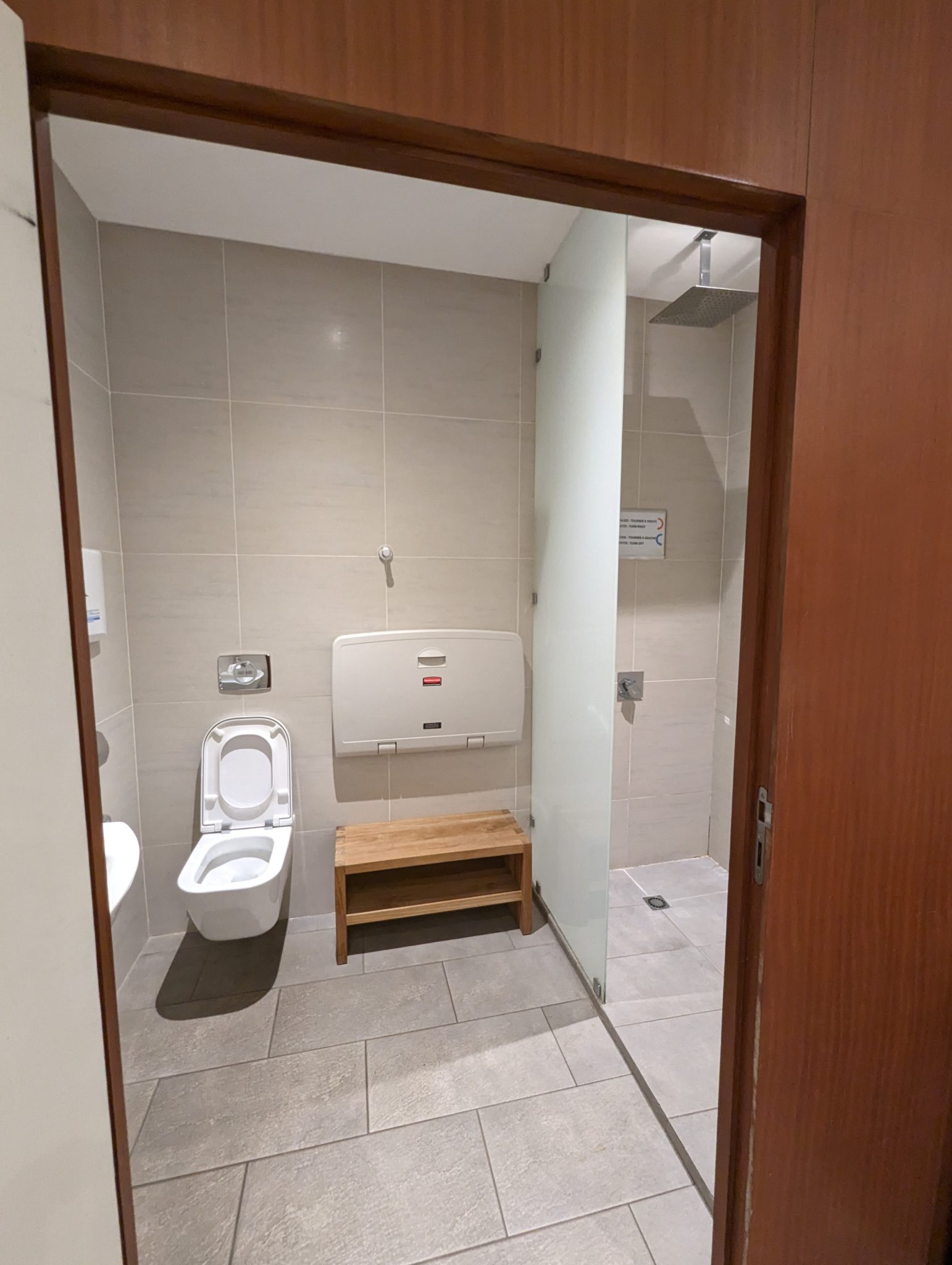 Air Tahiti Nui Lounge Food And Drinks
The Air Tahiti Nui lounge offers a small food and beverage section. The kitchen is between the main sitting area and the bathrooms. For an international long haul destination, this lounge has very few offerings. Inline with what I would expect from a United Club or a Schengen lounge within Europe, not a long haul lounge. Although I find the set up beautiful, I wish there was a better spread of hot and cold options.
Food in the lounge consists of mostly finger food. Such as cold cuts, cheese, fruit, and pizza slices. Pre-flight Hors D'oeuvre for everyone.
The lounge does have a self serve bar. This did somewhat surprise me given how expensive alcohol is in French Polynesia. Beers easily cost close to $10 and cocktails range between $15-$25 USD depending on the location. This felt like a liquid gold mine!
For those looking for coffee or tea, there is a standard espresso machine and a Nespresso machine.
Bottom Line
The one and only Air Tahiti Nui Lounge is a decent place to relax before a flight. It's not the world's best lounge, but it's not a bad lounge at all. It's just very basic. Lounge passes can be purchased for approximately $55 usd based on exchange rates. Day passes are ONLY available at check-in at the airport or online check-in for Air Tahiti Nui passengers. As I was flying Air Tahiti Nui Premium economy, I was able to purchase a day pass at check-in.