Welcome the to the airlines of the islands of French Polynesia. Air Tahiti Nui Premium Economy is just one of three cabin options for travelers to French Polynesia. Once you step onboard everything from the color scheme to the wall paper has tropical flare. The wallpaper, the color of the seats, and more are all very tropical inspired. Bora Bora bound, get ready to fly in style with Air Tahiti Nui Premium Economy.
Premium Economy offers an intermediate product which is a step above economy, but not as premium as business class. On all Air Tahiti Nui routes, Premium Economy is available for purchase or for upgrade. As Air Tahiti Nui only flies 787s, it guarantees that this product is available on all routes. On a recent trip I flew Air Tahiti Nui Premium economy between both Auckland and Tahiti and then again between Papeete (PPT) and Seattle. Other routes include Los Angeles, Tokyo, and Paris. For onward flights to Bora Bora or elsewhere in French Polynesia you must change airlines.
Premium Economy Seat
Air Tahiti Nui Premium economy section is somewhat small with just 5 rows. Each row is 2 seats by 3 seats by 2 seats. This allows couples to sit together and then families of 3 or whatever to take the middle seats. The seat is by ZODIAC Aerospace known as the  Z535. There are 32 seats total.
For comparison, Air Tahiti Nui planes have 30 business class seats and 232 economy seats. Economy is 3 by 3 by 3 and situated directly behind Premium economy. Business class is 2 by 2 by 2. Compared to economy, this is a very intimate cabin. Below is a few photos of the economy class cabin. Economy class features the same beautiful and bright color scheme.
Back in Premium economy, the seats are a bright blue with island themed accents throughout the seats and cabin. Each Premium Economy seat is 20.4" wide and has 36-38" pitch. The seats are very similar to many airlines' domestic first-class configurations within North America. Seats also have a leg rest and a foot rest for support and comfort.
When it's time to relax or sleep, the seats cradle passengers. This reduces the encroachment of the persons space behind you when you recline. The seats slide forward slightly, while also reclining.
The seat has very basic controls. Just tap a button to move your seat back. Very similar to economy seats. On the other armrest is a controller. I personally never utilized the controller as the TV screens are also touchscreen. Each Premium economy seat features a 14 inch TV, power and a USB plug.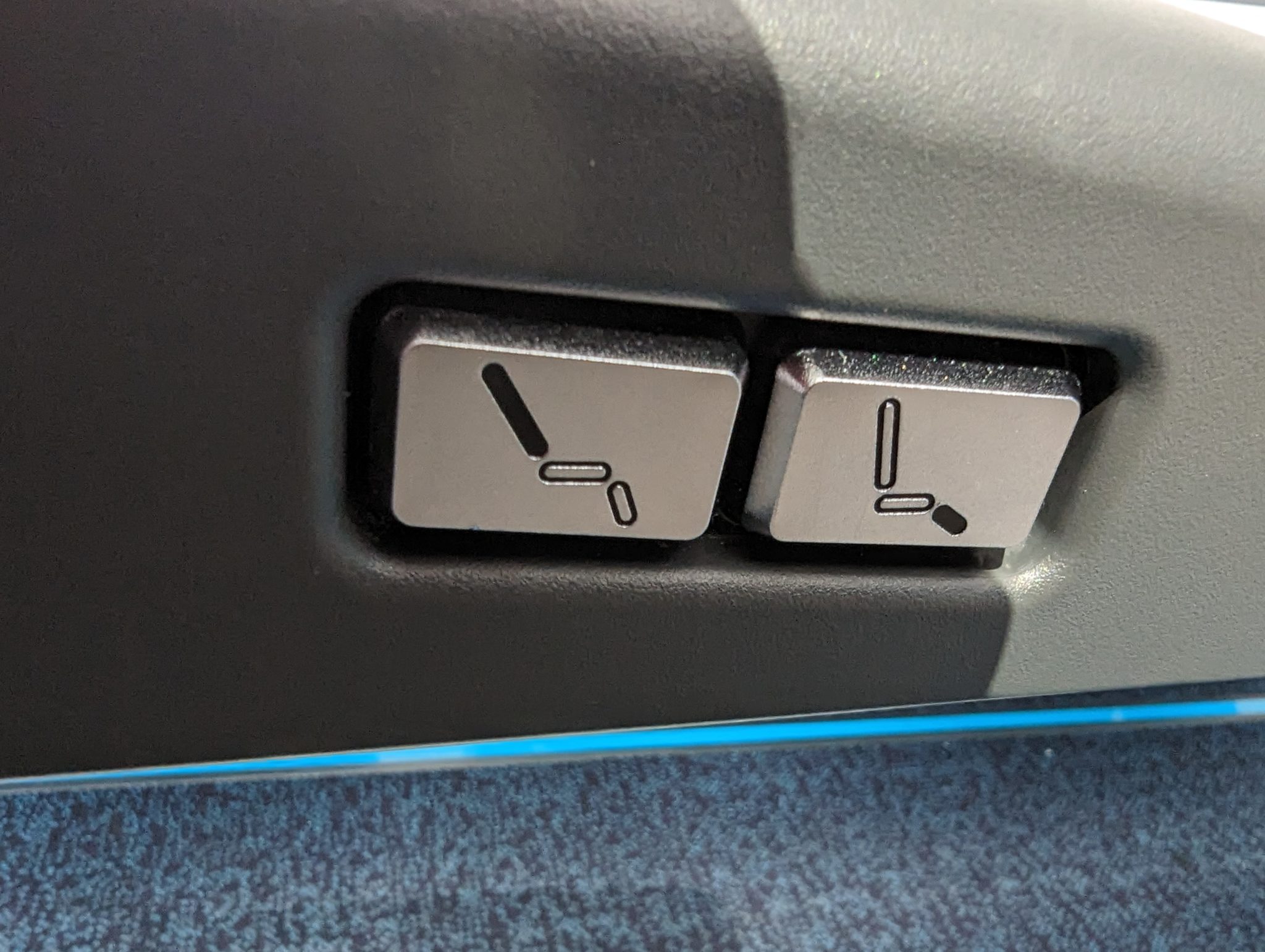 Premium Economy Meals
When it came to mealtimes on my flight, I was sad to find out and economy and Premium economy passengers are fed the same options. There's no difference is service or meals. Flight attendants serve from the galley between Business and Premium economy. They roll a cart out and serve the plane from front to back. From Auckland to Tahiti the only option was Turkey. Each meal is served covered with cheese and crackers and a dessert. Beer along with French wine and champagne is available and complimentary to go with the meal.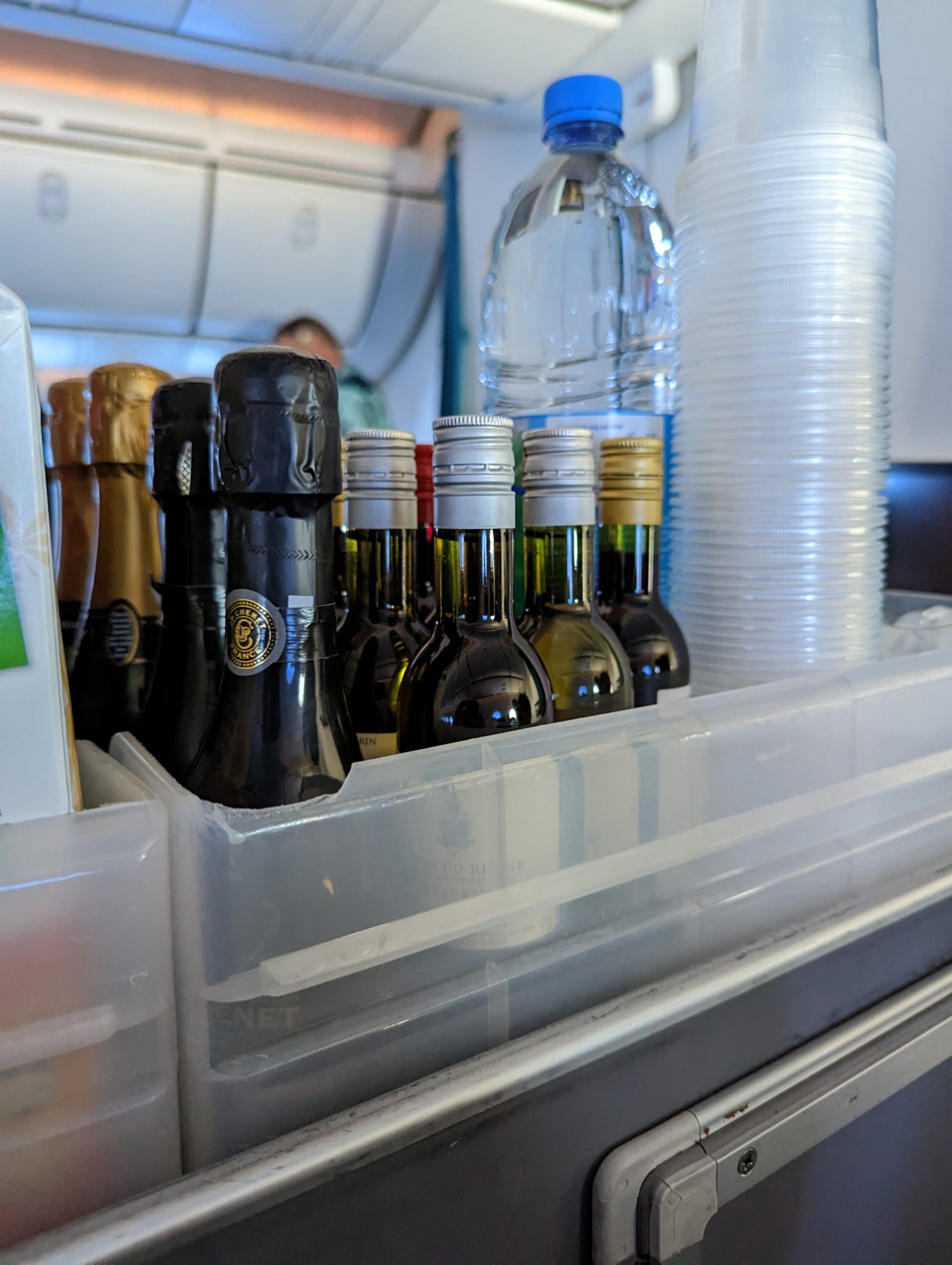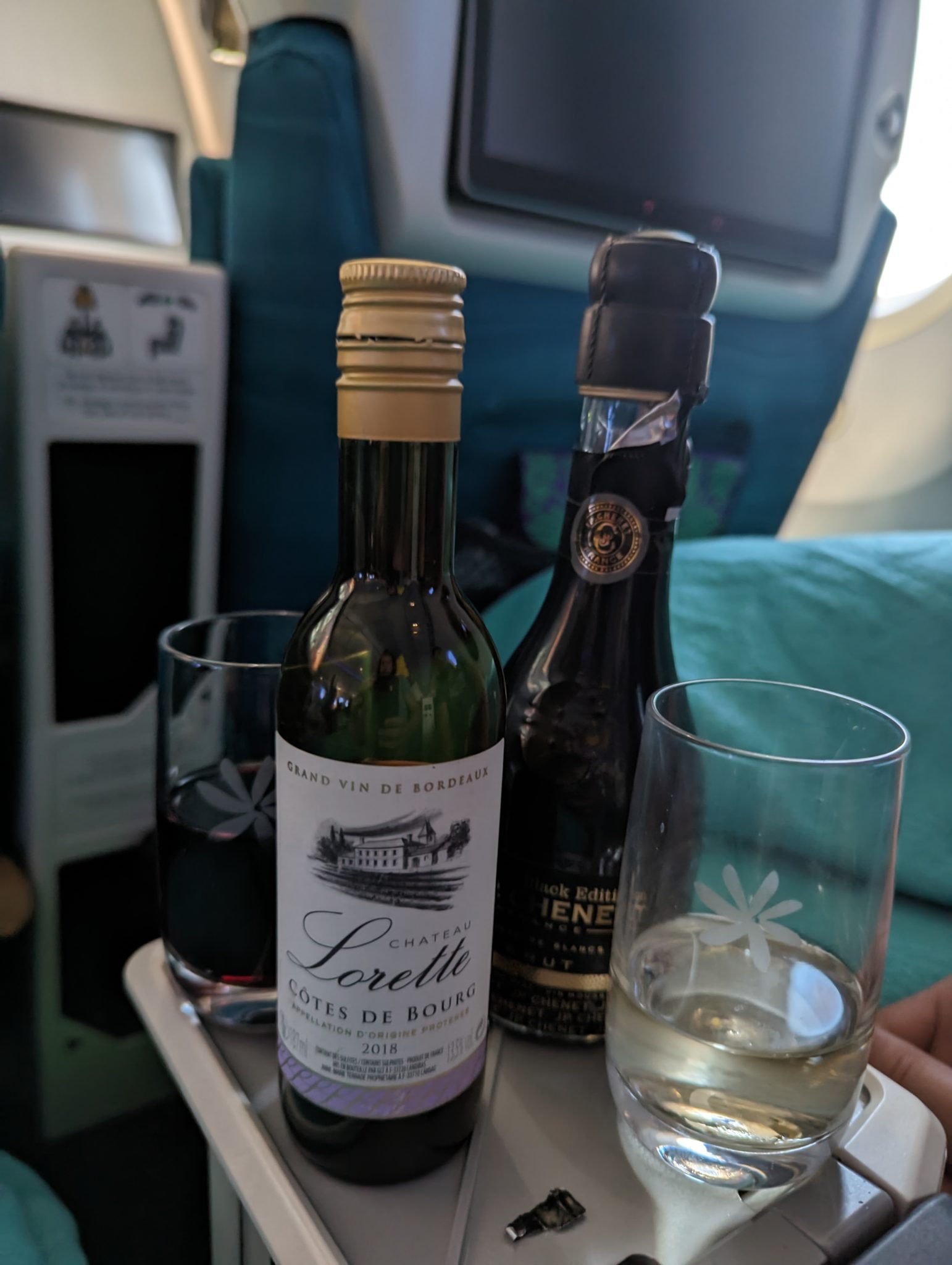 From Tahiti to Seattle the flight was a nighttime flight, departing close to 10pm. On the first service there was no option either, just like from Auckland. Beef Lasagna or beef Lasanga. Somewhat sad for an airline from French Polynesia. I really was hoping for either a French or Polynesian inspired meal. I forgot to take a photo of the meal. It really did look similar as my meal from Auckland. Just a different main dish in a foil tray.
After dinner I fell asleep and woke up about 2 hours out from Seattle. It was time for the pre-arrival meal. This time we had a choice. Either an omelet or French toast. I went for the omelet. This was a bad idea, but then again I always regret eggs on a plane.
Extra Amenities
In Premium economy each seat comes with a blanket and an amenity kit. The blanket and pillow is the same in economy and premium. The felt amenity kit comes in multiple different colors, but all contain the same items. Inside there are headphones, ear plugs, an eye mask, socks, refreshing towel, a toothbrush and paste. Very basic, yet everything you need without the extras. Which pretty much sums up Air Tahiti Nui's premium economy. Basic without the extras. Kits are made from felt and button close. This is an amenity kit that I would likely never reuse.
Is Premium Economy Worth It
If you are flying Air Tahiti Nui the question becomes should you spend more money or miles to fly Premium Economy. My advice, maybe. It really depends on what you are looking for in a flight. Premium economy is not business class. It's really just economy class with more space. Moana Premium, as Air Tahiti Nui calls it, offers only a slight upgrade to economy. See the side by side comparison below
Premium economy vs Economy
More Leg room- 36-38 inches of pitch vs 21-34″ in economy. More pitch = greater space between seats, or more leg room.
Wider Seats –  20.4 inches vs 17 inches
More Recline – 8 inches vs 6 inches
Larger TVs – 13 inches vs 9 inches
Power and USB at each seat. Economy only has USB
Upgraded Wine options over economy
Priority Check in – no check-in lines at either airport for Premium passengers.
More luggage – 2 complimentary checked bags vs 1
Bottom Line
Air Tahiti Nui Premium economy is a great way to fly between French Polynesia and the world. There's more space and added benefits which makes spending a little more worth it if you value space and time. Overall, the flight attendants are friendly and the food was good. Even if it was an economy class meal. I would like to see some enhancements to the soft product to really make Premium Economy worth the extra spend. A slight upgrade to the meal or snacks would be a simple upgrade. Yet, really when you fly Air Tahiti Nui premium economy, you are really paying a premium for the added space. Not so much the soft product.