American Airlines has modified their lounge network and rebranding their premium image with new Flagship lounges dedicated to their most elite flyers and those in international First and Business Class. Gone are the days where long-haul international first and business class customers relax in Admiral Clubs. Instead, there are dedicated Flagship lounges in American Airlines hub offering an upgraded experience. American's largest hub, Dallas, is home to a flagship lounge that gets very busy in the afternoon and evening hours.
The DFW Flagship lounge is on the 5th floor. You first enter a small lobby, go up an elevator, and then are checked into the lounge. The lounge is basically a long hallway. It's actually fairly narrow with seats on both sides. It does open up for a dining room area. Otherwise, the lounge hugs the window, offering excellent runways views.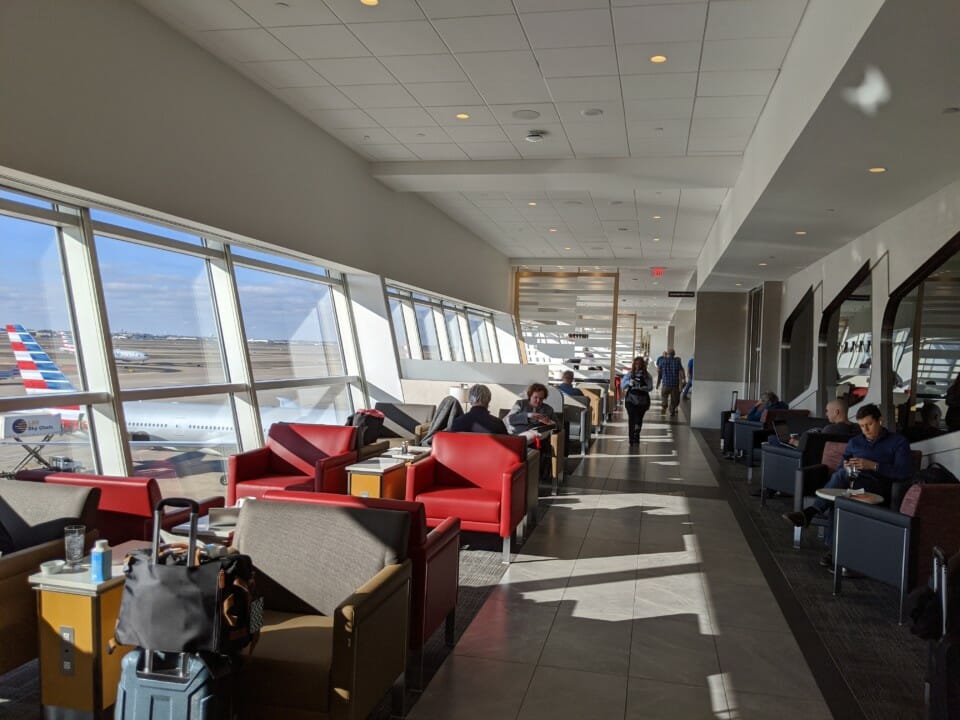 Flagship Dining
The American Airline Flagship lounge has two different dining options. For long-haul First class passengers there's Flagship First dining. Here there's cooked to order meals and Krug champagne! For those not in First class, but business class or accessing with Elite status, there's a buffet.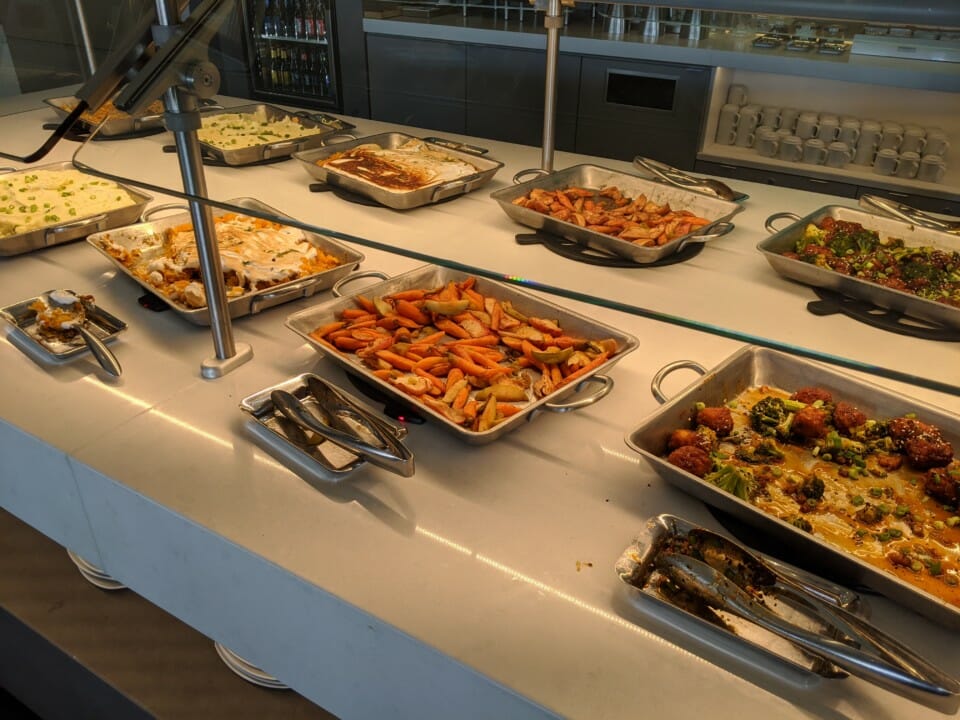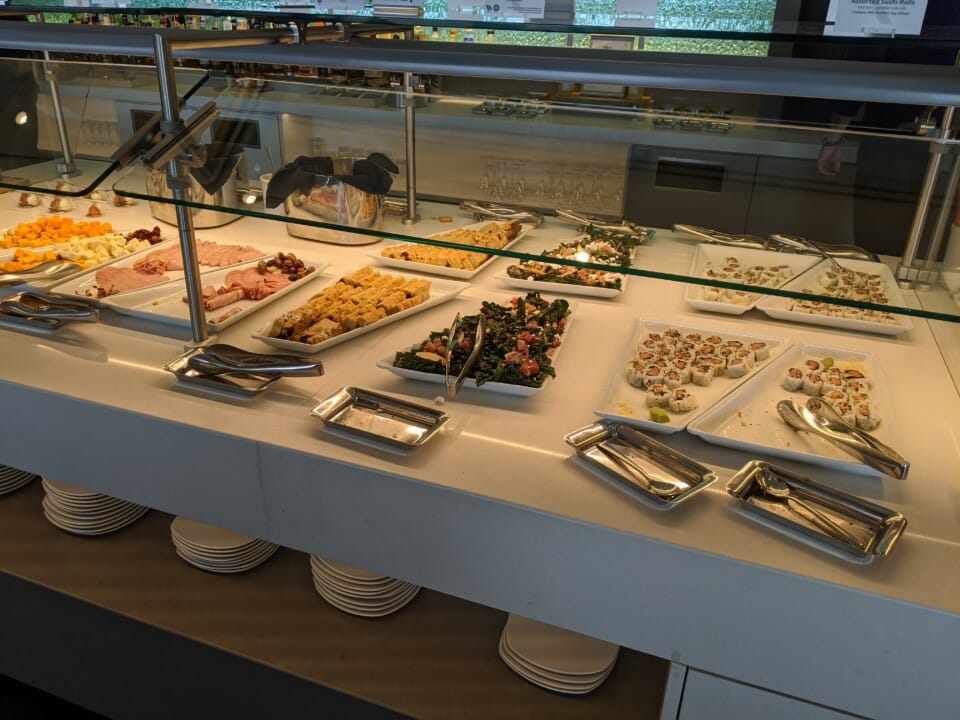 Everything was pretty picked over, but staff do refill items quickly. The sushi somewhat scared me. After all, no one has any idea how long it was sitting out for. There's also a station where's theres a cook preparing fresh dishes. Tonight's option was a Tandoori bar. Although India food sounded good, the idea of India food with Pita was not. It's really too bad, AA couldn't offer Naan Bread. Hopefully they get it right on their new route to India!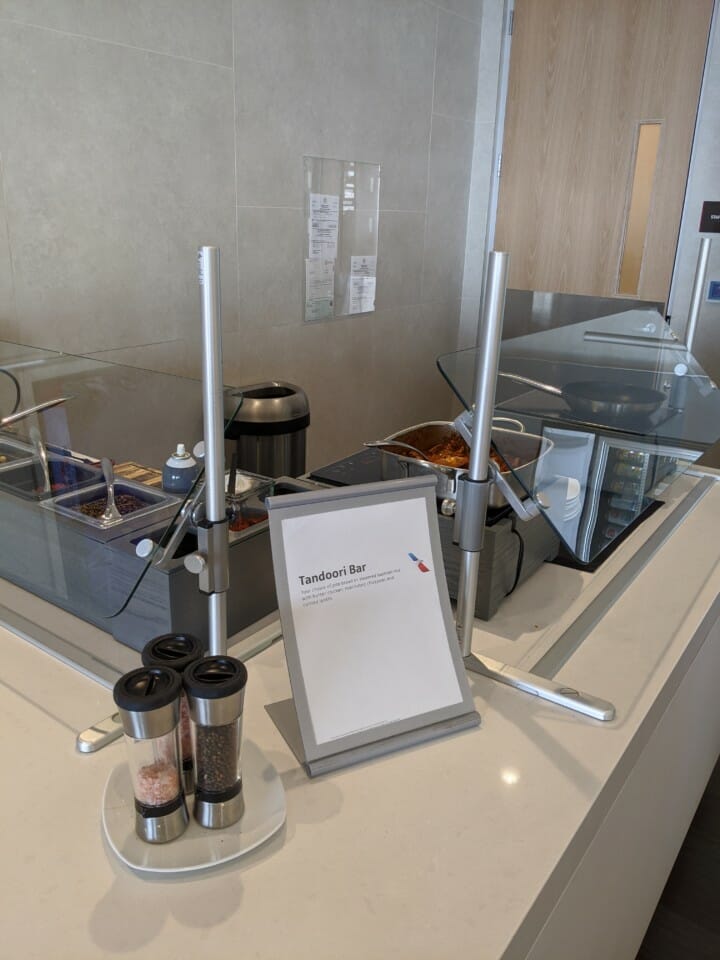 There is also small area with desserts. I did not take any photos of the dessert section. It was barren and didn't look that great. It was only cookies and brownies.
On the back wall of the buffet, there is a large bar. Everything in the lounge is self-serve. Alcohol selection is must better than Admiral clubs, and free.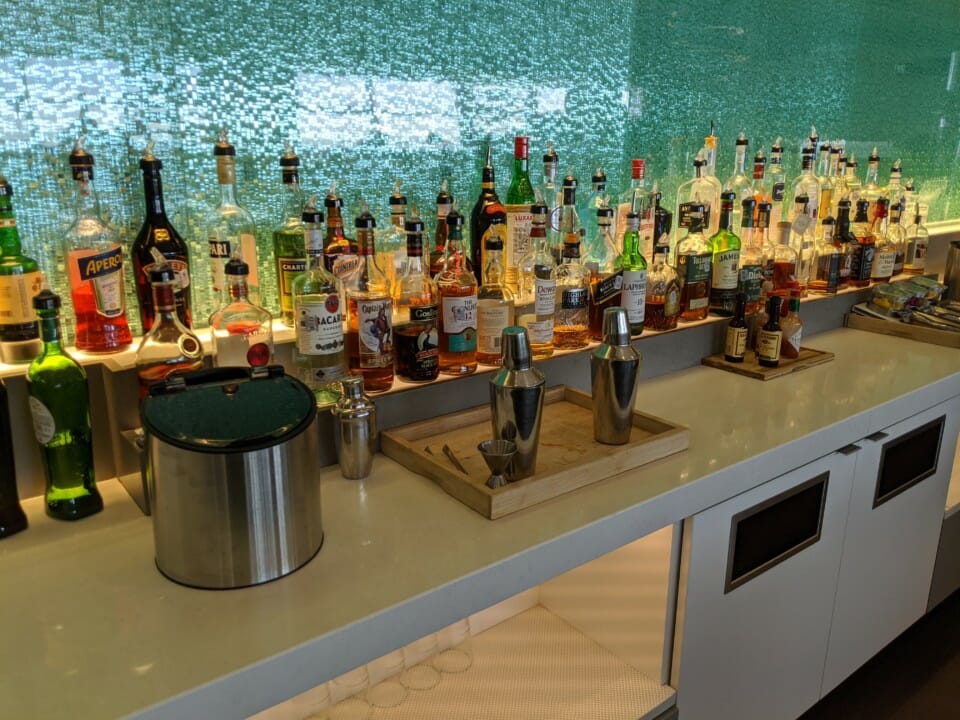 The dining area also has some small tables and larger social areas. In the middle of the room is a self-serve wine and champagne bar.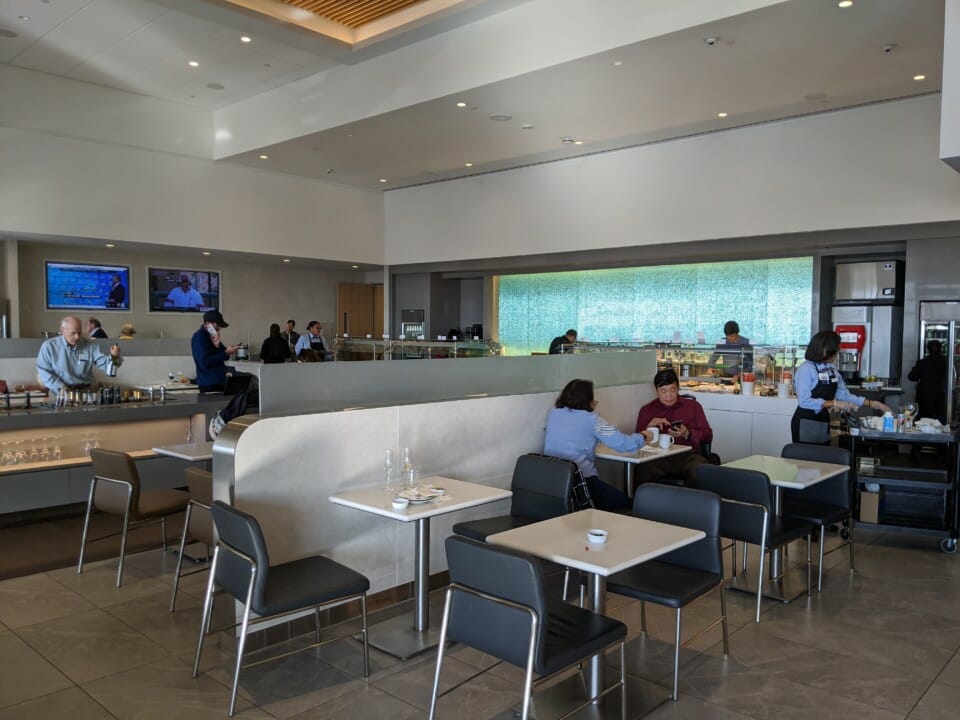 Relax, Sleep, Work
On the far side of the lounge there are two other large rooms. The first room is a tv room with several seats. When I was visiting it was about half full. It has three rows of chairs. I took only a photo of the first empty row.
Across from the media room, there's a quiet area. Here there are both chairs and day beds. There are no private rooms or suites. Everything is very much in the open. If you were desperate for a nap, a day bad could suffice. However, the room is not far enough away from the lounge to make a difference. Therefore the quite room is not really quiet.
Other parts of the lounge are not as relaxing as the lounge tends to be very busy. If you need a workstation there are a few that overlook the runway. There's also two computers to use in case you do not have your own. I did not see any private booths for phone calls.
Other seating options include individual seats, and more social options.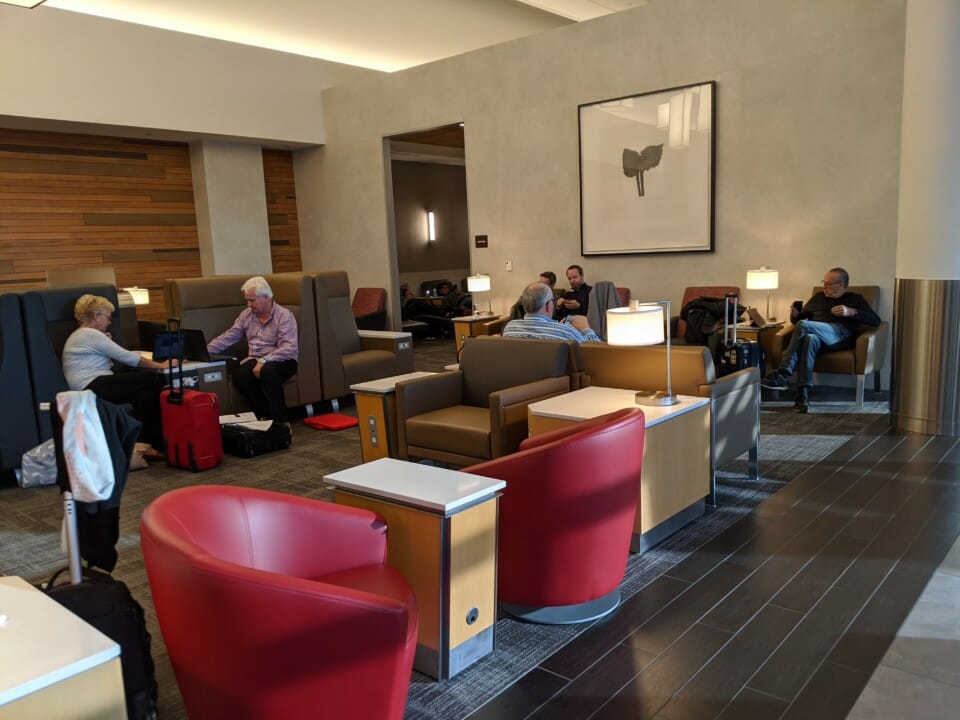 Flagship Showers
The DFW Flagship lounge has 10+ shower stalls. I had no problem getting a shower room around 4pm. Several were available. Each room includes a shower with multiple heads, a toilet and sink. Amenities in the showers are currently C.O. Bigelow.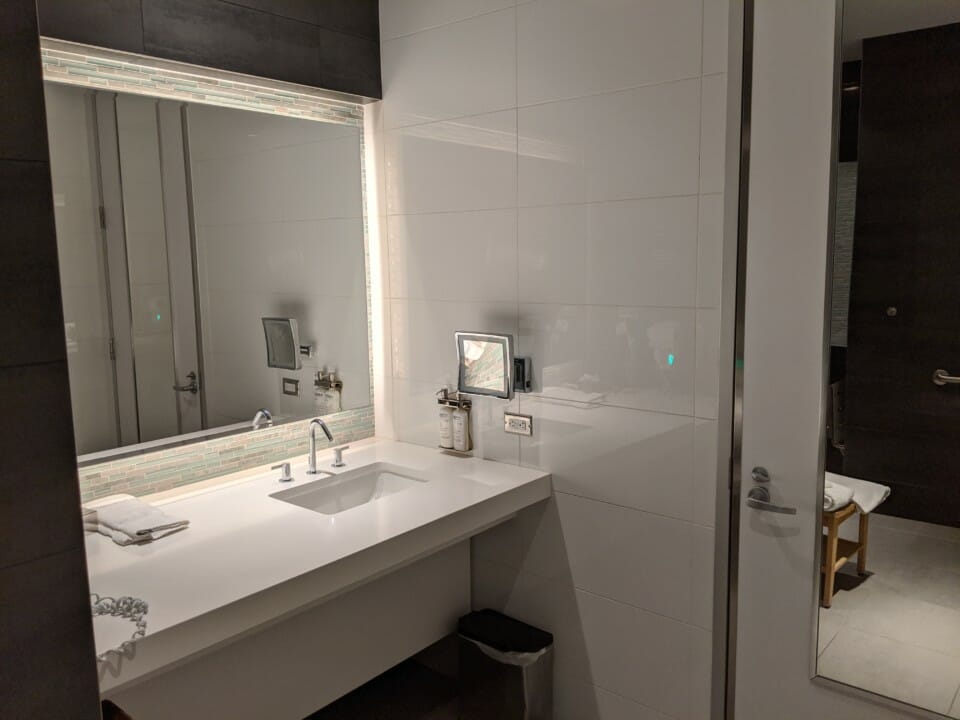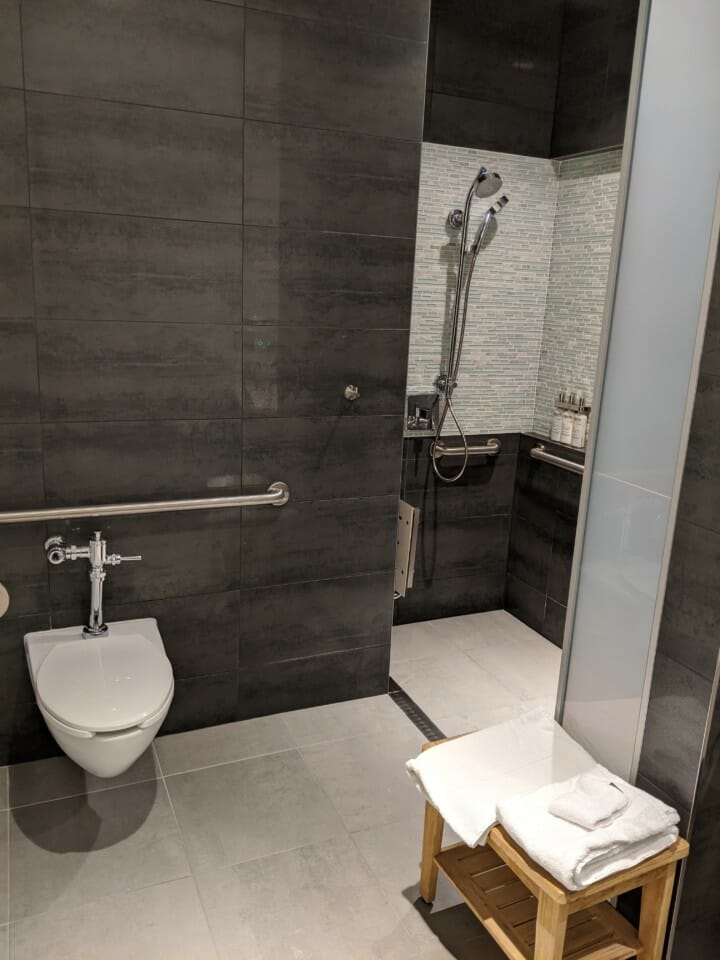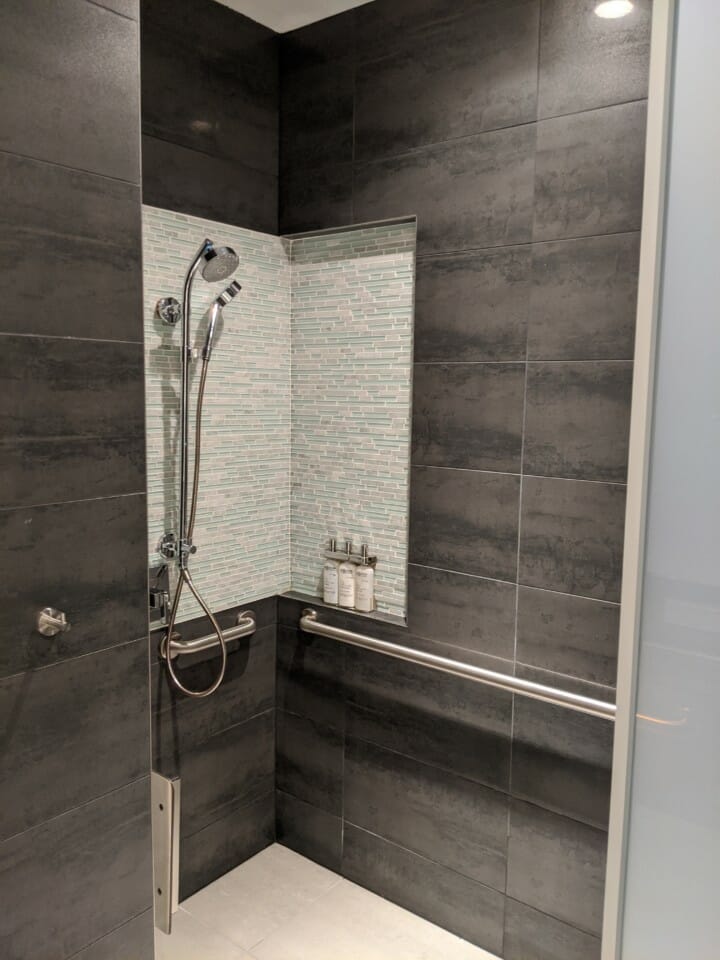 Flagship Lounge Dallas
The Flagship lounge in Dallas is nice, but it's busy and feels crowded. Both times I visited a United Polaris lounge, it felt like an oasis. Meanwhile, the DFW Flagship lounge felt more like a zoo. It honestly was as busy as the nearby Centurion lounge.  Nothing about the lounge felt premium. The lounge is a step above an Admirals Club, but because of how busy it is, it doesn't make you feel unique. I miss the old Flagship First lounge. It was only open to OneWorld Emeralds and first class passengers.
I would argue that Flagship First Dining is a unique and great experience. Then again, it's very limited to who can access it. Unfortunately, American Airlines missed the mark on the premium lounge experience. Yet then again, this could be because everyone and their mother has access to this more premium lounge.