The Palazzo Hotel and its sister property, the Venetian, are two of my favorite hotels in Las Vegas. The two properties are located on the north end of the Las Vegas Strip, adjacent to other popular properties such as the Wynn/Encore, Mirage, and Ceasar's Palace. The Palazzo is connected to the Venetian, and the two properties share many amenities, including a casino, restaurants, shops, and a pool complex. Both the Venetian and Palazzo are solid hotel choices but I personally prefer the Palazzo over the Venetian as I think it has a more modern and upscale feel and it tends to be less busy.
In this post, I will review my 3-day stay at the Palazzo Hotel in Las Vegas, booked through American Express Fine Hotels and Resorts (FHR). The Palazzo and Venetian are both loosely tied to IHG Hotels and Resorts as Intercontinental's Alliance Resorts, but elite status with IHG One doesn't entitle you to room upgrades and lounge access. Those perks are exclusively reserved for elite members of their own loyalty program called, Grazie Rewards. But seeing as to how the majority of us will not have status with Grazie Rewards, booking through FHR (and other sites such as Chase's Luxury Hotels and Resorts Collection) will be the best way to guarantee you additional benefits and perks to make your Vegas stay more relaxing and enjoyable.
American Express Fine Hotels and Resorts Benefits
But first, let's look at the benefits offered to you when booking a stay at the Palazzo/Venetian through American Express Fine Hotels and Resorts. And as a reminder, you actually have to book your hotel stay through the American Express travel portal. It's not enough to just have an American Express Platinum Card on file to receive these benefits. It"s also important to note that these benefits, especially the experience credit, do change periodically so make sure to pay attention to the language before booking. Sometimes the experience credit may be a dining credit; other times it may be a spa credit or something else.
At the time of this posting, American Express FHR benefits at the Palazzo and Venetian Hotels in Las Vegas include:
Noon check-in when available
A room upgrade, when available
Complimentary bottle of sparkling wine
Daily breakfast for two people

It states "daily breakfast for two" but in reality, it doesn't matter how many people are eating with you. It's a $65 credit (total, not per person) that can be used for in-suite dining or at the Grand Lux Cafe. So if you're traveling alone, feel free to use the entire credit on yourself.

Complimentary in-room WiFi, as included in your daily resort fee

There is a mandatory $45/night plus tax resort fee ($51.02 after tax) added to your bill. This fee covers benefits such as WiFi, access to spa/fitness center, etc. It's a B.S. charge and I'm not a fan of it.

Guaranteed 4 PM late check-out
Experience credit

$100 property credit, per stay (not per day)
Must be redeemed at the following locations – Casino and Pool bars, The Cocktail Collective, Black Tap Craft Burgers, Bouchon, BRERA Osteria, Buddy V's, Capri, Cut, Hong Kong Cafe, Matteo's Italian, estiatorio Milos, Mott 32, Spritz, WAKUDA, and Yardbird.
The Palazzo Hotel Las Vegas Review
For IHG One Rewards members and American Express FHR guests, there is a dedicated check-in area to the left of the main reception desks. This doesn't seem like much but during peak hours, this can save you a lot of time.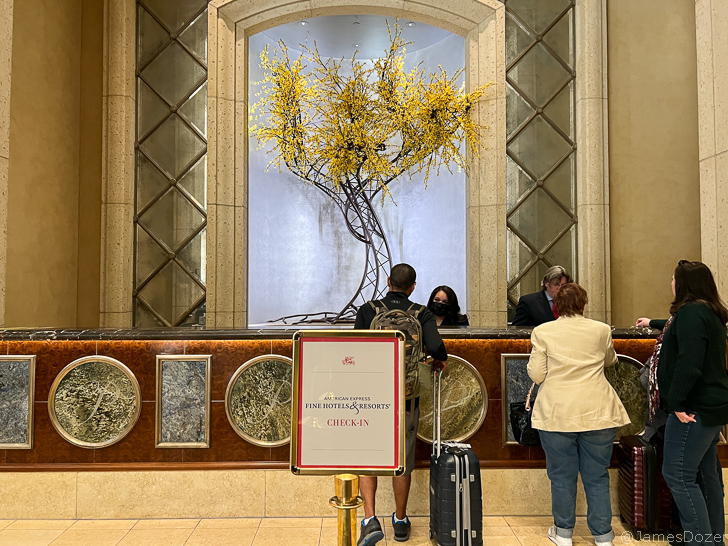 On this trip, I booked a standard two-queen bedroom and upon check-in, was "upgraded" to a strip view room. This isn't much of an upgrade but unfortunately, it's very common in Las Vegas. In these mega-resorts, there are so many different room categories and oftentimes, when you do get upgraded from a standard room, it's to a strip-view room or to a room in an upgraded tower. There are plenty of data points to suggest that upgrades to suites do exist but in my experience, with over a dozen bookings with American Express FHR and Chase Luxury Hotels and Resorts Collection, I have never been upgraded to anything more than this.
That being said, the reason why I love the Palazzo and Venetian Hotels so much is because all their rooms are suites and they start at 650 square feet. That's massive for a standard room in Las Vegas and you can easily fit four guys in a room for a "boys weekend trip." These suites are all well-appointed and comfortable, with quality bedding, large flat-screen TVs, and ginormous bathrooms with marble floors and dual vanities.
As you can see from my pictures, the suite is massive. In addition to the spacious sleeping area with two queen-sized beds, you also get a separate living area with another TV, a small dining table, a work desk, and a pull-out sofa couch.
Here's the view from the room.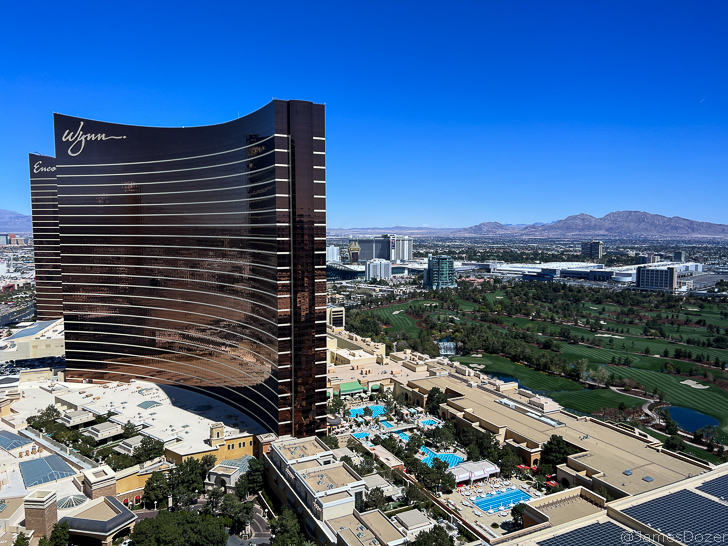 The en-suite bathroom is also massive with dual sinks, a separate toilet room, a bathtub, and a walk-in shower. You can easily have a couple of people getting ready in here without being on top of each other.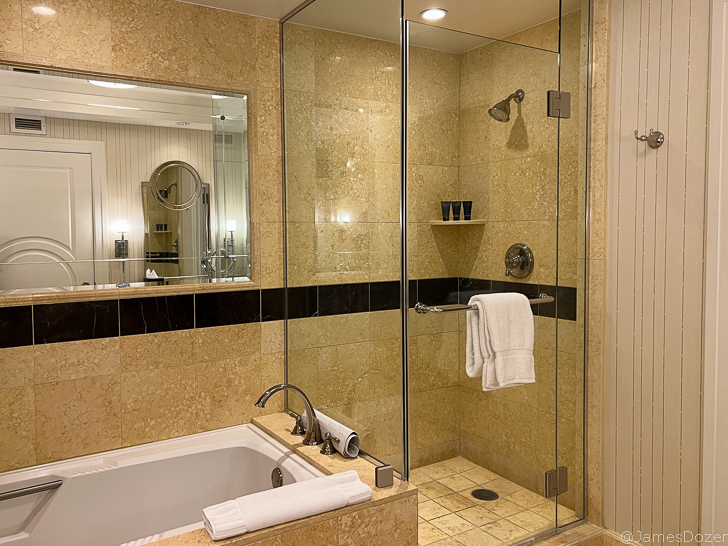 Aromatherapy bath and body products are also provided for your use.
Other room amenities include two bathrobes, an iron/ironing board, and an in-room safe.
Booking through AmEx FHR also gave us a generic "Grazie Rewards" bottle of California sparkling wine. It wasn't anything special but good enough for slammers before going out.
If you're looking for some sun, the Palazzo offers a large pool complex with several pools and plenty of lounge chairs to lay out. This pool area is also connected to the Venetian's pool complex so you can walk back and forth between the two.
Pro tip: The Palazzo does have its own spa and fitness center but they are both fairly small. You can use them but if you want a true gym experience, walk over to the Venetian Hotel and use the Canyon Ranch Spa and Fitness Center located over there. It's an easy five-minute walk and the facilities are worth the effort.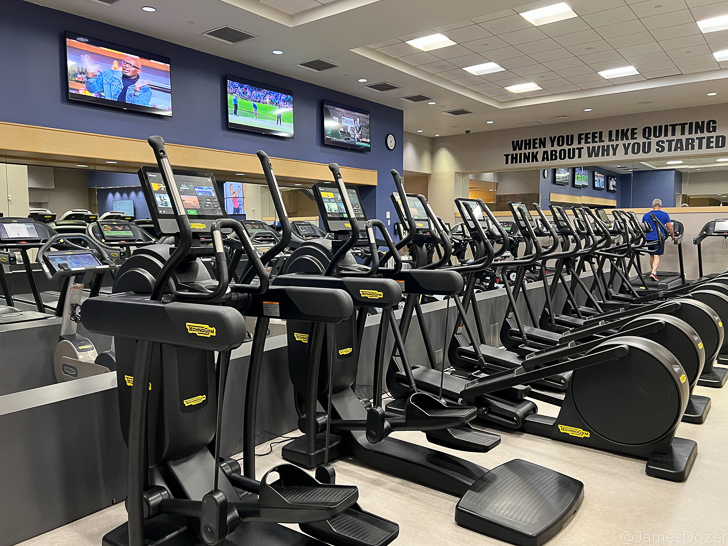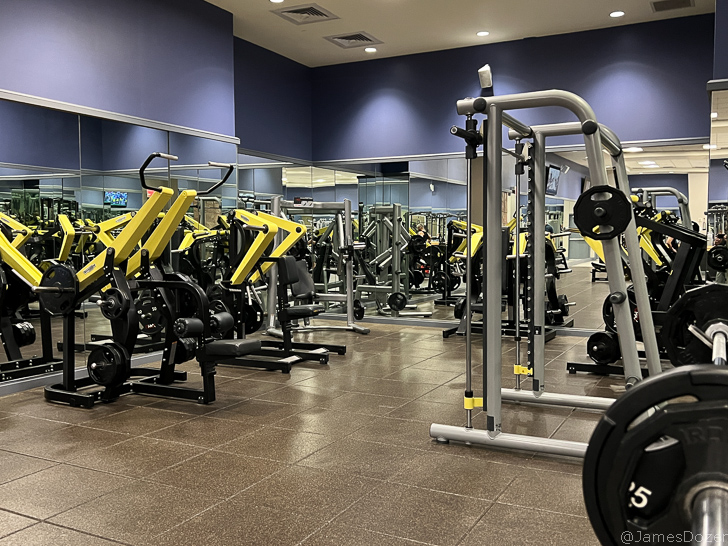 And there's even an in-door, rock-climbing wall that you can use.
The Palazzo has a number of dining options, including several fine-dining restaurants and casual eateries. For dinner, we used our $100 dining credit at Buddy V's Italian Restaurant. It was good but nothing special.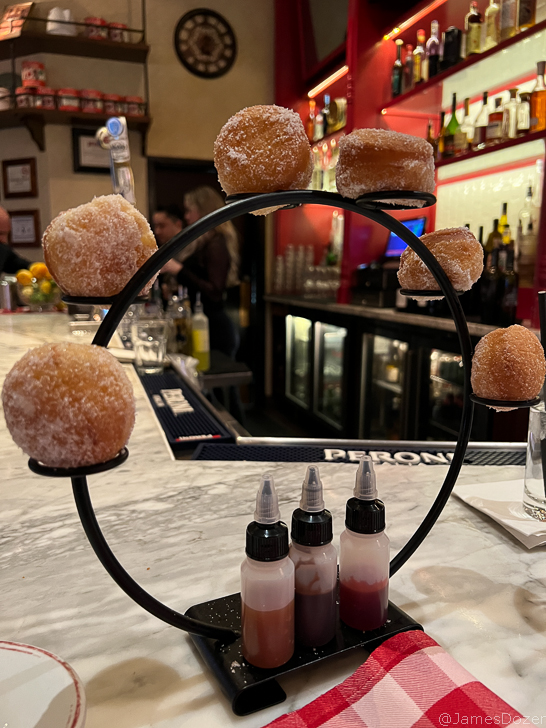 And for breakfast, we used our breakfast credit at Grand Lux Cafe. It's basically a rebranded Cheesecake Factory but everything inside including the decor and menu are nearly identical.
Breakfast is served until 11:00 AM daily but there's a breakfast buffet that lasts until 11:30. We got down here late every day so the buffet was the most convenient option for us. The selection and quality weren't amazing by any means but for a quick breakfast, it wasn't bad. There was only a small selection of eggs, proteins, fruits, and carbs but the redeeming highlight of the buffet was the omelet station.
And just for fun, we got the "breakfast beignets" one day. There was nothing breafasty about these but they were delicious. They were served warm with sides of cinnamon sugar and other dipping sauces.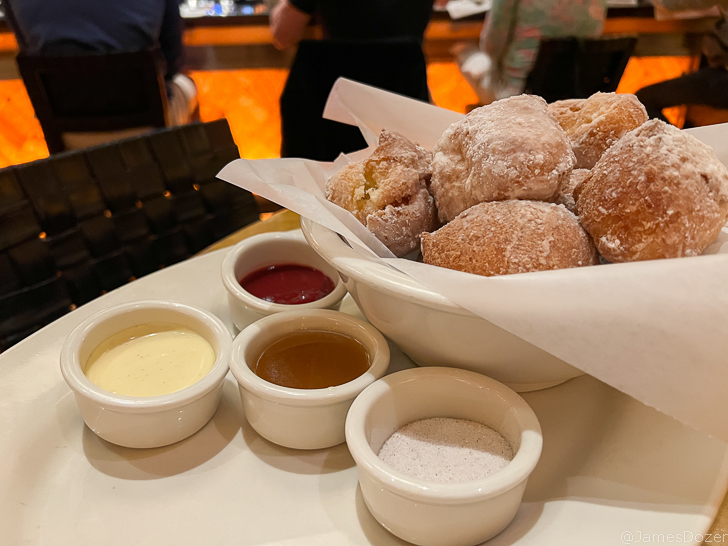 The Palazzo American Express FHR Benefit Bottom Line
Overall, the Palazzo and its sister property, the Venetian, are great choices for travelers looking for a more luxurious and upscale experience in Las Vegas (that won't break the bank). The hotels have everything you need for a relaxing and enjoyable stay, including spacious "all-suite" rooms, plenty of dining options, and world-class amenities. Combine those with the great benefits provided by American Express Fine Hotels and Resorts, and you'll have a great stay in the heart of the strip.
Have you stayed at the Palazzo recently? If so, please share your thoughts with us in the comments section below. Thanks for reading!