The British Airways Concorde Room at London Heathrow is among the most exclusive lounges available to a select few flyers. Only passengers flying British Airways or other OneWorld carriers in first class from London Heathrow terminal 5 can access the Concorde Room. Unlike the first class lounge, OneWorld Emerald elites are turned away. If you are not flying First Class, there is no access, except to those with executive club highest status and 5,000 tier points or more. 
Those traveling from Terminal 3 have access to the Galleries First lounge in that terminal. Or a savvy traveler will instead opt for the Cathay Pacific First class LHR lounge in Terminal 3.
The British Airways Concorde Room offers an experience that is a step above all other British Airways lounges at Heathrow. The lounge is dated, and has had a few minor updates over the years, but overall it's a lounge that is classic and focus is mostly on service and exclusivity over modern flare. The lounge staff is plentiful and the lounge is less busy than lounges which are open to OneWorld frequent flyers. 
Concorde Room Dining
The British Airways Concorde Room does not offer a buffet. There are a few different dining concepts depending on the time of the day. With the exception of High tea in the afternoon on the terrace, everything is al la carte.
Typically at the bar and on the terrace there is a smaller food menu but a more elaborate cocktail list. In the dining area, one can enjoy full service dining and an extensive wine and cocktail list.
I find the best dining option to be in the dining room. Unless you want a burger, then order from anywhere. The main dining room menu rotates monthly whereas the bar menu is fairly consistent.  Below are some pictures of the dining room and food service on a visit in September 2023.
After dinner I opted for a little dessert. Traveling with a partner is always great so you can try more. We had espresso and port wine plus both primary desert options. These too change monthly.
All food and drinks are complimentary throughout the lounge. If private dining is not your thing and you prefer something more social. You can order from the "bar menu" at the bar or from anywhere in the lounge.
Concorde Room Space
Inside the lounge, the atmosphere is more similar to a boutique hotel than an airport. There are several couches and big chairs to sit next to. With limited natural light, except for on and near the terrace the lounge is some what dark.  With its contemporary décor, the Concorde Room decor matches many other dated BA lounges.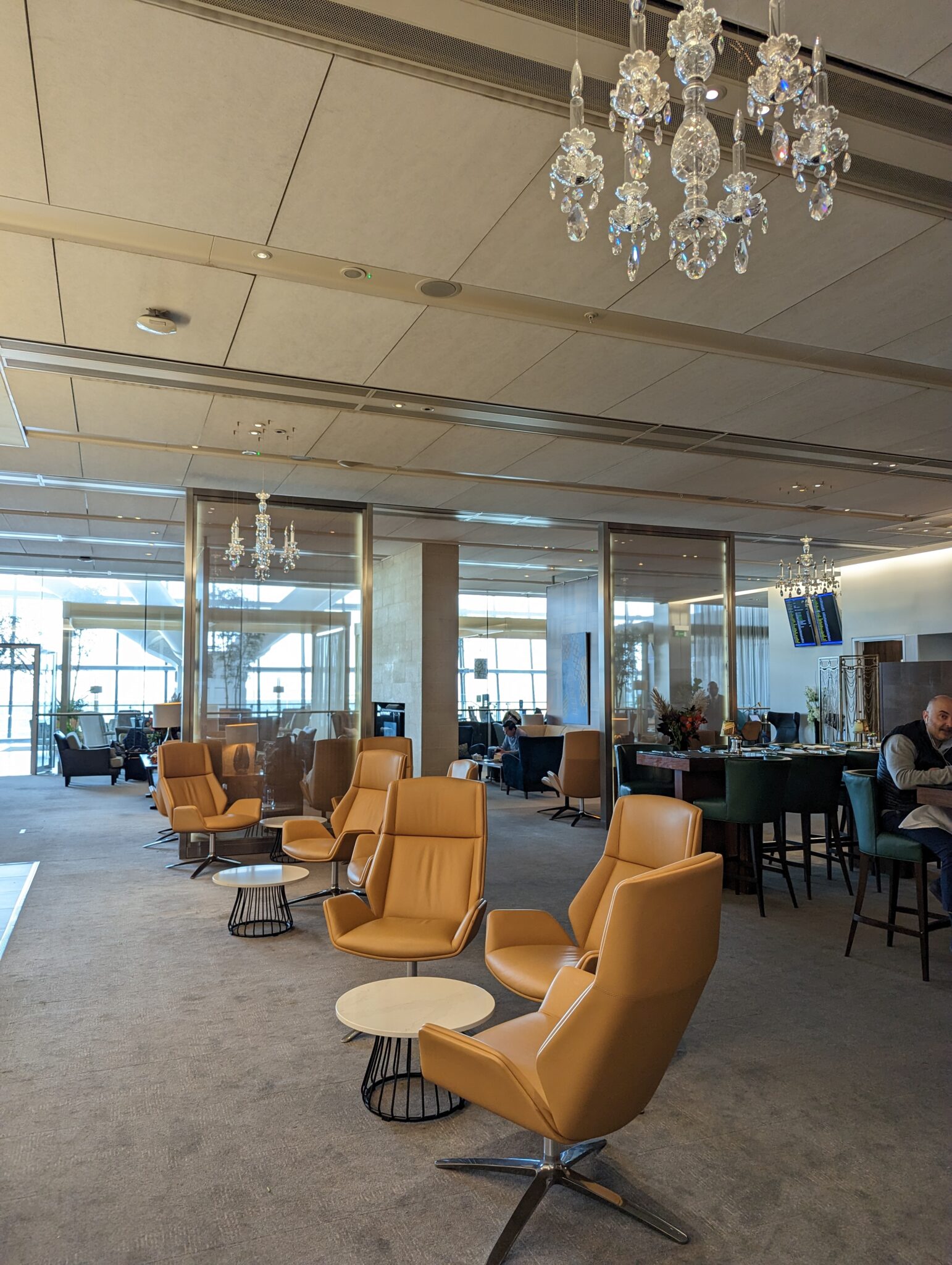 The fashionable high-backed chairs and couches liter the lounge and oversize chandeliers greet guests eyes in all directions. There are also horse statues and oak wooden floors throughout the lounge. My favorite spot during a cold and wet day is near the fire-place in the center of the lounge. During the summer, this too can be cozy. 
 High tables give a more social setting outside the dining area. Full menu service or bar service is available in this area and it's utilized as an overflow space. You will find a mixture of people both working on laptops here and ordering food.  Sit anywhere you feel comfortable, service is always available.
The indoor sky terrace has different types of seating as well. Tables for dining's and couches for lounging. With large windows over looking the tarmac and skylights, this is my favorite space in the Concorde lounge.
Concorde Room Bar
The Concorde Room bar is a glamorous place to sit and drink while enjoying cocktails. The large bar offers high-end drinks including Johnny Walker Blue Label. The lounge also features everything from non alcoholic gin and beer, to fancy new concoction like the turbine martini.
 The Concorde Room bar offers several high-end spirits. Wine and beer is also available. There are several red and white wine varieties from around the world. I did a quick Vivno check of the wines and most retail between $10 and $65 a bottle. The airport lounge also features free flowing champagne. Grab a glass of Laurent Perrier Grand Siecle from the bar and a waiter will keep it refilled no matter where you sit down to relax. 
The full bar offers freshly made espresso drinks to order along with a slew of cocktails. The cocktail menu changes from time to time, but you can really order anything you want. 
Sleeping at the Lounge
If you are visiting the Concorde Room and need to sleep, know that British Airways first class guests have the option to use a sleeping pod. The Heathrow First Class 'Forty Winks' lounge is complimentary and operates on a self-service basis so customers do not need to pre-book. 
The pods are great for back sleepers, but not very comfortable if you're side or stomach sleeper. Guests are provided ear plugs, blanket and a sleeping mask and you can ask for a wake up time.  Customers can set the timer on the EnergyPod to the desired duration or use the one-touch start button for a pre-programmed 20-minute nap. The EnergyPod reclines to elevate the feet and promote relaxation. The adjustable privacy visor can be swiveled into place to block out distractions. Complimentary audio content for use while in the lounge and traveling can be downloaded via the Restworks Mobile app.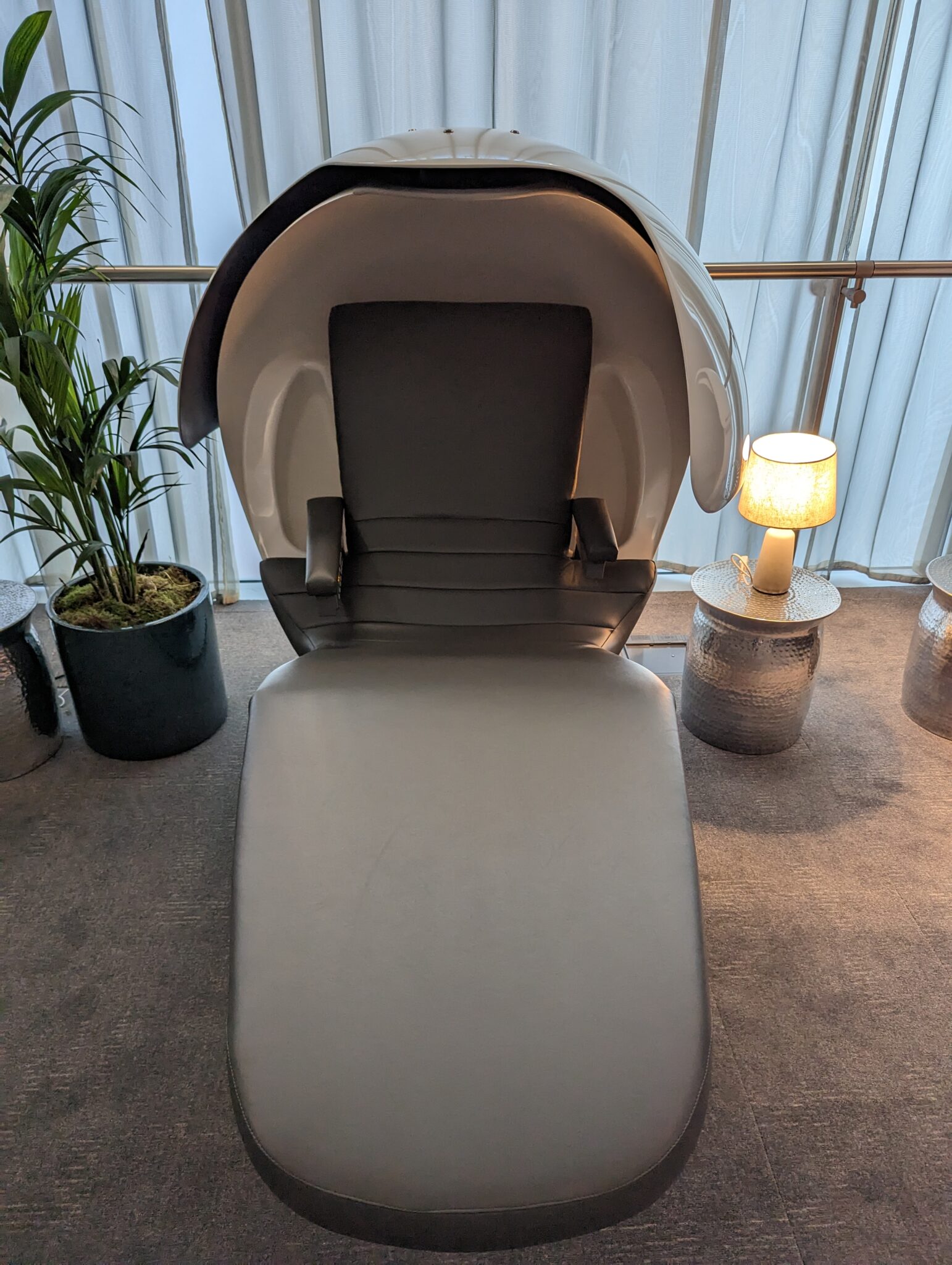 The First class lounge also has Cabanas which are private rooms. They are not full beds, but instead a TV and lounge chair. On every one of my visits these have been closed (during covid) or full. 
The True First Class Lounge
The British Airways Concorde Room is an oasis from the busy Terminal 5. The lounge has all the amenities one would expect with an old-world yet contemporary charm. British Airways Concorde Room is no hip, party-like club such as the Virgin Atlantic clubhouse, yet then again it's not supposed to be. British Airways is more refined vs Virgin's chic and trendy style.
The British Airways Concorde Room lacks natural light, but makes up for some with it's "indoor sky deck".  This is by far my favorite place to be in the lounge. As I prefer natural light to adjust to the time zone while traveling. 
If flying in first class, make some time and experience the exclusive environment which is only made available to a select few. It's not the world's best first class lounge, but it's one of Heathrow's better lounges.