British Airways First Class is a fine way to fly across the pond. Although many people give it a bad rap or call it the world's best business class, I find the elevated service to be very comfortable. The extra-large seat with the new privacy doors, the improved menu, and better drink selections make British Airways First Class worth it. Especially true when you can score an upgrade on miles!
My British Airways first class experience was on BA 182, New York JFK to London Heathrow. The flight typically leaves JFK at 11:15pm. Due to daylight savings time ending in the UK a week earlier than the US, our flight left JFK at 12:15am instead. Landing late in the morning in London, at 11am. Thankfully, the soon to be shuttered JFK Concorde Room remained open an extra hour to ensure we were comfortable before our flight.
For this flight, I utilized my Chase Sapphire and transferred 20,000 miles to British Airways. 40,000 miles total to upgrade both of us from Business or Club World to First Class.
First Class Seat & Cabin
British Airways First Class cabin is now only 8 seats across two rows on the reconfigured 777W. This is a reduction from 14 seats previously across 4 rows. With fewer seats, the cabin feels much more exclusive. Elevating the experience all around and reminding passengers that this is not club world.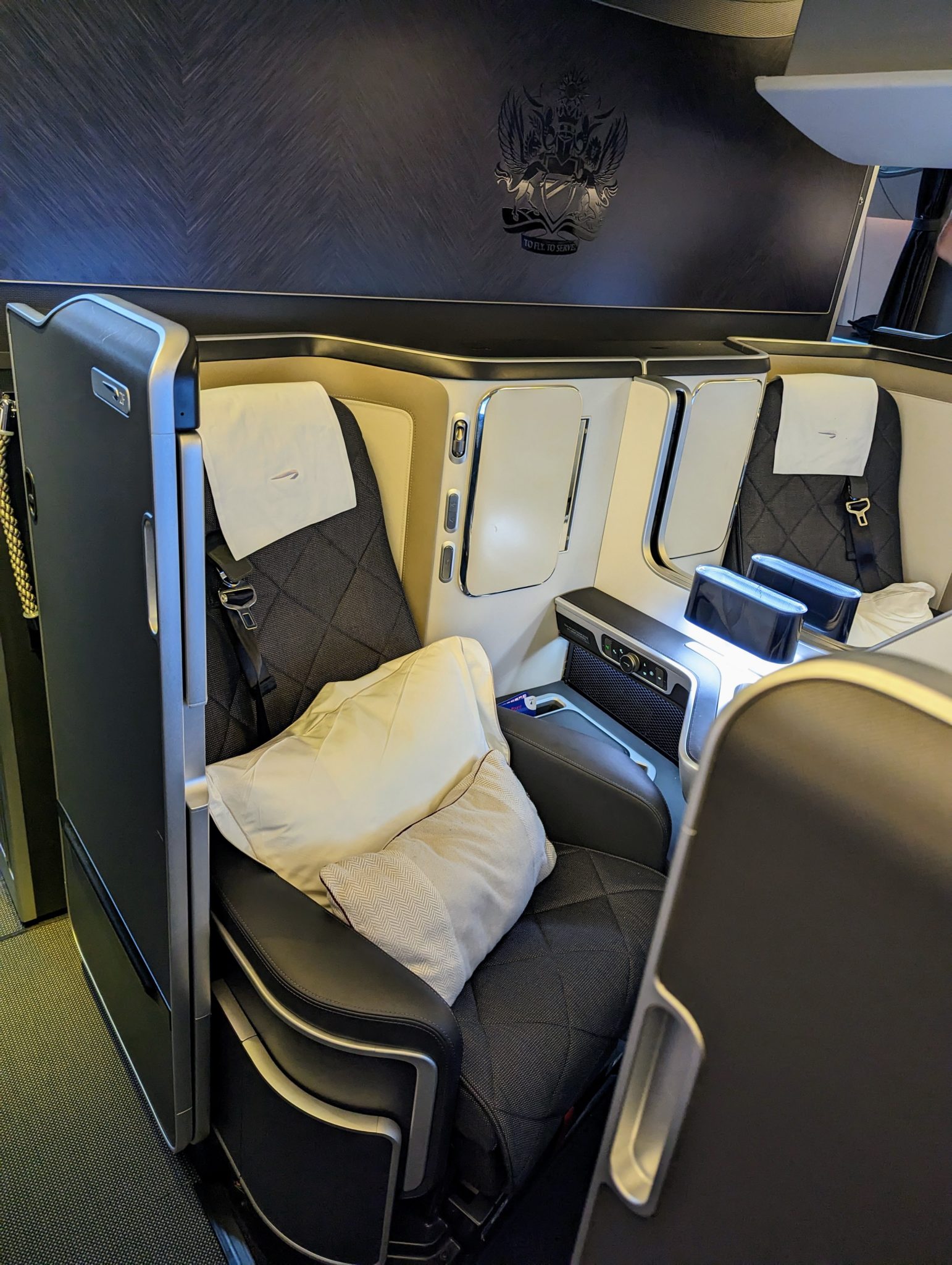 Each suite or seat provides British Airways first class passengers plenty of space to relax. The suite converts to a fully flat bed and extends 198cm (6ft 6in). The seat is completely open, negating the need to place your feet in a footwell under the seat in front of you. Just one of many differences between first class and Business class. More space.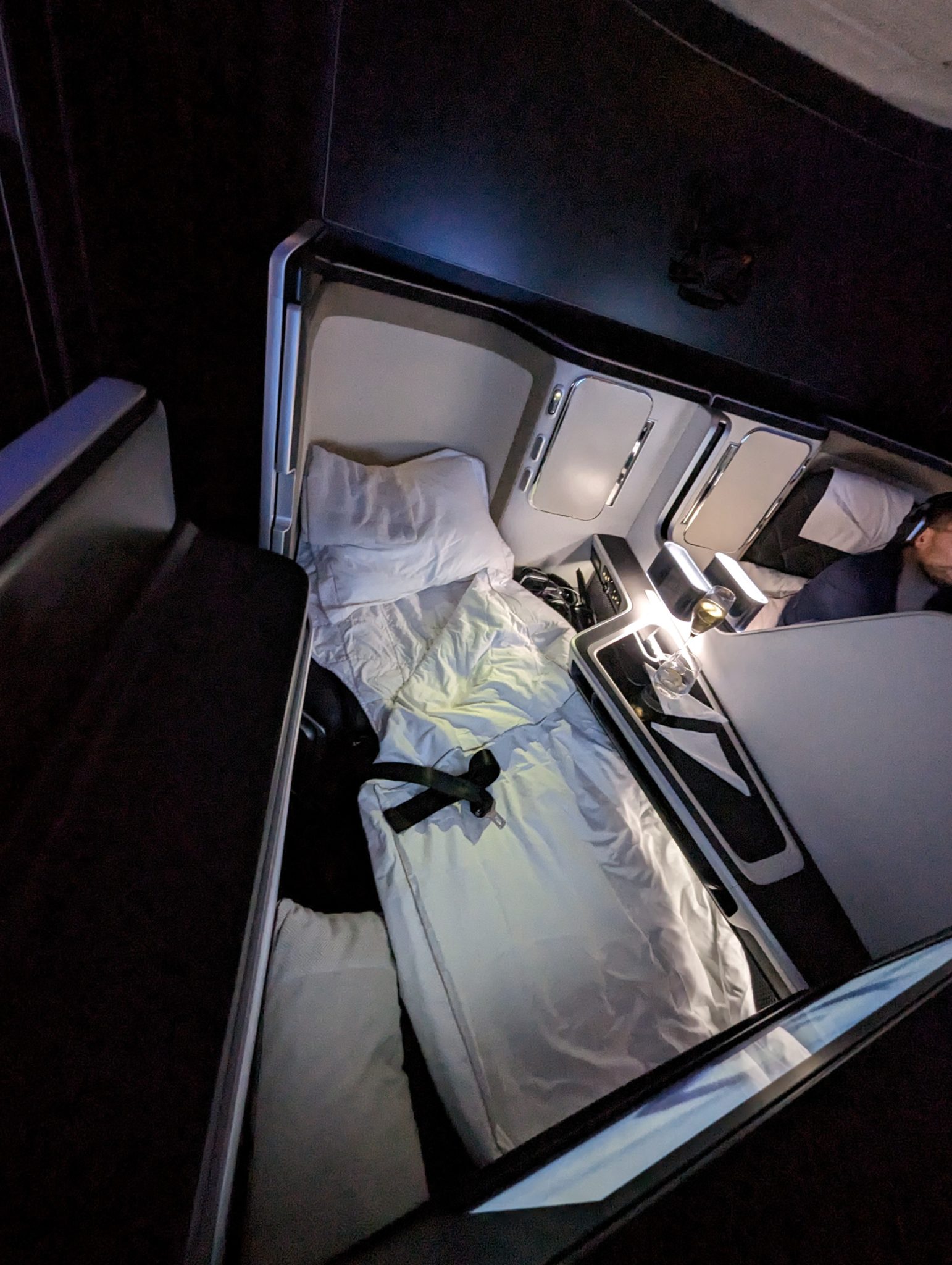 The new British Airways first class product has doors which fully close. Yet, like the business class cabin, the walls are only a few feet high. It provides privacy while sitting, but anyone walking down the aisle can clearly see over the wall. Yet, even with the doors open, you have decent privacy from your neighbors. They can see your tray table, but you don't make eye contact with them.
For the most part I kept my club suite door open. Except when sleeping, then the added privacy was nice.
The suite also features a very narrow wardrobe or closet. It's meant for hanging your jacket or clothing when you're changing into your inflight pajamas. The narrow closet is great, but not meant for anything of substance. Also do not be like my partner, do not forget your jacket in the closet when you disembark! Thankfully we were able to recover it, but it took a herculean effort.
The British Airways first class seat has easy to use controls, local storage, and a beautiful HD TV full of movies and entertainment. Overall, the suite was clutch and a nice upgrade over the business class seat we flew over from London on. It's not the largest first class suite in the air, but I like it. The only thing that was maybe missing was a second ottoman seat for someone to dine with you. Yet with Diego sitting in the suite next me, we could talk and dine together without sharing a table. Therefore, this is not a must have.
The seat has good storage for items around the seat, including multiple pockets and closets. The seat has one power port and two USB power ports to charge devices. Each passenger also gets an amenity kit with all the fixings including an eye mask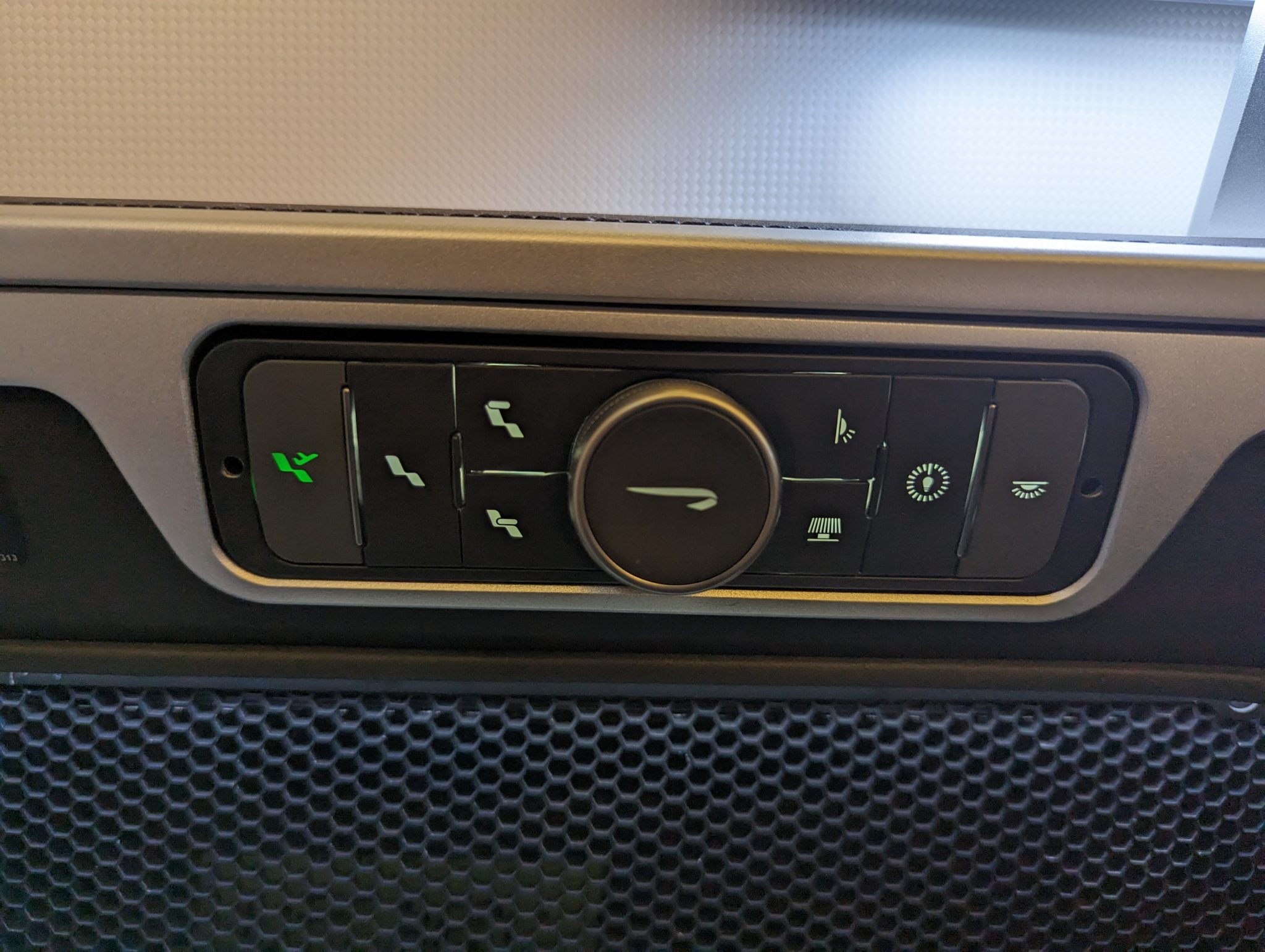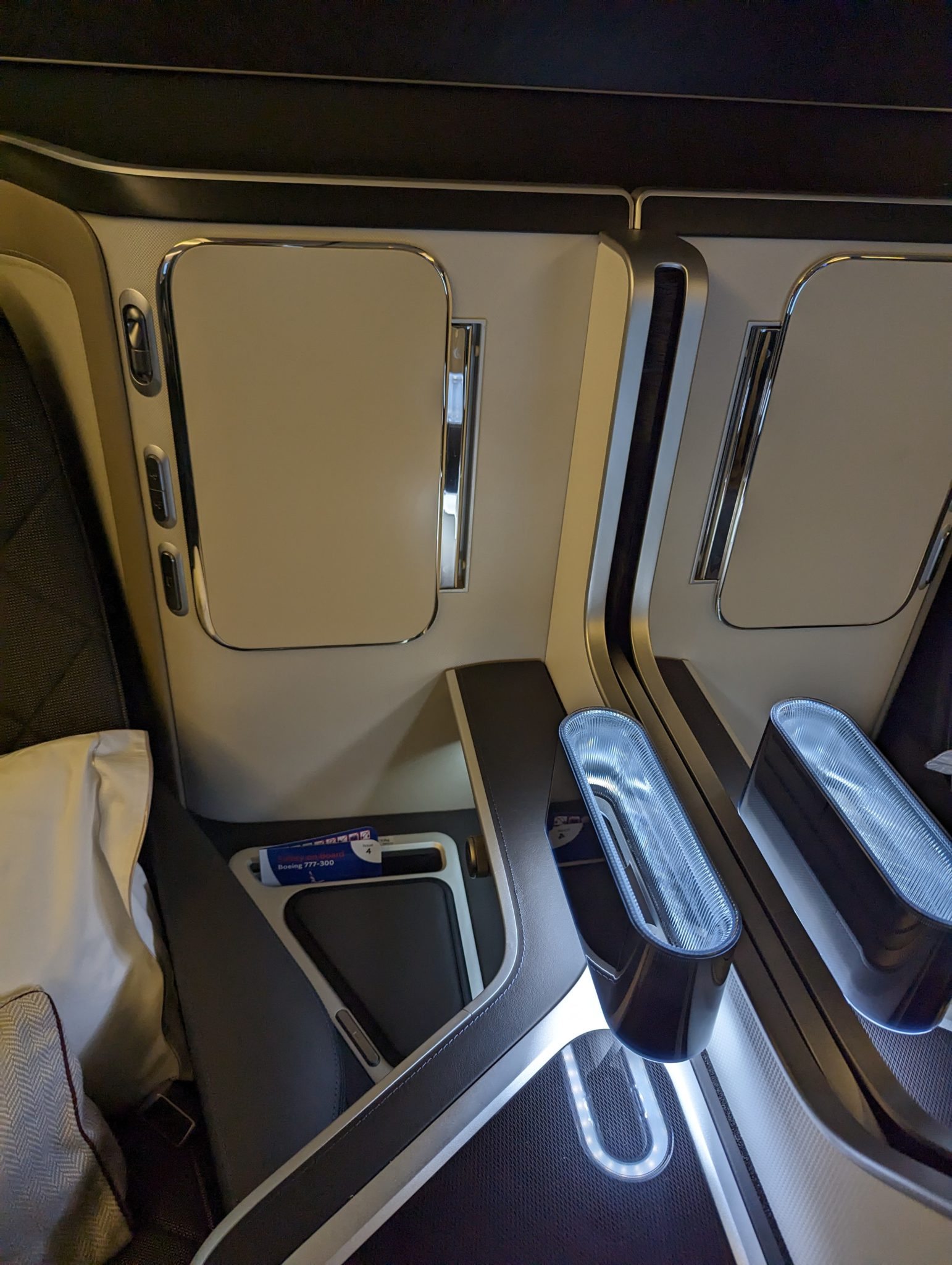 British Airways First Class Dining
Most people who fly first class will tell you that the real difference between first class and business class is the onboard service, meals, and alcohol. This is where an airline can really shine if they invest in their soft product. British Airways does a good job on food and a decent job on alcohol. With JFK to LHR being a short 6-to-7-hour hop depending on the wind, British Airways does not have a ton of time to showcase their ability. Not to mention, a late night, super early morning departure does not help either.
Regardless of the short flight, the meal after takeoff is spectacular. The food is flavorful, the staff is fun and efficient, and the alcohol free flowing. Expensive flowing champagne for the win! I'll never say no to another glass of laurent perrier grand siecle NV. Especially at $150+ per bottle.
Below are the food and beverage menus: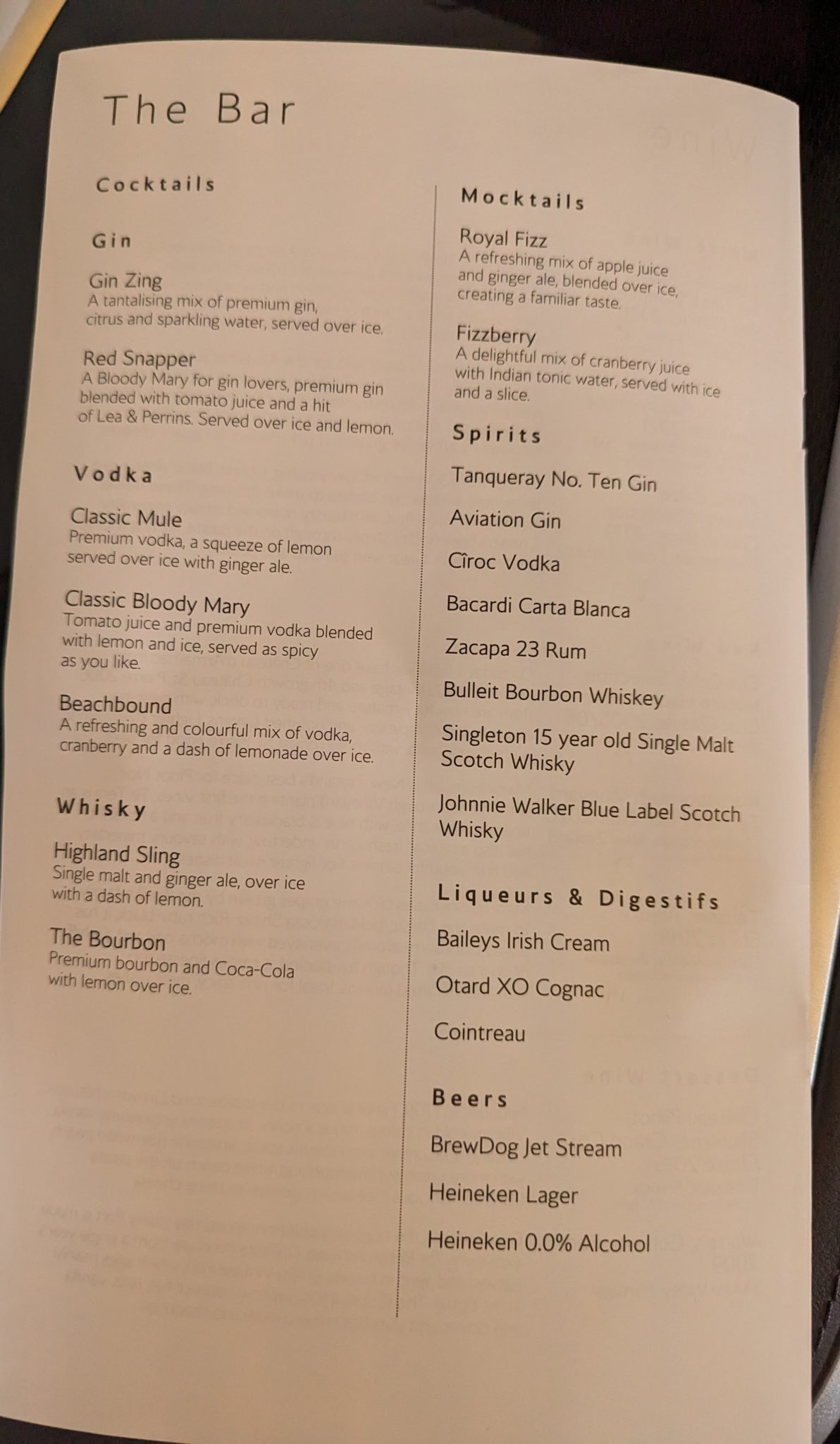 On every flight, I like to research the price point of the wine and read some of the tasting notes. British Airways wine selection is on par with many international airlines business class wines. With an average retail cost of just $25. Pretty terrible for long haul first class. Some vintages retail closer to $50, but others as low as $7! Thankfully the Laurent Perrier Grand Siecle is at least expensive and delicious.
Being a party of two we were able to sample several items on the menu. The pasta was among the best I've tasted in the air. Who knew that the British Airways menu could be so delicious.  Noodles al dente, who knew this was possible in the air?! My lamb, perfect! The soup, soooo good! Dessert was a bit basic, and I was too full to indulge in the cheese. Darn! This is what happens when you are flying for days on end.
First we both had the canapes. On nearly every airline I find these snacks to be more of a miss than hit. Regardless, it's a fun way to start a meal.
Next up, the pasta for Diego and the Lamb for me. Yumm! Everything was cooked perfectly. I was able to add a side of kale and carrots to my dish which made it feel somewhat healthier. For shits and giggles I also added the potatoes au gratin. Heck, try everything right? I could have done without the potatoes, but I don't like them on land either. The British Airways menu was a real delight.
As winter is upon us, soup was in store. It was salty, creamy and heavenly! I almost asked for seconds.
Next up, the pasta for Diego and the Lamb for me. Yumm! Everything was cooked perfectly. I was able to add a side of kale and carrots to my dish which made it feel somewhat healthier. For shits and giggles I also added the potatoes au gratin. Heck, try everything right? I could have done without the potatoes, but I don't like them on land either.
After dinner, Diego skipped dessert. I went for the tart. I wanted to try everything. Sadly, I didn't have the capacity to push myself through. The tart was good, but basic.  I should have opted for the sundae or the soufflé.
After all the food, I said enough. The amazing flight attendant made my bed and slept until almost landing in London. Meal service took about 2 hours leaving me less than 4 hours to sleep. With an 11am landing and a long layover, instead of opting for breakfast on the plane I ate in the Concorde room.
How to Upgrade a British Airways Flight
There are several ways to get British Airways First Class. The most obvious way is to purchase first class. Yet, let's be real we'd all rather upgrade vs pay. The easiest way to upgrade to British Airways first class is by using points or miles from credit cards or Avios miles. There are several credit cards by both Chase and American Express which transfer to british airways executive club. The cost to upgrade depends on distance. Verify the cost via "manage my booking" or by calling British Airways. Whenever a reward flight is available for sell with Avios, it means your ticket can also be upgraded to that cabin
Whenever you upgrade with Avios, no matter if they are earned via British Airways or from credit cards, there must be award space available. It's easiest to check this online and search segment by segment. If you see a first class seat available and you are already in business class, you can use British Airways Avios to upgrade to First class. Yet, if you are in economy or business class you can only upgrade one class of service with points. Which means a first class upgrade may be out of reach.
When upgrading via miles, always consider splitting your itinerary. From personal experience I find that it is easier to be upgraded when flying on a single ticket than a ticket with multiple people. Commonly, only one upgrade becomes available at a time.  If there are multiple people on the same ticket you will need to have the ticket split by reservation. Of course if more than one upgrade is available, this is not an issue. Splitting a ticket usually is not an issue, but there is a risk that someone else may take the upgrade while the reservation agent is splitting the ticket. 
A first class flight is always the best way to fly. Yet, if you are not booked in a business class cabin, all you can do is upgrade to the next class of service. For example a Premium economy ticket can be upgraded to Business and Business to First. You cannot double upgrade. There is no way to upgrade from economy to first or even Club world.  
In some cases, if you want first (Or business) it makes the most sense to pay for it. In the case of a British Airways upgrade, always pay for at least the cabin you'll be happy flying. Incase you don't get upgraded. Otherwise, at least a business class club suite or a premium economy seat still beats economy. 
Bottom Line
The British Airways First Class cabin is great, especially with fewer seats, making it feel more intimate. It's a fine way to fly over the pond. The new suites with doors are a nice addition and provide more privacy. British Airways provides an upgrade experience with better amenities in first class. The amenity kit includes more items, you get pajamas for sleeping, more personal space, better bedding with mattress pads and more. Is British Airways first class the world's best business class? No, it's a mid grade first class product. The service and offering are better than American Airlines soon to be retired first. It's not as opulent as Emirates First Class or even Singapore Airlines' First. Regardless it's an elevated experience with more space and a better soft and hard product than business class.