Hi everyone. Please welcome my friend, Graeme, to the blog! Graeme recently flew British Airways Premium Economy Class, aka "World Traveller Plus," from London to New York and I asked him to share his flight experience with us today. I'll talk more about Graeme below the post but for now, here's some basic information about British Airways World Traveller Plus Premium Economy.
Note: When booking British Airways Premium Economy, make sure to look at your specific aircraft type as they currently offer two versions of their World Traveller Plus product. The first generation premium economy seats are the ones to avoid as they are old and tired with a subpar in-flight entertainment system. The old seats are found on some Boeing 767 and 777-200 aircraft. Here's a picture of the old British Airways Premium Economy product.
And here's a picture of the new British Airways Premium Economy class product found on their Airbus A380, Boeing 787/777-300ER and retrofitted Boeing 767/777-200 aircraft.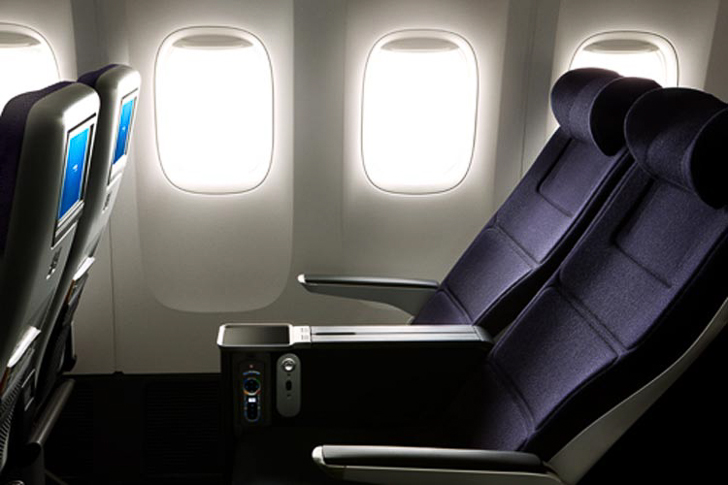 The new British Airways Premium Economy Class seats offer better ergonomics, increased recline, personal in-seat power and a 60% larger IFE monitor. On their Boeing 777-200s, premium economy class passengers have a dedicated cabin with just 40 recliner seats in a 2-4-2 layout. These seats measure approximately 18.5 inches in width and provide 38 inches in pitch. That's a significant upgrade over regular economy class, aka "World Traveller Class," with seats measuring just 17.5 inches wide and 31 inches in pitch.
On the ground, British Airways Premium Economy Class passengers receive priority boarding ahead of economy class passengers and extra baggage allowance. And in the air, premium economy class passengers enjoy a more spacious seat with greater recline, lumbar support, adjustable headrest and footrest for increased comfort (but no legrest). Soft product enhancements include an upgraded dining experience, improved menu with full bar service, noise-reducing headphones and an amenities kit.
British Airways Premium Economy Class, Boeing 777
Flight: BA173
Aircraft: Boeing 777-200 (4 class)
London (LHR) to New York (JFK)
Depart: 11:20 AM
Arrive: 2:20 PM same day (2:09 PM actual)
Duration: 7hrs 49mns
Seats: 24K Premium Economy Class
It was a fairly quiet Wednesday morning in Terminal 5 with minimal queuing at security. British Airways World Traveller Plus does not offer passengers with lounge access, or even the option to purchase lounge access. Because of that, I decided to have breakfast at Gordon Ramsey's Plane Food restaurant before heading to my gate. The food was delicious for "airport food" but came at a very hefty price, as it is the only restaurant I know of that charges you a mandatory 12.5% gratuity and a £1.50 fee per customer for the pleasure of dining at their establishment. However, I didn't fancy standing to eat my poached eggs, so I gladly took a table with a view overlooking the stands outside.
Tip: London Heathrow Terminal 5 is divided into three gate sections, Gates A – C. If you are departing from the B or C gates, you have to board an underground train to transport you to your gate. If you're departing from a C gate, I strongly recommend you taking the train to the C gates section and hanging out there instead of the A gates section. Not only do the C gates offer you plenty of duty-free shopping and cafes to help pass the time, but it is also a much quieter place to rest and relax before your flight.
After breakfast, I hung out at the gate and waited for our flight to be called. Boarding was slightly delayed and began approximately 20 minutes prior to the scheduled departure time, starting with First Class, then followed by Business Class, Premium Economy and lastly Economy Class passengers. All passengers boarded through door 2L. As I entered the aircraft, I was very happy to see we were on-board one of the recently refurbished aircraft with the new premium economy class product.
On this flight, I was seated in seat 24K, a window seat located on the right side of the aircraft. Waiting at my seat was a blanket, pillow, amenities kit and over-the-ear, noise-reducing headphones. These were not Bose noise-canceling headphones by any means but they were much better than the cheap earbuds or plastic headphones provided in economy class.
There was plenty of room in the overhead bins to place my carry-on luggage but less so at the actual seat. Other than the underseat storage, there were no real pockets or places to keep my personal effects nearby. The seatback pocket was small and stuffed with the numerous magazines provided by British Airways, which left me with little space to keep my passport, cell phone, etc.
Once seated, the seat felt more comfortable than the economy class, or Euro business class, seats I'm used to. The extra width, pitch, and handy footrest really made a difference. Sitting by the window with a fellow passenger to my left, there was plenty of elbow room as we did not share an armrest. The individual tray tables were located in the center armrests in between the two seats, along with a mini-shelf for beverages.
Each World Traveller Plus Premium Economy Class seat also featured 2 USB charging ports and an IFE remote for using the in-flight entertainment system, should you not wish to touch the screen or cannot reach.
Compared to the other airlines, I'd say the presentation of the amenities kit lacked some class. The contents were presented in a cheap, see-through plastic bag. The amenities kit included a sleep mask, pair of socks, ear plugs, pen, and toothbrush. There was no facial towelette included, however better than this, the flight attendant did come around with hot towels to freshen up before departure.
Whilst passengers were settling into their seats, cabin crew (on this occasion Simone) visited each passenger to offer a complimentary pre-departure beverage of sparkling wine, orange juice or water. Shortly after take-off, the crew begin an onboard service of drinks from the bar and distributed the menu cards for the flight. I chose to continue with some more sparkling wine, the benefit here to premium economy customers is that you are served in a British Airways branded glass. You also receive a small snack of a packet of Pretzels.
TIP – You can pre-select your meal ahead of time by managing your booking online. This will ensure you receive your preferred meal choice. With this many passengers, the chances of you getting your first meal choice are slim if you are seated closer to the back of the cabin.
Both choices on the printed menu (fish or beef) looked great. However, I opted for the Braised Beef dish as I just have a thing about avoiding fish on an airplane. Memories of an early morning flight with the smell of fishcakes back in the 90s have scarred me for life.
The beef, albeit doesn't look that great in the picture below, was quite tender and tasted rather nice. It was served with a side of coleslaw, bread, and a dessert cup. A full bar service took place shortly after meals were served with a choice of wines, beers, and soft drinks to accompany your meal.
Once dinner service was completed and I topped up my wine glass, it was well and truly time to relax and enjoy the flight. The onboard media system was really easy to use and they had a great selection of TV shows and Hollywood movies to watch, even a few games on there for those looking for something a bit retro! I chose to watch the Baywatch movie but then quickly found something else, perhaps a bit more educational, and so switched over to watch the "Churchill" movie instead.
At this point in the flight, it was common for passengers to get slightly irritated with the passengers in front reclining their seat all the way back. The seats were great for recline but on the negative side, can be bothersome when the passenger in front is reclined all the way into your face. I chose to only recline slightly as I was quite conscious of the person sitting behind me. Even though the passenger in front of me had fully reclined his seat, I was still able to tilt my IFE monitor forward and not miss out on any action on the TV.
There were two standard lavatories located to the rear of the cabin for both premium economy and economy class passengers. There were no perks of hand lotions, designer hand wash or any other amenities provided. Nevertheless, they were clean and tidy and fully stocked as you'd expect.
An hour before we landed in New York, the crew came around with a light snack consisting of a wrap (chicken caesar for those in the first couple rows and egg mayo for everyone else); crisps (chips) and a packet of biscuits (cookies) – Practicing my American lingo before we landed, accompanied by a choice of drink, of which I had a coffee.
By the time I finished eating, we were already descending into JFK. The crew passed out landing cards and cleared away any rubbish we had left before landing.
British Airways Premium Economy Class overall thoughts
Overall, I was very happy with this flight, and I'd recommend it to anyone who wants to pay the premium over regular economy. I'd say for the comfort of the seat pitch alone, especially if you can sit on a window side in a row of 2, this was definitely worth paying for. The service on board was very attentive and the range of drinks provided by British Airways was substantial to cater for the needs of most on an 8-hour flight. The only thing I'd pick at would be the amenity kit. Had it just been presented inside a reusable case, it would have made the product much more premium. On this flight, the upcharge was £288 ($374) over economy class.
Thank you, Graeme, for this great flight review! If you have any comments or questions for him, please leave them in the comments section below. Graeme is a frequent flier and world traveler based in London. You can connect with him on Instagram at @gcrobb.