I sampled First Class on the E-175 for the first time earlier this year, flying American from Omaha to DFW.  Thus, I thought a Delta E-175 First Class comparo returning from New York might be interesting.  Delta flies to DFW exclusively from LaGuardia, and I booked a flight leaving around noon.  I paid cash for the flight, forking over $305.10 for the First Class ticket.
Of note, Delta uses Republic to operate these E-175 flights, my first on the regional operator.
Delta Air Lines (DL) Flight 6116
Sunday, March 5, 2017
Operated by Republic Airlines
Depart: New York LaGuardia Airport (LGA), Terminal C, Gate 24, 12:21, on-time
Arrive: DFW International Airport (DFW), Terminal E, 15:25, 27m early
Duration: 4 hours 4 minutes
Seat: 2D
Equipment: Embraer 175
Check-In and Boarding
After meeting my cousin for bagels, he insisted I could leave at 11 and still make my 12:20 flight.  Alrighty…though skeptical, he knows the drill, so we lingered over bagels for a while.  I finally ordered a Lyft around a quarter to 11.  Indeed, my cousin was right.  After a quick 25-minute ride, I made it through the PreCheck line in no time, arriving at the gate with nearly half an hour to spare.  Sadly, Terminal C doesn't have a Priority Pass lounge, so I just hung out in the terminal area.  At least the seating areas have been refurbished, with tablets and ample plugs at each bench.  I believe you can also order food from these, which then gets delivered directly to you.
The gate agent started soliciting volunteers, starting off with a $300 gift card, before increasing it to $500.  I guess she got enough volunteers, because nobody got dragged off the plane. 🙂  Anyway, boarding started a few minutes late, so I headed to the window to planespot.  Not much to see except for a couple of Delta CRJs and what I thought was an MD-90.
Delta E-175 First Class – Seating and Interior
Delta configures its E-175s with 12 seats in First, 12 in Delta Comfort+, and 52 in Economy.  It's a similar configuration to American's E-175 (12/20/44), but with fewer extra legroom seats.  Just like the American version, First features four rows in a 1-2 configuration, dressed in Delta blue and red.
On my American flight, I chose a single seat on the left side.  This time, I picked a window seat in a pair of two on the right.  While I enjoyed the single "throne" seat, I wanted to see how the pairs compared.  All seats provide the same 37 inches of pitch and 20 inches of width.  Indeed, legroom felt ample.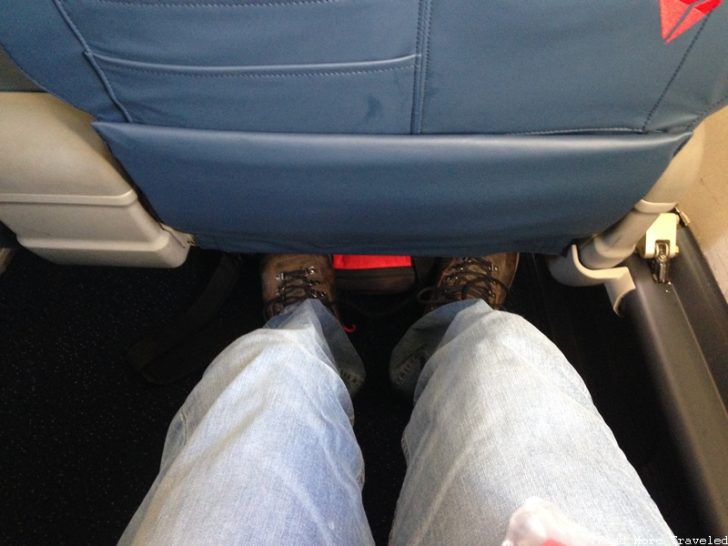 On the other hand, the seat just didn't feel as spacious as the single seats on the left.  Understandable, of course, since you don't have a neighbor in the single seats.  It's perfect fine for a domestic First seat, but if you really value extra room and privacy, always go with the left side on the E-175.
Though not shown on SeatGuru, all seats in First contain in-seat power ports.  Conveniently, these feature both a USB port and a conventional plug.  I'd prefer a location in the seatback, or perhaps the armrest, for ease of use.  Nevertheless, the fact that power exists at all makes it a big improvement over American's E-175 fleet.
Overall, I found the seat reasonably comfortable, with decent padding and back support.  Certainly better than I expected from a regional jet.  That being said, this is a LONG flight on a regional.  I don't know that I'd want to try a flight of this length in coach.
Delta E-175 First Class – In-Flight Entertainment
Delta does not install seatback screens on the E-175, but does equip the planes with GoGo WiFi.  Standard GoGo pricing applies, though you can stream "Delta Studio" content for free.  It isn't much – about a half dozen TV shows and a half-dozen movies.  Apparently, the May selection includes X-Files reruns; wish they had it in March.  In any event, Delta Studio is free, and better than nothing.
As for the WiFi, in typical GoGo fashion, speeds ranged from molasses slow to completely unusable.  I have T-Mobile, so I signed on for my free hour of internet.  Surprisingly, though, the hour came and went, but I remained connected.  I don't know if it was a glitch, or some special promotion for this flight.  In any event, I took advantage of the intervals of slightly better molasses speed to catch up on Instagram cat photos.
Delta E-175 First Class – Meal and In-Flight Service
Much to Brad's and Rocky's excitement, I'm sure, the FA offered a pre-departure beverage.  I ordered my go-to cocktail in the air, a gin and tonic.
Oddly, the FA came by shortly after pushback and told me I'd need to hand over the cup soon.  I can't recall ever having a problem with just holding the cup during takeoff, but whatever.  I complied and guzzled the rest down.  Wheeeee….
The FA also took meal orders as we waited for pushback.  One drawback of the E-175 is the lack of ovens, so I expected only a choice of cold items.  Indeed, the FA offered a choice of Asian chicken salad or a pastrami sandwich.  I ordered the sandwich, not expecting much.
About half an hour after take-off, the FA came through to offer a fresh round of drinks.  This time, I asked for a white wine.  It was your typical domestic airline swill, but it's free, so hey…
Along with the drinks came a package of Delta's famous Biscoff.  Let's face it, you can never go wrong with Biscoff.
Soon enough, the FA delivered the main meal, my pastrami sandwich.
I mentioned I didn't expect much, so consider me pleasantly surprised.  Actual marbled rye bread, a slice of havarti with thin-sliced pastrami, fresh vegetables, and fresh fruit.  Perfectly decent for a cold selection.  But I can't help but feel a flight of this length needs a hot meal selection.  That unfortunately is the limitation of using a regional jet on a 4-hour flight.  Granted, American's hot meals leave much to be desired these days…
Later, the FA offered coffee and tea.  I asked for tea, and was surprised to see it served in a real ceramic cup.  It's a minor detail in the grand scheme of things, but a nice touch over a styrofoam cup.  (I already drank the tea in case you were wondering.)
Otherwise, I considered the service satisfactory.  The First Class FA provided decent, if unspectacular, service.  He offered a pre-departure beverage, cleared plates quickly, and checked on passengers frequently during the meal.  On the other hand, he didn't address passengers by name, disappeared after the completion of the meal, and just generally seemed a little unpolished.  It's a minor complaint, though it also shows how the domestic carriers have a long way to go to match the service of the best foreign carriers.
Flightseeing
I don't often fly through a Delta hub, so the collection of Delta planeporn kept me interested.  A 717 and and MD-90 taxiied outside my window.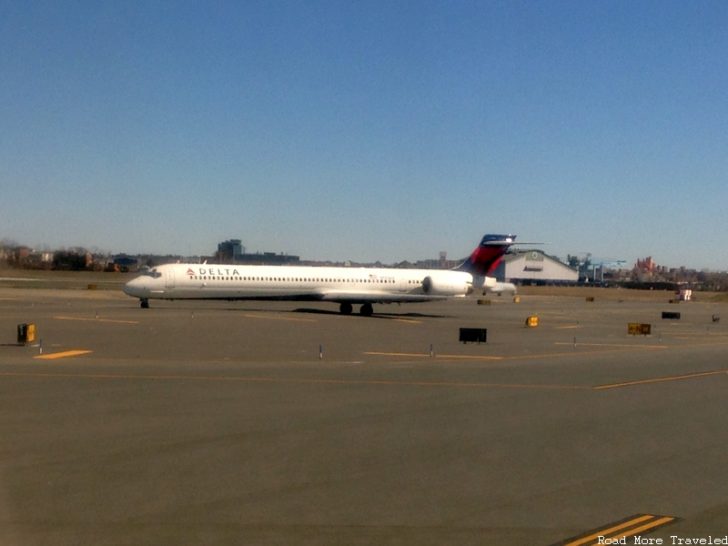 Then, another E-175 followed behind us.
We then passed a "Welcome to New York" sign.  Kind of weird that I saw this as we taxiied for departure…
I really hoped I'd get to experience a fly-by of Manhattan as we turned west.  Alas, no such luck, due to a flight path off to the north.  I did catch a decent glimpse of the skyline as we neared the runway, though.
We took off to the east and quickly turned north. This brought us close to the Whitestone Bridge, with the Throgs Neck Bridge in the background.
We then flew northwest over the Bronx, passing just south of Van Cortlandt Park.
Somewhere over northern New Jersey I presume, the urban jungle finally began giving way to rolling hills.
I actually didn't pay a whole lot of attention out the window the rest of the way.  It clouded over about halfway into the trip, anyway.  After some rough air over Arkansas, we descended into a raw, rainy Dallas day.
Delta E-175 First Class – Final Thoughts
In the final analysis, I received a reasonably friendly crew, a decent meal, and we arrived 25 minutes early.  So, I really don't have any complaints.  That being said – this long a route just doesn't seem appropriate for a regional jet.  The lack of an oven means no hot meals, regional crews tend to lack a little bit of polish, and while the First Class seat was reasonably comfortable, I don't know about 4 hours in coach on a plane this size.  At least I can say I wouldn't actively avoid it, unlike the dreaded CRJ.  (And yes, Delta used to run a CRJ between JFK and DFW, a truly miserable experience).  I'd say $305 for First Class provided reasonable value on this leg.
Ultimately, this represents the conundrum for Delta (and soon Alaska) on routes like this.  American and Southwest both operate mainline service, whereas Delta uses regional jets even to New York and Los Angeles.  Those are very long routes on a 76-seat aircraft. American seems to want to continually degrade their product for some reason, but F flights price out the same, and you can earn a boatland of Alaska Mileage Plan points.  Southwest has its limitations, but you always know what you're getting.  The E-175 is nicer than most smaller planes, but do I really want to sit on one for 4 hours with mainline options available?  Not sure about that, at least not yet.
Note: this post is part of my trip report series about my recent weekend trip to New York the long way.  Click here for the trip report index and introductory post.