If you follow my Instagram and Twitter pages, you likely saw my posts about my trip to Finnish Lapland. I think this just might rank as my favorite trip so far, and I'll have a full report eventually. To get there, I managed to score a unicorn, an American AAdvantage Saver award in Business Class to Helsinki. Not just any Business Class, though – a nonstop flight on Finnair's new "Air Lounge" seat. Finnair claims it's the "best business class seat in the sky".  So did it measure up?  I wouldn't go that far, but Finnair A350-900 Business Class is an innovative and comfortable way to get to Europe.
As mentioned, I managed to find AAdvantage Saver space for 57,500 miles for this flight. That meant an out-of-pocket cost of just $5.60 for this 10+ hour flight.
Finnair (AY) Flight 20
Thursday, October 20, 2022
Depart: DFW International Airport (DFW), Terminal D, Gate D8, 16:52, 3m early
Arrive: Helsinki – Vantaa Airport (HEL), Terminal 2, 10:34 (+1), 36m early
Duration: 9 hours 42 minutes
 Seat: 2A
Equipment: Airbus A350-900
Check-In and Boarding
I arrived at DFW just about 2 hours prior to departure, and found a nearly empty check-in desk. I asked the gate agent if it was an empty flight, and she clarified most passengers were connecting passengers. Annoyingly, by boarding pass failed to include my TSA Precheck credentials. However, I found the closest security line nonexistent at mid-afternoon, so it took only a few minutes to get through regardless. Interestingly, even though American's Flagship Lounge at DFW reopened several months ago, Finnair continues to direct its guests to the Capital One Lounge. Admittedly, the Capital One Lounge is objectively superior to the Flagship Lounge. But I still find it interesting that AA's Oneworld partner directs its premium passengers to a competitor lounge.
Anyway, after an hour in the lounge finishing up last-minute emails, I headed to the gate at scheduled boarding time. There, I found boarding already underway through Group 3, so I headed straight onboard. A flight attendant warmly welcomed me on board, and directed me left to the Business Class cabin.
Finnair A350-900 Business Class – Seating and Interior
The new Finnair A350-900 Business Class certainly features a unique concept. That is, the fixed-shell seats that don't recline at all. Finnair describes the Collins Aerospace "Air Lounge" seat as akin to a "classic piece of Nordic furniture". At first glance, the seats appear no different than other Business Class seats. The dark blue fabric is stylish, though, and combined with the wood finishes, definitely gives off a Nordic feel. Depending on which version of the A359 you fly, the cabin features either 30 or 43 seats in a 1-2-1 configuration. Seat pitch is 78″, which is fairly standard for Business Class.  Seat width, though, significantly surpasses most business class products, at 25″.
Note: I borrowed (with permission) several of these photos from my friend Matthew Klint at Live and Let's Fly. More on why that is later. Matthew flew the A330, but the seat/interior is essentially identical to the A350-900.
If you choose a middle seat, the default configuration includes a tall panel that provides plenty of privacy. However, Finnair says these panels can be removed to create a larger shared space. If you're traveling with a companion, and want to socialize, that makes these potentially superior to standard reverse herringbone seats.
So the question everyone wants to know the answer to – how comfortable are the seats? You might think the lack of recline makes the seats uncomfortable. However, I found the seats really comfortable in the seated position. I tend to slouch when seated, and these seats lend themselves to slouching. In addition, generous padding makes the seat comfortable on the back and upper thighs. In fact, the seat proved a little too comfortable. Before dinner trays were even cleared, I fell asleep in the seat sitting up – and then woke up 8 hours later, 25 minutes outside Helsinki. I ended up just sliding down and curling up in the seat without realizing it. Thanks to the 25″ of width, it's really easy to curl up and sleep, even without the bed made.
If you do want to properly make the bed, though, it's a two-step process.  First, slide the seat forward using the controls under the armrest (the fourth button).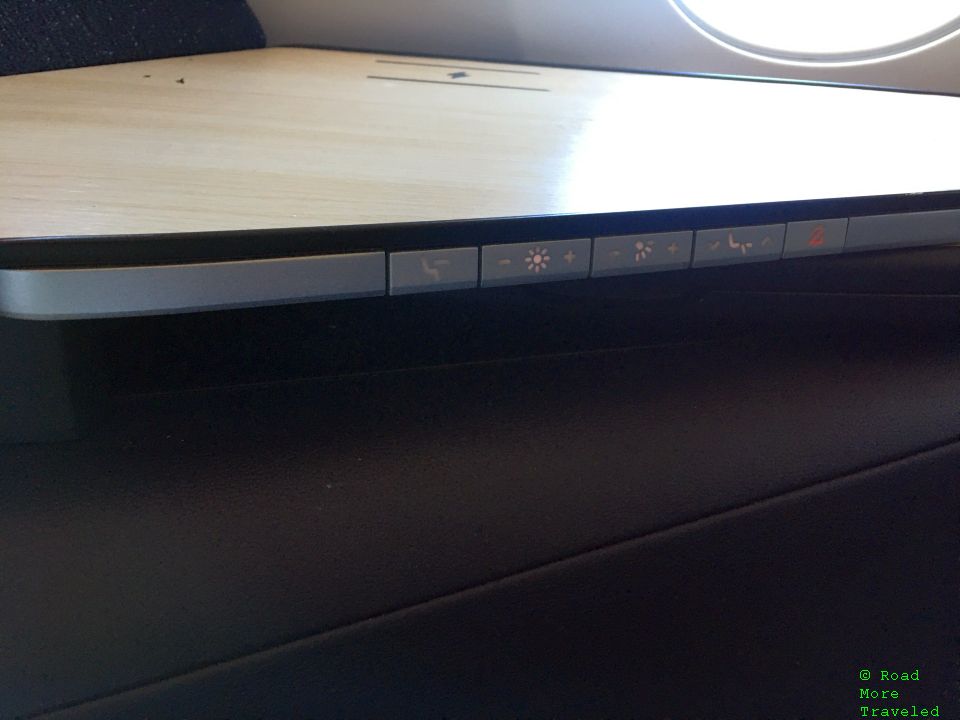 Then flip the legrest up to make the flat bed.
Though the footwell looks narrow, it actually provided more than adequate foot space.
The new Air Lounge also includes a couple of useful storage areas. The first is at the back of the seat, where the headphones and IFE controller are stored.
The second is near the ottoman/footrest, which contains two cubbies with plenty of space for a phone/tablet. The A330 includes a separate bottle holder, but here, it's plenty deep enough to hold a bottle of water.
Air Lounge seats feature an oversized table by the window with an integrated wireless charging pad. I'm a cheap-a** with an old phone that can't charge wirelessly, so I couldn't test how it worked.
There is also a reading light at the top of the backrest.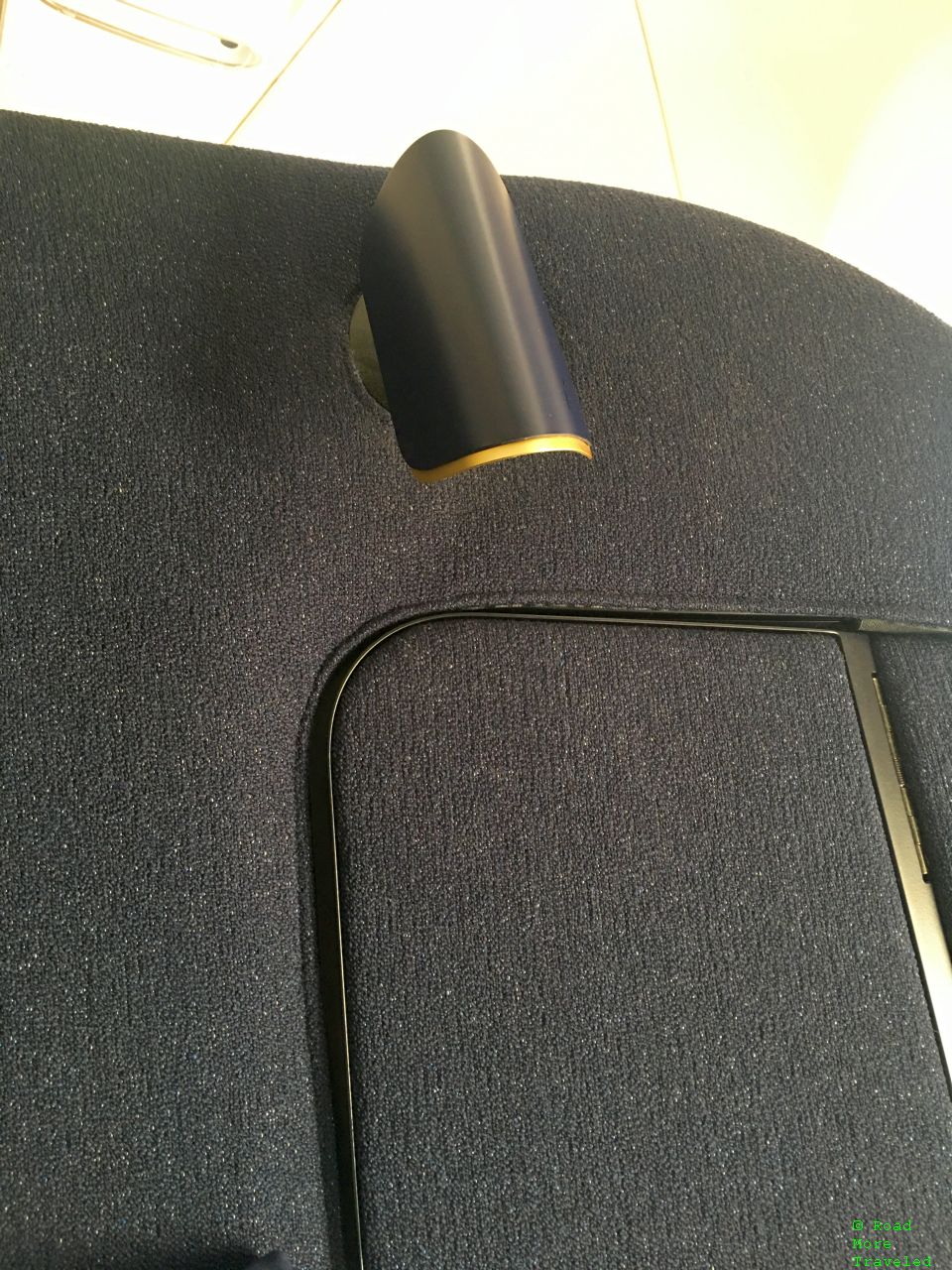 One thing that surprised me was how small the windows are.  You do have to lean forward quite a bit to see outside clearly.
Meanwhile, waiting at each Business Class seat was a Marimekko amenity kit, along with a mattress pad and blanket. Unfortunately, I forgot to take the kit with me, but Finnair's website provides the following details regarding contents:
Lip balm
Facial cream
Sleep maks
Ear plugs
Toothbrush
Amenities are provided by L:a Bruket, a high-end Swedish brand.
I found the blanket quite comfortable, part of the reason I slept so well even partially sitting up. Unfortunately I can't comment on the mattress pad, because I never got around to making the bed.
Speaking of L:a Bruket, the Business Class lavatory also features its products. The hand wash and lotion had a mild, pleasant scent. I found the lavatory itself a bit on the small side, though the FAs maintained it well throughout the flight.
There is also a bottle of disinfectant spray in the storage area next to the sink.
If I had one criticism of the seat, I agree with Matthew that it's not terribly comfortable when trying to sit up straight. The extra wide seat really lends itself to those who slouch or contort themselves when sitting – like sitting on a couch or lounger at home. That suits me fine, but YMMV.
In-Flight Entertainment
As with most modern Business Class seats, the Finnair Air Lounge provides both power and USB ports. The 110V power port is at the side of the seat, at foot level. I found this placement a little awkward. You have to contort a bit to reach it, and it's hard to find in a dark cabin.
The USB ports, meanwhile, is in the headphone storage cabinet. Finnair helpfully provides both USB-A and C ports, so you're covered no matter what kind of phone you have.
Speaking of headphones, Finnair provides PhiTek noise canceling headphones in Business Class. These were fine; the actual noise cancellation wasn't great, but sound quality is decent.
The new Business Class seats feature very large, high definition TV monitors. The home screen even includes approximate meal timings to help plan your sleep schedule. The schedule further shows times at both the departure and destination points. That's helpful if you're trying to plan out how best to adjust between time zones.
The IFE system includes a solid variety of movies, TV shows, and games. Whether you're looking for something new, or a little more classic, there's plenty to keep you occupied on this 10-hour flight.
Finnair also offers WiFi on board the A350-900 long-haul fleet. Although some sources claim Business Class passengers receive free full-flight WiFi, this is not the case. Instead, Business Class passengers receive one hour of free WiFi. Beyond one hour, WiFi cost is $6 for one hour or $18 for the full flight, with no data caps. I tried the one hour of WiFi, and I found speeds adequate for basic web browsing and Instagram.
If you don't fancy TV or movies, the IFE of course offers a fully functional moving map. While the zoom isn't great, the moving map offers much more detailed information than most systems. This includes detailed information about the plane's location, in this case, passing over the Gulf of Bothnia.
There's also a very, very cool tail camera that I enjoyed watching on and off. It first caught my eye as we taxied to the runway at DFW…
…then flying over the clouds covering the aforementioned Gulf of Bothnia…
…and finally, on final approach to Helsinki on a gloomy Friday morning.
Finnair A350-900 Business Class – Food, Beverage, & Service
The party began early with an offer of a pre-departure beverage. I requested a glass of champagne for the obligatory champagne selfie. (I also must say, I love Finnair's glassware. It's uniquely different and elegant, in my opinion.)
Finnair offers Joseph Perrier Cuvée Royale Brut in Business Class. I'm the wrong person to offer a critique on champagne. I don't drink it very often, and frankly can't tell between a bad and good one. But it's a moderately priced ($40-45 a bottle) champagne that rates pretty highly from what I can see. It also has an interesting history; it's long been a favorite of English royalty, dating back to Queen Victoria and King Edward VII.
Along with PDB orders, the FA handed out menus for the flight's meal service. I give Finnair credit for stocking local Finnish drinks, including a Finnish desert wine, Finnish gin, and long drinks (gin plus fruit soda). If you're not in the mood for alcohol, the blueberry juice is quite good.
Meal service began about 20 minutes after take-off with a round of beverages. With the Finns famous for their gin, I ordered a Helsinki gin & tonic. (Apparently, I didn't take a photo.) Just 10 minutes later, meals were served. Surprisingly, the meal came out with all courses served at once on a single tray. While I generally prefer the main meal in courses, it does make sense on an eastbound redeye, as this maximizes sleep time. On this route, dinner consists of two fixed appetizers, and a choice of main course. I went with the portobello and cheese ravioli, along with a glass of chardonnay. The ravioli came accompanied by some sort of cheese sauce, along with a choice of bread.
I wasn't a big fan of this meal, mainly due to a mediocre main course. While the ravioli itself was fine, the sauce was way too thick, and largely lacked flavor. I also found the hummus too grainy, though I enjoyed the crisp, fresh veggies. The shrimp, at least, was a winner, juicy with a tasty, light salad. I then finished up with the cheese plate and the Finnish desert wine. If you like red ports, you'll like the Valamo XO, which had a really nice vanilla finish.
While I regarded the meal itself as average at best, I commend Finnair for their efficiency here. As I enjoyed the last of my cheese, I enjoyed sunset out my window, just 70 minutes after take-off. On an eastbound red-eye, a quick meal is arguably the most important thing.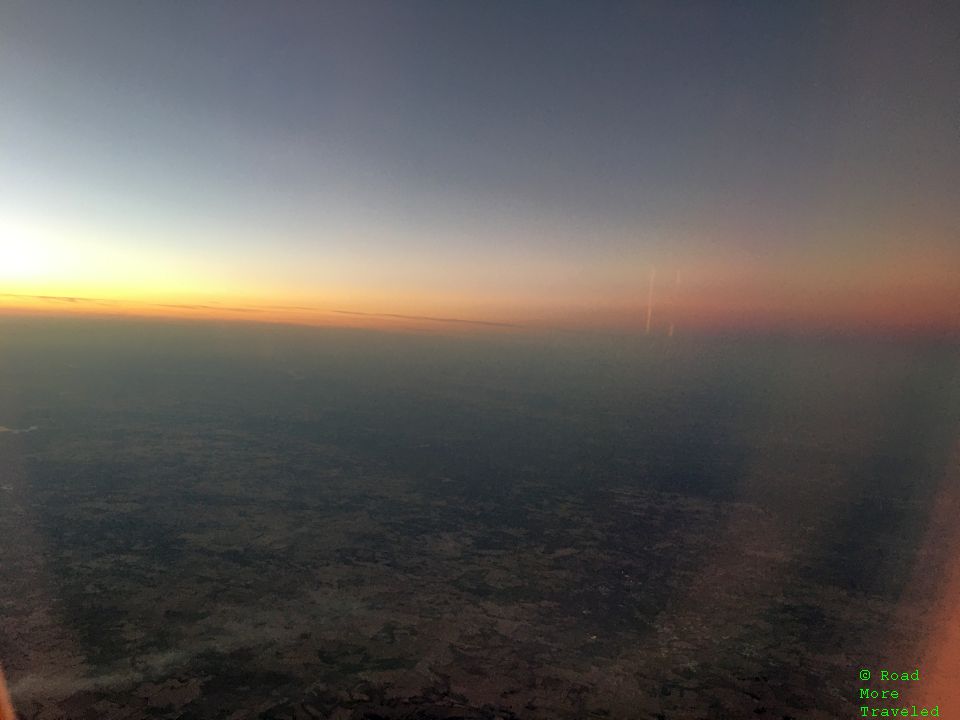 As I mentioned early on, I nodded off right about then. And proceeded to wake up 8 hours later on final approach to Helsinki. Unfortunately, that meant I missed breakfast, and the opportunity to try a cappuccino. Of course, after a horrendously awful tax season, honestly I needed the sleep more than anything else.
I also found service rather uninspired on this flight. It wasn't objectively bad, but it wasn't particularly great, either. The FAs seemed to be going through the motions, trying to rush through service more than anything else, and the whole experience felt rather cold. Considering I encountered warm, friendly service throughout my stay in Finland, that was unfortunate.
Flightseeing
On these eastbound red-eyes, most flightseeing opportunities occur early on, mainly of the planespotting variety. Frankly, DFW isn't the most exciting when it comes to planespotting, but I caught a few decent ones as we taxied out. First up – a Qantas B787-9 next door at Terminal D.
Up next, a real smorgasboard of different aircraft out on the apron. From front to back, a Contour ERJ-145, a Sun Country B738, and a Qatar Airways B772.
As we turned left, we enjoyed a closer drive-by of the QR 772.
And maybe the Flying Banana isn't noteworthy, but who knows how much longer Spirit's…loud…livery will stick around.
We quickly transitioned to dinner service after take-off, and I didn't wake up until final approach to Helsinki. As you'd expect in late October, low clouds dominated the landscape as we descended.
As we dropped below the muck, there was still quite a bit of fall foliage on display in Vantaa.
Finnair A350-900 Business Class – Final Thoughts
So what did I think of Finnair's unique new Business Class? I think the seat itself is a winner. There's tons of storage, I found it comfortable for both relaxing and sleeping, and there's plenty of good options for both couples traveling together and those valuing privacy. And yes, the interior feels decidedly Nordic, a nice touch. But service was mediocre, as was meal service overall (though the drink selection is quite good). For those reasons, I left this flight a little disappointed. Nevertheless, for 57,500 miles to get all the way to Finland nonstop, I can't complain too much.