Icelandair Saga Premium class offers a premium experience across the Atlantic connecting Iceland to both North America and Europe. Icelandair's fleet is small and consists of just Boeing 757s, a couple of 767s, and Boeing 737 MAX aircraft. Icelandair is a hybrid carrier offering low fares to Europe without a ton of extras.
I had never flown Icelandair, so I booked an Icelandair business class ticket between Vancouver, British Columbia and Amsterdam returning from Glasgow for just $2,000! This Saga class ticket was more expensive than I would have liked to have paid, but I also purchased the ticket just 10 days before departure. With low fares like this and from reading other reviews, I was not expecting much from IcelandAir, but I was still excited to try something new.
Check-in and Boarding
Usually check-in is nothing exciting. I was traveling with a friend but on separate itineraries. When we checked-in in Vancouver, we noticed we were no longer sitting next to each other. The outsource Swissport agent admitted that they moved my travel companion. They then told us there was basically nothing they could do because there were no longer two seats together. We hadn't even left yet and IcelandAir was already disappointing me. Thankfully before boarding they fixed the issue, and he was back in the seat next to me and whoever was in that seat was moved.
My friend and I headed towards the Vancouver SkyTeam lounge for a drink and airplane spotting. IcelandAir uses the less glamorous Plaza Premium lounge at YVR. However, the SkyTeam Lounge is part of Priority pass and offers better runway views and food and drink selections
When it was boarding time, we headed toward the gate and settled into our business class seats, enjoyed a pre-flight drink and explored my seat and cabin.
Icelandair has tons of information including Iceland famous destinations and natural resources. Their language is proudly displayed all over the cabin. The fun information makes every ride slightly more enjoyable. You can find quotes on the head rests, pillows, blankets and more.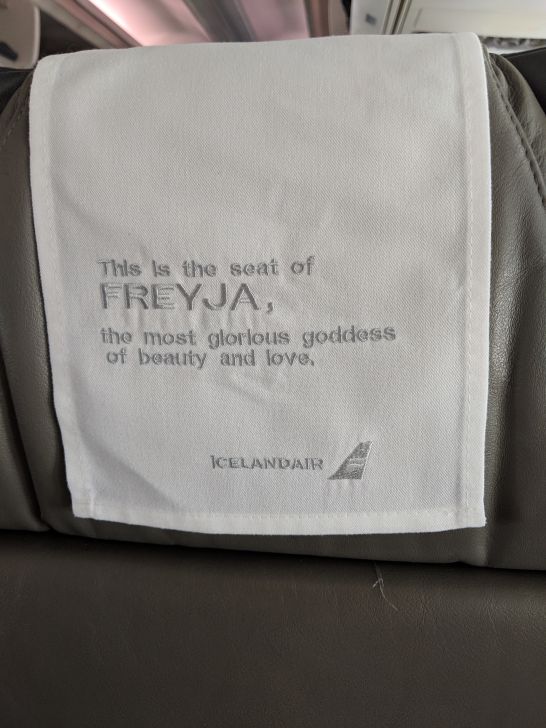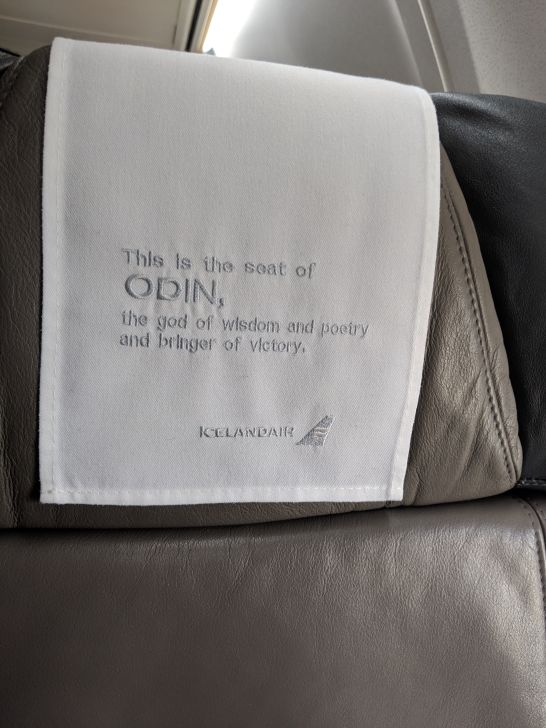 Icelandair Business Class Cabin & Amenities.
The Saga Class cabin on the Boeing 757 consists of five or six rows of 2×2 recliner seats. These seats are very similar to what one finds on domestic airlines First class in the United States or Canada. Each seat is 20.5 inches wide and offers 40 inches of pitch with a foot rest. This is more legroom and recline than domestic airlines, but regardless for a transatlantic flight is more similar to premium economy than business. The seats do not lie flat, but only recline slightly. Each seat also has a universal power port and a USB charger in the IFE.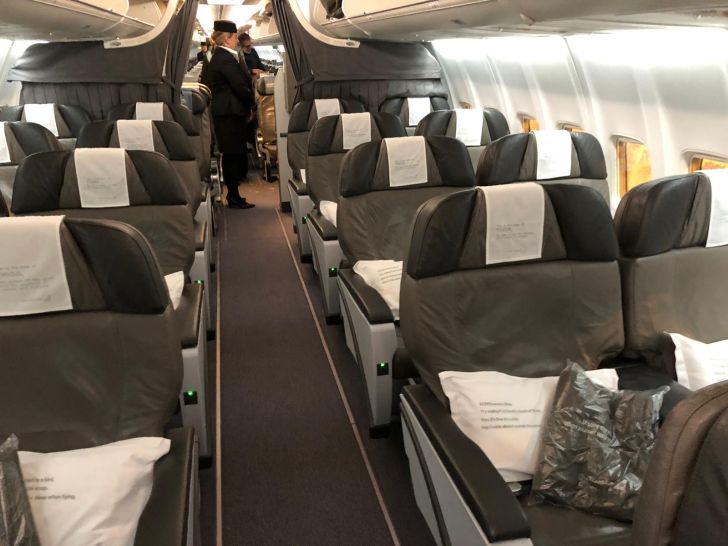 Each saga premium seats also has a tablet style seat back entertainment device. The IFE includes free movies, TVs, games, and music. Movie selection is very limited with only about 30 options. Saga class passengers also get noise canceling headphones. Each of Icelandair's planes is also equipped with Wi-Fi. However it is painfully slow and does not work most of the time. Regardless, it's another way to stay busy during the flight. Wi Fi is free for Icelandair premium passengers.
During flights to and from North America amenity kits are available to business class passengers. The kits are styled after the basalt columns found on the southern coast near Vic and are among the bulkiest amenities kits I've ever seen. A huge waste of space and plastic.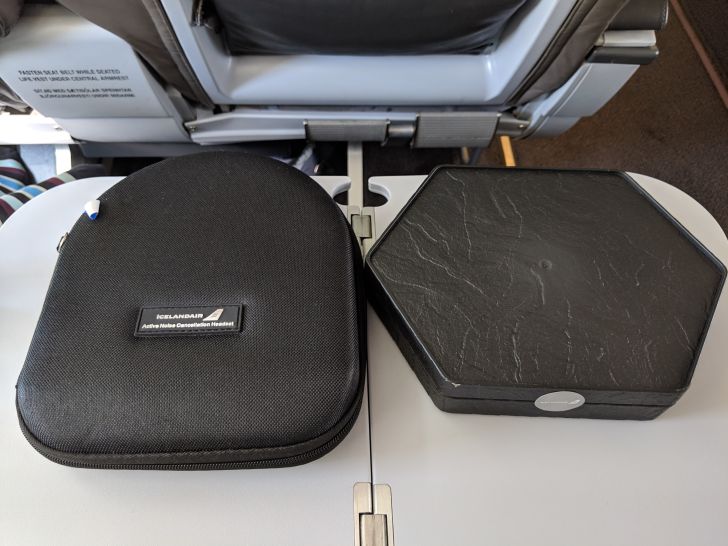 Inside each amenity kit are all the basics. These include an eye mask, Ritual-branded chapstick and lotions, a dental kit, socks, and earplugs. Although I was not a find of the kit design, I must say the contour eye mask is among the most comfortable eye mask I've ever used. I plan to carry this with me and use it as much as possible.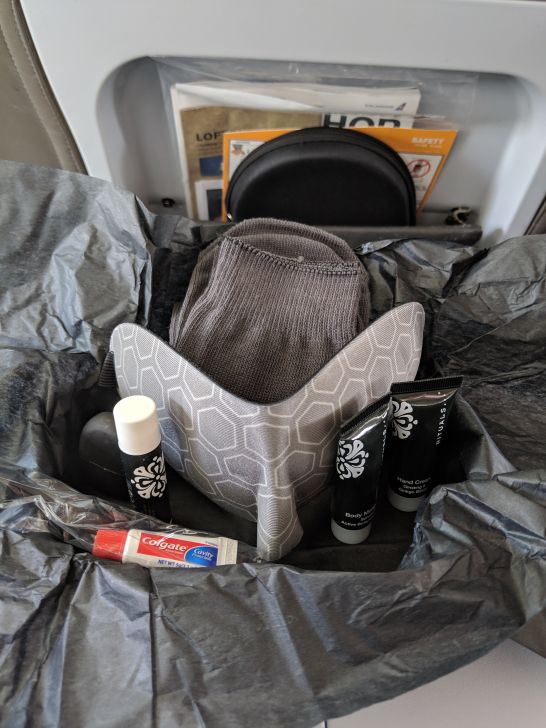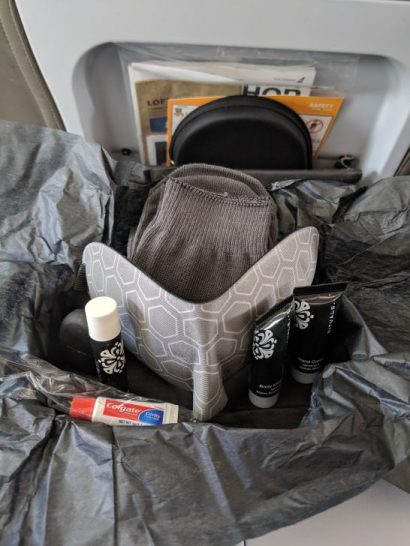 Food and Drinks
When boarding the aircraft each passenger is offered a bottle of water regardless of class. The flight attendant working the door hands it to everyone when the board the aircraft. Then in business class a preflight glass of champagne is available.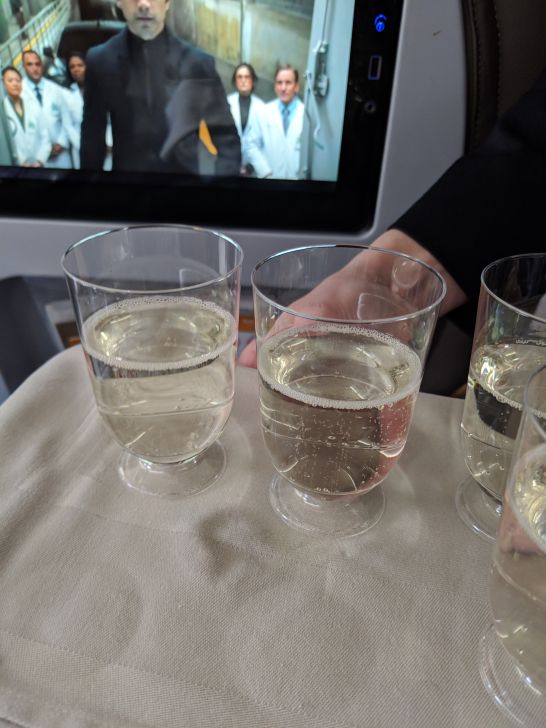 Once we were in the air, flight attendants took drink and dinner orders. First there is a round of drinks and sweet popcorn and then about 30 minutes into flight a hot meal is served express style. Everything is served on one tray.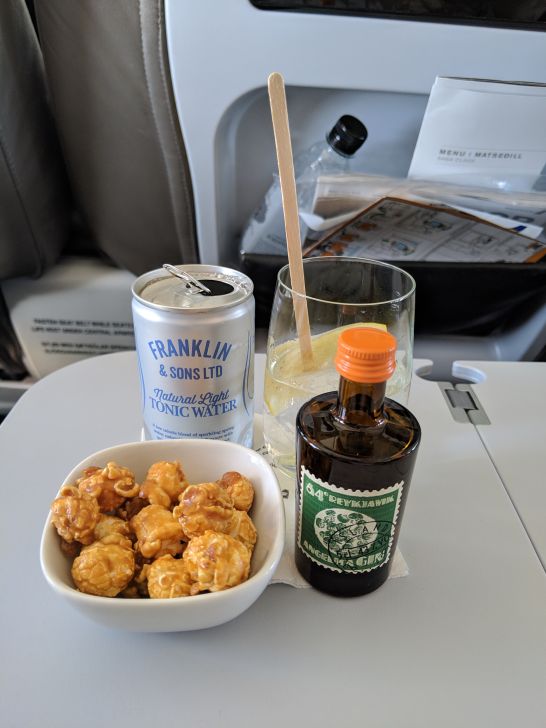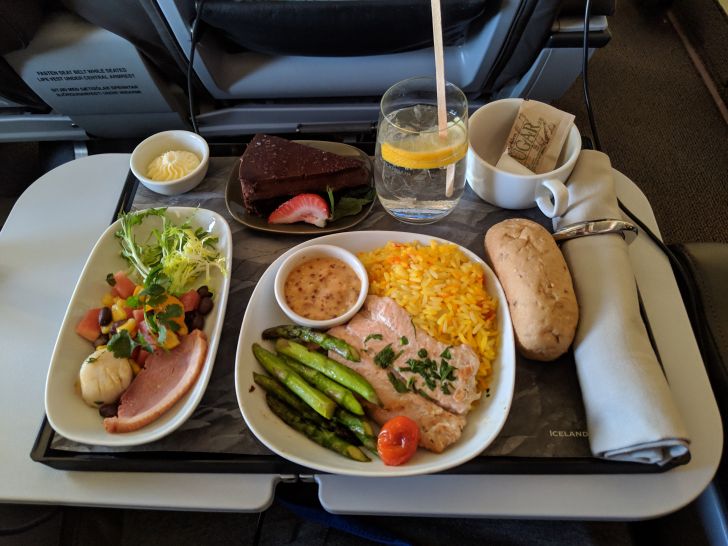 Icelandair offers a Gin Library, so my travel companion and I decided we would try them all! Slowly over the next 7 hours we taste tested each one, sharing them as we went to do side by side comparisons.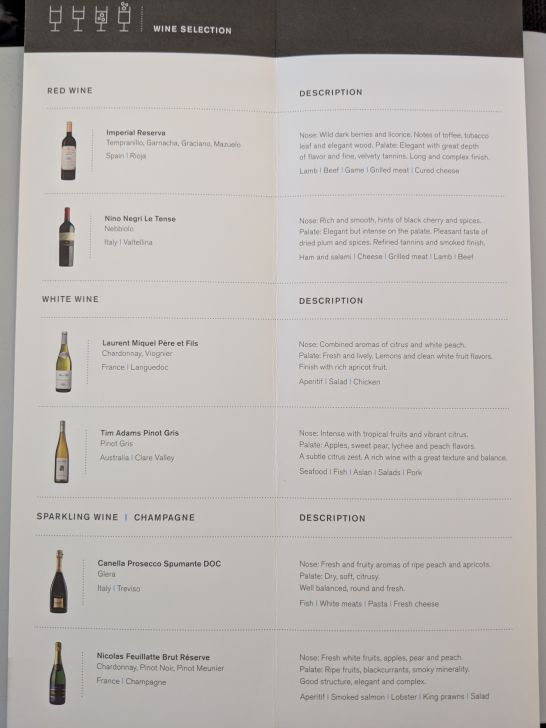 Of course there are other drinks such as instant coffee, tea, soda, Icelandic beer, and other spirits. However, I stuck to gin and water.
Before arrival in Reykjavik there is no pre-arrival meal. Instead after cleaning up the cabin, flight attendants pass out a snack menu. Snacks can be ordered at any time up to one out before arrival. Nothing on the menu is of real substance, but then again Icelandair's longest flights are only 7-8 hours.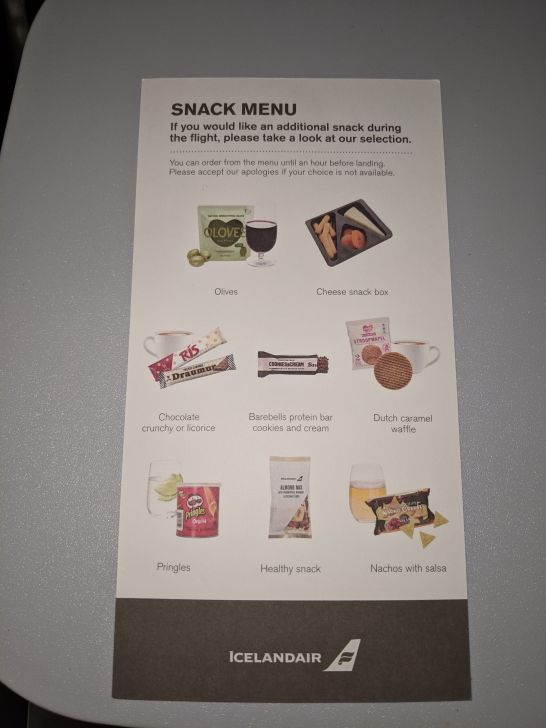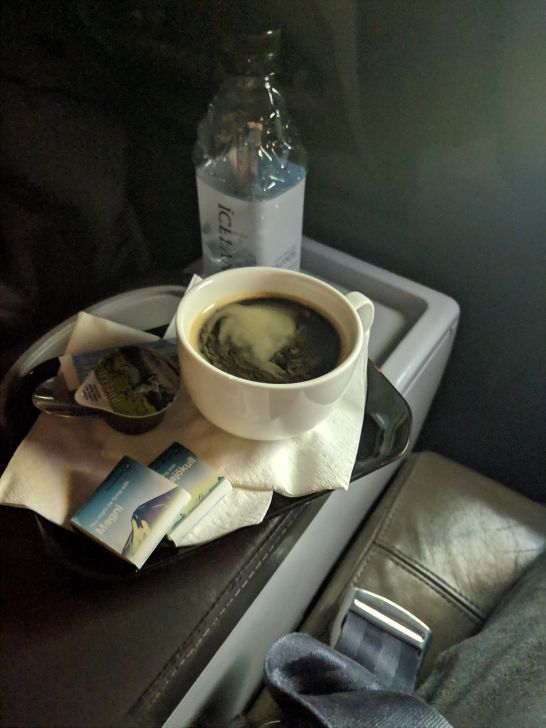 Final Thoughts
IcelandAir offers a solid Premium economy product marketed as business class. The fares are low and the crews are nice enough. On my four flights with Icelandair, not a single crew member was overly friendly or proactive. Despite this, whenever they were asked for something they provided it with a smile. The true highlight of Icelandair's business class is Icelandair Business Class Lounge at KEF.
If you're looking to sleep on your way to Europe and want a lie falt seat or bed, I cannot recommend that you fly Icelandair saga class. However, if you're looking for a cheaper option that is better than economy but cheaper than business class, consider Icelandair. The food is decent and the gin is plentiful!
Do you need help planning your trip? Consider my travel agency. Just ask for Rocky or email me directly!