The Icelandair Business class lounge is known as the Saga Lounge at Keflavík International Airport (KEF). KEF is Iceland's largest airport and gateway to the country. The Saga lounge is the largest and only lounge at KEF and is used by a number of airlines, besides just Icelandair. Since the Saga lounge is the only lounge, it does get very busy, especially when IcelandAir flights start to land from Europe/North America. The entire airport starts to swarm over a couple of hours when nearly every plane lands and departs again. I visited the lounge after my Icelandair business class flight from Vancouver and again when departing Iceland.
Icelandair's Business class lounge is large. At 14,530 sq ft, the lounge offers sweeping views of the tarmac and runways and offers a great space to relax and dine in. The Nordic design sweeps through the lounge and invites travelers to relax between flights.
Dine and Drink
Upon entering the lounge you enter the dining room and kitchen first. The small corner area greets passengers with hot and cold food options, desserts, and plenty to drink.
The lounge offers a selection of both international food and Icelandic items such as Lamb stew. There's also plenty of beer and wine to be consumed. Hard alcohol is also available along with Icelandic spirits.
Just off the kitchen, there is a large dining area with several tables. Grab a local Gin or beer and drink up!
The dining area continues to the back of the lounge where there are large windows overlooking the tarmac. I'd recommend sitting out there while eating so you can watch the planes outside.
Relax at the Saga Lounge
The large Nordic lounge also offers plenty of places to relax. In the far back corner of the lounge are sleeping recliners for those who need to catch some Zzs.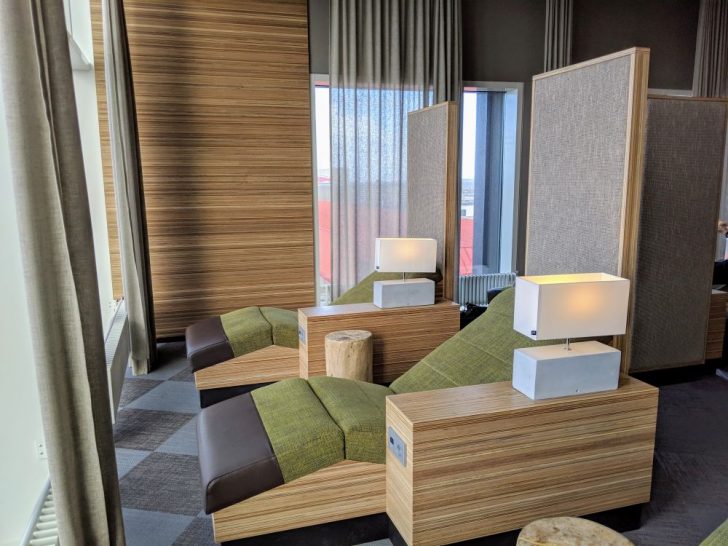 The lounge offers several areas to relax. Some seats are more private than others, while many encourage customers to interact with each other. Power outlets are plentiful throughout the lounge.
If you are traveling with kids, there is a small kids play area. They can even ride an Icelandic horse!
For those of you who need to freshen up. There are several showers suites available. Just ask the front desk for a towel. The shower suites offer the famous Blue Lagoon amenities.
Throughout the lounge there are several strategically placed coffee machines! Perk up without having to walk very far! Even spike your coffee if you wish!
Saga Lounge Hours and Access
The Saga lounge is open 7 days a week from 5:30 AM until 5:30 PM. From May 15th – September 17th the lounge opens at 5:00 AM and closes at 8:30 PM. To access the lounge you must be flying Business class on IcelandAir or through elite status or credit card offerings. American Airlines, AirBaltic, United Finnair, and Lufthansa also use the Saga lounge. Lounge club members of select airlines also have access. This includes Alaska Airline MVP Gold and 75k Elites. To see who has access to the lounge, see Icelandair's Saga Lounge guide. Currently there is no buy-in option for this lounge.
Icelandair Business Class Lounge Thoughts
The Icelandair Saga Lounge is a great place to relax between fights. As I said before, it can get very busy. Yet, despite this, staff are great at keeping the lounge tidy and the food and beverages well stocked. The Nordic design is reflected throughout the lounge with fun rock sculptures and ikea-esq furniture. The food selection was plentiful as is the drink options. I would highly recommend this lounge.