Opened just last year, the Le Meridien Saigon is one of Ho Chi Minh City's newest and most beautiful, 5-star hotels. The Le Meridien Saigon is located in District 1, along the Riverside area of downtown Ho Chi Minh City. The Le Meridien Saigon stands 22 stories high and towers over the other buildings in the local area with 343 guest rooms and suites. And because it's one of the taller buildings in the area, the Le Meridien Saigon offers guests on the higher floors unobstructed views of both the city and of the Saigon River.
The Le Meridien Saigon is located approximately 35 minutes from Tan Son Nhat International Airport (SGN). To get from Tan Son Nhat International Airport to the Le Meridien Saigon, you can hire a taxi or book a car service from the hotel at a cost of 1,600,000 VND (about $70 USD) each way. Though convenient, I don't recommend booking a car through the Le Meridien as I found a similar car service on Expedia for about half that price. Uber is also available in HCMC as a cheap alternative to the local taxis.
All the tour companies are familiar with the Le Meridien Saigon and will offer pick-up and drop-off services to the front of the hotel. If you want to do some exploring on your own, some local attractions within walking distance of the Le Meridien Saigon include the Saigon Opera House, Notre Dame Cathedral and the Saigon Central Post Office. The Reunification Palace and the War Remnants Museum are a little further away but still walkable, about 2 kilometers away.
The hotel itself is really beautiful. The all glass exterior may look a little corporate but inside, it's modern, chic and beautifully decorated. The lobby entrance is open and spacious with a high ceiling, marble floors and a grand chandelier that reminds me of the Cosmopolitan Hotel in Las Vegas.
On this trip, my friend and I booked a Premier Classic room with a river view and as a lowly SPG Gold member, we were "upgraded" to an "enhanced" room, #1627, located on a higher floor. The guest room was spacious and there was plenty of room for both of us to unpack, spread out and make ourselves at home without being on top of each other. The guest room had two twin beds, a sitting area, work desk, closet with in-room safe and mini-bar. The Le Meridien beds were both extremely comfortable, the linen was soft and I appreciated the multiple pillows with different levels of firmness. A welcome plate of chocolates and apples was waiting in our room and water bottles were provided every day of our stay.
The floor to ceiling windows let in a lot of natural lighting into the room and the electronically controlled blackout curtains did a fantastic job of blocking the light out when we wanted to sleep in. We did have some panoramic views of the Saigon River and surrounding areas but to be honest, it wasn't all that pretty outside. If you're debating spending extra money for a river view room, don't. Save your money as you won't be missing much.
The room was appropriately insulated and at no time did I hear any city noise from down below, outside noise from our neighbors or people walking in the hallways.
If you need to get some work done during your stay, there is a work desk in the room with ample writing surface and universal electrical outlets to keep your devices powered. Complimentary Wifi is provided throughout the hotel and in the rooms for SPG Preferred Guests members. If you need to get some serious work done, there is a business center located on the second floor with proper work space, desktop computers and a printer/copier/fax machine.
The guest room features a glass wall between the sleeping area and the enclosed bathroom for a touch of modern sexiness. If you are traveling with anyone other than your partner, there is a curtain you can lower to provide complete privacy for the person in the bathroom and prevent any awkwardness.  The enclosed bathroom is spacious and features a single sink, large bathtub, walk-in shower and separate toilet stall. Bathroom amenities were plentiful and included Le Meridien branded shampoo, conditioner, shower gel and body lotion and other items such as dental hygiene kits, mouthwash and shaving kits.
The hotel features a conference center, spa, semi-enclosed pool, fitness center and several on-site restaurants. The Le Meridien Club Lounge is located on the 22nd floor for those with SPG Platinum status or those who book club access rooms. The Club Lounge is open from 6:00 AM to 10:00 PM daily and provides a morning breakfast, afternoon tea and an evening reception.
As for the restaurants, we had the breakfast buffet every day of our stay and it was pretty tasty. The breakfast spread was delicious with a good mix of both western options (eggs, bacon, fruit, cereal and an omelet station) and Asian options (dim sum, fried noodles and a pho noodle soup station). But no matter which option you go with, make sure to order a cafe sua da (Vietnamese iced coffee) to jump start your day.
The pool and fitness complex is located on the 9th floor of the hotel with a saltwater, infinity pool and an open deck that overlooks the Saigon River. The deck is partially exposed so you can lay out and catch some rays but won't offer enough sun exposure for serious sun worshipers. The pool is not very large so you won't be doing laps but it's a great place to just chill, relax and watch the city life below. There's also a bar on the 9th floor to order drinks and snacks.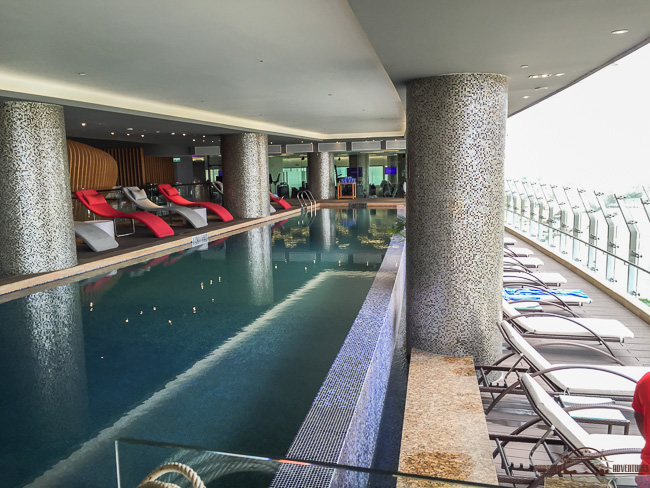 The fitness center is located next to the pool and also has panoramic views of the Saigon River. The fitness center is large and has a good variety of quality exercise equipment including cardio machines with personal televisions, (treadmills, stationary bikes, stair climbers  and elliptical machines), resistance machines, benches, free weights and a squat rack. The fitness center also shares a sauna and steam room with the hotel spa but there is no Jacuzzi.
As expected, the service level was excellent. All the staff members we encountered were genuinely polite, friendly and service-oriented. They spoke enough English to communicate with all the guests and did their best to accommodate all of our needs. For example, we were taking the elevator down to dinner one night and ran into the hotel Food and Beverage Director. He was on his way to a meeting with his staff but took the time to sit down with us, provided us with an area map and personally wrote down recommendations and directions to restaurants and bars in the local area for us to explore.
On another occasion, I was an idiot and left my sunglasses on a tour bus. The concierge called the tour company, arranged to get my sunglasses back and had them delivered to my room later on that evening. They all went above and beyond and we couldn't have asked for anything more.
Le Meridien Saigon bottom line
Overall, my friend and I thoroughly enjoyed our stay here at the Le Meridien Saigon. The location was great. The room was spacious. The beds were comfortable. The amenities were plentiful and the staff was amazing. I had no complaints about my stay and I would definitely recommend it to everyone. The other SPG property near here is the Sheraton about 10 minutes away. The Sheraton is in a more convenient location but is an older property so the Le Meridien would be a nice alternative for SPG members.
Have you stayed at the Le Meridien Saigon? If so, please share your thoughts with me in the comments section below.