Unlike most ultra-Low-cost airlines, Sun Country Airlines offers a first-class product. Sun Country has been a long-time leisure airline which has operated as a hybrid carrier offer low fares no thrill product to get Minnesotans to warmer and seasonal destinations. As the airline goes through transformation to the Ultra low-cost approach and expands their footprint to new routes such Seattle to Anchorage and Santa Rosa to Las Vegas the airline is shedding their first class product in order to cram more passengers on the plane. With First Class disappearing, I figured flying it at least once before it was gone made sense. The only problem, the airline has already stripped their first class offering so I was not able to experience the grand hot meals that passengers use to rave about.
I flew Minneapolis to Las Vegas in June of 2017 and purchased my first class ticket just 5 days before departure. At the time of purchase economy class ticket were $157 or $220 for first. $60 for a larger seat, 2 checked bags, and other benefits was definitely worth it to me! A fare this low for First is a true #doublewideDelight! Delta was charging over $400 for a one way economy fare! I was getting double the space for half the price as Delta!
Checking in & Boarding
As I was wrapping up business early in Minneapolis I arrived about 2 hours early to the airport. The terminal was empty around 3pm and there was not a single person checking in for flights. I was surprise to see no one in the queue! First class passengers have dedicated check-in and priority security screening.
When it was time to board, first class passengers were invited after those who needed extra time and military personal. Boarding was fairly quick and the flight attendants provided pre-departure beverages to passengers in first class. It was an open bar! Heck, this service is better than Alaska Airlines!
The first class cabin was small, three rows of 2×2 standard first class seats. Each seat has a tray table and plenty of legroom, but no power.  Actually, the plane didn't even have wifi! There also was no curtain or wall between first class and economy. It's just one large open cabin.
Sun Country First Class Inflight Service
The first class cabin has one dedicated flight attendant. Our flight attendant was very friendly and was quick to refill drinks throughout the flight. I do not believe my drink was ever empty! Sun Country realizes that they are a leisure airline and they want to ensure everyone is having fun! Other than drinking, each passenger was provided with a digiplayer for entertainment.
The drink choice is quite small. Only one beer option and very basic spirit options. This was fine as I can always settle with a gin and soda while in flight or a jack and coke if I want something sweet. The flight to Vegas also offered a meal service. Hot meals are gone and now Sun Country Airlines first class passengers are provided with a salty picnic pack.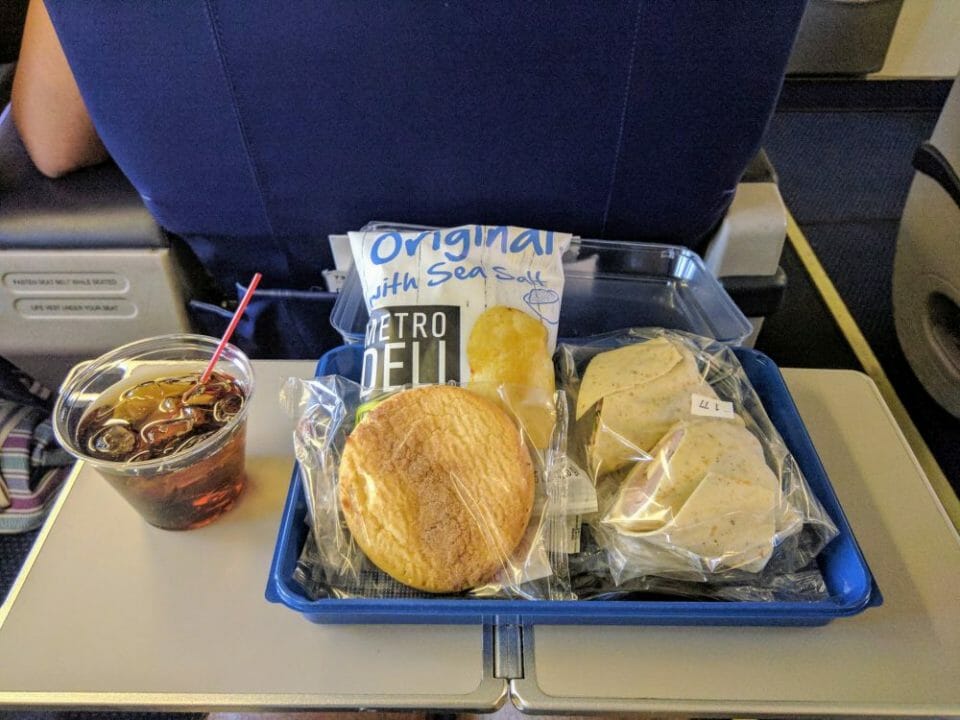 An hour into flight after a couple of rounds of drink service each passenger received their picnic pack. There was no options. Just Ham and Brie wraps with a bag of chips and a cookie. I had a few bites of everything and called it good. Looking around the cabin, it was obvious that no one cared for the food. Everyone's picnic packs were nearly untouched upon cleanup. There wasn't enough alcohol on that plane to make the food taste good!
The flight continued, the drinks kept pouring and by the time we arrived in Vegas we were all ready to make bad decisions. Thank you free-flowing alcohol!
Final thoughts
Sun Country Airlines first class has seen major service cuts over the last year and it's a really watered down the product. It's no surprise though as the airline will start reconfiguring planes this October and the product will be gone before we know it. It's sad to see a hybrid leisure airline that once had a decent product be a thing of the past. I am curious if Sun Country will be able to revive themselves as a ULCC and compete with Allegiant, Frontier and Spirit…or will Sun Country fade into the airlines of yesteryear?
As I was flying Sun Country I saw a lot of potential in the airline. They offer a hub out of MSP and provides a nice option to Delta Hub locked passengers. Old trip reports prove the airline does know how to offer a first class product and could if they wanted. I also couldn't help but think that Sun Country in their hybrid form would be a good takeover target for Alaska Airlines. After all, if Delta is going to attack Alaska in Seattle, Alaska could build up a hub at MSP by purchasing Sun Country. Although to be real, that's never going to happen!
If you're flying Sun Country and you want more space, upgrade to first class, but bring your own food on board!