Alaska Airlines just opened their brand new Alaska Lounge at New York JFK Airport and it's beautiful! Located on the mezzanine level of Terminal 7, the new Alaska Lounge features a spacious setting with great service, wonderful amenities and a comfortable environment to rest, relax and be productive before your flight.
The new lounge is located directly above security. As you exit the security checkpoint, make an immediate left and follow the signs towards the British Airways Galleries Lounge. The Alaska Lounge is located to the left of the British Airways Galleries Lounge and is open from 5:00 AM to 10:00 PM, Sunday through Friday, and 5:00 AM to 5:00 PM on Saturdays.
The Alaska Lounge is accessible by Alaska Airlines First Class passengers (except upgraded passengers on U fare class) and Alaska Lounge members. Single-day lounge passes can be purchased for $45/day.
Priority Pass cardholders are permitted with some limitations. Access is permitted three hours prior to your scheduled departure flight and cardholders are limited to a maximum of two guests. There is a maximum of three alcoholic drinks per guest and access may be restricted due to lounge capacity constraints.
The main seating area is focused around the soft leather sofas and fireplace located in the center of the lounge. I really love this design aesthetic. The lounge is not overly decorated and reminds me more of a comfortable living room than an over-the-top, extravagant lounge. It's cool and comfortable, not uptight and pretentious.
At just under 5,000 square feet, the small lounge feels spacious and bigger than it really is due to its large windows and natural lighting. With a variety of seating and table options situated throughout the lounge, you will always find a space to sit and relax, socialize with other travelers, have a drink or be productive before your flight. Password protected WiFi is provided throughout the lounge and electrical outlets are readily available by most of the seating areas.
To the immediate left of the entrance, there is an open table and a bank of individual work pods. These work pods are great for solo travelers. They have high walls for increased privacy, individual tables, and electrical outlets at every seat to keep your devices powered and ready to go. If you need to get some work done and don't want to be distracted by other people, this is the space for you.
For aviation geeks, the lounge features a work table along the massive windows with views of both the ramp and runway.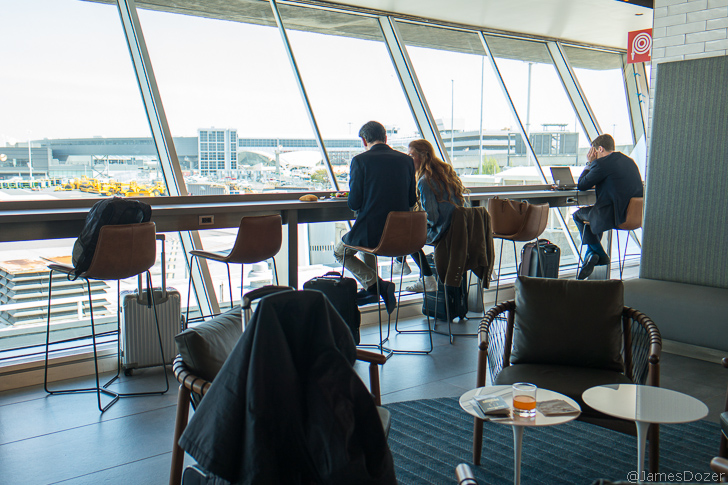 At the time of my visit, 2:00 PM on a Thursday afternoon, there was a healthy spread of complimentary food and beverage options for all passengers. There was a nice salad bar on display featuring a spring salad mix, chicken breast, hard-boiled eggs, artichoke hearts, and tomatoes.  Fruits, baked goods, and a vegetable soup were also provided.
And of course, there's the famous Alaska Lounge pancake machine, which you can have freshly made pancakes any time of day.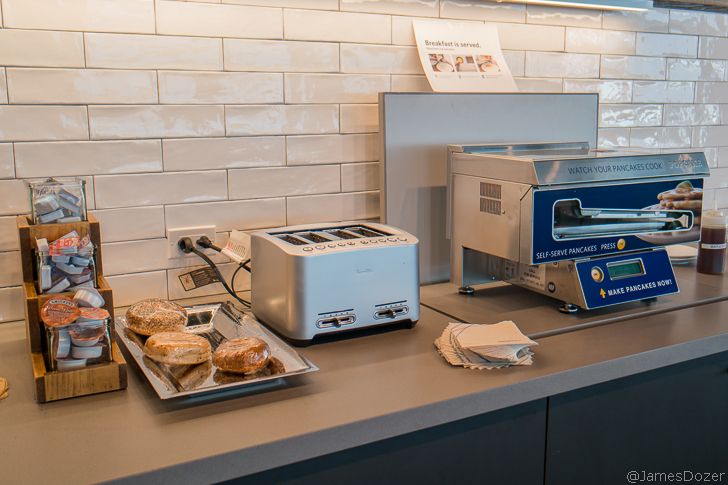 If you're looking for something a little more substantial, there's also a selection of food items available for purchase. I ordered the Korean chicken rice bowl to test out the menu and it was delicious!
As for drinks, the hosted bar features a variety of top-shelf spirits, wines and craft beers. House drinks are provided complimentary and top-shelf cocktails can be purchased for a fee.
Coffee lovers will rejoice for the coffee bar featuring handcrafted espresso drinks and full-leaf tea beverages, prepared by Starbucks-trained baristas.
No showers are available but restrooms are provided inside the lounge.
Overall, the new Alaska Lounge at New York JFK is a great place to rest, relax and be productive before your flight. With 14 flights a day, I'm glad to see Alaska Airlines doing more to improve the passenger experience on the ground and with Priority Pass access, passengers departing from Terminal 7 will have a welcoming space to pass the time.
James Dozer traveled to New York as a guest of Alaska Airlines.