Two more flight reviews before going back to fill in some trip reports. We took our first international family vacation this summer, with Tahiti the destination. The lynchpin was not one, not two, but THREE award tickets I scored in Air Tahiti Nui Business Class for the return. (A return not without drama. A cabin crew strike involuntarily extended our vacation, though only by a day.) For the flight out, we chose United B787-10 Economy Plus, thanks to a remarkably cheap base fare. Ironically, while I found Polaris pretty average, this flight in coach was excellent.
I paid $512 cash for each ticket, plus $225 each for three Economy Plus seats. Yes, that's a steep price, but I valued the extra space on this long flight. Why did we pick this daytime flight to Tahiti? Since this was Ashok's first long-haul, we thought he'd handle a day flight better than a redeye. Plus, that allowed us to get to our hotel around bedtime and head straight to sleep.
United Airlines (UA) Flight 115
Tuesday, June 27, 2023
Depart: San Francisco International Airport (SFO), Terminal I, Gate G2, 13:34, 9m late
Arrive: Papeete – Faa'a International Airport (PPT), Terminal 1, Gate 2, 18:55, on time
Duration: 8 hours 21 minutes
Seats: 34A, 34B, 34C
Equipment: Boeing 787-10
Check-In and Boarding
Rather than try to connect in San Francisco same day, we chose to fly in the day before. Especially since this was my son's first long-haul flight, we thought the extra rest might come in handy. We spent the night at the Doubletree near the airport, which ostensibly offers a shuttle service. But the shuttle reservation system is kind of clunky, and I had problems getting it to work. So we took a Lyft to the airport around 10:30.
Though our flight departed from the international terminal, construction there required us to check-in at Terminal 2. After a quick passport check and bag drop, we walked over to the G gates. Pre-check took only a few minutes at that hour, and we first headed to Mustard's Bar & Grill for lunch courtesy of Priority Pass. Afterwards, I talked Ashok into heading outside to the observation deck for a few minutes to look at airplanes. We enjoyed some planespotting, and a few minutes in the cool Northern California air. (You call it June Gloom, I call it a refreshingly delightful change from a brutal Texas summer.)
There were some nice planes out on the ramp area, including an ANA Triple Seven.
United of course had plenty of representatives, including a 777-300ER and another 787-10 (not our plane).
And my son enjoyed the planes and the fresh air. (Yes, he's already declared allegiance to the Aggies. #sorrynotsorry to all you Tea Sippers out there.)
Anyway, we trudged our way back to the gate after we had enough fresh air. Time to get excited; we're really about to get on a plane to Tahiti!
Before settling in, I went to take a look at a Turkish Airlines A350 next door. That's one nice looking plane.
My son also insisted on the two of us doing a pose by the window. (He's a big fan of Frankie Valli and the Four Seasons, and was trying to parody the album cover to the Jersey Boys soundtrack.)
Boarding began a little late, with Group 3 called about 20 minutes behind schedule. We made our way onboard to the right, and settled into our extra legroom seats for the next 8 1/2 hours.
United B787-10 Economy Plus – Seating & Interior
The Economy Plus section on the 787-10 consists of 54 seats in a 3-3-3 configuration. It's a split cabin configuration, with 45 seats taking up the first 5 rows of the forward Economy cabin. The first row of the aft Economy cabin make up the remaining 9 seats. While Economy Plus seats are the standard 17.1″ wide, the include 34″ of pitch, or 3″ more than standard Economy.
United trims the seats in blue leather, with a small pillow added for this long-haul flight. A think blanket is also offered (underneath the pillow).
My son commandeered the window, of course. I've trained him well it seems.
Obviously, the extra legroom in Economy Plus is the big advantage to these seats. While 3″ of extra pitch might not sound like much, it makes a big difference on a long flight. Legroom is generous, even with bags stacked up at your feet. With your carry-on moved out of the way, there's plenty of room to stretch out fully.
mak
For the little ones, the extra pitch also means a little more room to wiggle around and relax on dad.
And finally, the extra pitch makes it much, much easier to stick a laptop on the tray table to watch. Yeah, I know about screen time, but those rules go out the window on long trips.
I rate the seat comfort as fair to good. For slimline seats, the padding actually isn't terrible. Combined with the extra 3 inches of legroom, it's a reasonably comfortable ride for coach, with no back or saddle sore even after 8 1/2 hours. The issue I have with the 787, though, is the tight width in the 3-3-3 configuration. It makes things really tight in the shoulder/upper body area, and I definitely felt the soreness up there.
With the lights dimmed, the fluorescent mood lighting on the Dreamliner does make the cabin pop. Of course, dimming the lights and darkening the shades on a daytime flight still ranks as a personal pet peeve…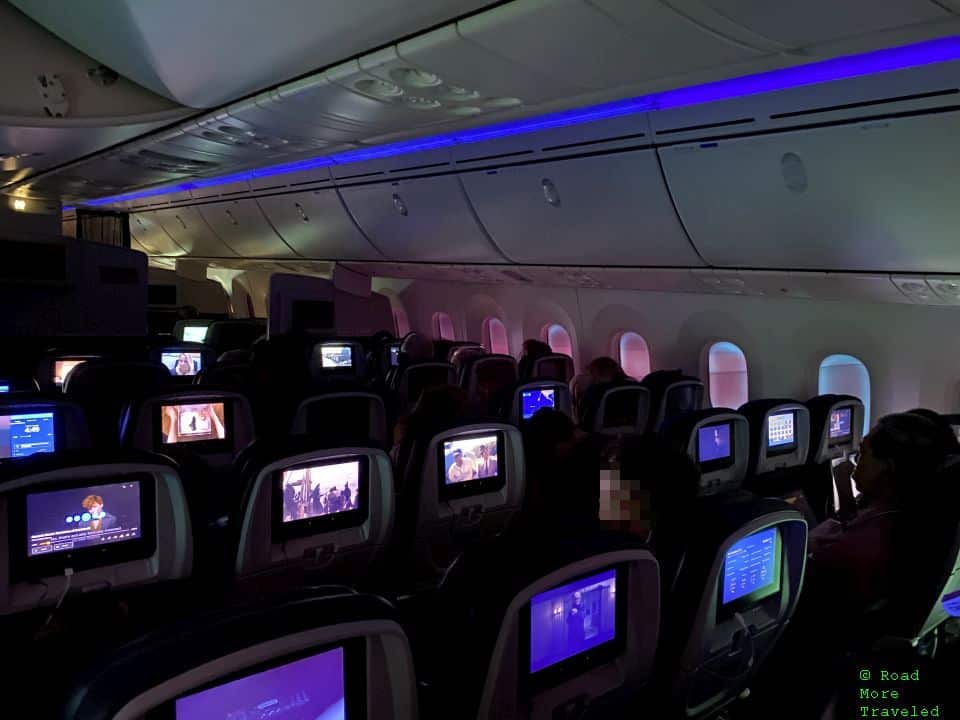 I did get a quick peek back into standard Economy Minus. There's really no difference, aside from the 3″ pitch reduction.
United B787-10 Economy Plus – In-Flight Entertainment
All Economy Plus seats come equipped with 9″ IFE monitors, the same as standard Economy. While not terribly large, the resolution is good, at least. The screen also includes a USB-A port at the bottom of the screen.
A 110-v power outlet is at the bottom front of each seat. While I always appreciate power outlets, I really dislike this positioning. It's difficult to find the outlet prongs, especially in the dark. And it's easy to get a long cord tangled up in your shoes.
United offers a free selection of entertainment, both through the IFE screen and on your own device. Among domestic carriers, I still think Delta's "Delta Studio" system is a little better, but United's isn't bad. There's a reasonable selection of both new and classic movies, TV shows, games, and concerts.
For moving map geeks, there is one, but it's fairly rudimentary. You do get basic views and zooms, along with rotating flight info, but I've seen better systems. (Note that the last two photos came from a different United 787-10 flight).
My son seemed to take a liking to the safety video.
United offers WiFi on the 787-10, but given that it failed to work on my last two flights, I didn't hold my breath. Surprise, surprise, it actually did work on this one. United partners with T-Mobile to offer free WiFi to TMO customers, and my wife and I both took advantage. Note that free WiFi applies only to mobile devices; you can't use it to get free internet on a laptop. The connection was reasonably stable and quick for basic use, such as web surfing or Instagram. It isn't great for video streaming, though. My son tried to watch a couple of YouTube videos, which would occasionally stall part way through.
I found it kind of interesting watching flight progress on both the United app and Flighty. Both showed estimated arrival times within 3 minutes of each other.
United B787-10 Economy Plus – Food, Beverage, & Service
Meal service began pretty quickly after takeoff, with snacks served about 25 minutes later. This was a package of snack mix, the type you'll find in the airline lounge snack tower of sadness. (In fairness, it was fine.)
It took a while after that to get the main meal, though. After about an hour, the FAs offered a choice of butter chicken with rice, or noodles with stir-fried vegetables. My wife and son ordered the chicken, while I chose the noodles. Both came served with brownie bites and a mostly grain salad with a few greens.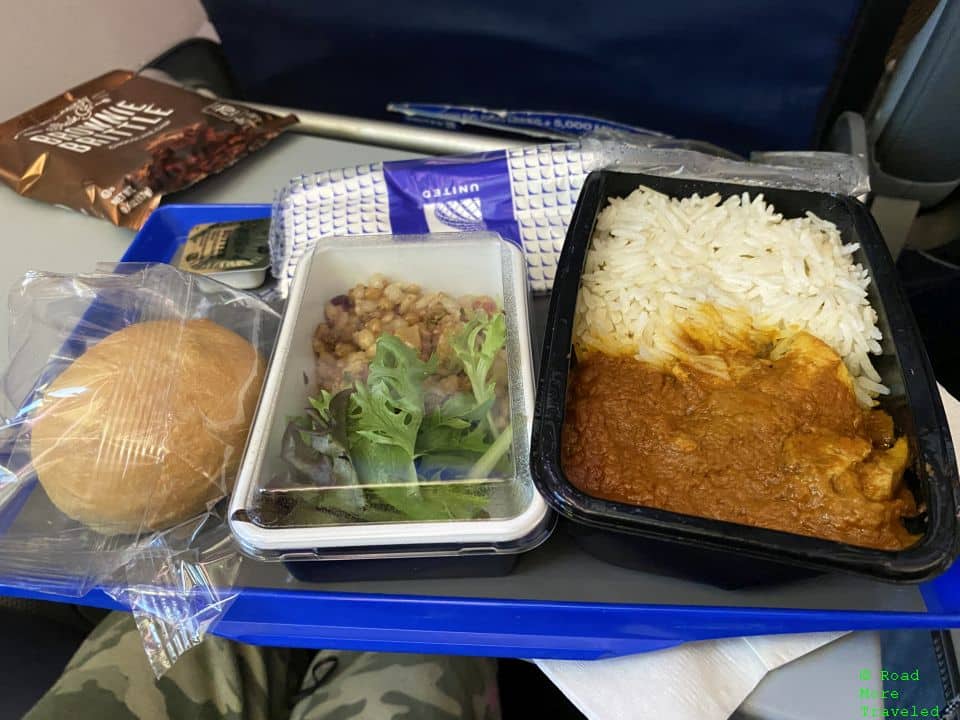 I'll start with my meal, which I found decent enough. The noodles were a tad mushy, and the sauce a bit sweet, but I found it good enough to eat the whole thing. I found it way better than Delta's coach dinner to Europe, at least. For the rest, I'm not a fan of grain salads, so I mostly picked at the greens. The other items were…fine. Overall, I'd rate it edible but not very memorable – in other words, about what you expect in coach.
We brought some leftovers from Mustard's, not knowing if my son would eat the on-board meal. But surprisingly, he ate every bit of the chicken and rice. He wouldn't touch the salad either, though.
To drink, I asked for a red wine. The house selection on this flight was a Zelada cabernet sauvignon.
Continuing with a familiar theme, I found the wine perfectly drinkable, though unmemorable. It's a little dry, with noticeable cranberry and pepper flavors, but not overly so. There's not much body here, but it's fine at cruising altitude. "Decent airplane wine", as someone once said.
About 90 minutes before arrival, the FAs served the second meal. This was more of a snack box on a tray thing, with a turkey and cheese roll, some pineapple and grapes, and a pack of M&M's.
I found the meal objectively fine. While not as good as those old sandwiches in Lufthansa coach, the roll was reasonably tasty. I'd prefer it warmed up, but as a simple snack, it does the job. In addition, the fruit was fresh and ripe. The only problem? It's the exact same turkey and Swiss sandwich Matthew highlighted…in 2018. That's right, no meal refresh in nearly 5 years! Come on, United – do better.
Note that on domestic flights, unlike American and Delta, United doesn't offer free alcohol in Economy Plus. That's offered only on international flights, but it's the same back in Economy Minus.
So far, everything I've described suggests a serviceable but hardly world-beating product. Decent seating with good legroom but tight at the shoulders. Perfectly edible meals but ones that needed a refresh about 3 years ago. IFE that's fine but not industry-leading. So why did I describe this as an excellent coach experience? Simply put, the service. There's only so much you can do to enhance the coach hard product, but service can make or break the experience.
On this flight, it was simply exceptional. The older FAs serving our side of the aisle was genuinely pleasant and friendly, and seemed to actually enjoy their jobs. What really stuck out was how the FA serving meals approached meal service. As mentioned earlier, my son actually enjoyed his meal of chicken and rice. But he's also a pokey eater, and wasn't anywhere close to done when meal service wrapped up. The FA kindly told my son to take as much time as he needed, and told me to ring the call button when he was done. And not only came promptly when I rang it, but told off the junior FA who started giving some attitude.
Flightseeing
A flight that's 98% over the Pacific Ocean doesn't provide much in the way of flightseeing. But we did enjoy some nice planespotting before departing SFO. As we left the gate, I spied a really nice looking Turkish Airlines A350 across the ramp.
A few minutes later, we got an even closer look as we passed each other taxing to the runway.
This isn't a great photo of a Lufthansa 747, with the nose cut off. But any photo of a 747 is worth taking, IMO.
Later, we passed one of United's newer fleet members, a 737-MAX 9. I tried but failed to try out the MAX 9 last December (though still enjoyed a father-son avgeek adventure).
Finally, as we neared the runway, we encountered a mishmash of budget carriers. To wit, a jetBlue A321, a Frontier A320, and a Southwest 737.
After that, there was really nothing to see until sunset over the Pacific a couple of hours before landing. The lowering sun over the 787's cool curved wing is always worth watching for this avgeek.
United B787-10 Economy Plus – Final Thoughts
I ended up enjoying this flight more than I expected. Not because the product itself is particularly groundbreaking. It's fine for coach, but there's nothing terribly special about it. No, I enjoyed this flight because the service actually was of a much higher standard than I typically see in the cheap seats. If only United could pull this off consistently, they'd be able to pull off their marketing spin as a premium domestic carrier.