To reach Toronto for last year's journey in the British Airways Club Suite, I took a rather round about routing. Yes, Air Canada and American fly nonstop from DFW; in fact, Air Canada offers a perfectly serviceable product on board the E175. But I decided to have a little fun and try WestJet Premium on the B737. WestJet doesn't serve DFW, and the best option involved heading to Fort Myers for the nonstop to Toronto. Because what's more normal than flying to Toronto via Florida from Texas?
Note: this was a pre-pandemic flight, but WestJet Premium on B737 routes currently offers the same service levels on North American routes.
WestJet (WS) Flight 1185
Friday, February 7, 2021
Depart: Fort Myers – Southwest Florida International Airport (RSW), Gate C1, 21:33, 13m late
Arrive: Toronto – Lester B. Pearson International Airport (YYZ), Terminal 3, Gate C40, 00:15 (+1), 10m early
Duration: 2 hours 42 minutes
Seat: 2C
Equipment: Boeing 737-700
Check-In and Boarding
I arrived in Fort Myers via Delta, which also utilized (at the time anyway) the C Concourse at RSW. That meant just a short walk down to the WestJet gate. Fort Myers typically isn't a connecting airport; if you are switching between airlines, however, beware that the three concourses aren't connected airside. If connecting here, there's very little in the way of services in the concourses. RSW has no lounges, and only three mediocre food outlets in Concourse C. I just grabbed a Wally's Deli sandwich from the newsstand, found an empty row of seats across from the gate with a plug, and spent a couple of hours surfing the net.
Due to a departure delay on the incoming flight leaving Toronto, WestJet initially posted a departure delay of 30 minutes. The plane made up some time en route, though, with the posted delay later cut to 10 minutes. I checked in online, but about an hour before departure, headed to the gate agent for a passport check. Boarding commenced about 20 minutes late but proceeded quickly; with priority boarding for Premium passengers, I quickly found my seat in the second row.
WestJet Premium B737 – Seating and Interior
WestJet Premium is more of a premium economy product than a true Business/First product. (The only true Business Class for the airline is on their B787 fleet used for Transatlantic service.) WestJet Premium on the B737 features 6 seats in a 2×2 configuration. Well, sort of. The "2×2" is actually three rows of Economy seats with a blocked middle, repurposed as a large tray table. The seats were starting to show their age a bit. Waiting at each seat was a bottle of water. WestJet doesn't offer amenity kits in Premium.
Seat width checks in at the usual 17″, but Premium does offer 36″ of pitch. That's a 3-5″ advantage over standard coach. I found the seats reasonably comfortable; leg room was about on par with extra legroom products like American's Main Cabin Extra. One area where the blocked middle really helps – you can keep your foot area clear of underseat items. That makes legroom feel a bit more generous than the advertised 36″ pitch usually suggests.
One other complaint – the interior suffered from a sloppy clean-up job, with some garbage left under the seats. It struck me as odd that the cabin crew found time to cross the seatbelts, but not pick up the trash.
WestJet Premium B737 – In-Flight Entertainment
WestJet doesn't provide seatback IFE in either Economy or Premium. Instead, all entertainment comes courtesy of streaming content. WestJet offers a decent selection of both TV shows and movies on its streaming system. Certainly plenty for the roughly 3 hour flight to Toronto.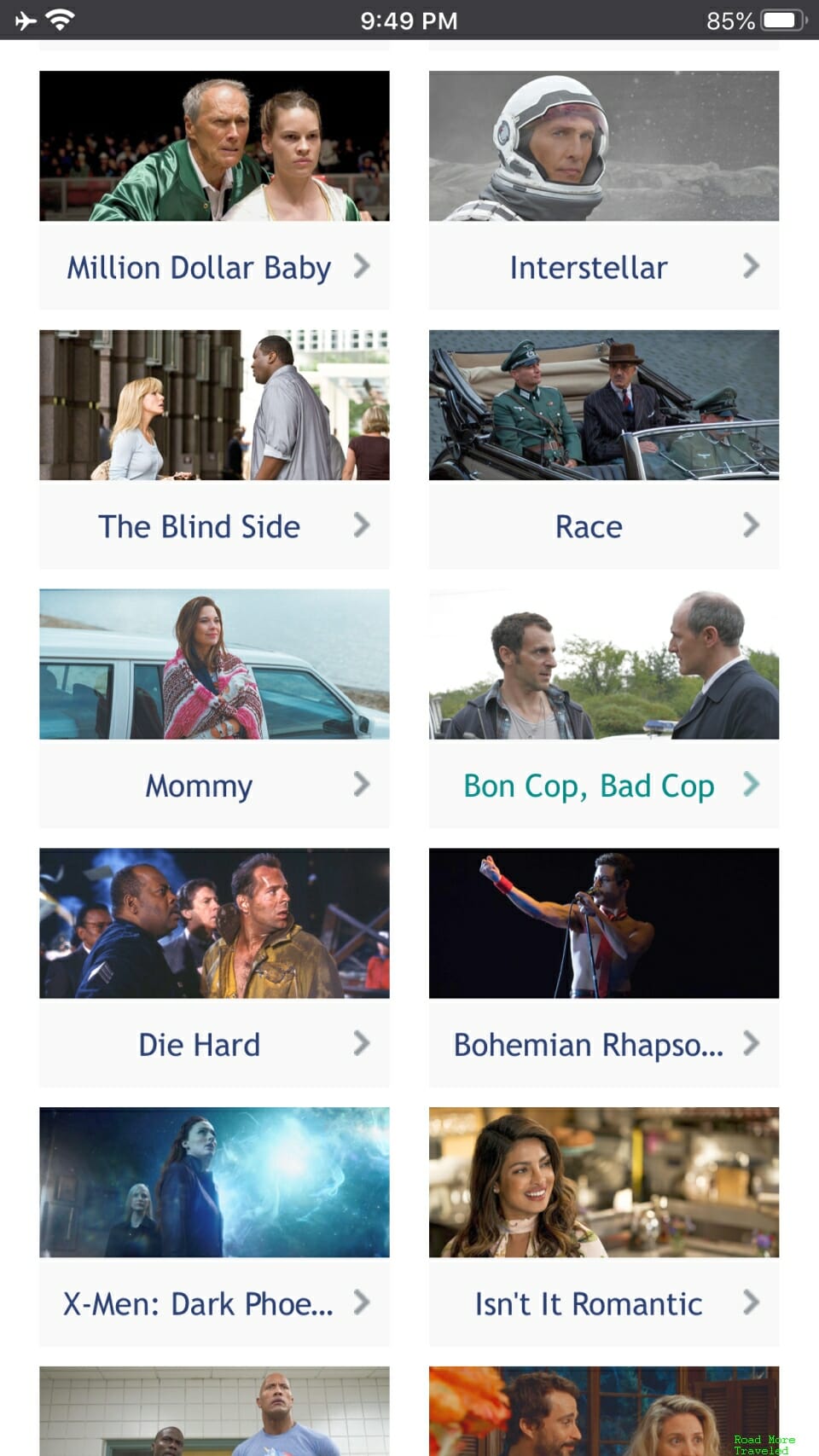 WestJet also offers onboard WiFi in all classes.  Pricing ranges from CAD 10.99 for a 90-minute pass, to CAD 21.99 for a full flight pass. You don't have to pay for WiFi to access streaming content, however.
As the legroom photo shows, each seat comes equipped with 110v and USB outlets at the seatback pocket.
I watched Chopped for a little while, then turned my attention to the moving map. I'll admit, I spend way more time looking at these than most normal people. But WestJet certainly offers a really fancy one. For one, the system offers a variety of interesting simulated view options.  These include port and starboard side window views, along with a horizon view.
The map also allows a really high level of zoom, equivalent to what you find in Google Maps.
Needless to say, I spent waaaaaaaay too much time playing around with this…
WestJet Premium B737 – Food & Beverage
Unlike most premium cabin services, flight attendants didn't distribute menus prior to departure; rather, they handed them out about 20 minutes after takeoff. At the time, WestJet offered only cold menu items in Premium. The current menu, however, indicates that hot dishes are now offered.
A few minutes later, the flight attendants came through to take orders. I'll admit, at first blush, neither of the main course options seemed particularly appealing. Ultimately, I've been burned by cold chicken dishes enough that I went with the pad Thai salad. I also ordered a gin & tonic, which arrived just a few minutes later. The drink itself was fine. The fake lime struck me…a bit strange, however.
About 20 minutes later, the FAs served the meals. WestJet uses real dishes and flatware in Premium, but serves all courses on a single tray.
I expected little from the meal service, but came away – pleasantly surprised, actually. Aside from the packaged bread roll and crackers, the ingredients were fresh. And most importantly, I found all of the dishes pretty tasty. What probably surprised me the most were the caprese salad and the seven layer dip. I hate both pesto and guacamole, but in both dishes, they were subtle enough that I actually quite liked the flavors. At the end of the day, I wound up finishing off everything. I did leave room for the desert, though, some kind of maple cake.
While a bit too spongy for my preference, the flavors were once again solid, and it wasn't too sweet.
I finished off the meal with a Glenlivet.
Meal service concluded about an hour and 10 minutes after takeoff. That's perhaps a little slow for a 9:30 pm departure, where presumably people want to sleep. Overall, though, the meal service ended up exceeding expectations.
On-Board Service
Both the ground staff and flight attendants provided courteous, professional service throughout. While maybe a little inefficient with the meal service, the flight attendants were friendly and helpful during the flight. Though they did head to the galley after meal service concluded, they did periodically check on those remaining awake, and responded quickly to requests for service. In general, I found the standard of service better than in Air Canada Premium Economy, where the FAs completely disappeared after meals.
Sorry folks – no flightseeing on this flight, thanks to the fully nighttime flight this time around.
WestJet Premium B737 – Final Thoughts
No, it isn't Business Class, but WestJet Premium offers a very decent Premium Economy product on the 737. For a ~3 hour flight, I received a better seat, good meal, and friendly service. But the flight wasn't exactly cheap. I paid $414.20 for this one-way from Fort Myers. That's really Business Class pricing, but for a somewhat less than Business Class product. Nevertheless, if the premium over coach isn't too much, the extra legroom and free drinks are nice.