Seabourn's Black Friday sale is here early and is offering 15% off luxury cruises to all 7 continents. Explore Antarctica for less than $9,000 in November or December or go during peak season in January or February 2024 for just $10,100 per person! Cruises to Iceland start below $3,000 per person. Now, you can experience the world in true luxury at prices lower than I have ever seen. Where do you want to go? It's on sale!
Seabourn's "Black Friday Sail" saves an average of $3,000 per itinerary and covers all sailings through 2024! After going on one Seabourn Cruise, I don't think I could ever go back to the larger and impersonal ships. Seabourn elevates the cruising experience and takes guests to places where the large ships cannot go.
Why Choose Seabourn
When it's time to cruise, there are huge ships and small ships. Seabourn has a fleet of small intimate ships made for socializing and interacting. You won't find climbing walls and waterslides onboard. Instead, you'll find multiple pools and jacuzzies and lots of space to spread out. Yes, Seabourn's larger ships (400-800 passengers) have casinos, and all of them have card rooms with board games and PS5s. Mimicking some features of the larger ships. Yet, Seabourn is more about the experience without the gimmicks or the children. All this providing a more sophisticated cruising experience. Think of it as a luxury hotel blending within the cruising space.
If you are a previous Crystal Cruise Society Member, click here to learn about status match opportunities.
Seabourn elevates cruising with 1:1 staffing and an all-inclusive onboard experience. All cruises include unlimited premium spirits, beer, and wine all day, every day. Don't worry about tipping as all staff gratuities are built into the price. Enjoy complimentary entertainment, all dining venues, unlimited caviar and more. There are no limits to where you can eat, or when. Plus, there's no additional fees for things that should be free. Such as Wifi and room service. Also, do not worry, you will not be board. There is plenty of entertainment during each cruise, including world class musician's, comedians, and  Ted Talk like seminars by experts.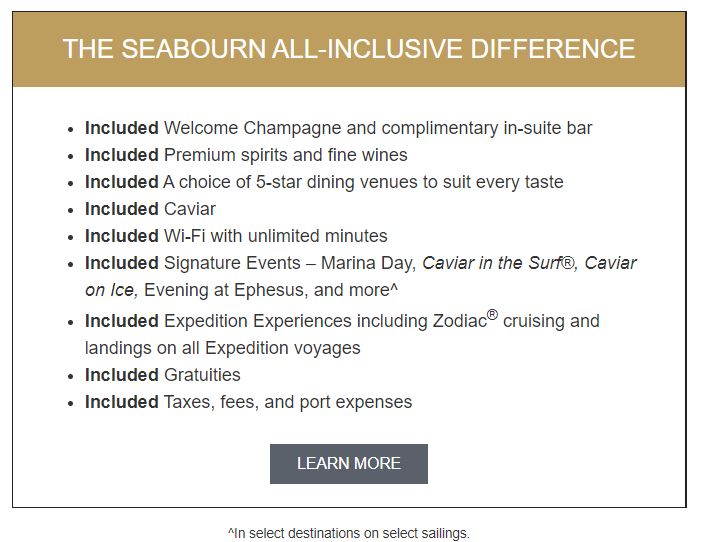 Seabourn is 100% focused on guest experience. They really believe in making every cruise special and unique. Calling them Seabourn Moments, Seabourn focuses on making every cruise special. Seabourn staff go above and beyond for guests. For example, on my cruise to Alaska my grandma was craving a hot butter rum. The bar staff had never heard of this drink, but the bar manager found the recipe online and delivered a homemade hot butter rum to my grandma's suite. My grandmother was over the moon in excitement.
When you want to see the world, Seabourn will take you there in style. Try something new, Seabourn is cruising refined.
Seabourn's Antarctica Deal
Over the past year, I have written about several deals to Antarctica. Seabourn is disrupting the market with two next expedition ships. The Seabourn Venture and Seabourn Pursuit are sister expedition ships specifically built for polar expeditions. With less than 270 guests onboard and 26 zodiacs, all passengers can be in the water at the same time. We've seen several deals reducing the price between $8,800 and $10,000 for a veranda suite during the early polar season. Now, Seabourn is reducing peak January and February cruises to just $10,100! Find all dates and deals here.
Typically, January and February expeditions to Antarctica cost more than $14,000 per person. The warmer weather, long days, and calmer seas demand a premium price. Now you can experience Antarctica on one of the newest ships at the best possible time for less than ever! Seabourn is undercutting other companies by more than $5,000 on these premium luxury expeditions.
I am leading a group of LGBTQIA travelers in Feb 2023. You too can join us and take advantage of this sale for just $13.8K per person. Or choose a late 2023 or early 2024 expedition and save thousands!
The new ships are also absolutely beautiful! A trip on the Venture or Pursuit will be more than memorable. See some of the amazing photos of these new expedition vessels below.
Do you want to learn more about what's included on these expedition cruises? Contact us at Scott & Thomas.
For those booking Antarctica expeditions earlier in the season there are limited rooms available for just $8,500 per person. Or upgrade to a higher category suite with better ship position and less ship movement over the Drake passage and save thousands. Book today to secure your room with only a deposit of 15% and pay the rest 90 days before departure. With every Seabourn cruise, the deposit is 100% refundable until 121 days before departure. Plus, every room on the Venture and Pursuit is a beautiful veranda suite.

Or upgrade to a penthouse or panorama cabin for just a few thousand more.
Seabourn Expeditions Go Beyond Antarctica
Seabourn new ships are not only exploring Antarctica. In fact, you can save thousands right now on an expedition to the Amazon with Seabourn. Select Amazon experiences start below $10,000. From Peru to Brazil experience the Amazon with Seabourn.
Or go further and explore Iceland, Greenland, or the entire Northwest Passage. From Pole to Pole Seabourn can take you to see the Polar bears and across the top of the world!
Seabourn is ready to take you off the beaten path and go places most ships and people cannot go. Explore the world with their onboard naturist to both learn and experience. Contact me today to find your adventure.
Bottom Line
Seabourn is offering 15% off ALL cruises until December 5, 2022. The Black Friday deal is bringing the lowest prices ever to  all Seabourn cruises. Use this sale to explore somewhere new, try out small ship cruising, or go on your first expedition. You can upgrade your cabin to a better cabin to save money or book a second adventure. These savings are not to be missed.
Seabourn has ships that go places the large ships cannot. It's time you say goodbye to the large ships, tour buses, lines, and experience a luxury ship.  Upgrade your next vacation and save today. Plus, by booking via Scott & Thomas you can enjoy an additional onboard credit on select cruises, a bonus you miss out on when booking direct and just one of many reasons to still use a travel agent.