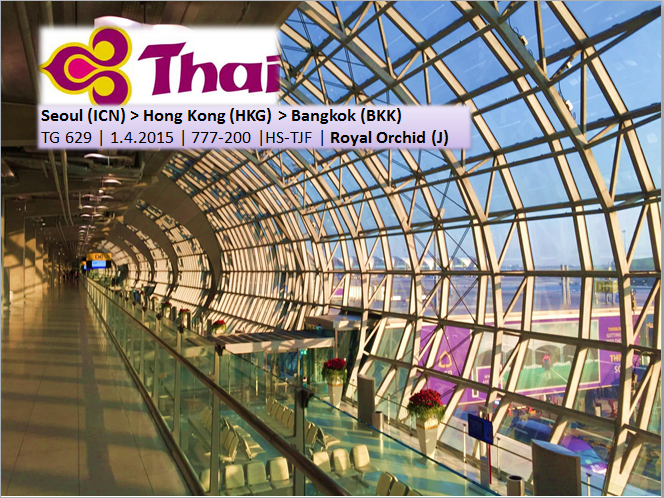 Editor's note: this is the second installment of my round-the-world trip on Star Alliance in Premium cabins. You can find part one here.
Continuing Westward
After a great visit to Seoul, it was time to head towards Europe, courtesy of Thai Airways. I would be flying from Seoul to Paris via Bangkok, which would allow me experience the Airbus A380 from Bangkok to Paris, in Business Class. The flight from Seoul to Bangkok, TG 629, operates via Hong Kong as a direct route.

Incheon airport is easily accessible via public transit, and the journey can take anywhere from 45-60 minutes, depending on time of day, from the downtown area. The ride is pleasant and the trains are very convenient, and inexpensive!
Check-in at the Thai counters was fairly uneventful. I received both boarding passes for the Seoul – Hong Kong – Bangkok legs as well as Bangkok to Paris. I was also given a pass to the Asiana Business Lounge at Seoul airport.
Unfortunately, the airport experience was sub-par at Incheon given the massively long security and immigration lines that morning. Perhaps because it was just after the New Years holiday, the airport was packed with travelers and queues for the morning bank of departures. It was very chaotic and the staff at the airport were less than helpful in terms of helping the lines process more efficiently. There were a surprisingly large number of Westerners passing through the airport, and it was very chaotic. There were also no dedicated lines for Elite passengers or Premium class customers that morning, to my knowledge.
I had intentions of visiting the Asiana lounge at Seoul, but unfortunately, this would not be possible given that I had to spend most of my time clearing immigration and security, which took over 90 minutes. What had started off as two hours intended to roam the airport ultimately converted into a "cutting it close" situation. Hugely disappointing.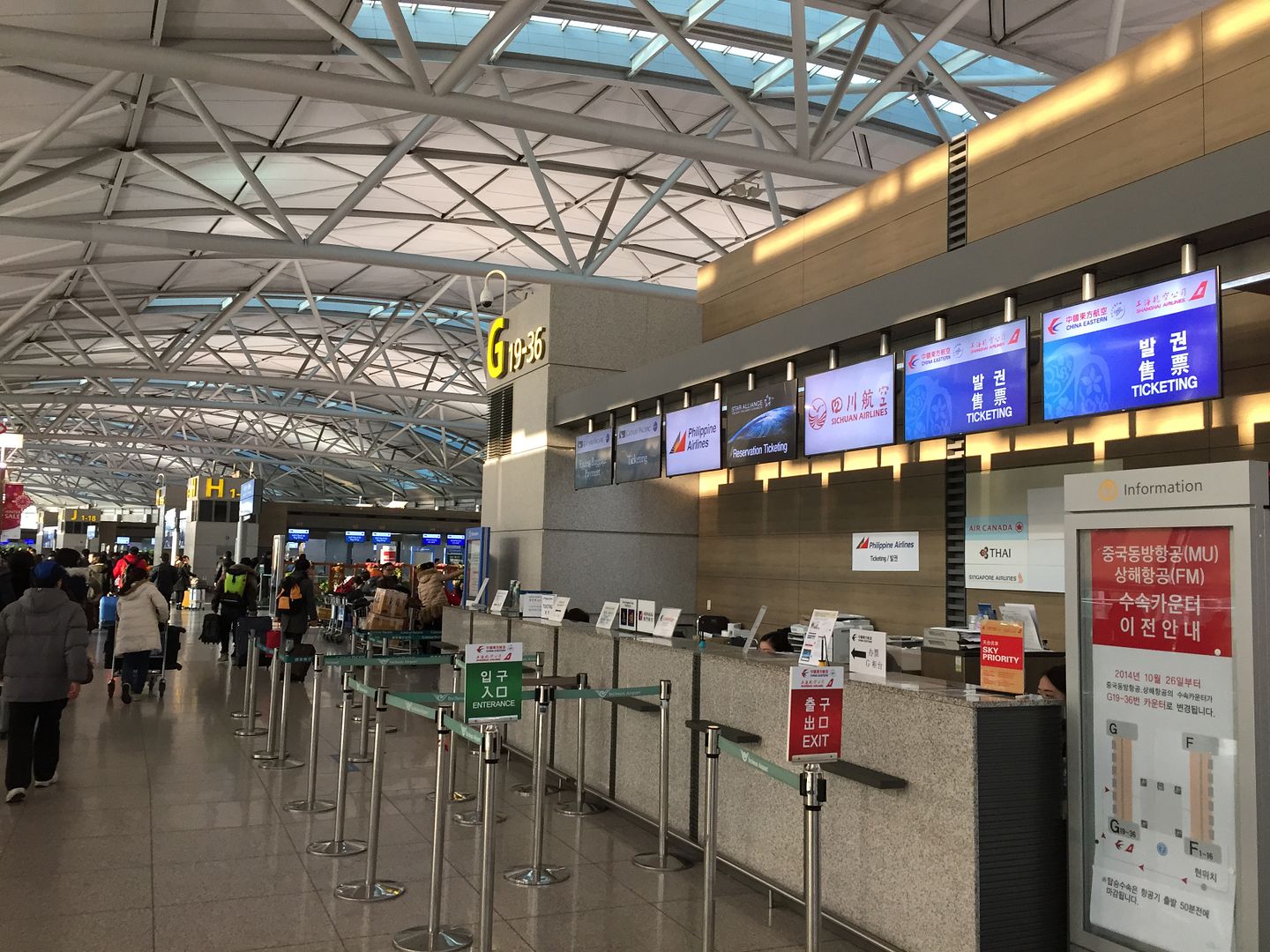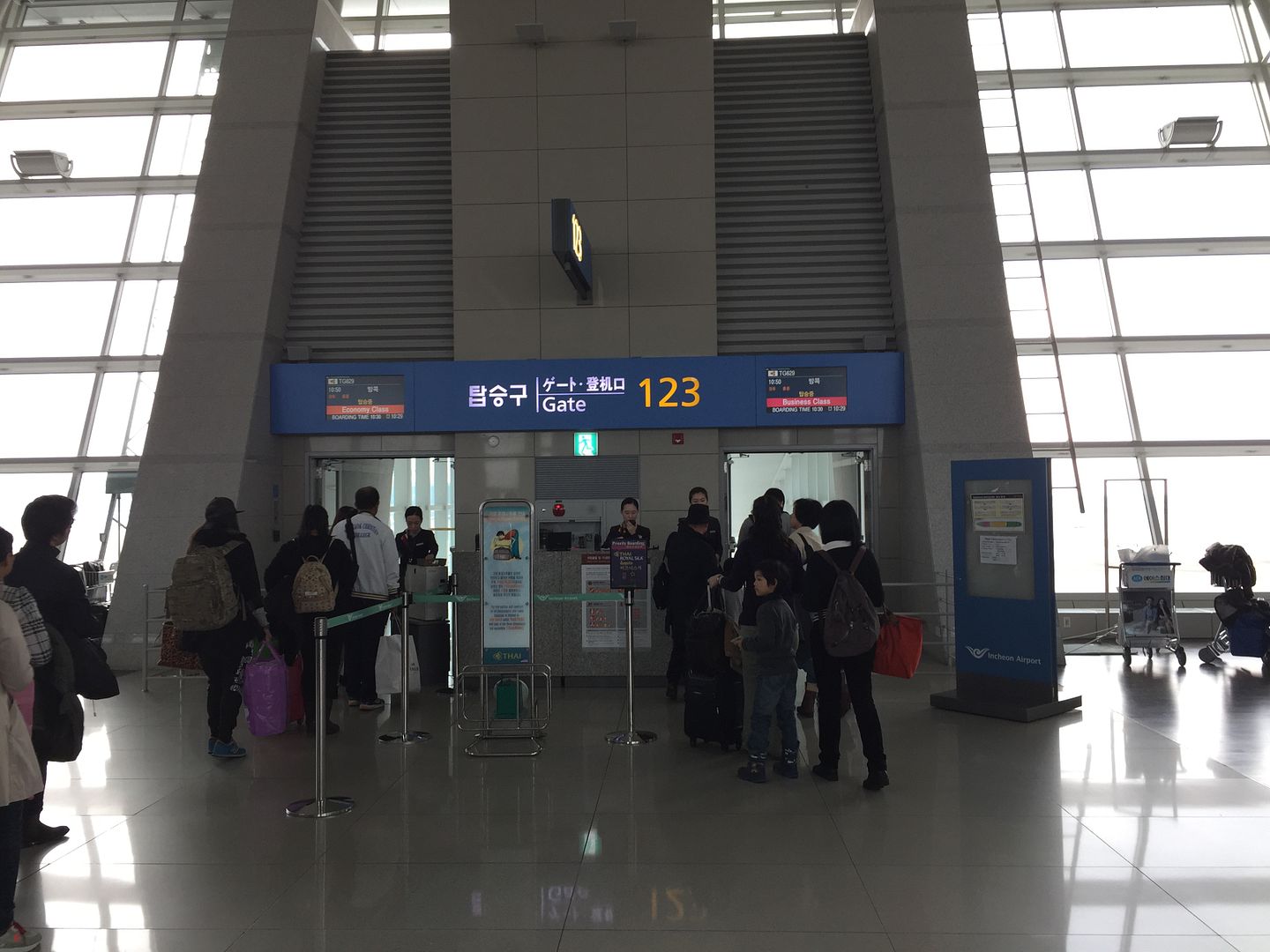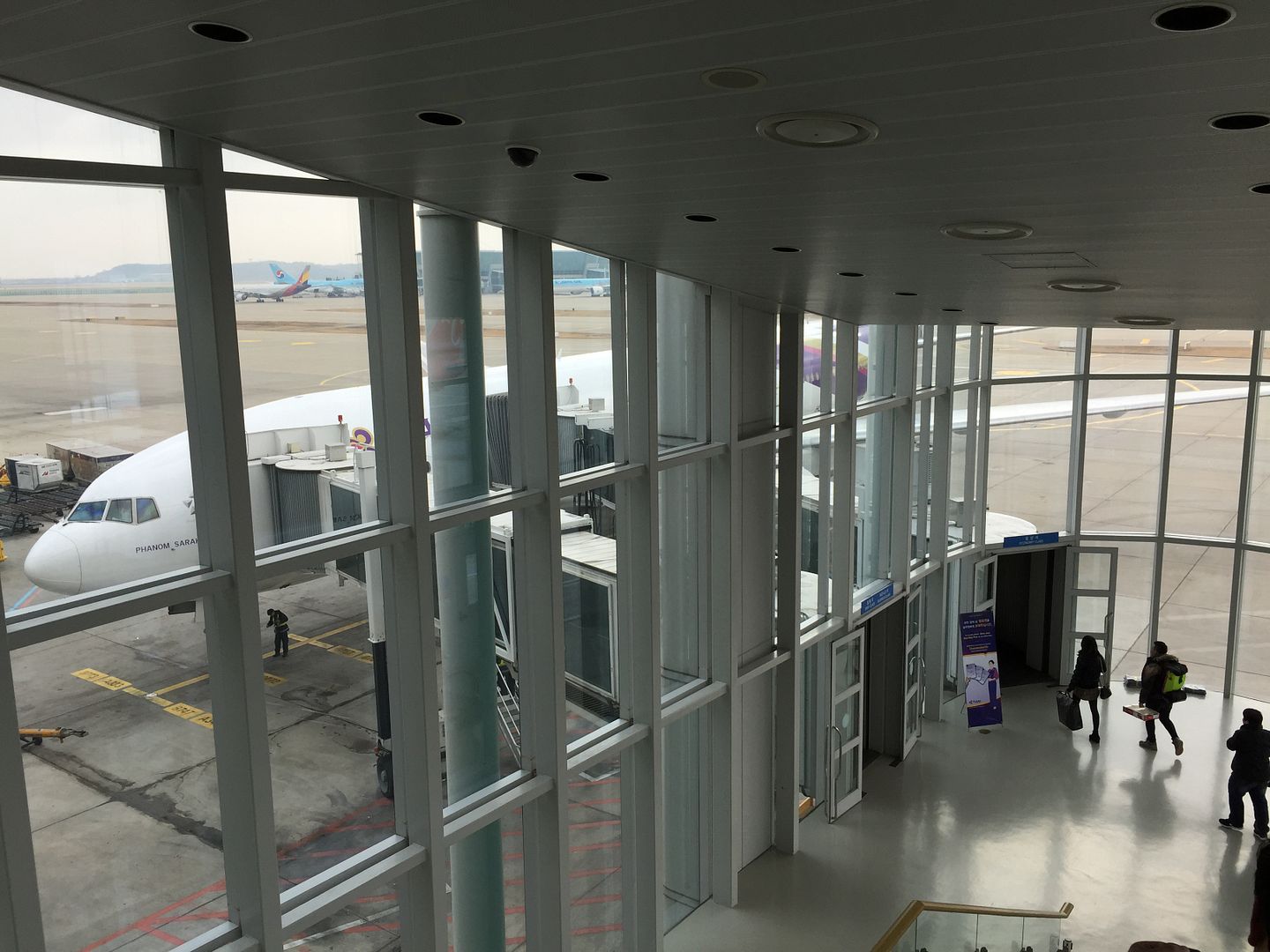 On-board: TG 629 ICN > HKG
Thai's Royal Silk Business Class product on its 777-200ERs are fairly standard, with capsule-style seats and a 163-degree recline. Each seat comes equipped with AVOD. The product itself is fine for a 4-5 hour journey intra-Asia, and the seat itself is fairly comfortable. Pillows, blankets and headphones were already in the seat when I arrived. Menus were distributed on the ground for both the ICN-HKG and HKG-BKK legs. We were also offered pre-departure options of champagne, orange juice, or both for a mimosa.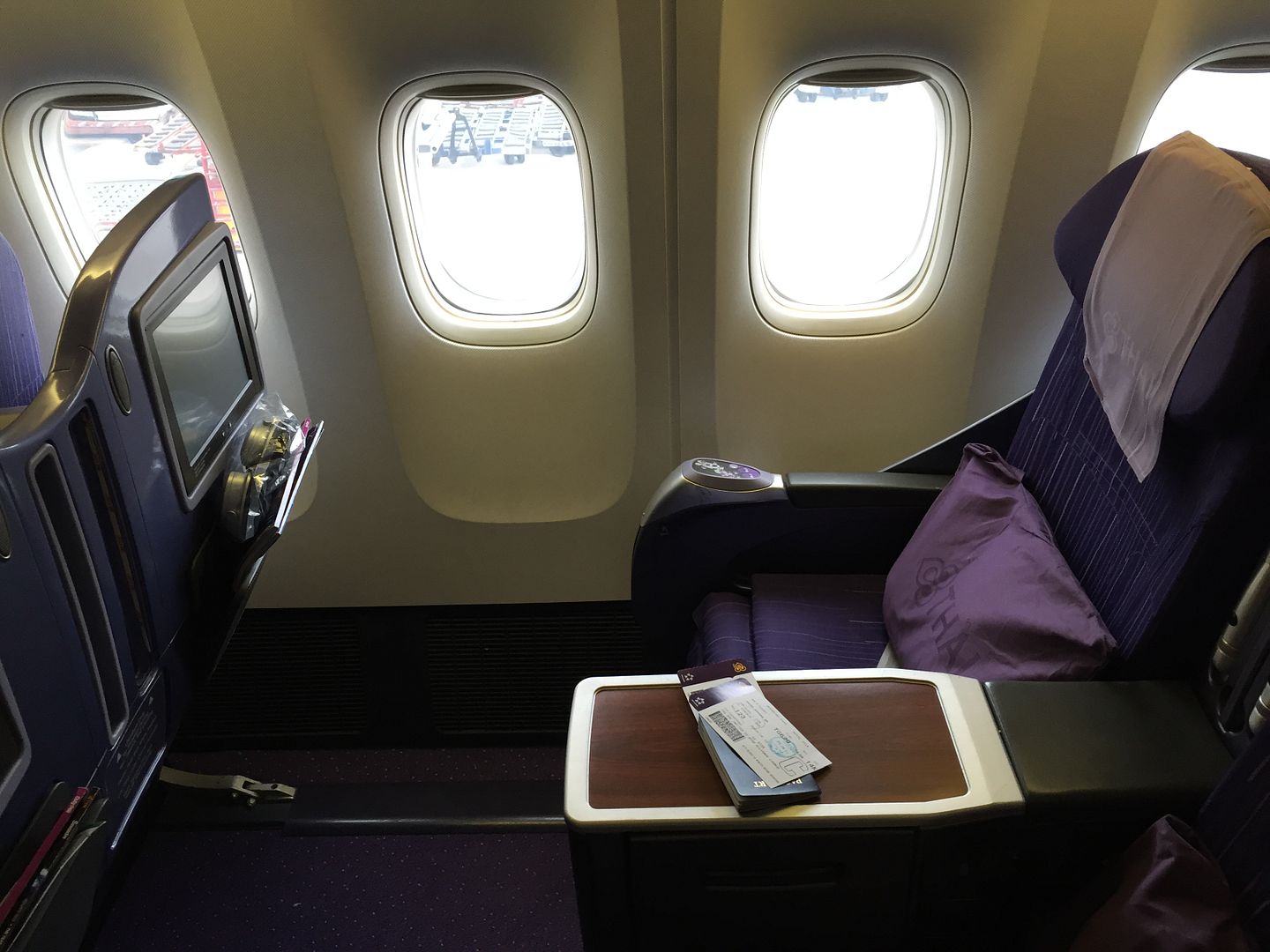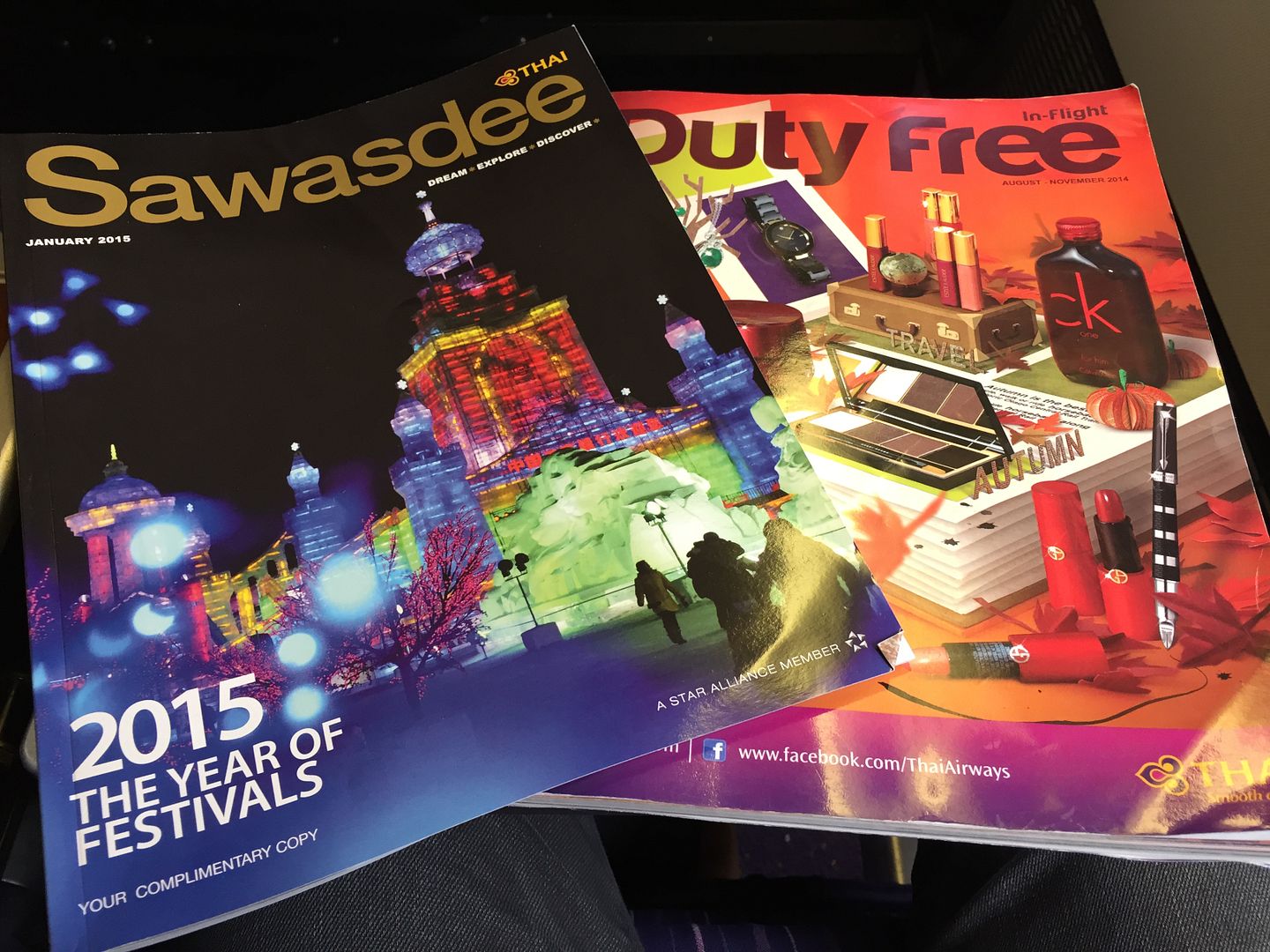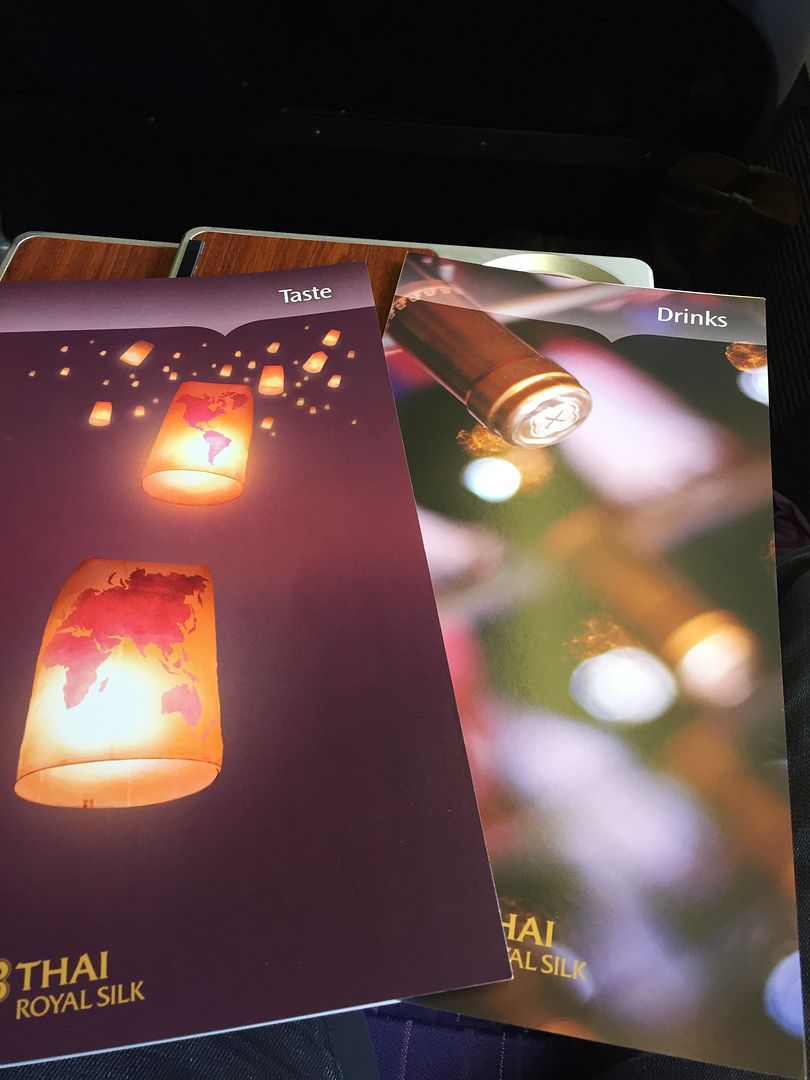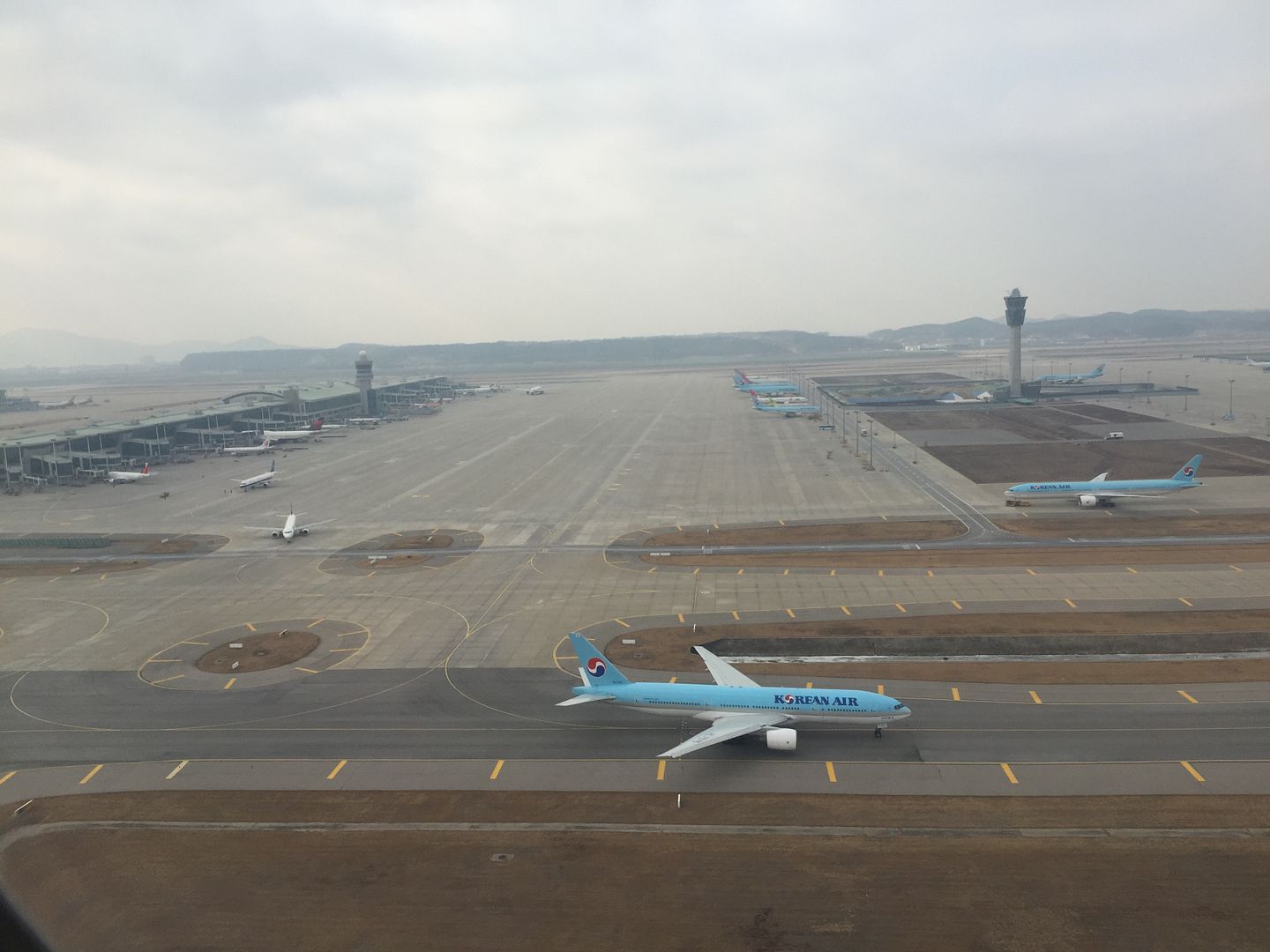 Once airborne, I played around with the AVOD system as the crew began preparing the cabin for the meal service. First round of service consisted of packaged almonds (no air rage in-flight to my knowledge) followed by the appetizer, which was sesame salmon slices with vegetables. Both tasted fresh.
The main course was a prawn chili dish. While good, I think TG could be more innovative with their main course as the jasmine rice and broccoli combo was underwhelming as side items. Frankly, this could have fooled me as a Y class item served in fine China. While flying over China. Haha. Presentation was fine, so it was pretty passable overall.
Dessert was an Apple Cheese crumble cake that tasted more like tres leches. It was quite good, and I had it with a side of Drambuie as a digestif.
On the Hong Kong – Bangkok leg, the first course was a pan fried prawn, which honestly, was just regular chilled prawns. I don't think there was any actual pan frying done. Second course was a pork filet with black pepper raisin sauce and mashed potatoes, and dessert was a cheese plate and blueberry cheese cake, which I enjoyed with some Kalua. I thought it was interesting that there were two dessert options on the HKG-BKK leg (cheese plate and cheese cake) given that it was a shorter flight than ICN-HKG, but who knows what the reason is.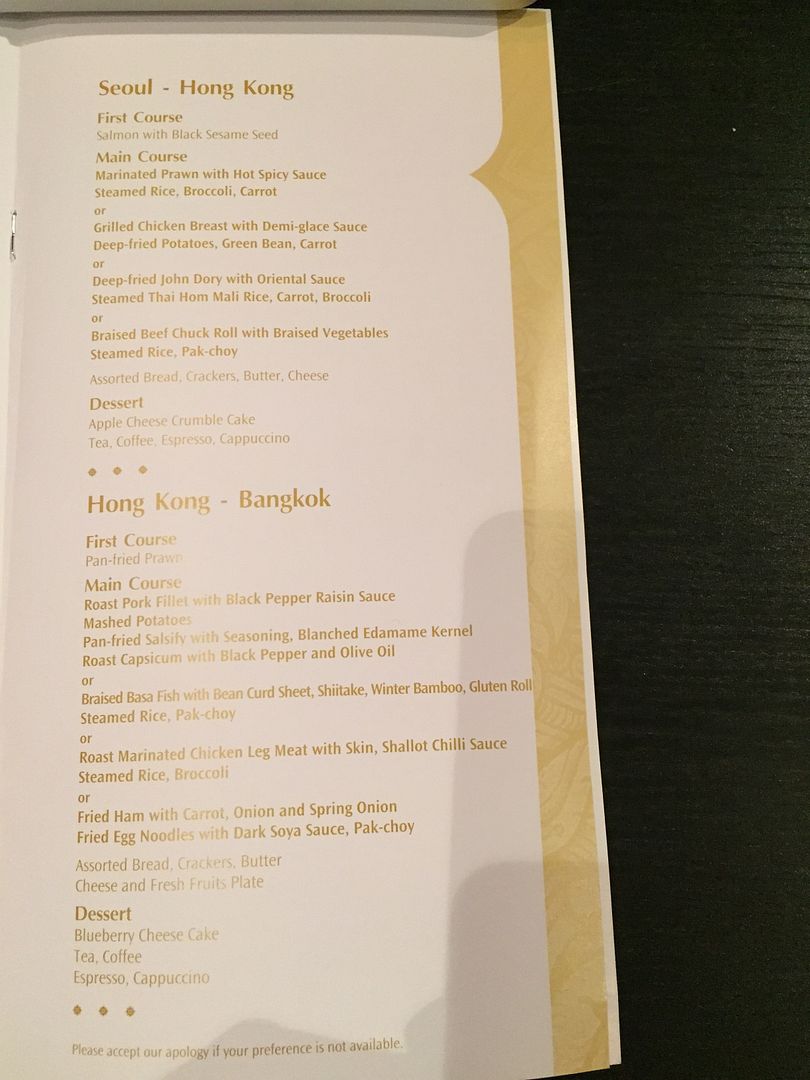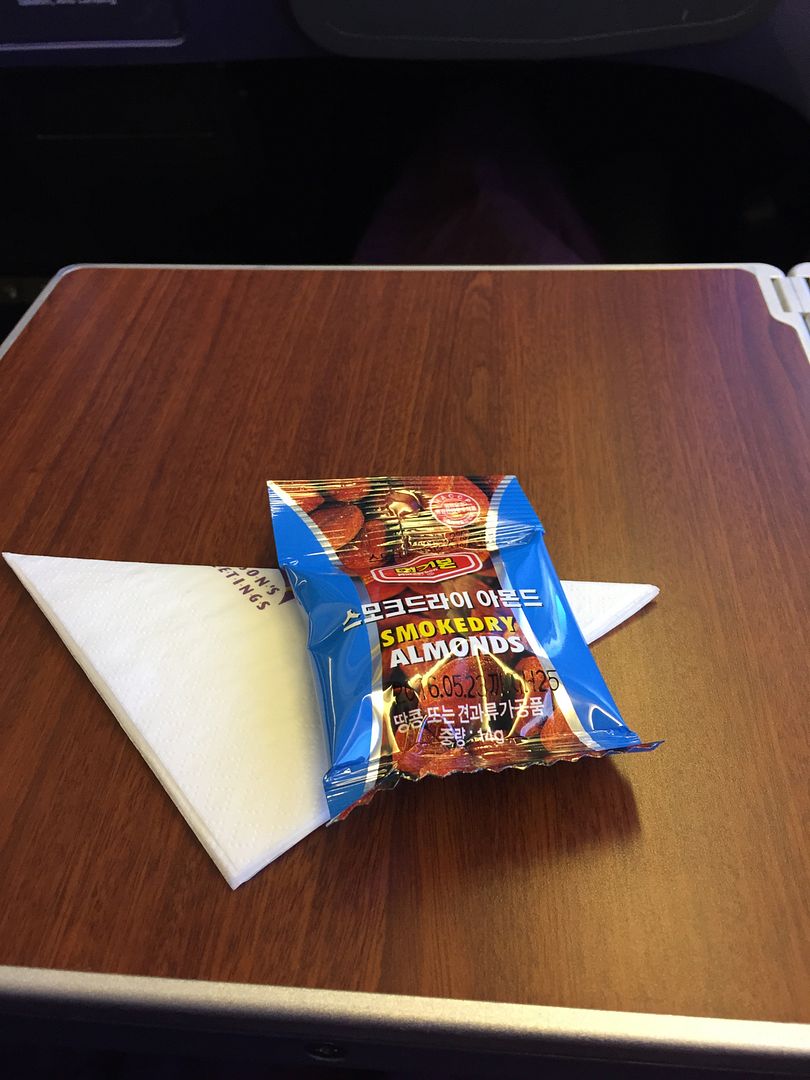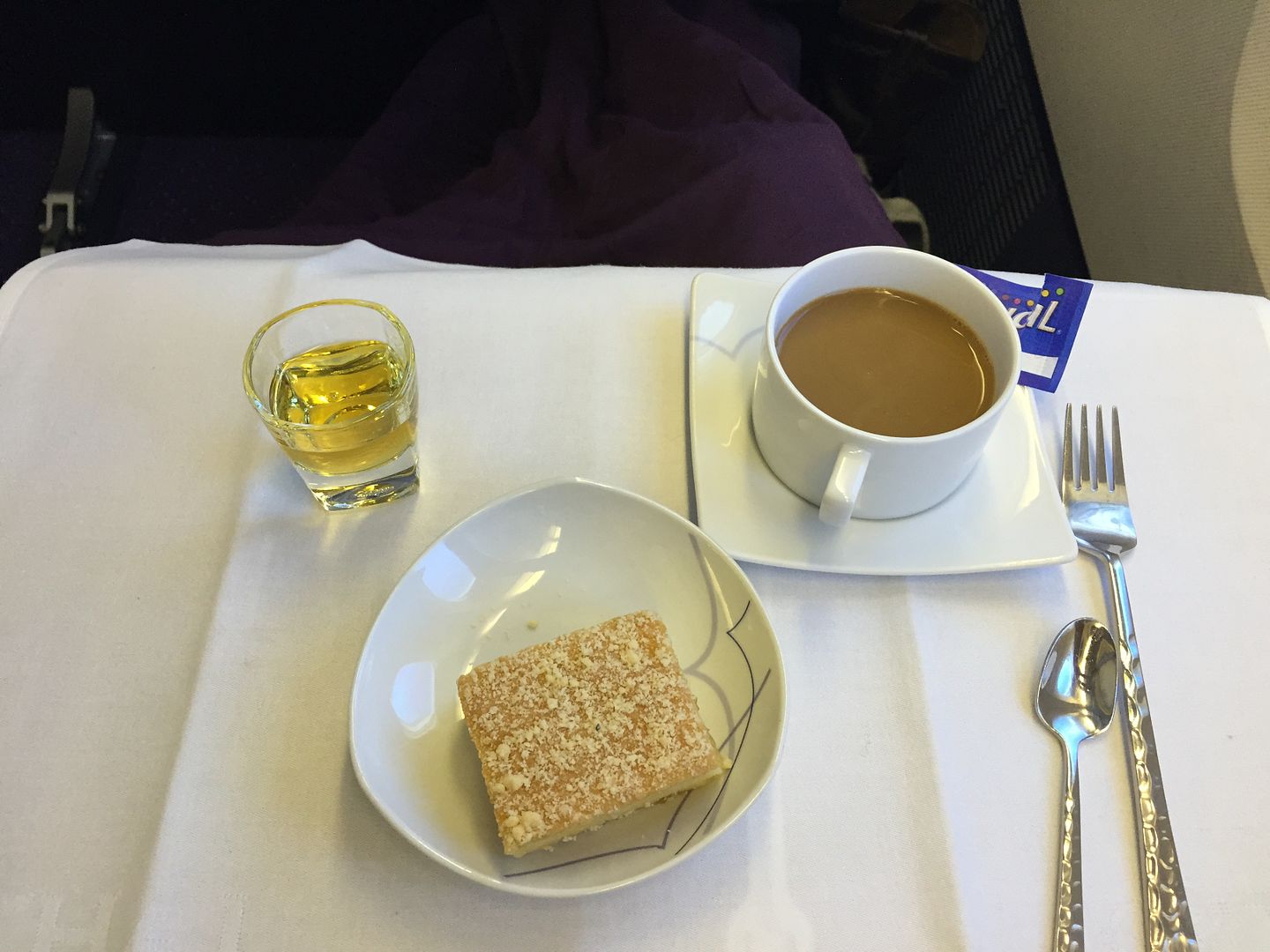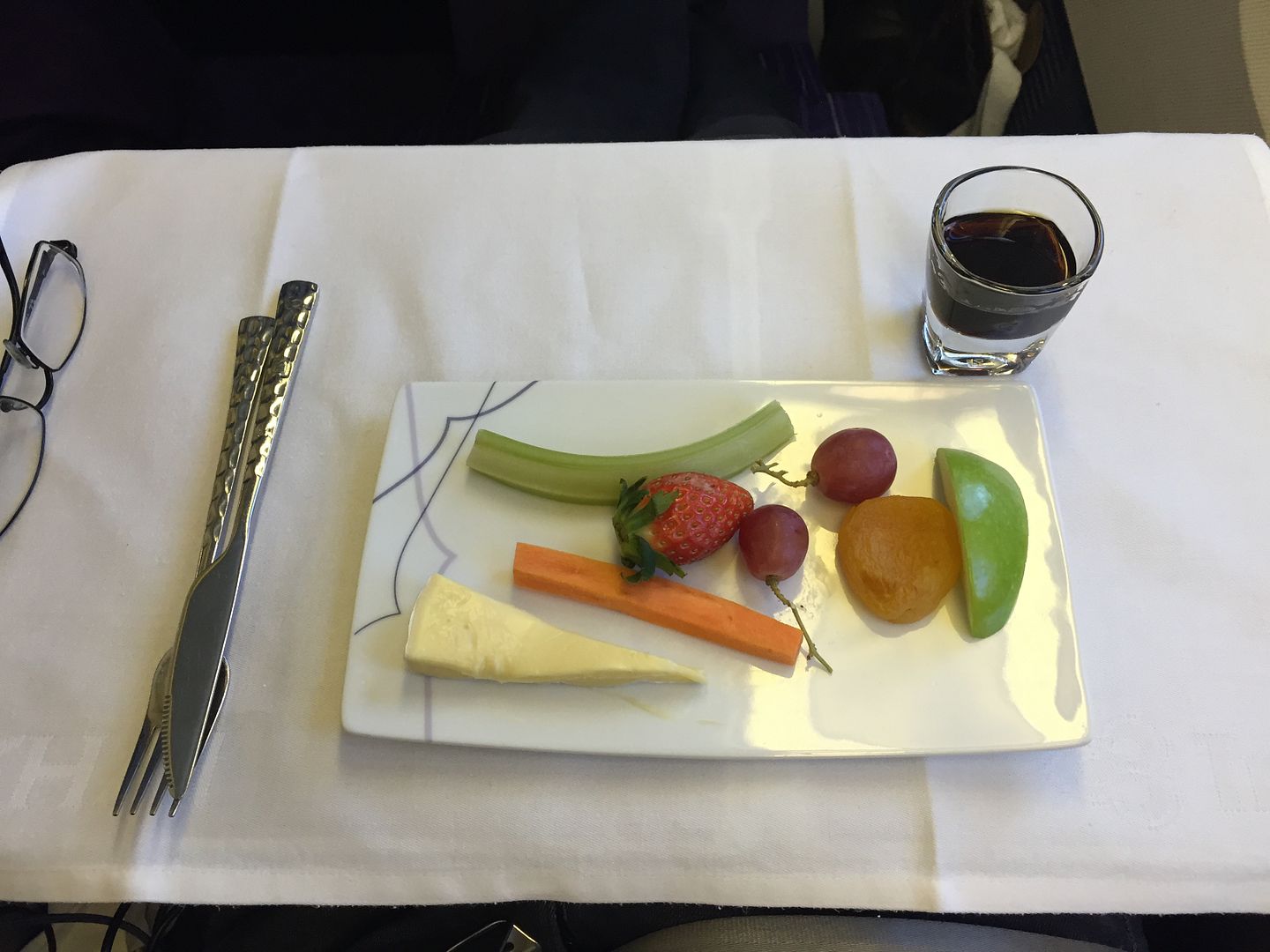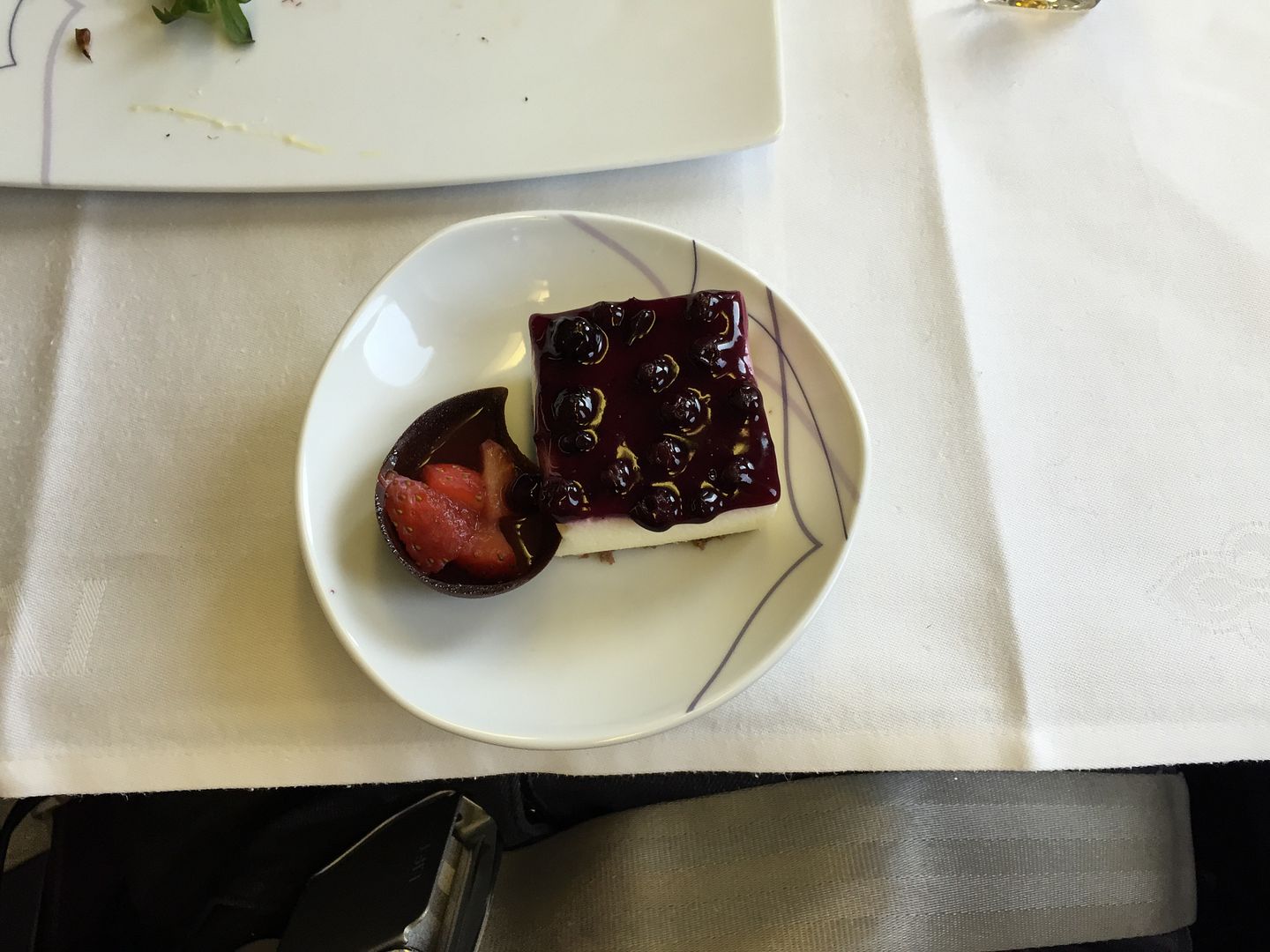 Crew was fairly blah on Thai. generally speaking, they are cordial but not ones to go out of their way. The products were fairly standard. The PTV screens do allow one to view the cabin from the tail, which is pretty cool, but overall, the screen itself is pretty old generation, probably circa 2004. At least it was AVOD. No WiFi available on-board.
Approach into Hong Kong was scenic and the weather was far more pleasant than in Seoul.
Transit at HK and Royal Orchid lounge
We were given transit cards at HKG and permitted to visit the Thai Royal Orchid lounge as we waited for our flight to re-board. The transfer process itself was pretty chaotic, but HK Ground Staff did their best to manage the queues. The lounge was fairly standard with a full bar, some seats and light snacks for customers.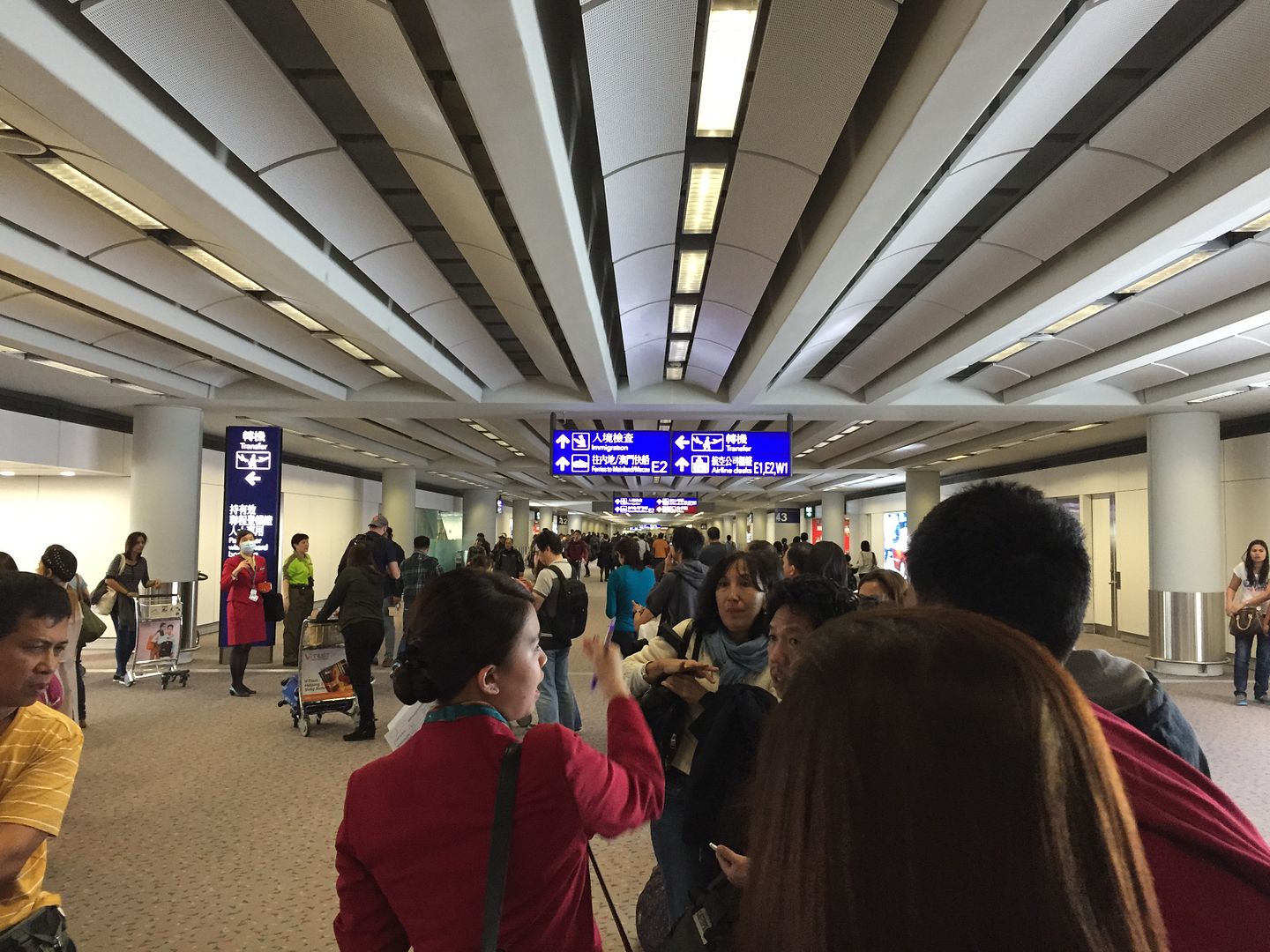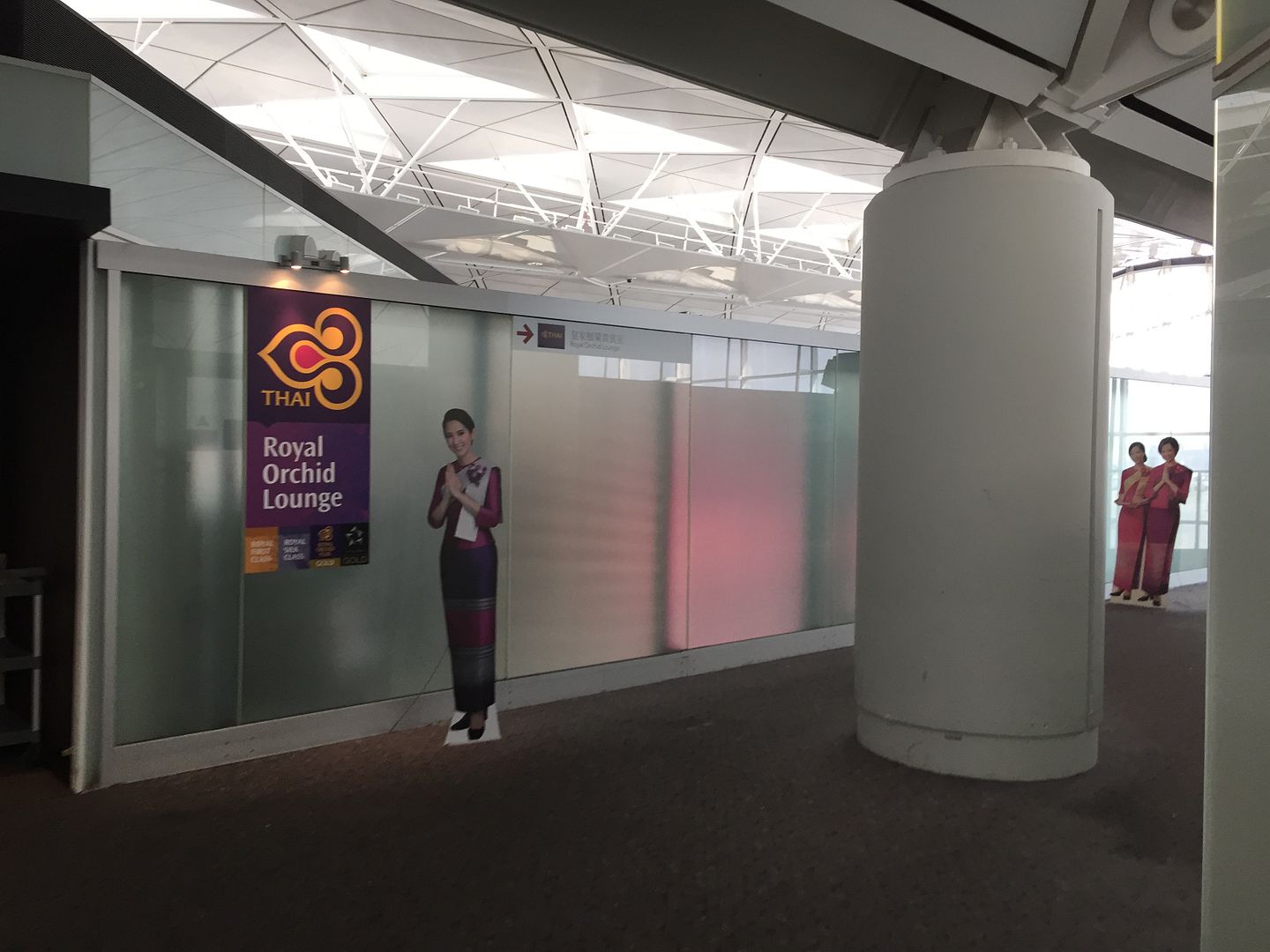 Second Leg: HKG–BKK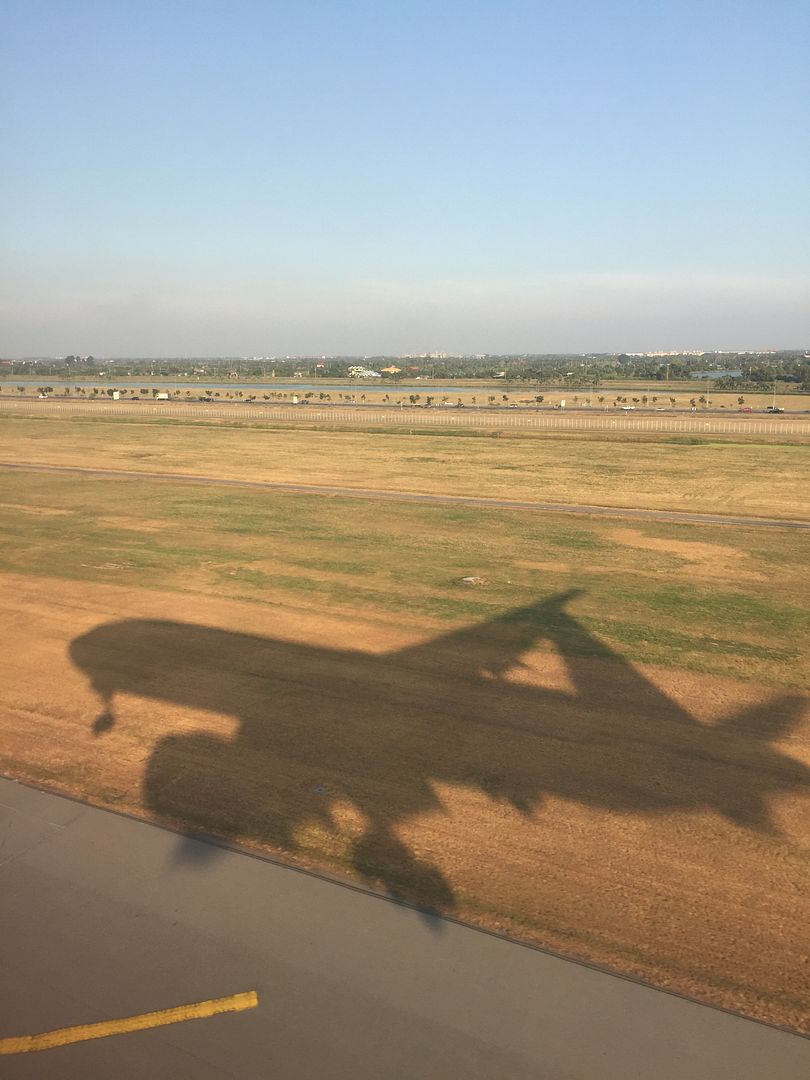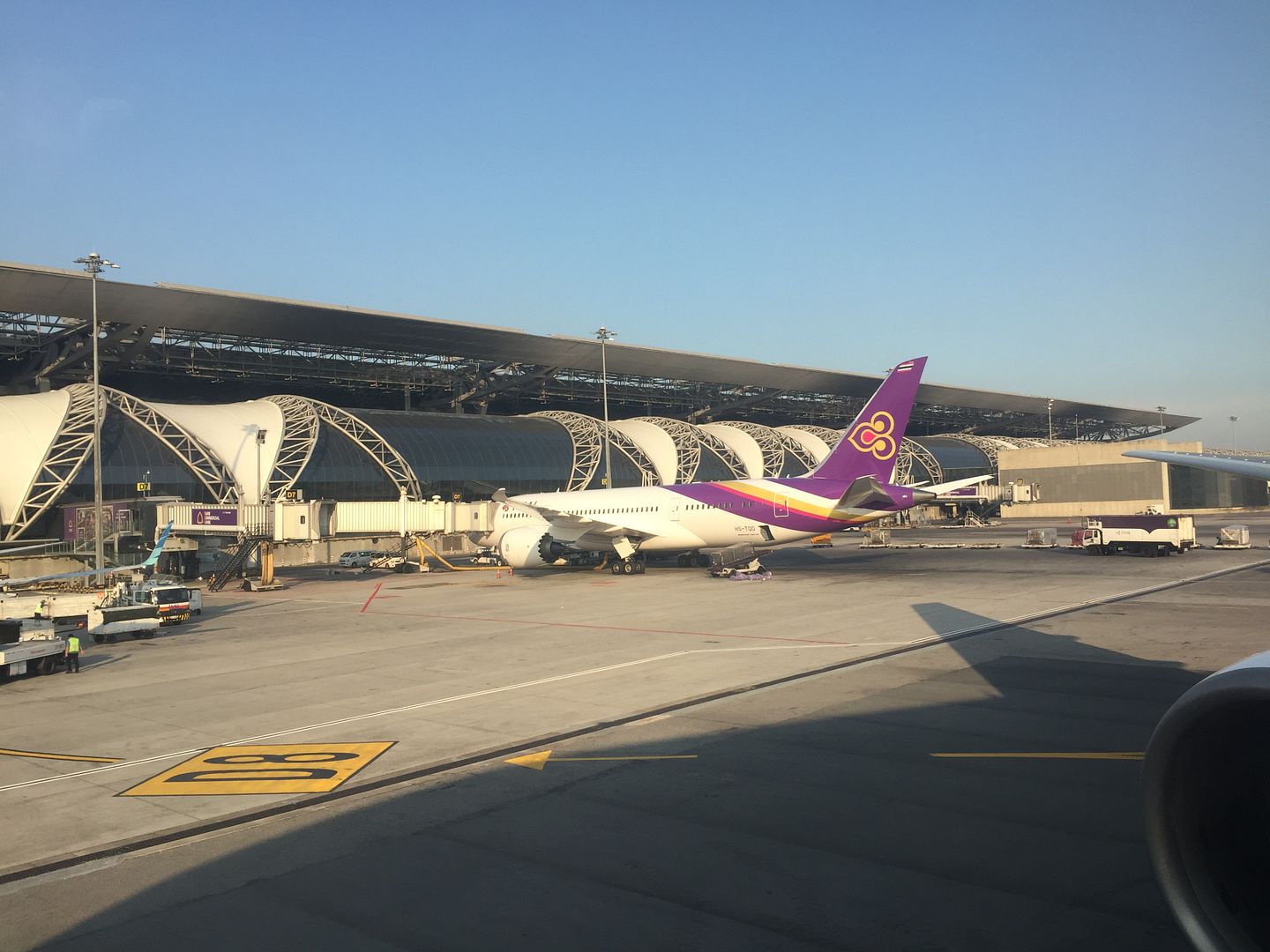 Overall Impressions, Extras
Thai's business class product on medium-haul routes is fine. It's not over the top, but it doesn't fall completely short of expectations. Hard product is pretty old generation, although I feel that TG probably doesn't care about elevating the experience above what is middle-ground for them. Catering is pretty uninspiring and the crew are content doing the basics. Still, they run on-time and have competitive pricing, so overall, I'd be happy to fly them again in a pinch.