Ever since they rebranded their frequent flier program (FFP), I became fascinated with Copa Airlines and wanted to give them a try. With their low prices and one stop connection in Panama City to anywhere in Latin America, I figured it was a good time to check them out and give them a proper review. So my two friends and I booked a cheap economy class ticket to Brazil with an extended layover in Panama City, Panama (PTY), to see what this little airline was all about.
Our itinerary took us from Los Angeles to Sao Paulo via Panama City and back in the reverse routing for $560. The T fare class earns 100% of mileage flown when credited to Copa's own FFP, Copa ConnectMiles, or between 0 to 50% when credited to other Star Alliance FFPs. My flights were credited to Singapore Airlines' KrisFlyer which earned me 50% of mileage flown (6,164 miles). All of our flights were operated with brand new Boeing 737-800 jets and the connection through PTY was a breeze.
Onboard however, was another story. Their service couldn't have been more different on each leg. And as much as I wanted to like them (spoiler alert), I found myself slightly disappointed and annoyed with the whole Copa Airlines experience.
First of all, their website and mobile app are a joke. Booking the flight through their website was fine but being able to manage the flight afterwards was a complete pain in the butt. Their mobile app was worthless and their website had more errors and technical difficulties than I could count. I ended up having to call their customer service line a couple times just to resolve our seats and other schedule changes.
At LAX, Copa Airlines operates from terminal 6. We arrived at approximately 8:00 PM for our 10:43 PM flight. Unfortunately, Copa had another flight departing at 9:08 PM and they were still processing passengers for that flight. 45 minutes later, we made it to the reservations agent, checked our bags all the way to Sao Paulo, got our boarding passes and made our way to the Alaska Airlines Board Room Lounge in terminal 6 for a drink.
Flight: CM303
Aircraft: Boeing 737-800
Los Angeles (LAX) to Panama City (PTY)
Depart: 10:43 PM on Wednesday (10:45 PM actual), gate 65A
Arrive: 8:04 AM next day (8:08 AM actual), gate 9.
Duration: 6hrs 23mns
Seat: 5F Economy Class
Approximately 10 minutes prior to boarding time, we left the lounge and made our way to gate 65A. Gate 65A is a bus boarding gate to a remote stand. Business class passengers and Copa Air elite members were called and boarded first followed by everyone else. What cracked me up about this process was that everyone just boarded the same bus to the remote stand. And those who boarded the bus first (business class passengers) weren't able to get off the bus first and ended up boarding the plane after others.
All passengers boarded the aircraft through door 1L. This was a brand new Boeing 737-800 with the Sky Interior and larger, overhead Space Bins. The business class seats were arranged in a 2 X 2 layout with recliner style, leather seats and in a 3 X 3 layout in economy class with standard economy seats. The economy class seats measured 17 inches wide with 5 inches of recline and had 31 inches of pitch. Each seat was equipped with a personal, seatback entertainment system, overhead reading lamp, USB port for charging small electronics and an adjustable headrest. WiFi was not available on this flight.
Seats 5 A – F are bulkhead seats. These seats are different than traditional bulkhead seats where there is a flat wall separating economy from business class. The fixed bulkhead wall angles forward (away from your knees) and are cut out three-quarters a way down from the top. This design is great because it gives you additional knee room and space below the business class seat in front of you to either stretch out your legs or store your personal items underneath. The only downside to these seats are the fixed armrests which reduce the seat width slightly. There is no extra charge to select bulkhead or emergency exit row seats.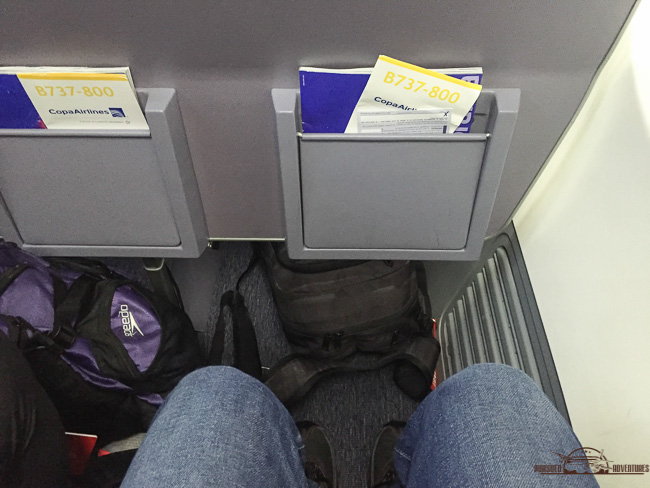 Waiting at some of the seats were pillows and some others seats were blankets. It was the weirdest thing. I don't know if they ran out of blankets and pillows and were trying to ration them out but between our three seats, we had two blankets and 1 pillow. When we asked if they had extras, they replied that everything they had was put out already.
Once the plane was all boarded, one of the flight attendants came by to hand out disposable ear buds. We then pushed back from the gate and made our way to the runway for our 5 hr and 52 mn flight to Panama City. What I found odd about this flight was there was no real communication or announcements made by the crew. The Captain did come on to introduce himself and announce our flight time but that was it. The Purser/Flight Manager never made any other announcements about the flight, talked about services on board or anything else.
As with all international flights, I was expecting a meal right after our departure so I naturally waited for dinner/supper before I fell asleep. Considering this was only a sub-six hour flight, I was really expecting service to be fairly quick so the passengers could fall asleep afterwards.
Much to my surprise, the service was extremely slow and lackluster. The crew really didn't seem like they could care any less about the passengers and were just "going through the motions." An hour and a half into the flight (yes, I said 1 1/2 hours), the cabin lights were turned on and two flight attendants came by for a beverage and snack service. And by snack, I mean a bag of chips or package of cookies. It wasn't anything filling. However, still thinking a meal was coming, I stayed up and waited only to see the cabin lights dimmed after they were done. Now extremely disappointed and slightly annoyed, I watched a movie and tried to get some sleep.
The Copa Air IFE entertainment selection was extremely subpar but can be justified because none of their flights are over 8 hours long. On this flight, there were 4 new Hollywood movies including Paper Towns, Vacation, Run all Night and Get Hard; a selection of older movies including titles such as Sky Fall, 42, Lord of the Rings and Frozen; TV shows such as Modern Family and Downtown Abbey; a selection of video games; and a moving map. A minimum of two ads were played before each movie/show.
I ended up watching a destination video about Brazil and fell asleep for a couple of hours. About an hour and a half before arrival into Panama City, the cabin lights were turned on and breakfast was served. Our choices were an omelet with sausage and potatoes or waffles. I chose the omelet, which was served with a side of fruit and yogurt.
The food was actually pretty tasty but the overall experience left a bitter taste in my mouth for my first impression of Copa Airlines. Economy seats are economy seats but the soft product can really make or break a flight experience. The entertainment selection was really subpar and the lack of communication and effort by the crew made for a very disappointing flight.
We touched down and arrived in Panama City shortly thereafter and were out of the airport in less than 45 minutes. We left the airport for a quick day trip to explore Panama City before coming back later on that night for our flight to Sao Paulo.
Final thoughts on Copa Airlines economy class:
After four flights with them (LAX-PTY-GRU-PTY-LAX), I found the experience to be very hit or miss. Two of my flights were fantastic, one was decent and the other was disappointing. The hard product was the same on all the flights but the crew couldn't have been more different. Some of them couldn't care less while others couldn't care more.
So if you still want to fly Copa Airlines, here are a few things you should know:
Copa Air has some seriously cheap fares to Latin America and serves 13 US destinations including Boston, Chicago, Fort Lauderdale, Houston, Las Vegas, Los Angeles, Miami, New Orleans, New York, Orlando, San Francisco, Tampa and Washington DC.
They operate an all Boeing 737 fleet with relatively the same amenities. You can safely expect a personal entertainment monitor with a limited selection of entertainment and a USB port to charge your small devices. The bulkhead seats are great but I think the best seats in the house are the second row of emergency exit row seats (row 18). The first row of seats (row 17) will give you additional legroom but the seatbacks do not recline. The second row of seats will give you extra legroom and full recline.
Onboard, their service could not be any more inconsistent. Two of our flights had great crewmembers. The other two, not so much. Coincidentally, two of our flights had plenty of blankets, pillows and headsets to go around. The other two ran out halfway through the plane. Three of our flights received a meal immediately after departure and our LAX-PTY leg receive a meal just prior to arrival. My only guess is that it was due to the late departure time.
None of their flights are over 8 hours long and on the longer flights, you will be served one hot meal and one snack/beverage service. Here's what a typical dinner looks like. It's nothing special.
Connecting through Panama City is a breeze. US citizens do not need a visa in advance to either transit or enter Panama. Transit passengers do not need to go through immigration when connecting but may need to go through additional security at the connection gate depending on their destination.The airport is tiny and there's not much to entertain you during longer layovers.
The Copa Club Lounge at PTY is open to Star Alliance Gold members and Priority Pass cardholders (even though it's not listed on their website). However, capacity restrictions do apply to Priority Pass cardholders during busier times.
This review is part of my trip to Brazil. The other reviews in this series include:
Copa Airlines Economy Class, Los Angeles to Sao Paulo
Crown Plaza Panama City