Approximately 20 minutes prior to boarding time, I left the Korean Air SkyTeam Lounge and made my way to gate 156 where my bird was waiting. I arrived with plenty of time to spare and took some pictures of the giant beast before boarding was called. For such a large aircraft, the gate area was surprisingly calm and orderly prior to boarding. There were several gate agents walking around answering questions and directing people to their appropriate lanes which made the entire boarding process completely smooth and efficient.
Korean Air A380 Business Class Review
Flight: KE12
Aircraft: Airbus A380-800
Los Angeles (LAX) to Seoul (ICN)
Depart: 11:30 PM on Friday (11:28 PM actual), gate 156.
Arrive: 4:40 AM + 2 days (4:43 AM actual), gate 17.
Duration: 13hrs 15mns
Seat: 10H Business Class, upper deck
Boarding started with First Class passengers, Business Class passengers and SkyTeam Elite Plus passengers, followed by the general boarding of Economy Class passengers. First Class passengers boarded through door 1L of the lower deck, Business Class passengers boarded though the upper deck and Economy Class passengers boarded through door 2L of the lower deck.
Korean Air A380 Business Class cabins are configured with 94 business class seats spread across the entire length of the upper deck. The Business Class seats are standard, forward facing seats in a 2 X 2 X 2 layout. They do not offer direct aisle access for every passenger but they do recline to a true, 180 degree, lie-flat bed. According to SeatGuru, the seats provide 21.6 inches of width and 74 inches of pitch.
As I entered the bird and presented my boarding pass to the flight attendant, I was directed to my seat, 10H, a window seats on the right side of the plane. My seat was located in the forward Business Class cabin. The forward cabin has three rows of six seats (rows 7 – 9) and a fourth row of four seats (row 10). Seats in row 10 will offer you a bit more privacy from the rest of the cabin but will be a bit noisier due to the proximity to the galley. On this flight, the forward Business Class cabin was completely full and there were two flight attendants working our section.
Each Korean Air A380 Business Class seat is equipped with a large 15'' IFE monitor, two personal reading lamps, two USB ports, one universal electrical outlet and a tiny privacy divider to separate the two passengers. Window seat passengers can enjoy three large windows for some serious cloud porn.
Storage-wise, the overhead bins above the outer seats are not as deep as the overhead bins above the center seats. Standard roll-aboards don't fit above the outer seats and need to be stored in the overhead bins above the center seats. All carry-on items must be store in the overhead bins as there is no storage for personal items at the seat.
However, the window seats do have two large bins to store carry-on bags and other items. The bins are large enough to store a purse or laptop bag (but not a backpack). There are two of them and technically should be shared between the two passengers but it would be weird for the aisle seat passenger to be reaching over the window seat passenger every time he/she wanted to retrieve something. It's actually easier for the aisle seat passenger to just store everything in the overhead bin above. There are also small pockets at the seat to keep your cell phone, eyeglasses and other small electronics nearby.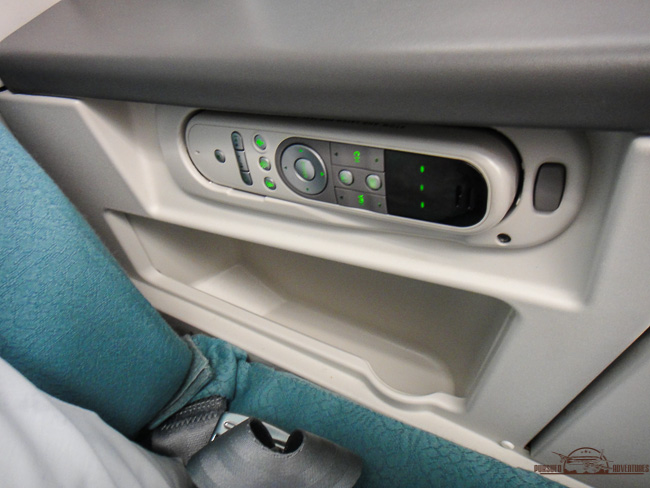 Waiting at our seats were a set of really cheap disposable headphones, a blanket and a pair of slippers. As I sat down to take some pictures, the Purser came by to introduce herself and welcome me onboard. Several flight attendants then came by afterwards with a selection of newspapers, pre-departure drinks (water, orange juice or guava juice), package of nuts (no bowl) and an amenities kits.
The amenities kits are "Davi for Korean Airlines" branded. Apparently, Davi is the skincare line of the Mondavi family of Napa Valley wines. Inside the simple top-zip case, there were trial size tubes of face cream, cooling eye gel and lip balm along with eye shades, a shoehorn, comb/brush and dental hygiene kit. Oddly, no socks or earplugs were provided in this kit.
After all the passengers were boarded, the Captain came on the PA, welcomed us all onboard and announced our flight path and time. We then pushed back from the gate, made our way to the runway and departed for Seoul. As gigantic as the A380s are, it always amazes me how smooth and quiet they are.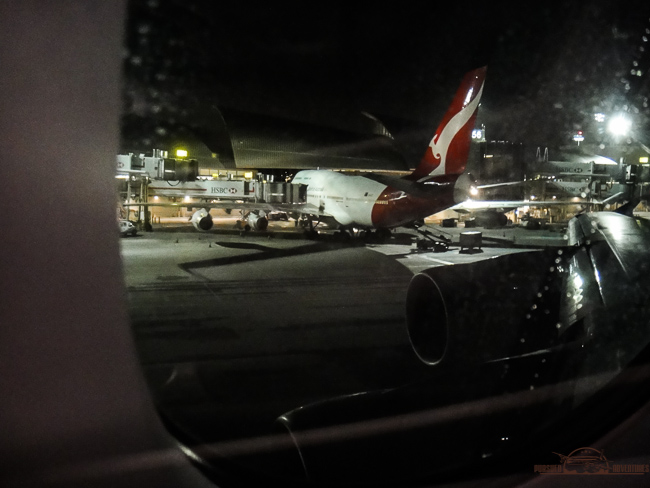 Once we reached our cruising altitude, the flight attendants came by to hand out menus and take meal orders a few minutes later. As with all my international flights, I always make it a habit of ordering the traditional dishes as I find they are usually better than the generic, "western" options. On this flight, I went with the bibimbap (a traditional Korean dish with minced beef and vegetables) for my supper and the Korean rice porridge for breakfast.
About 30 minutes into the flight, all the personal electricity went out. The outage did not affect the plane (I hope) but it did shut everything else off from the in-flight entertainment system to the seat controls and reading lamps. The main lights of the cabin were still on and none of the flight attendants were freaking out so I wasn't too worried but luckily, the electricity came back on 20 minutes later and all was well again.
The flight attendants then came by with a hot towel and another round of drinks. Meals were then served from a trolley, starting at the front. If you can't tell from my pictures, these are the smallest beverage cups in the world. You could literally kill your drink with two gulps. Luckily for me, the crew was proactive and attentive so drinks were replenished appropriately.
Soup, salad and bread were only served with the western meal option but I did get a tiny, fruit cup to start. A very tiny fruit cup.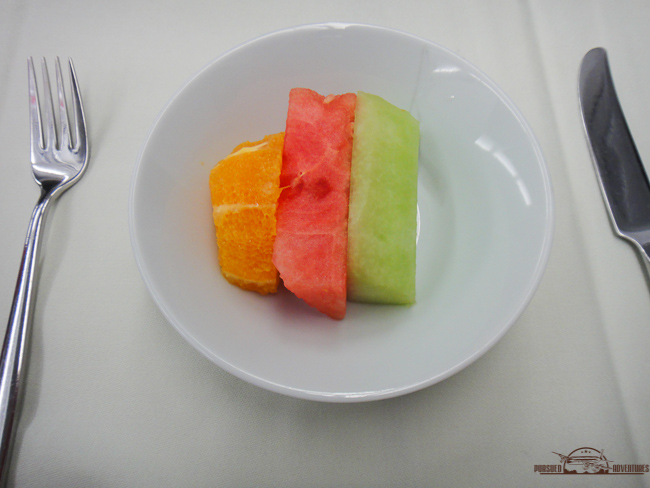 Next came the bibimbap and it was delicious! It was unlike anything I have ever tasted before and the many flavors tasted amazing together. I know it doesn't photograph well but it was really tasty. The dish comes with rice, minced beef, vegetables and various sauces for seasoning. You mix all the ingredients together and viola, a bowl of amazingness. I have heard people complain that it's not the fanciest meal in the world (not a proper business class meal) but it really was delicious and worth it for me. I highly recommend it to everyone (if you like Asian food).
Service-wise, the flight attendants were fine. They didn't engage you in conversation and weren't overly friendly but they were polite, attentive and proactive with refilling drinks and clearing plates. However, for a red-eye flight, the entire supper service felt a little slow from start to finish. (Maybe the electrical outage caused an issue with their cooking equipment?) I was okay with it but you could tell several people just wanted their plates cleared so they could get some sleep.
After my plates were cleared, I waited around for dessert but then realized none was coming when the main cabin lights were dimmed and the flight attendants came by with small bottles of water. So I stepped over my passed out seatmate, wandered to the front of the plane and tried to find something sweet to snack on. The smaller of the two lounge areas is located in the front of the plane on the upper deck. It's a simple sitting area with various newspapers and a small self-serve bar with drinks and snacks.
Across from the sitting area are two large lavatories for business class passengers. The lavatories were stocked with a Jurlique branded bottle of lotion, dental hygiene kits, mouthwash and shaving kits.
Because this was a night flight, most of the passengers fell asleep after supper but I wasn't tired so I decided to roam a little bit more. I walked back towards the Celestial Bar and saw the flight attendant was still setting up the bar area. I took a seat and waited for her to finish setting up before bothering her for a drink.
Now, I must admit, this Celestial Bar is a cool space! It was a shame I was the only person there but it's a great place to socialize with other passengers (in theory), relax with a book or just hang out. The lounge is spacious and there's plenty of seating for several people. Even with just me there, the flight attendant set up the whole bar area with various snacks such as beef jerky and nuts.
In the Celestial Bar, they do have a special drink menu featuring Absolut vodka. They all sounded pretty good and I ended up trying out at least five of them. They were tiny though.
Afterwards, I walked downstairs and explored the duty-free shop located on the lower deck.
And the economy class seats configured in a 3 X 4 X 3 layout.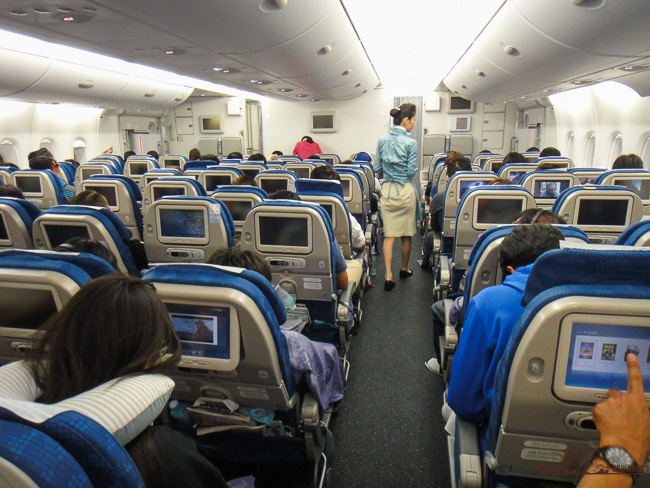 By this time, the alcoholic drinks were starting to hit me so I decided to go back to my seat and watch a movie. The in-flight entertainment system wasn't bad and had a collection of approximately 30 new Hollywood movies, various TV shows, selection of music and games, a moving map and tail camera. But annoyingly (and more common nowadays), there were ads played before each movie selection. I watched Tomorrowland (snooze fest) and quickly fell asleep 20 mins into the movie.
Comfort-wise, I'm not the biggest fan of these seats. They are great for lounging because you can control the individual parts of the seat but they are not so great for sleeping. They are not the widest seats, do not offer the most privacy and don't provide direct aisle access for all passengers. The armrests can be lowered down for additional shoulder room but I still felt the seats were a little tight. Despite that and the unbearably warm cabin, I was able to get a few hours of sleep here and there. Thanks Absolut.
About four hours before landing (yes, four), the cabin lights were turned on and the flight attendants prepared for our breakfast service. They came around with hot towels and a tray of orange juice, followed by our main breakfast selection.
Then a fruit plate.
Unlike supper service, breakfast service was a lot more efficient and was completed within 30 mins of the cabin lights being turned on. Landing cards were then distributed and the duty-free cart made a pass down the aisles before the lights were dimmed again. The lights stayed off till about 30 minutes before our arrival into Seoul.
Korean Air A380 Business Class overall thoughts
Overall, I had a decent experience flying Korean Air A380 Business Class from Los Angeles to Seoul. There were a couple of highlights that I really enjoyed such as the catering and Celestial Bar but everything else fell a little short of my expectations. From their lounge offerings at LAX to their mediocre hard product and overall on-board experience, I felt as if Korean Air could have done a lot more to improve their premium cabin experience. Don't get me wrong. It wasn't a bad experience by any means. It just wasn't anything special that would make me go out of my way to fly again. Given the choice between Korean Air and another SkyTeam carrier such as China Airlines, I think I would choose the latter for my next Delta redemption to get to Asia.
Have you flown Korean Air A380 Business Class before? If so, tell me your thoughts in the comments section below.
The other reviews in this series include:
Vietnam Airlines A350 business class Hanoi to Paris