In the past couple years, United Airlines has been hacking away at its MileagePlus loyalty program a little bit at a time. They made it harder to earn elite status, adding a new requirement to earn Premier Qualifying Dollars and spend a certain amount with the airline. They made it harder to redeem miles, in some cases nearly doubling the cost of awards when you book on any of their partners. (United doesn't serve the entire world with its own planes, making this an unavoidable issue in some cases.) And they made it harder to earn miles, basing that number on how much you paid for your ticket rather than the distance you fly.
Many travelers could find themselves earning less than half as many miles AND redeeming almost twice as many miles. Those are pretty large blows for what was once considered among the world's best programs for redemption value. MileagePlus still has some kick left (it continues to offer some of the most flexible routing rules), but this week United announced that those customers lucky enough to still earn elite status will see their benefits shrink.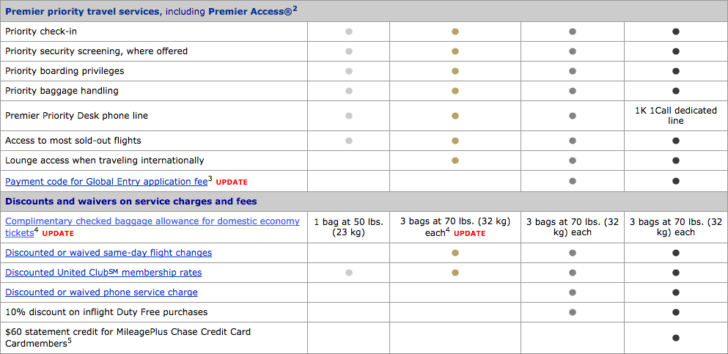 No Checked Baggage on Awards for Friends and Family
One of the great perks of United Airlines for me when I was a more frequent customer is that I could book an award ticket for a friend or family member and they would get to share my Premier 1K status even if I wasn't traveling with them. I just had to leave the MileagePlus number blank on the booking form. The computer would fill it in with my number instead, and agents were willing to recognize that status, providing them with free checked baggage, free EconomyPlus seating, priority check-in and boarding, and even free United Club access on international itineraries.
On April 15, 2015, United will begin determining baggage charges according to the status of the passenger, not the individual who booked the tickets. Keep in mind that if the Premier member is actually traveling with the passenger, then you can extend your benefits to other members of your group. Also, if you booked a business or first class ticket for your friend, then those will also include some free checked baggage.
Eligibility for the checked baggage service charge waiver for travelers on award tickets issued or re-issued on or after April 15, 2015, is based on each traveler's Premier status at check-in, rather than the status of the member whose miles were used to purchase the award ticket.
This announcement sets a precedent. While the language doesn't say explicitly that this devaluation extends to the other benefits of elite status, it's possible that those will also change. I would argue that EconomyPlus seating and other perks are more valuable.
Fewer Checked Bags for Premier Gold Members
Even if you have elite status and are traveling yourself, United will be reducing its checked baggage benefit for some members. Premier Gold members will soon receive only two free bags of 70 lbs or less instead of the current three bags. This change will go into effect on February 1, 2015.
No Global Entry for Premier Platinum and 1K Members
A less advertised benefit of United's top tier, Premier Platinum and 1K members are able to request a $100 credit toward the cost of Global Entry, which helps expedite customs and immigration upon arrival and also includes TSA PreCheck for faster security at departure. That credit will no longer be offered on February 1, 2015.
I actually agree with removing this benefit. It's something many frequent travelers probably have already, and because the application is good for five years, there is probably much less demand for it now than when it was first offered. I put this in the category of a nice "surprise and delight" perk but something that probably has higher overhead and IT costs associated with it relative to the actual value it provides customers.
More Expensive Upgrades for All Premier Members
In recent years United increased its cash co-pays for upgrades using miles, but this was tempered by continuing to allow Premier members to waive the co-pay for many domestic flights. Now United has decided it needs to charge everyone who wants to sit in a premium cabin on its more valuable domestic routes with p.s. service between San Francisco/Los Angeles and New York-JFK.
In addition to redeeming as many as 20,000 miles for a one-way upgrade (not that bad, actually) you may also have to pay a cash amount of up to $250. This depends on the fare class originally purchased, so cheaper fares will have a higher co-pay. Fortunately you can still redeem Regional Premier Upgrades and Global Premier Upgrades on p.s. routes with no co-pay, but only Platinum and 1K members receive these, and only so many. Someone flying coast-to-coast every month will run out quickly.
You can read more about the different types of United upgrades and their cost in an earlier post. My experience fly p.s. is that regardless of what you pay, you better purchase your flight and request your upgrade early because there is a lot of competition. But if you have options, consider American Airlines, which has better service on its A321T for the same routes and even allows complimentary upgrades (no miles or cash) for Executive Platinum members. Delta Air Lines also offers a premium product — which departs from SFO, LAX, and Seattle. Though Delta isn't as generous as American, they did recently relax their fairly strict upgrade rules to make things a little easier.
Why the Changes?
United Airlines does an excellent job of driving ancillary revenue, whether from upgrades, checked baggage, or priority services like faster check-in and boarding. Say what you will about how this affects the customer, but I'll give credit where it's due. If you are of the opinion that airlines should drive the base fare as low as possible and charge people individually for the extra benefits they actually want, then this seems like a good model.
But United seems to be having difficulty raising fees for checked baggage (and these are not the first cuts). I was reading an unrelated story this morning about JetBlue's decision to start charging for checked baggage, a significant change since it used to be the only major carrier besides Southwest that didn't charge for the first bag.
Bureau of Transportation statistics form H1 2014 show that United ranked fourth in baggage revenue collected per 1,000 passenger miles flown ($3.10). For such a large carrier, it's surprising that they are collecting fewer baggage fees than American ($4.93), Delta ($4.26), and Alaska ($3.74) and only a little more than two low-cost carriers that currently charge NO fees for the first bag. So perhaps there is some credence to United's view that they have "too many" elite travelers and have been overly generous in handing out benefits. On the other hand, perhaps they've just been very successful marketing their credit cards that include free checked baggage as a perk. I wouldn't draw too much from a single metric.