If you are looking for the best last minute Antarctica cruise and expedition deals for this coming season, do not look any further. As we inch closer to the start of Antarctica expedition season there are lots of last minute deals on the horizon to explore the Southern Polar region, my favorite place on earth! Expeditions companies from Seaborn to Albatross and National Geographic, Atlas and Lindblad, plus several others are anxious to fill their ships with people who are ready to explore and experience a true landing expedition. Below I will break down some of the best deals that are currently available for the Nov 2023 – Feb 2024 expedition season.
All options below include the following unless noted otherwise
1 night hotel stay in Buenos Aires before expedition
Return domestic charter flights between Buenos Aires and Ushuaia, Argentina
All airport and hotel transfers
All staff gratuities and tips
Daily Zodiac Landings
Educational lectures and learning opportunities
Professional photographer with guest slideshow and photo share opportunities
Open Bar
Complimentary Wi-fi on the ship
Boots for landing
Wind and waterproof winter parka
Seabourn Expeditions from less than $11,000
Seabourn Expeditions is among my favorite options to explore the world in style. Their ships are small and intimate and on average hold 250 people. Both the Seabourn Venture and Seabourn Pursuit are operating in Antarctica for the 2023 – 2024 season. With two new ships, there is more capacity and more options to explore the Antarctic peninsula. I traveled on the Seabourn Venture across the Drake passage in Feb 2023 and it was honestly life changing. There's nowhere on this earth like Antarctica!
The Seabourn Venture and sister ship Pursuit are small ships, but they feel large . Both ships boast some of the most space per passenger in the industry. Both ships are identical and have all the features of Seabourn's larger ships such as the Encore and the Quest, which hold 450-600 people. Yet, the Seabourn Pursuit and Seabourn Venture are scaled down to size. On a Seabourn expedition ship you will enjoy near 1:1 staffing, three different restaurants for dinner, a huge discovery center, a photo lab, 4 different bars, a swimming pool, 4 jacuzzies and a polar sauna. There's a reason why Seabourn is among the world's best rated luxury cruise lines and now they are among the top expedition operators in the world.
Suites on the Seabourn Venture and Pursuit are also very large. All rooms feature bathrooms with bathtubs, ground to floor windows, and balcony. Rooms start at over 330 square feet, making this one of the most spacious suite and rooms in the industry.
Save nearly 25% on a last minute Seabourn Antarctica Expedition. Costs are all inclusive. Seabourn is a true 5 star all inclusive company where well alcohol is gray goose and you can enjoy unlimited caviar! Plus, Seabourn offers 24 room service and two submarines that dive up to 900 meters. Making this a world class expedition option.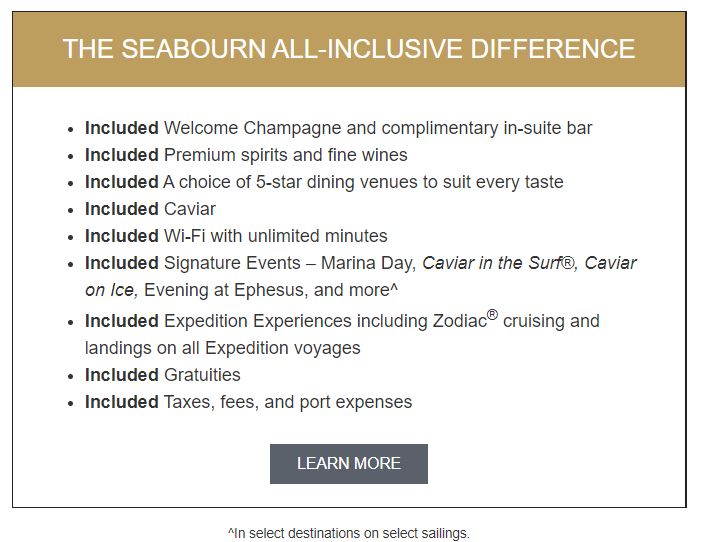 | | | | | |
| --- | --- | --- | --- | --- |
| 11-Day The Great White Continent | Veranda Suite | Panorama Suite | Penthouse | Owners Suite |
| Nov 17, 2023-Nov 28, 2023 | $11,879 | $14,309 | $16,649 | $21,779 |
| Nov 27, 2023-Dec 8, 2023 | $11,249 | $14,669 | $15,299 | $21,779 |
| Dec 7, 2023-Dec 18, 2023 | $13,409 | $18,899 | $19,799 | $21,779 |
| Dec 9, 2023-Dec 20, 2023 | $10,619 | $12,599 | $15,299 | $21,779 |
| Dec 17, 2023-Dec 28, 2023 | $10,799 | $14,309 | $15,299 | $21,779 |
| Dec 27, 2023-Jan 7, 2024 | $11,249 | $14,759 | $23,959 | $25,559 |
| Jan 18, 2024-Jan 29, 2024 | $17,099 | $24,299 | $26,999 | $32,849 |
| Jan 20, 2024-Jan 31, 2024 | $13,049 | $23,399 | $23,939 | $30,239 |
| Feb 9, 2024-Feb 20, 2024 | 12,779 | $19,349 | $21,599 | $32,149 |
| Feb 11, 2024-Feb 22, 2024 | $10,799 | $19,349 | $21,599 | $25,199 |
Longer 13 day options start as low as $12,599 per person for dates of Jan 30, 2024- Feb 12, 2024. If you want more time in Antarctica, please inquiry with me about options. There are even options to South Georgia and the Falklands.
One of my favorite options available on the brand new Seabourn Pursuit is for those who have extra time. Consider the 21 day option which starts in Rio de Janeiro, Brazil and visits the Falkland islands on the way to Antarctica. Suites begin as low as $13,599 per person, a true bargain for a 21 day adventure!
EXCLUSIVE SEABOURN OFFER: UP TO $300 SHIPBOARD CREDIT PER SUITE for booking via Scott & Thomas
Do not miss this amazing deal to save over 20% on 2023 expeditions. These are the lowest prices we've seen in almost 12 months on Seabourn!
Contact Rocky today at Scott & Thomas Travel 
30% Swan Hellenic 2023 and 2024 Antarctica Expeditions
Swan Hellenic has made a splash in the expedition world with two brand new ships. The company is over 70 years old and is making a comeback with new owners, itineraries, and a true premium sense of adventure. I have written a lot about Swan Hellenic in recent months. I was on the christening voyage for the SH Diana and I have been able to offer exclusive deals with up to 50% off select voyages.
This season, Swan Hellenic has two ships in Antarctica, the SH Vega and SH Diana. Both ships hold less than 200 passengers. The SH Diana with 198 and SH Vega capacity is 150, both boasting a near 1:1 staffing ratio as well. With less than 200 passengers, guests will be able to enjoy two landings per day.
Swan Hellenic offers an all inclusive experience where prices include everything from airport transportation, charter flights, gratuities, daily educational lectures, all landing activities, and more. Their ships also have a beautiful spa, jacuzzi, swimming pools, and fire places in every room. Something truly unique to Swan Hellenic.
SPECIAL OFFER: SAVE 30% ON 2023-24 ANTARCTICA SAILINGS
Book a 9-day Antarctic cruise before 31st August 2023 and save 30%on 2023-24 departures with our Antarctica Dream Deal. Plus enjoy an exclusive added bonus of $200 onboard credit per stateroom booked.
This voyage takes you across Drake Passage straight to the frozen Antarctic Peninsula – where you'll witness mesmerizing icy wonders like the Gerlache Strait, with its incredible blue icebergs, and the Antarctic Sound, famous for its enormous slabs of floating ice. Step ashore and get up close and personal with the local penguins for that perfect photo opportunity. Journey alongside polar specialists and share in their vast knowledge of these isolated regions.
Oceanview Suites start at just $8,469 per person on any of the dates above. Or upgrade to a Balcony room for just $9,690 per person. Just remember, you ONLY get the $200 stateroom credit by booking via Scott and Thomas.
30% off National Geographic and Lindblad Expeditions
Lindblad expedition is the market leader of expeditions. With the backing of National Geographic and a Nat Geo photographer on every expedition, there is no expedition company with more experience than National Geographic and Lindblad. Lindblad was among the first in Antarctica and their experience really shines through on beautifully designed ships and experience for caring for the environment. I've been fortunate to take two Lindblad Expeditions in the last 12 months and each time I left speechless wanting more. My first was on the National Geographic Orion in the South Pacific and then more recently I visited Svalbard on the National Geographic Endurance.
New: Take 25% off ALL Lindblad Expeditions between Aug 18 and Dec 31, 2023
I have two exclusive deals for 30% travel for those who want a true all inclusive experience. There are no upcharges on Lindblad for anything from kayaking to cross country skiing. If you want the best expedition leaders, go with Nat Geo! Lindblad and Nat Geo also are the only ships to have undersea specialists, allowing you to learn what's happening not only on land, but what's under the ship. Something unique on their Antarctic expedition. Speaking of unique, check out the igloo where you can sleep under the stars with the best views in the house – complimentary!
All Lindblad ships hold less than 150 people, meaning you will ALWAYS get off the ship twice per day, weather dependent. Offering the best experience in the industry. You'll pay more, but it is more than worth it.
These two deals are on National Geographic's newest ships with the Xbow design. The Xbox design helps the ship glide through the ice and water more quietly, with less disruption to the environment and wildlife. The Xbox makes for a smoother option while crossing the Drake Passage.
You can either depart on Dec 11 sailing on the National Geographic Resolution from Santiago, Chile or choose the early departure on Nov 18 on the National Geographic Endurance from Buenos Aires, Argentina. Both options offer the same 30% off exclusive discount. Category 3 and above are balcony suites. Category 1 and 2 have huge windows, but no balcony.
Do note that the charter flight is not included in the below prices and National Geographic does not offer room service. Yet, when you're exploring the world with Antarctica room service should not be your worry. And honestly, the food is plentiful and among the BEST I've had at sea!
Solo travelers enjoy a waived solo premium on select departures and airfare credits up to $5,000 on select departures, mostly on the newly remodeled but older National Geographic Explorer. Choose from several dates in 2023 and 2024, beyond just those listed above. Just inquiry for more information about these huge discounts! Plus, on any other booking you can earn Hyatt points plus a $250 onboard credit! Contact me to book your Nat Geo Antarctica expedition.
Enjoy the following on nearly every booking:
Earn 5 Base Points per eligible $1 USD spent, plus standard elite member bonuses
Qualifying nights count toward World of Hyatt elite tier status
Receive a $250 USD onboard credit per reservation
Airfare credit/Discount
Albatros Expeditions BOGO Fares
Albatros Expeditions is offering buy one, get one free last minute specials on select voyages and staterooms available for new bookings made by Aug. 31, 2023.  Albatros has a few new beautiful ships and the experience to boot.
The following voyages and staterooms are part of this special promotion, featuring the chance to book Albatros Expeditions'  Antarctica voyages for the price of one.
Antarctica 2023-2024 Voyages on BOGO Sale:
Oct. 30, 2023-Nov. 8, 2023: "South Shetland Islands and Antarctic Peninsula" onboard Ocean Albatros. From $11,490
Nov. 1, 2023-Nov. 19, 2023: "Antarctica, South Georgia & Falkland Islands onboard Ocean Victory from $18,990
Nov. 28, 2023-Dec. 7, 2023: "South Shetland Islands and Antarctic Peninsula" onboard Ocean Victory from $12,190
March 18, 2024-April 4, 2024: "The Epic Antarctica and South Georgia Adventure" onboard Ocean Albatros from $18,990
This special last-minute sale ends on Aug. 31, 2023 and is subject to availability. Additional activities are not included. The two passengers traveling under the BOGO offer must share the same cabin. Third passenger sharing the same cabin (not offered for cat. F) with the two passengers travels at 50 percent off the retail rate. Making it a great deal if you're a party of three.
Do note that Albatros Expeditions are the least inclusive of those mentioned here. Tips are expected for the crew at a rate of $14/day per person and charter flights and pre-expedition hotels are not included. You must get yourself to Ushuaia. Wi-fi is also an added expense along with alcohol and beverages other than coffee and tea outside of meal time. Albatros has the big ship cruise like pricing, but for expeditions. So you may get to camp outside, but you also will be up charged along the way for many things.
Atlas Ocean Voyages
Atlas Ocean Voyages is a newer name in the expedition industry. Only being around for a few years they already have 3 ships in Antarctica.  All the ships are brand new between a few months old to less than 3 years of age.  Atlas promises to offer a premium experience on a small ship with less than 200 people. I have not been on Atlas yet, but the reviews are mixed. A lot of reviews are about the crew learning and it not being as premium as Swan Hellenic or Seabourn. Yet the price point is right and for three years now Atlas has been offering amazing BOGO sales to Antarctica. Hint hint, they really aren't BOGO fares, but marketing works so that's what they call it!
Atlas offers everything from fly in one way express packages which are only 7 days in length to longer 13 day options. Costs start as low as $6,999 per person and have departures nearly every few days from November to March. Plus, if you book before Sept 30th you can receive up to $5,000 back towards your airfare to South America! Suites can earn up to $5,000 credits with most Antarctica sailings offer an additional $1,500 towards airfare, off the base price of the expedition.
If you are considering an adventure on World Atlas, reach out to me to see how much you can save.
Viking Antarctica – Free Airfare
Those who travel with Viking tend to love Viking. Their adult only cruises are one of the few in the industry. Most expeditions ships and cruises allow children, at least those over the age of 6. Viking has a kid free policy across their entire fleet of river and ocean vessels. Viking targets baby boomers, yet everyone over 18 is welcome.
Viking is mostly all inclusive with the exception of alcohol. Beer and wine is complimentary at meal times only. Otherwise Viking is an all inclusive option with daily landings, Zodiacs, and Kayaking. Each ship also has 2 submersibles, similar to Seabourn which can be chartered for $499 a person.
Viking rooms start as low as $11,999. The rooms are beautiful with glass to ceiling windows, but are smaller than many other ships at just 222 square feet. Both the Viking Polaris and Octantis invite 378 passengers to sail towards the Weddle Sea in state of the art new ships both launched within the last 3 years. Very few rooms have actual balconies, but you can still enjoy the views with the huge windows in a temperature control climate. Viking expeditions offer the most traditional "cruise" like environment to Antarctica.
13 Antarctica adventures start at just $11,995. However many dates are already sold our or near sold out.
9-Nov

FROM

$11,995

15-Nov

FROM

$11,995

20-Nov

FROM

$11,995

26-Nov

FROM

$11,995

7-Dec

FROM

$12,995

18-Dec

FROM

$12,995

27-Dec

FROM

$13,995

29-Dec

FROM

$13,995

7-Jan

FROM

$13,995

9-Jan

FROM

$13,995

18-Jan

FROM

$13,995

20-Jan

FROM

$13,995

29-Jan

FROM

$13,995

9-Feb

FROM

$13,995

17-Feb

FROM

$13,995

20-Feb

FROM

$13,995

28-Feb

FROM

$13,995
Book Your Last Minute Antarctica Expedition
There are a LOT of last minute cruise offers to Antarctica this season. We have seen BOGO  cruise deals with Hurtigurten earlier this year, to extreme discounting by world class luxury small ship carriers such as Seabourn and Swan Hellenic. Even National Geographic is offering discounts, something that Lindblad and National Geo have always shied away from. The tour operators are plentiful and there are more cruise ships visiting Antarctica than ever before. I didn't even talk about Quark deals, contact me for more information! Quark is offering up to $8,000 expeditions to see Emperor Penguins and no solo supplements on select sailings!
If you're considering an Antarctica cruise, contact Scott & Thomas today to find the best deal. We can match or beat nearly anything you find when going directly and you'll always get better service when using our services. There are hundreds of reasons to still book via a Travel advisor. As my guests recently learned, I was able to secure complimentary upgrades for over 18 rooms on upcoming Seabourn expeditions to Antarctica. Comping my guests 3 categories and saving each guest nearly $3,000!
When you're ready for an expedition, I not only know the ships and options, I've also been there. Small ships and expeditions are a completely different way to travel. I too use to hate the idea of being "stuck" on a ship. Now I cannot wait to explore the most remote corners of the world by ship. Why, there's no better way to travel than premium luxury to places 99% will never get to and points and miles cannot take you here either! It's like the difference between flying first class and take a bus. Once you go First, you never go back! Book your travel to Antarctica before the last cruise depart. Contact me directly to book your adventure.