Black Friday is here and cruise deals are not to be missed. You may have all the credit card points to fly around the world and stay in nice hotels, but your credit card points aren't going to get you cruising or to the remote corners of the Earth! Now book a cruise to remote destinations and see the world by ship. Explore Greenland, Antarctica, Galapagos, the Northwest Passage on a expedition. Or take the entire family to Alaska, Mexico, the Caribbean or the Mediterranean. No matter where you want to go, or what level of adventure you partake in, these deals are for you. You may also consider taking a look at these affordable cruise deals from a professional cruise planning agency!
Seabourn 15% off
First, my favorite cruise line to talk about is Seabourn. Seabourn is offering 15% off all cruises through 2024. If you have sailed Seabourn previously, you can enjoy an additional 5% off. Some sailings even offer double club savings, an added 10% off through Nov 30. Some of Seabourn's best deals include luxury expeditions to Antarctica for just $8,500! Solo travelers, enjoy a reduce supplement of only 50%.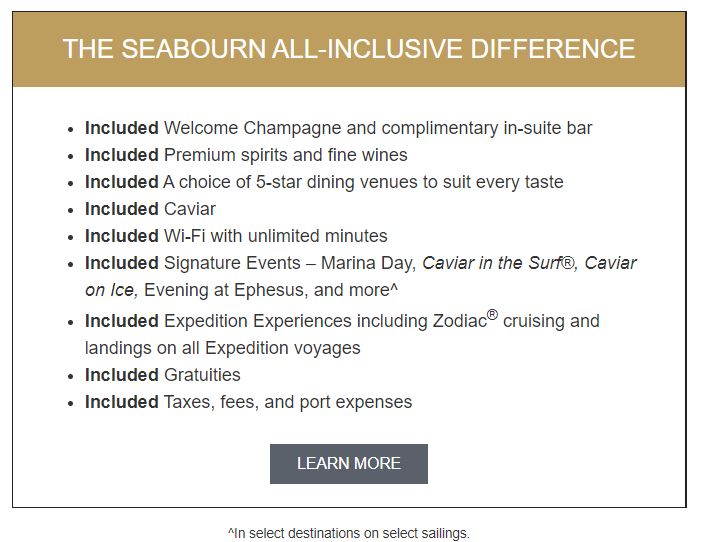 Or explore one of Seabourn's traditional sailings through the Southern Caribbean, visiting islands most cruise ships cannot get to. Size matters, and Seabourn small luxury ships make for a truly memorable experience. Select Caribbean sailings are just $2,974 per person for all-inclusive cruises in 2023. Finally, select sailings booked via Scott & Thomas also enjoy exclusive savings and additional onboard credit to use at the Spa or elsewhere.
Seabourn Veranda Suites for just $2,799 per person!
Quark 2 for 1 Expeditions
Are you ready to explore the North or South Pole? Quark specializes in expeditions and ONLY focuses on the Artic and Antarctic regions. Specializing in polar expeditions you will experience world class expeditions in small groups. Smaller ships mean less people competing for space on Zodiacs, Helicopters, and time on land in Antarctica. With only 100 people per ship allowed on land at a time in Antarctica, small polar ships mean a better experience all around.
Or if you've already seen Antarctica, maybe it's time to see polar bears in Svalbard, Norway? Explore the Artic and enjoy 50% off solo travelers or BOGO fares for couples.
Hurtriguten Expeditions
Hailing from Norway, Hurtriguten knows how to navigate cold water. Specializing in the Artic and Antarctica Hurtriguten brings mid level premium at affordable price points. Hurtriguten also has amazing options in the Galapagos and Alaska, along with the Norway express exploring all of Norway. Hurtriguten Black Friday deals include:
Save up to 50% on these great destinations like Antarctica, Norway, Greenland, Iceland, NW Passage, Alaska and more!
No solo supplement on select sailings
Travel on hybrid powered ships with the world leader in sustainable adventure travel.
Ample opportunity for scientific discovery and active exploration with expert Expedition Teams!
Sample pricing includes Galapagos at 40% off, just $5,744 per person for a week expedition! Or See the Northern Lights on winter cruises from Dover for just $4,700. Hurtriguten Antarctica deals also start at just $7,500. If you want an expedition to a new place. Explore all of their deals via your favorite travel agent!
Royal Caribbean Cruise line
As one would expect, RCI is offering Thanksgiving deals too. Book your favorite Royal Caribbean cruise to Alaska, Mexico, or the Mediterranean and take 30% off rack rates. There's also an additional $200 off select cruises if booked before the end of the weekend. Finally, as a thank you for booking via Scott & Thomas you can get an onboard Specialty dining experience on us.
Norwegian Cruise Line
Get away and take the whole family. NCL is promoting their holiday sale as buy one get the whole family for free. Just pay their port taxes and gratuities. Do note that a cruise for 4 will still cost around $3,000 – $5,000 depending on date, length of cruise and destination. This deal is very similar to the Take 5 event that I wrote about previously.
Celebrity Cruise Line
Elevate your vacation with Celebrity Cruise Line and save save save! Right now enjoy additional onboard credit and big discounts on your second guests. If you like to eat, Celebrity cruise line is for you. Not only world class entertainment and nicer ships, there's more space per person and among the most dining options at sea. Take advantage of Celerity Cruise lines Black Friday now. Celebrity also has special rates on small ships in the Galapagos starting at just $5,500 per person.
Bottom Line
There are a LOT of travel deals that will be available for the next few days. If you are looking for a 2023 or 2024 cruise, now is the time to lock in a deal. I understand that cruising is not for everyone. Think of it as an floating hotel, taking you to hard to reach destinations. Cruising is a great way to explore a place and then decide later where you want to go back to explore in depth. Or, take an expedition and actually learn about a place. Expedition spend longer times in port and reach places not easily accessible to the masses. Sail with a team of scientist and naturalist and see the most extreme and remote places on the planet. Big ships vs expedition ships, or Premium luxury vs Mega Ships. There's a segment for everyone and as a Travel agent, I love to find what's right for you.
When you're ready to book your 2023 or 2024 holiday, I'm here to help. Contact me today with your vacation needs and let me take the stress out of travel planning and help you save money!