As a frequent traveler, I find immense value in airport lounges, where I can relax, unwind, and escape the hustle and bustle of a busy terminal. This is especially true during delays and irregular operations, or just during connections.  I recently had the opportunity to visit the newly remodeled  British Airways Lounge at San Francisco Airport. From its elegant design to the exceptional service, this lounge offers a remarkable experience for both business and first class travelers plus other frequent flyers. Plus, the First class dining feature is what really makes this lounge special.
Design and Ambiance
Upon entering the SFO British Airways Lounge in international terminal A, I was immediately captivated by its sophisticated design and tranquil ambiance. Entering when the lounge first opened at 1:30pm, I had the lounge basically to myself.
The lounge boasts contemporary furnishings and a stylish layout, creating a sense of understated luxury. The sleek décor and soft lighting contribute to a calming atmosphere, perfect for unwinding before a flight or catching up on work.
The British Airways Lounge offers an array of amenities and facilities to enhance the travel experience. There are several different types of comfortable seating options available. Choose between cozy armchairs to private workstations equipped with power outlets and USB ports. There are also options for those traveling alone, or those traveling as a group. Tables for dining and working to bar stools and more.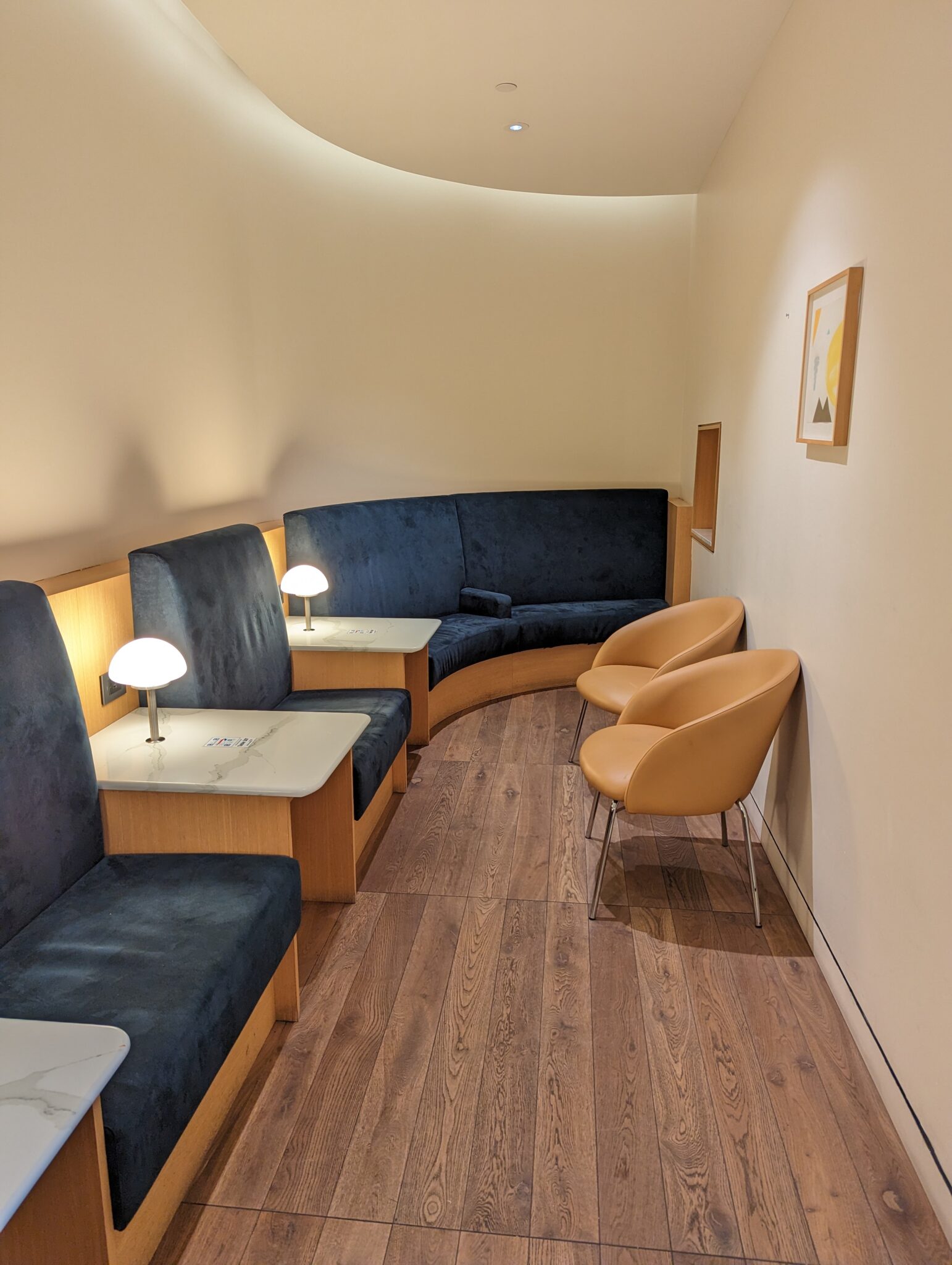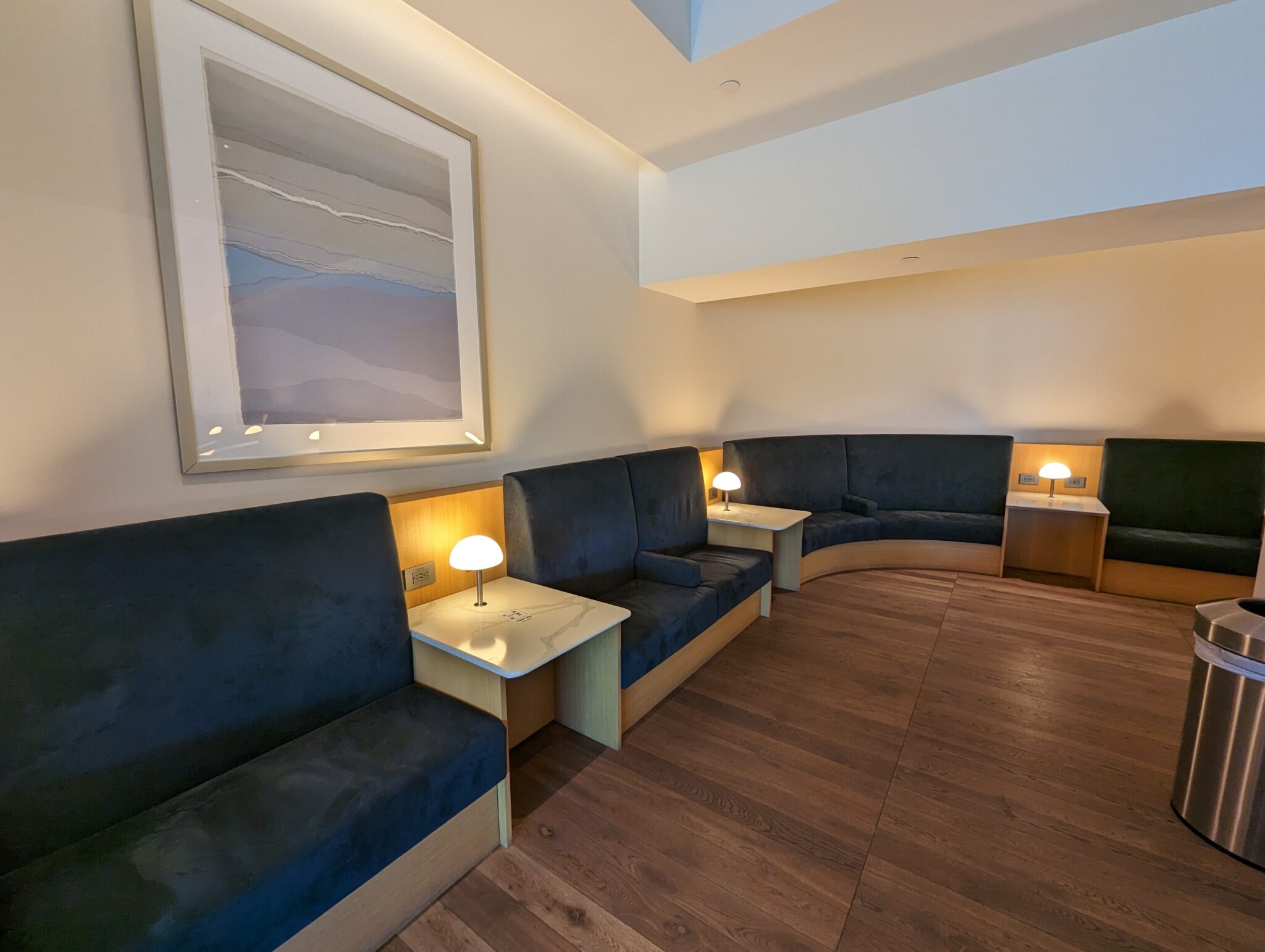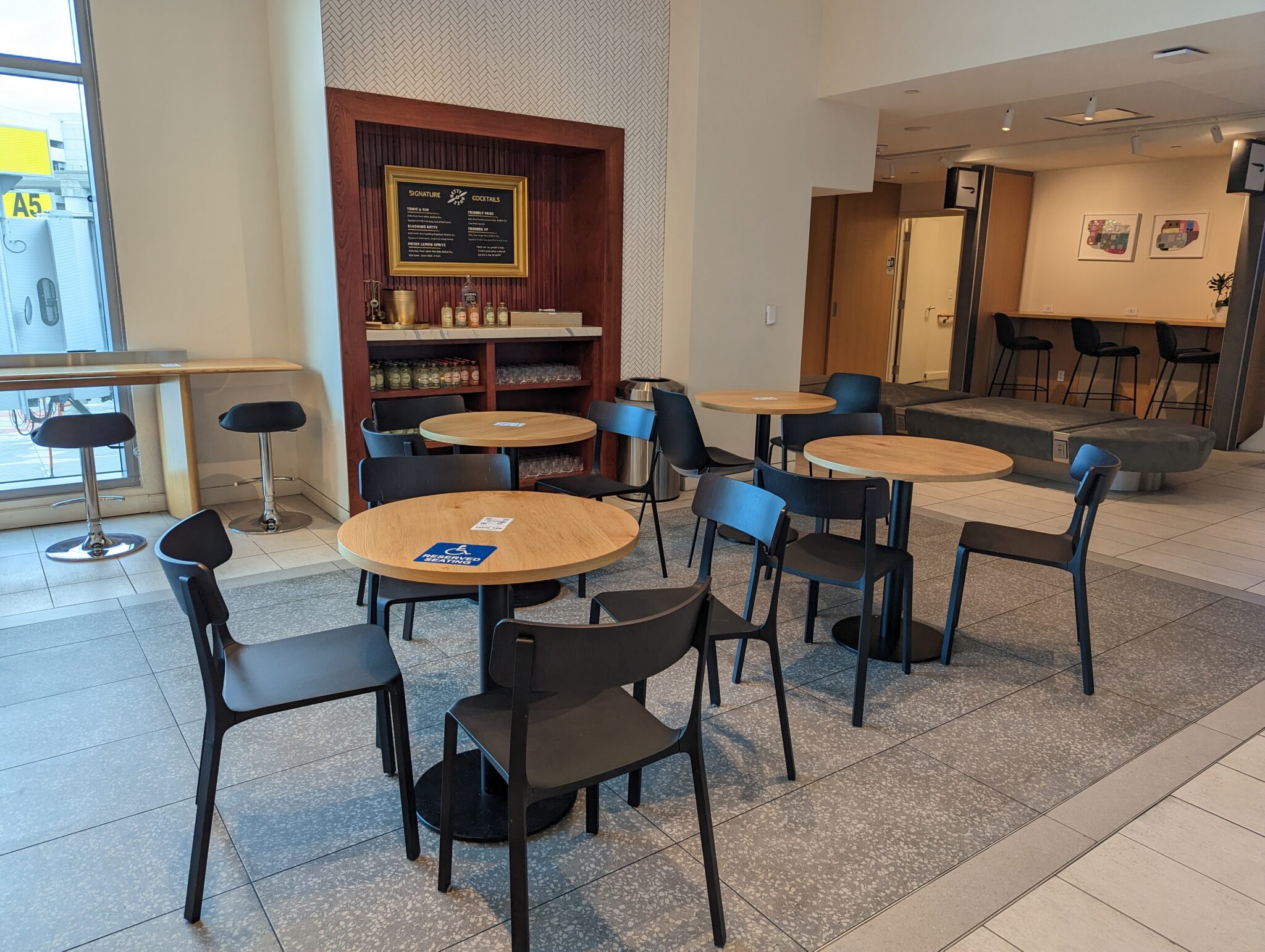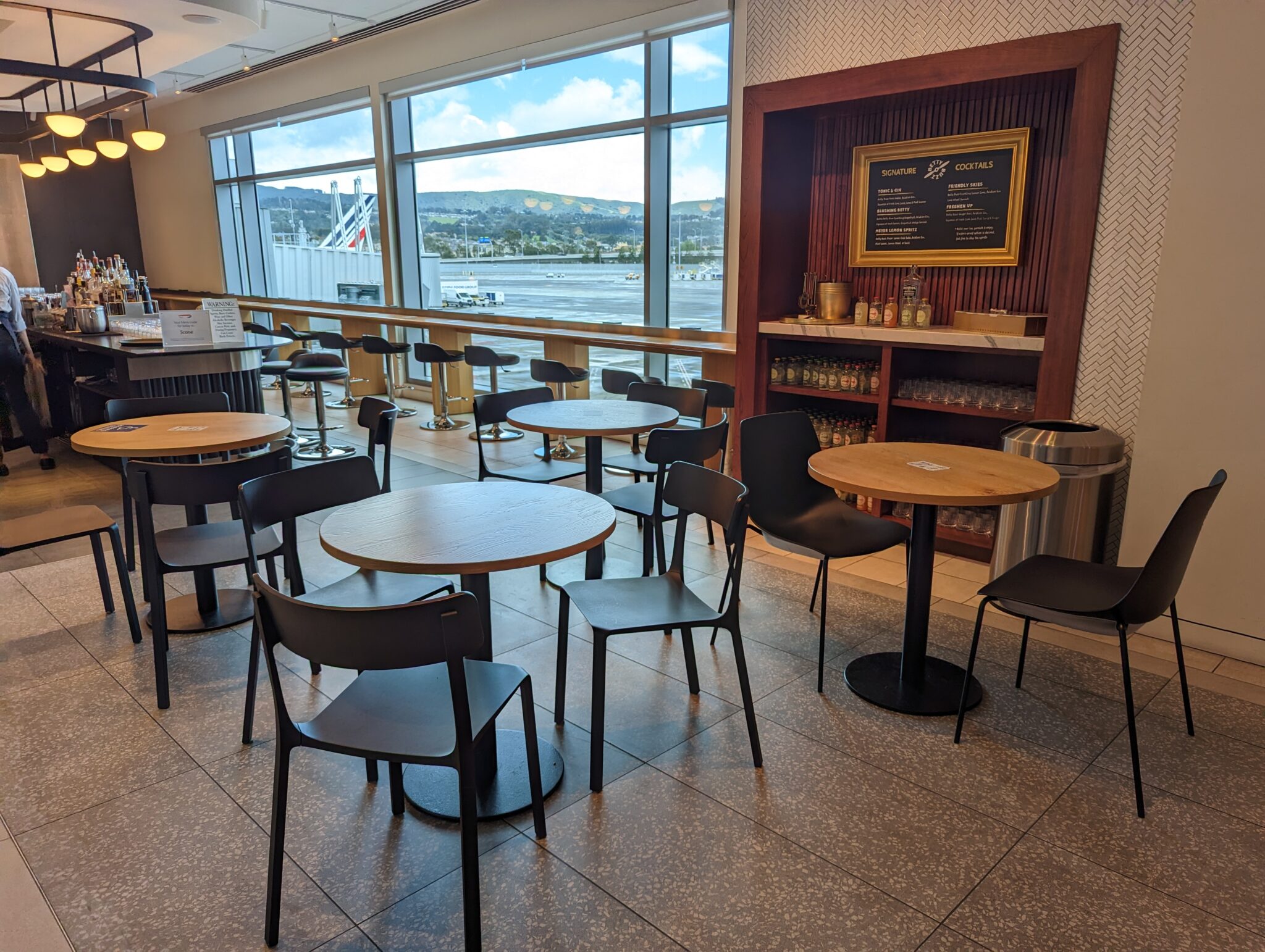 The lounge also provides complimentary high-speed Wi-Fi, allowing guests to stay connected and be productive.
Food and Beverage
For those seeking ways to stay hydrated, the lounge features a well-stocked bar offering a wide selection of premium wines, spirits, and refreshing cocktails. This is all self service. Be your own bar tender and mix up a drink of your choice. 
There are also multiple coffee machines and tea options for those looking for something non-alcoholic. The fridge is also well stocked with soda options, water, and juices, and beer. Offering both local craft beer to San Francisco along with international favorites such as Heineken.
The British Airways business class lounge also features a large buffet of both hot and cold food for all guests. Choose from delectable dishes ranging from fresh salads to hot entrees, including curry. Build your own charcuterie board or opt for a sandwich. There are options for nearly everyone.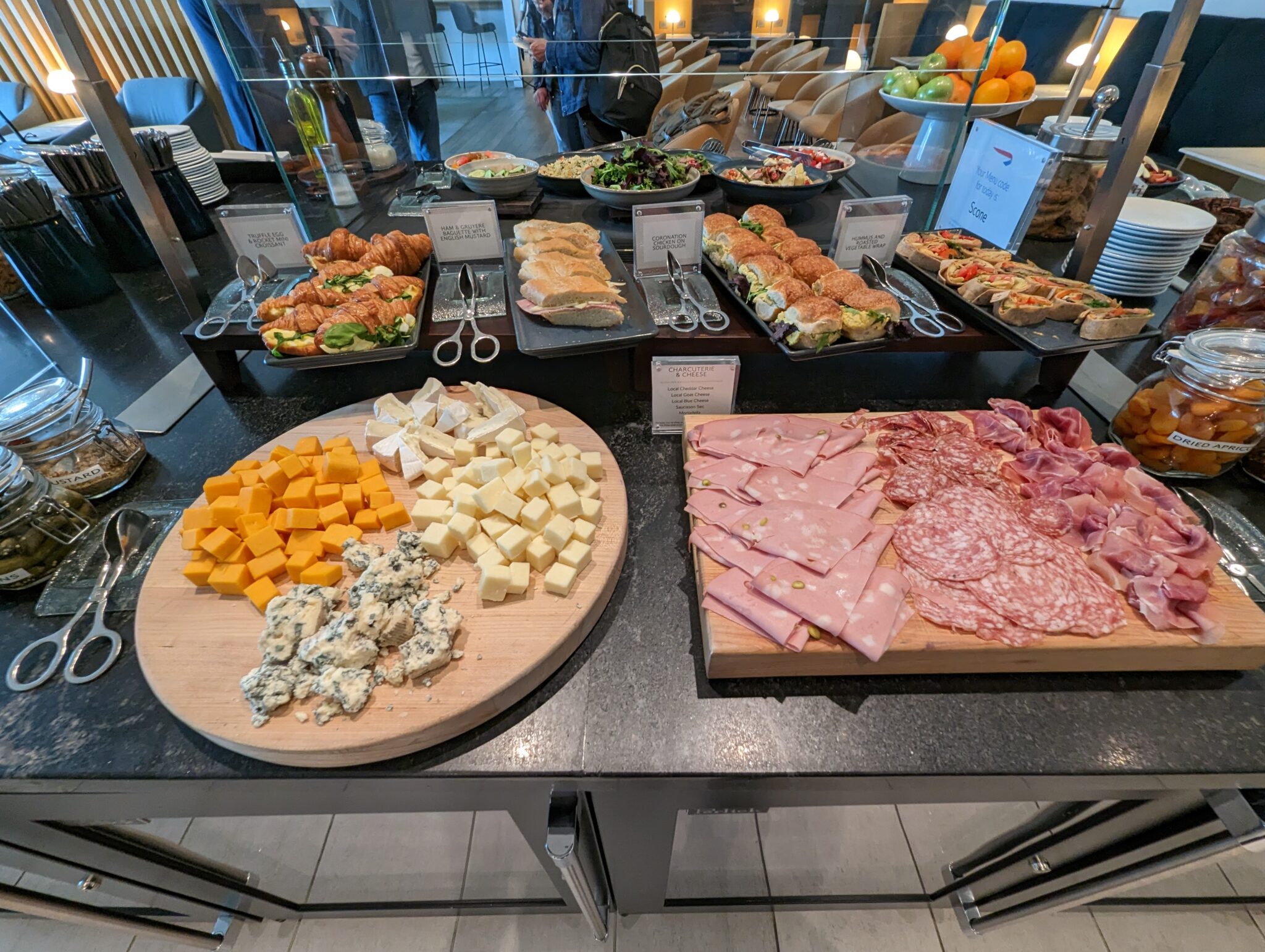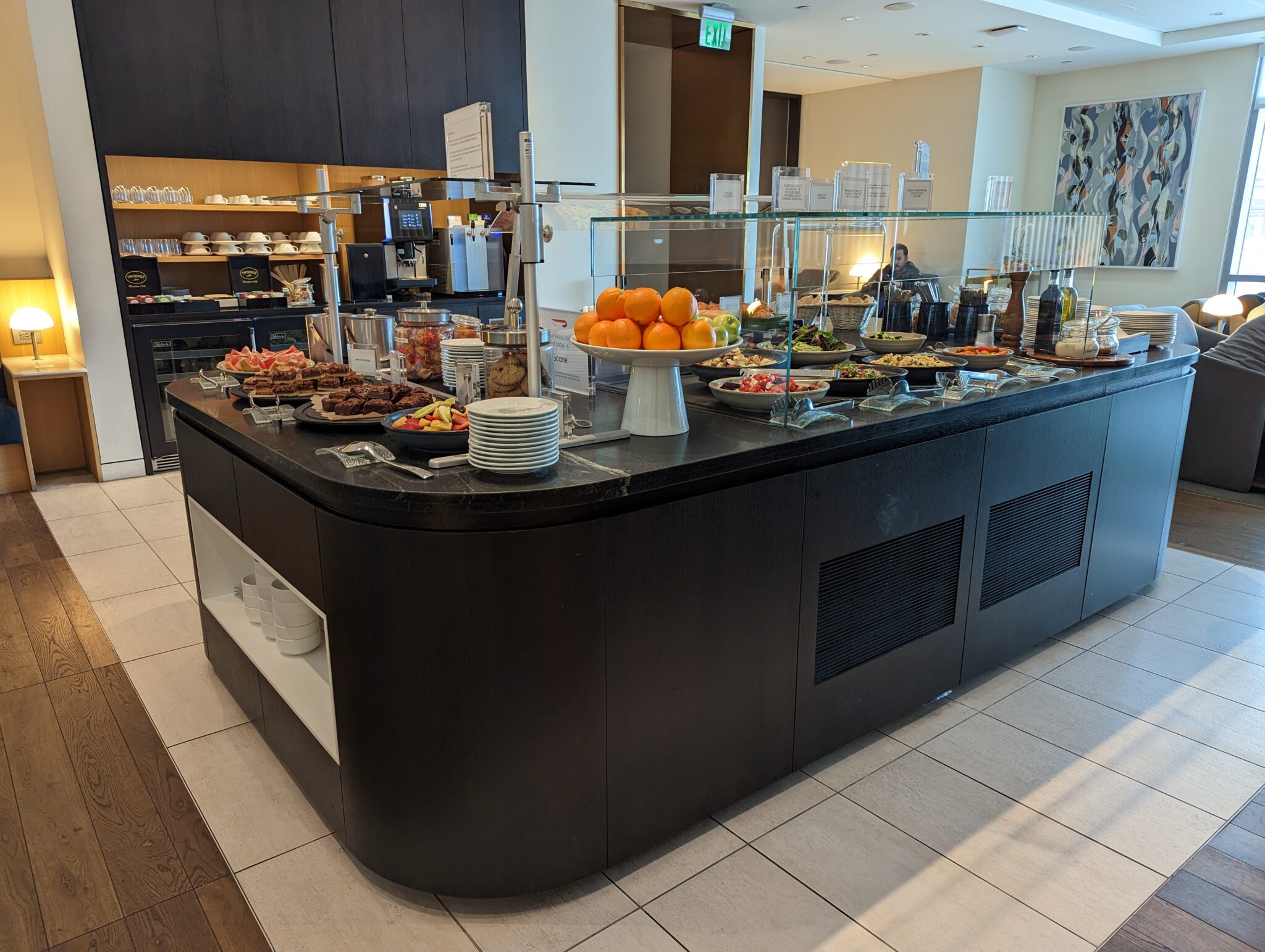 SFO First Class Dining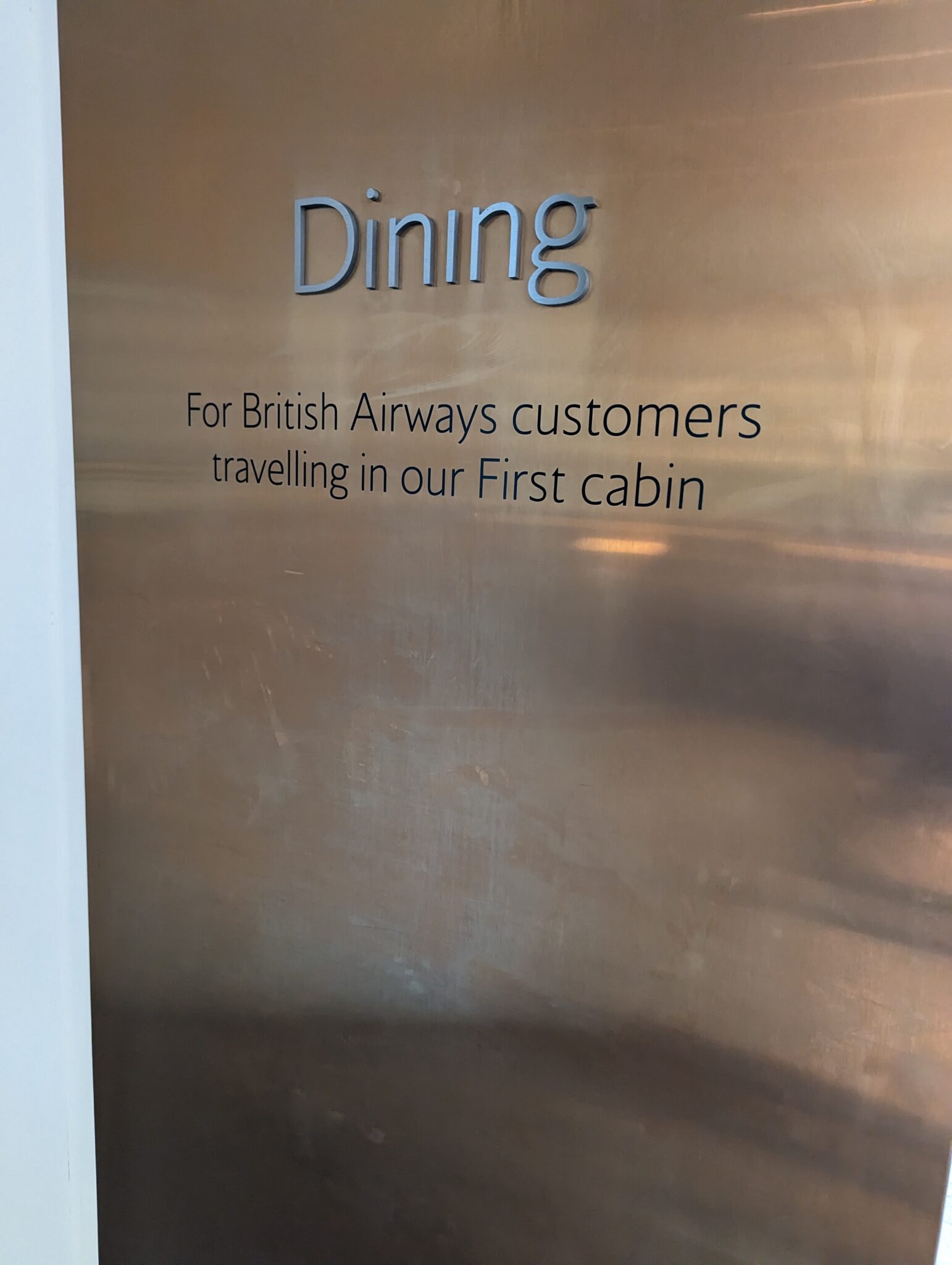 During the remodel, the first class lounge space was enhanced and became a dedicated space for only those flying First Class. Meaning emerald members and those not actually flying first class lost lounge access to this space. First class Dining is only open to First class passengers flying flights operated by British Airways. Similar access rules apply, like to the Concorde room at London Heathrow terminal 5.
The First class dining area boasts a dedicated dining room where guests can enjoy a more substantial meal with table service. Two staff members worked this area and provided first class guests with exceptional service. Always keeping our drinks full. Food was good and during our 4 hours there, due to our flight delay we had time to try several items. Overall everything was good. I really liked the food, especially the dessert. Overall, I was impressed by the flavors and happy with the smaller size of the portions. Which allowed me to still enjoy the food while flying British Airways first class.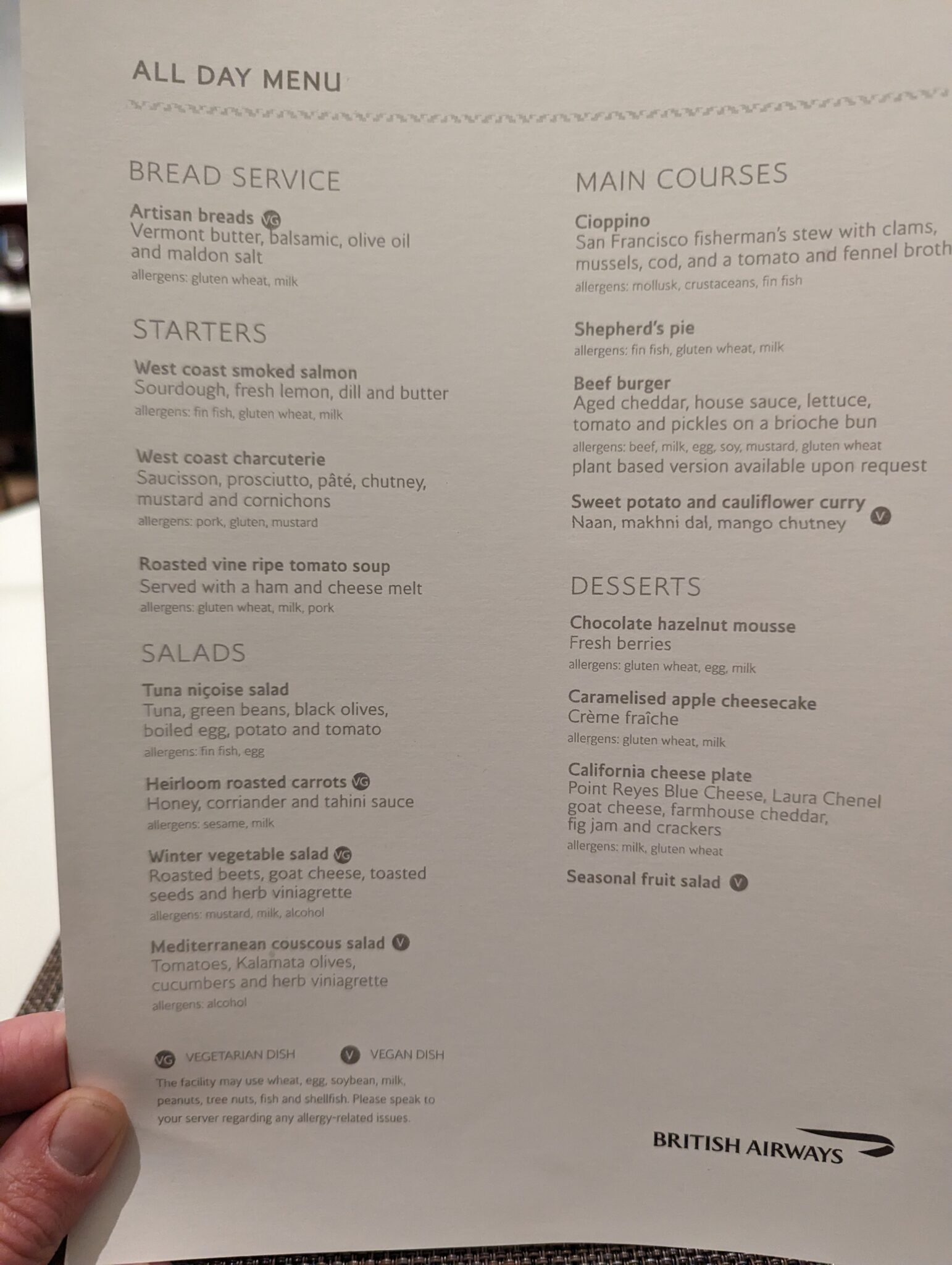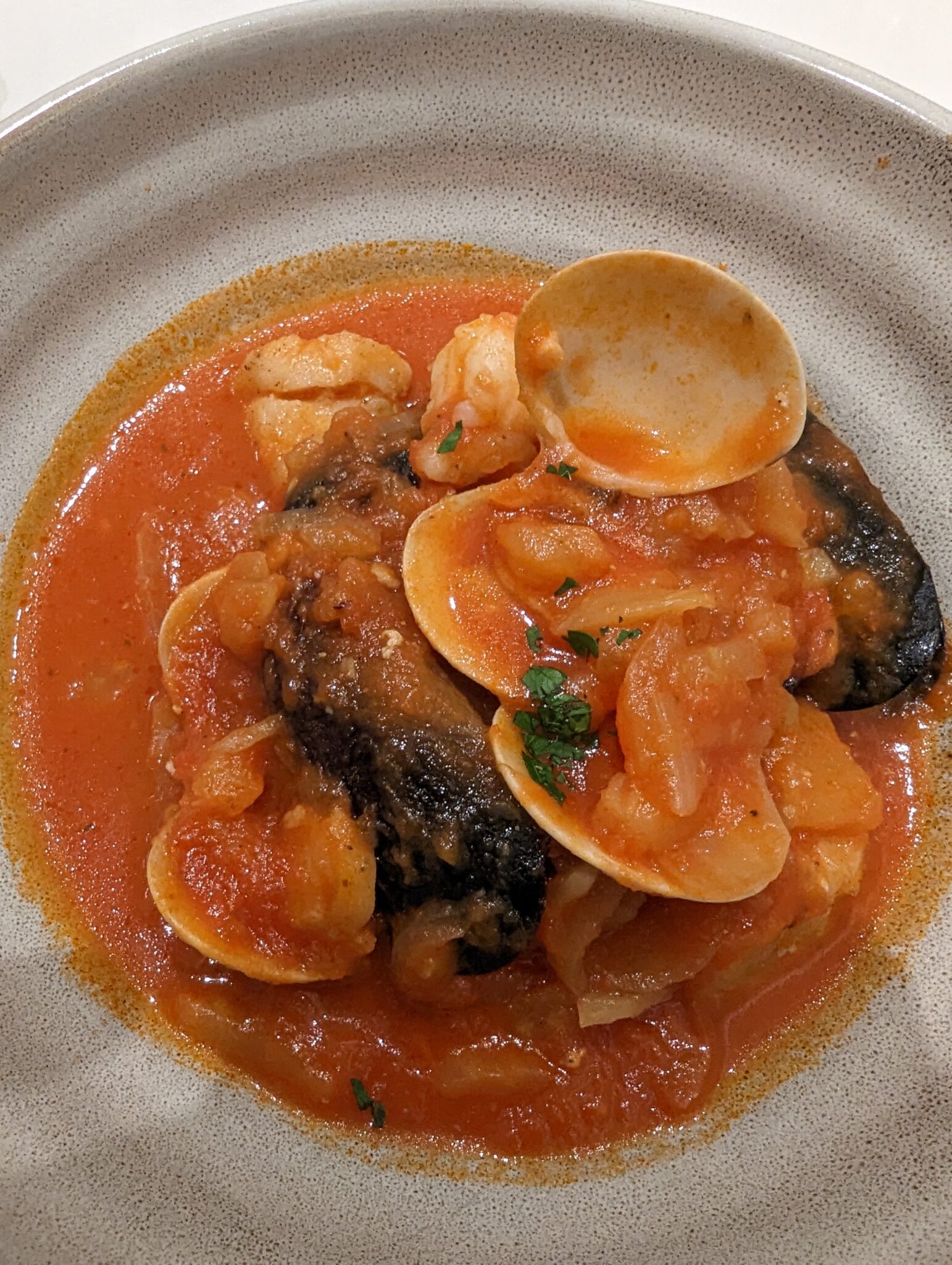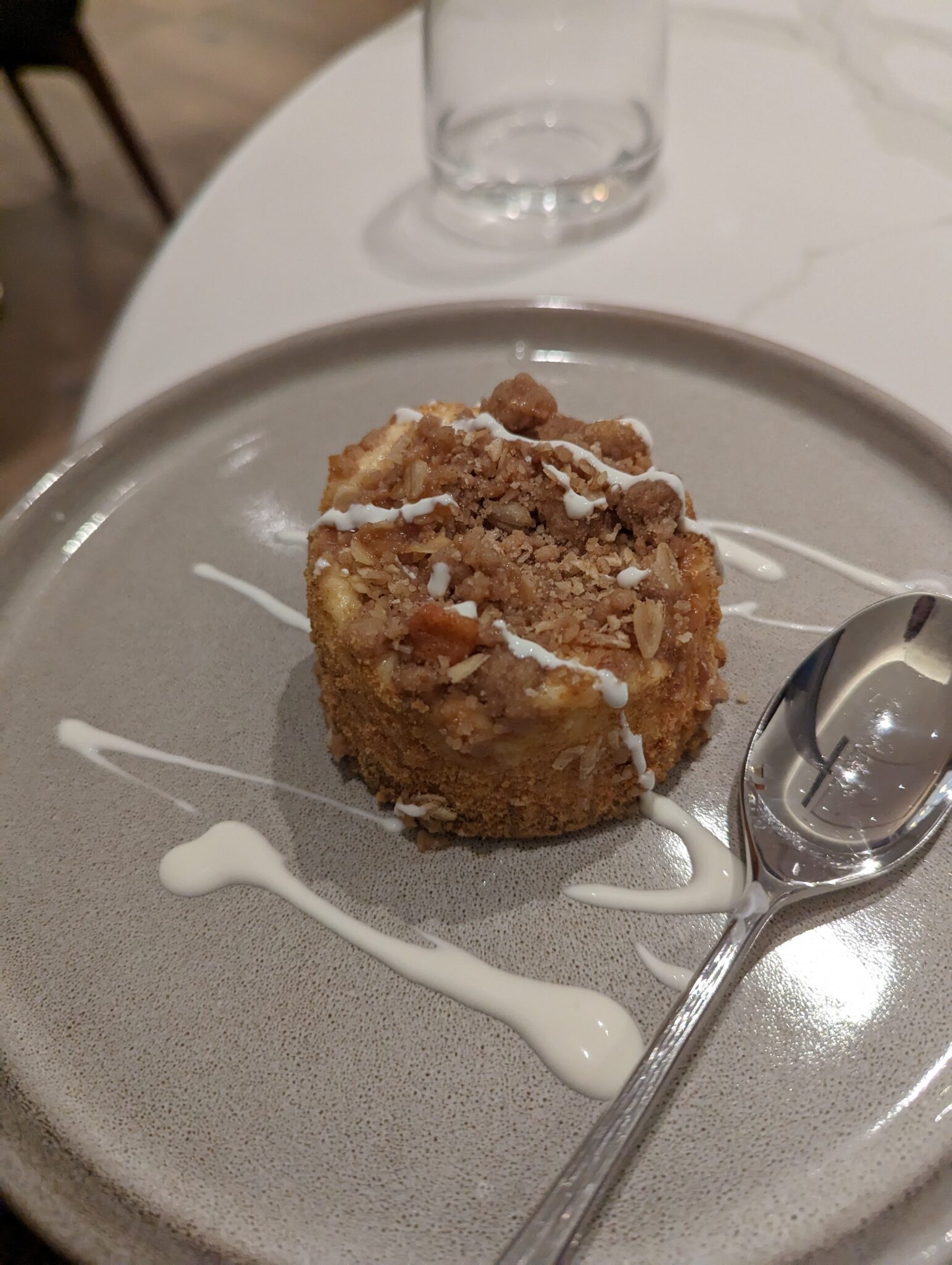 Drinks in the First Class dining area were also out of this world. The lounge manager Anthony has done an impeccable job of curating the experience and making it truly unique. He has a real knack for wine and alcohol options, which are not typically found in British Airways lounges. 
Instead of the typical Laurent Perrier Grand Siecle champagne which is standard across British Airways, we were treated to a $200 bottle of Taittinger Comtes 2012. The wine selection only got better from there as the manager featured both local and world class wine from around California. 
Beyond just the wine, which he also made available in the Business class lounge, the lounge manager was active in hosting guests, and creating an elevated experience. Curtailing recommendations to people's pallets. This is so rarely seen and made for such a unique experience. I want to return!
The First class dining space may not have any windows like the rest of the lounge, but the service was impeccable. Plus the alcohol selection was amazing. Even the spirits were top shelf and featured options rarely seen, even in the best airport lounges. Hands down British Airways First Class dining alcohol selection is among the best of any first class lounge I have visited. This is all due the love the manager puts into his job!
British Airways Lounge Access
Passengers flying both in business class and first class can access the British Airways lounge. In addition, British Airways lounges welcome  British Airways Executive Club Silver or Gold Card members from their own frequent flyer program. Plus, all Oneworld emerald and sapphire status members traveling on a Oneworld airline in any class of service can access the lounge. Do note that American Airlines and Alaska Airlines elites must be on a long haul international flight.
All oneworld emerald members do get access to first class lounges per Oneworld policies. However, SFO first class dining is not part of the OneWorld lounge access program. Meaning, only First class passengers on scheduled flights operated by British Airways gain access to this space.
Bottom Line
The British Airways Lounge at San Francisco Airport undoubtedly offers a premium experience for travelers seeking comfort, relaxation, and excellent service. The lounge does get very busy, especially before an A380 flight. With the delay of our flight, both flights took off minutes apart from each other. This caused the main part of the lounge to be flooded with guests. Yet, even then the First class dining area remained a reprieve from the airport and the rest of the lounge. Food was good, and the alcohol was out of this world. Beyond Impressive. 
From its elegant design to upgraded culinary offerings and impeccable service, this lounge is truly a haven amidst the airport chaos. Plus with direct gate access and boarding from the lounge, everything about this place is a win.  Whether you are an executive club members frequent flyer or simply looking to indulge in a little luxury, the British Airways Lounge at San Francisco Airport is undoubtedly worth a visit. So, the next time you find yourself at San Francisco Airport, make sure to treat yourself to this oasis of comfort and enjoy an elevated travel experience.