Note, that American has simplified their fleet, now only with 777 and 787 wide bodies. Here is an update post showing the current American Airlines wide body business class seats
Trying to figure out which American Airlines Business Class seats are on your upcoming flight? If on a 777 or 787, you are certain to have a lie-flat seat. I've flown on most of the various configurations, and this post is my review of some of the options, plus my rankings of each of them.
The Boeing 787s that are joining the American fleet arrive with lie flat business class seats. The 777 fleet has completed a renovation program to add lie flat seats in business class (and to remove First Class). There are no more 777s in the old configuration, so if on both 787 or 777, business class will have lie flat seats. Most 767s have been reconfigured, and the process is ongoing for international 757s.  For more information on American's fleet, I recommend this unofficial site that tracks the status of each plane: American Fleet Site.
There are various options for American Airlines Business Class seats, depending on the plane you are on. Even that isn't enough to be sure what seat might be there. Without further ado, here is my breakdown of seating options ranked by my preference, starting with my favorite.
American Airlines Business Class Seats on the 777-300ER, Zodiac Cirrus
The Zodiac Cirrus seat is not new, but the particular configuration that AA uses on the 77W is nearly identical to what Cathay Pacific offers and is excellent. This is the same seat on Cathay's entire long-haul fleet, which some updates for their newer A350s. This reverse herringbone seat provides excellent privacy, and decent storage space.  The finishes on the seat make this version more private than most any other business class product. The high walls make it difficult to see other passengers, which is great for privacy when sitting, especially for solo travelers. Even middle seats are private, but fine for traveling with a companion, although to talk face to face, both people need to lean forward.
The Boeing 777-300ER is the flagship of the American fleet, and is the only aircraft that still has first class. This plane is typically deployed on AA's longest routes to Hong Kong, and for now Sydney, as well as some other high value routes such as to London Heathrow and South America. There are 52 of these seats in the business class cabin, and while some prefer the more private feel of the mini-cabin in front of door 2, any seat in this cabin is excellent. The solo seats by the windows are particularly good.
There is a small side table and a storage area above and below. The door to the storage area adds extra privacy if desired in middle seats. The Cirrus seat is probably my favorite business class seat I have flown.
American Airlines Business Class Seats on 789 and some 772, B/E Aerospace Super Diamond
This seat is the newest configuration in the American fleet. I've only had the opportunity to experience this on a domestic flight, but I would be happy to try this out on a longer leg. This seat is very similar to the Cirrus mentioned above. The finishes are more modern, but I still prefer that seat. The privacy flaps near the headrest are not as high as on Cirrus. The center divider is not an option on American planes, so strangers in the middle seats will be in full view of each other.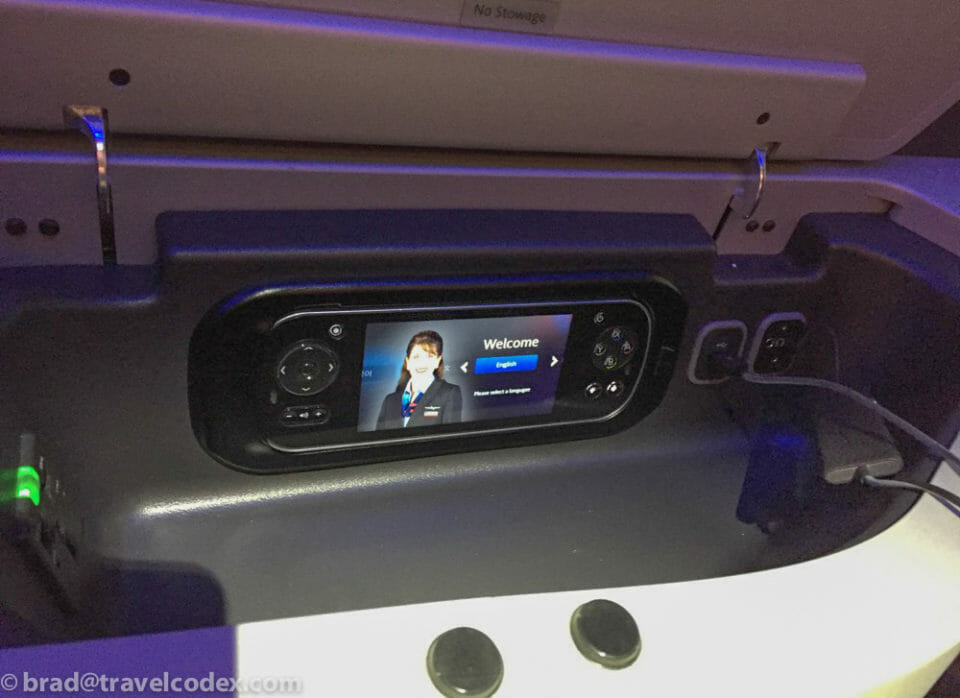 Storage with this seat is excellent, with locations in the aisle side armrest, plus several storage areas on the opposite side. The IFE monitor is fixed in place, but this makes viewing difficult when laying flat. The IFE system is modern, and the controller is easy to use. You can even have one program on the remote (such as a map), and another on the main screen.
One minor annoyance about this seat is that a shoulder strap is required during taxi, takeoff, and landing.
The tray table stows below the monitor, and is a nice large tray when deployed. The intuitive design slides towards the seat making it easy to use. American has 22 of these Boeing 787-9's on order, and 10 are in use at the time of this post. This plane is currently assigned to few routes, such as DFW to CDG and MAD, plus several flights from LAX. Eventually, this plane will fly AA's routes to New Zealand and Australia.
I experienced this seat on the 787-9, but it is also available on some 777-200s. More details of this below.
American Airlines Business Class Seats on the Airbus A330, Zodiac Envoy Suite
The seats on American's A330s are a nice reverse herringbone design, and back in the day, US Airways were among the first to offer this seating configuration. The seats are private, lie flat, and perfectly comfortable, but the finishes are quite basic, and even after some recent refurbishment, the cabin feels dated. Unlike the 2 previous options, the walls are lower, so there is less privacy, but it allows for a more open cabin.
The IFE monitors are rather small, and the foot well is often somewhat constricting. I've flown this product several times in a bulkhead seat, which has a wider area for the foot well, so I prefer that and would recommend it if this is a concern.
The Airbus long haul fleet is typically deployed from Philadelphia and Charlotte. There are 15 A330-200s which will be in the fleet long term. The 9 larger A330-300 are destined for retirement by the end of 2018.
American Airlines Business Class Seats on the 787-8 and some 772, Zodiac Concept D
This seat is a custom design for AA. The idea is good, and while comfortable, I prefer most other seating configurations with a few exceptions. Installations of this seat were delayed so badly that American voided their contract, and switched to the B/E Aerospace Super Diamond seat. All 20 787-8s will keep this design, as will 19 777-200s.
This reverse herringbone seat alternates forward and reverse facing. Some people are adamantly against facing backwards. I'm not sure why.  Other than during takeoff and landing, I don't notice any difference, and in fact prefer it when sleeping due to the nose up orientation of planes when cruising. The rear facing seats at 6A and 6L on the 788 are very private, and have a nice storage compartment above/behind the headrest. On a flight in my preferred 6L, despite it being marked "Passenger Use Only", I had a Flight Attendant ask me if she could share the space…
Another oddity with this seating configuration is that many of the seats are physically linked to others, and if someone reclines in one of those seats, someone in the linked seat can feel it. Potentially disruptive if sleeping.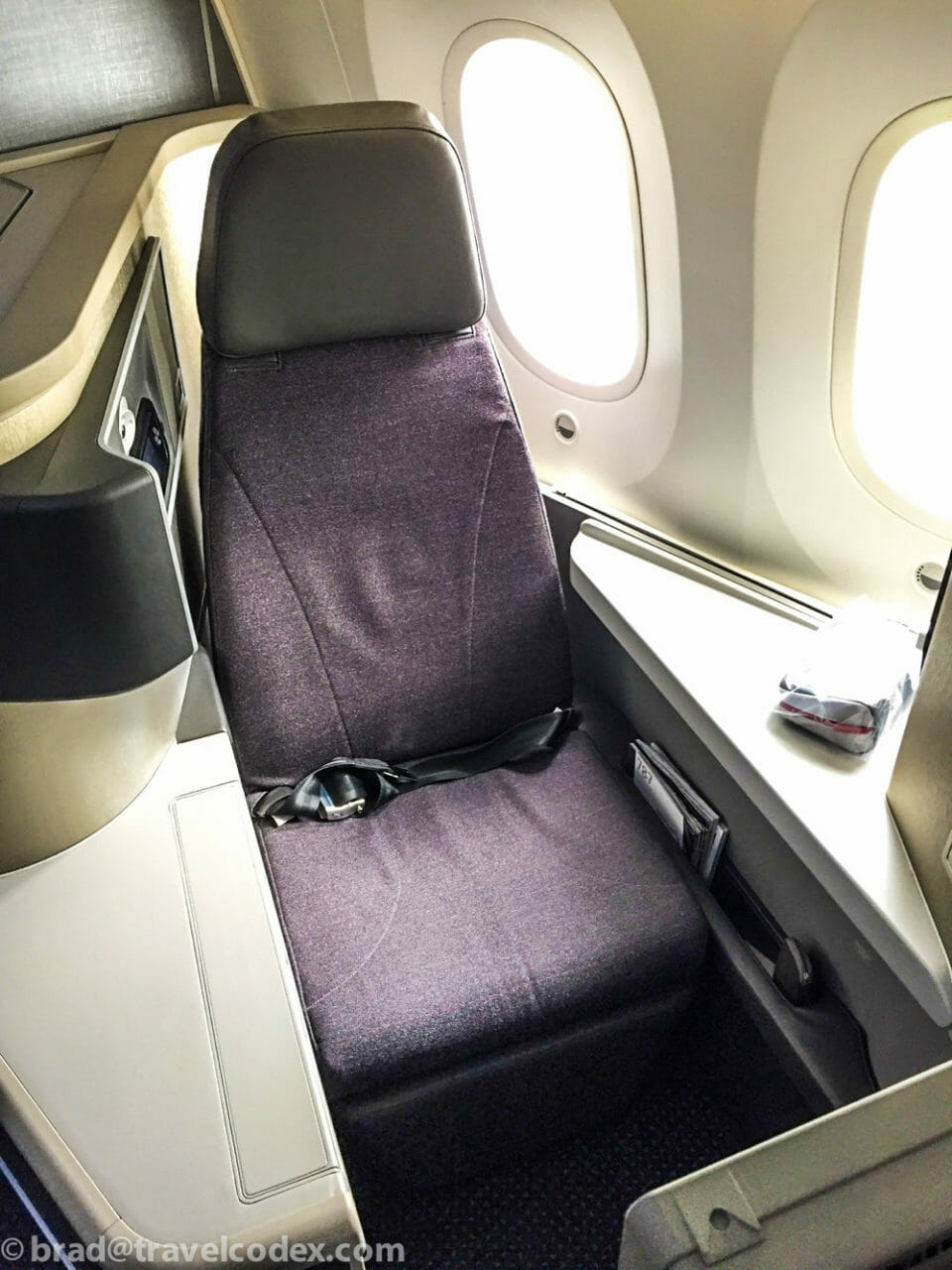 This is a flat-bed seat that is comfortable, and private, but it feels narrow and for whatever reason I find it inferior to other options in the fleet. Others have reviewed this seat here, and I think most share my general impressions of it. More info from: Sriram, Rocky, Scott.
American Airlines Business Class Seats on the 767-300, Thompson Vantage (Staggered)
I haven't flown this configuration on American, but I have tried this same seat on a few other carriers (including Austrian and Brussels Airlines.  It is comfortable for sitting, and fully flat, but lacks privacy. The foot well is very narrow, and it feels like your legs are in a coffin, as they slide far forward into the armrest on the seat in front. The narrow cabin of the 767 doesn't leave many great options for business class seats. Since I don't have any personal experience with this, I'll use this video to give a tour:
There are several 767s still in the old seating configurations. Between refurbishment and airplane retirements, soon, all 767s will have lie flat seats in business class.
American Airlines Business Class Seats on the 757, the B/E Aerospace Diamond
This is similar to the product on many carriers, including American's transcon A321s, and United's legacy Continental fleet.  One exception is the fact that there is no fixed IFE monitor on the AA seat.  Instead, a tablet is offered in international flights. I haven't flown this seat on American, so like the 767, I'll use a video to provide a tour.  American's international 757s have the same seat, without the fixed monitor.
The refurbishment program on the 757 is ongoing, but there are still some planes without this lie flat seat on international flights.
But which seat will I have on the 777?
As mentioned earlier, the 777 fleet is where things get complicated. Of the 47 772s in the fleet, there are 3 business class seating configurations. Due to the possibility of equipment swaps, flyers are unsure which their flight will have until they board. 19 of them have Zodiac Concept D. 13 of those have 45 Business Class seats, and 6 have 37 Business Class seats.  The remaining 28 777-200s have 37 of the B/E Aerospace Super Diamond seats in Business Class.
Thankfully American completed this refurbishment program, at least in that there are no more planes flying with the old seating configuration referred to as Next Generation Business Class (NGBC), which was a term about a decade or so out of date.
Final thoughts on American Airlines Business Class Seats
Lots of options for various different seating types across the fleet. Thankfully, American is almost to the point where they can claim to have lie flat business class seats on their whole (widebody) fleet. Maybe by 2018?
The Cirrus seat on the American 77W is a lovely seat. This is my favorite business class seat of any I've tried on any airline. The Super Diamond seat on American's 789 and some 772s is also very good, and to me nearly on par with Cirrus.
What about you?  Do you have a favorite seat among the options in American's fleet?
Thanks again to the folks at the American Fleet Site. The data provided there helped a lot with this post.