We recently took a vacation to Bali. Since moving from booking solo award travel to booking for two, I've been okay with flying economy class or economy plus for shorter nonstop trips from the east coast to Europe. Flights to Southeast Asia are another beast. Given the distance and number of flights, we wanted to fly up front. I had time off right before Christmas, when award travel can get tough. There were no saver awards available leaving for Bali, though we were able to find Star Alliance saver space back via Singapore and Frankfurt.
We decided to bite the bullet and pay a little more — oddly enough, Delta had the cheapest non-saver price at 105,000 Skymiles per person one-way from LAX to Bali with Delta One Suites on the long-haul. For comparison, saver awards would have been around 85,000 miles. The next option was United in the 140,000-mile range per person. This was pricey, but it was the difference between taking what is now one of our favorite trips versus staying home.
We booked Los Angeles to Seattle in Delta domestic first class, Seattle to Shanghai on Delta One Suites on the A330-900, and Shanghai to Denpasar on Garuda Indonesia. I'll skip reviewing the first segment, as not only is Delta domestic first not something I care to report on, but also because I slept the entire 3 hours after a busy weekend.
Delta Air Lines Flight 589
Seattle (SEA) to Shanghai-Pudong (PVG)
Monday December 16, 2019
Airbus A330-900neo (N404DX)
Delta One Suites, Suites 3C and 3G
Depart 1:55pm – Arrive 6:50pm (+1) (12h55m) – Arrived 20 minutes early
We boarded first at the second set of doors and turned left into the large Delta One Suites cabin. There are 29 suites between the first and second doors. Behind the second door is the Premium Economy cabin. We selected seats 3C and 3G, in the middle section. Delta currently has 4 A330-900neo aircraft and this was the most recently delivered aircraft at the time we flew, having been delivered just 3 months prior.
First, the seating arrangement:
Sitting in the middle seats has been one of the big changes for me going from solo travel to traveling with my fiancée. I usually am a window seat fan. On our basic economy jaunts up and down the east coast, we're fine with sitting apart, but on a 12-hour flight, it's nice to sit next to each other be able to converse without getting up.
That said, it wasn't quite easy to converse even in this configuration. There is a white privacy screen between the two seats but it only comes down partially into the darker blue holder. It's still better than sitting across the aisle from each other, but the Delta One Suites are private even with the screen down.
If I were a single traveler, I would absolutely grab a window seat in an even row to be near the window.
Back to the flight itself, each seat had a Westin duvet, firm pillow, and set of slipper on the seat, as well as a Tumi amenity kit and menu on the console. There was a set of noise-cancelling headphones and the classic Delta Dasani behind the console.
In the corner of the console is a power outlet, two USB ports for charging, the headphone jack, and a console to control the seat and lights in the suite. Of note, the suite door is manually operated, so there are no electronic controls for that.
There is also an abbreviated control panel in the side of the console next to the seat. It is easier to use when the seat is in bed mode.
Lastly, there is a remote control in the armrest as well as a vanity mirror. Despite the signage, the remote worked.
I opened the amenity kit but didn't notice until a few hours into the flight that it was missing a key item — earplugs! My fiancée's kit was also missing it. I brought it up with the flight attendant, but there weren't any others available. It's such a cheap item that was missing from the kit, but it really worsened the experience. I have multiple noise canceling headphones, but those are not as comfortable to sleep with. And yes, I know if it's so cheap, I should bring it, but I usually don't bring items that I know an amenity kit should have.
We had a choice of pre-departure beverages. We went with champagne.
The 18.5″ IFE screen is crisp and filled with lots of material. Even though we've been flying Delta domestically quite frequently, there were enough new or novel things to watch.
I love they use Atlanta as their city for east coast time  🙂
As I began to prepare for the next 13 hours, I realized how little storage my seat had. I noticed that there were some cubby areas in the window seats, particularly the seats next to the aisle with the console flush against the fuselage. However, there was barely any storage in the seat in the center. I ended up getting up to get my bag from the overhead bin frequently to retrieve and put away items.
As we pushed back from the gate and made our way toward Shanghai, I perused the menu, which had both Chinese and Western options.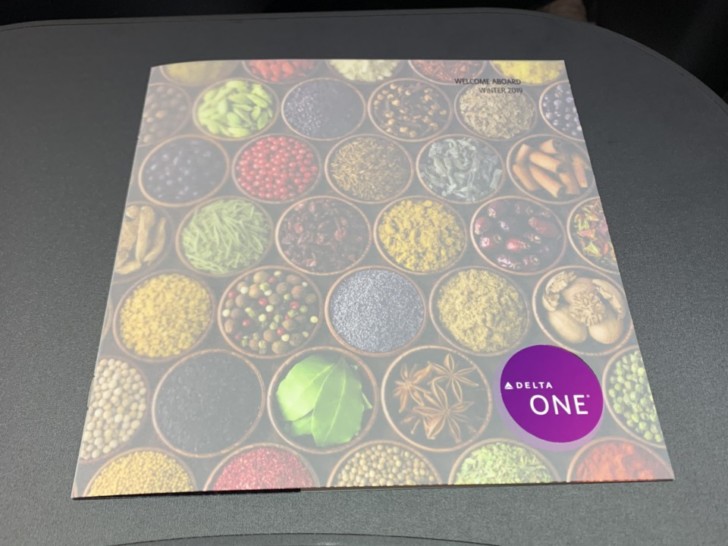 Orders were taken shortly after takeoff. Sitting in the middle section, I found it fascinating how different service could be based on which flight attendant was on which aisle. My aisle was staffed by the purser, who seemed to be dealing with issues  in all cabins, while my fiancée on the starboard side had another Delta One flight attendant who was based out of Asia. For example, we both asked for wine with our meals. On her side, she was shown the bottle, given a small pour to taste, and served the remainder of the glass. Meanwhile, I asked for a different wine and was simply given a full glass. When we tasted it, turns out I was served the same wine as my fiancée. This is an absolute First World Problem, but there's a reason why service standards are such. Show the bottle when you pour!
I also later noted that there was a special cocktail with Honey Peach Fizz and Jack Daniel's Tennessee Honey. It seemed interesting and I asked if I could have one. Instead the purser replied, "Oh, it's too sweet, there's too much honey in it. I don't think you'll like it," and ended the conversation there. It was an odd response and I really didn't want to push it that I'd still like to try it, but you'd never get this type of response on an international carrier. I even distinctly remember a similar situation on SWISS several years ago where I ordered a dessert wine and the flight attendant responded, "I will warn you, it is very sweet, but maybe you'll like it."
I ordered the Western menu. The appetizer was fine – the mushroom soup tasted better than it looks.
I ordered the chicken. For an in-flight meal, it was good. I'm always impressed when there's such colorful food like the broccolini and it tasted fresh.
Of course I ruined eating my greens with cheese, an Biscoff crumble ice cream sundae and some port.
There's even a heart-shaped spoon for dessert!
I was pretty stuffed as we hit the Alaskan peninsula and sat back to finish watching my movie before settling in for sleep. As mentioned, the privacy screen only goes so far down. I had to sit up to converse with my travel mate. When the screen is up, you feel like you're in your own little cocoon.
About 3 hours into the flight, I officially passed 1,000,000 miles flown according to my personal flight log. A suite in the air isn't a bad place to spend it.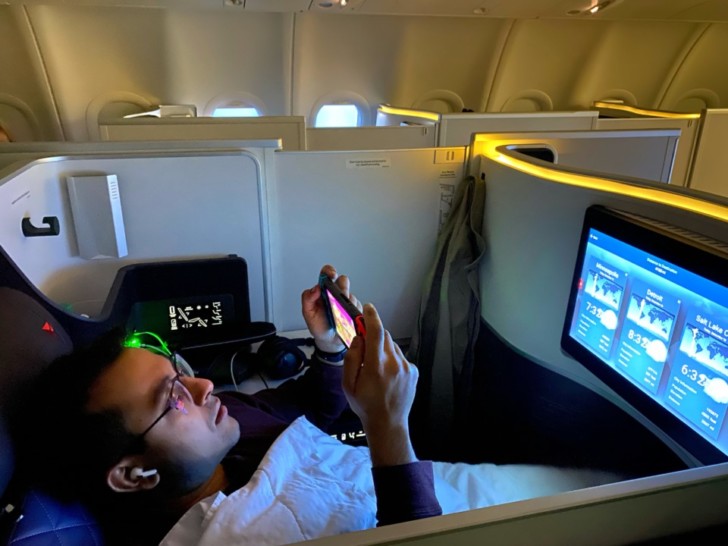 WiFi was available and pretty fast, though there were areas where it wasn't available. I forgot to check the price because I used a Business Platinum Amex GoGo pass that made it free.
The bed is comfortable and I slept generally okay, but the lack of noise-dampening earbuds hindered that, and my Airpods were being serviced by AppleCare at the time. I have wired noise-cancelling headphones (Bose QC15) and that helped a bit. However, the main cause of my frequent awakening wasn't sound, but vibration. Both flight attendants and passengers seemed to have heavy feet with frequent walks up and down the aisle. Every time someone passed by my seat, it shook the door, the console, and my seat. We both had issues with this.
There's a do-not-disturb light on the suite and I had it turned off because I was waiting for the second meal. Instead, I overslept it and woke up 1h20m before landing in Shanghai as the flight attendants were completing the meal service. I inquired about getting something to eat but was told it was too late. Oh well, I had snacks and we had time in Shanghai to visit a lounge.
We had an early arrival into Shanghai, but the timing wasn't enough to leave the airport. After arriving into Terminal 1 at 7pm, we had to enter China, retrieve our checked bags, and walk across the large bridge to Terminal 2 to check in for our Garuda Indonesia flight at 1am.
Delta One Suites Conclusion
Delta's hard product on the A330-900neo is good – the suites are incredibly private (maybe too private if you're traveling as a couple), though they lack storage space. I would call it better than United Polaris, a hard product I was very impressed with on my flight from Tokyo to Newark a couple years ago. That said, there's still room for improvement on the service side.
Good stuff
Privacy
Dining
In-flight entertainment and screen
Needs improvement:
Amenity kit needs earbuds (hopefully this was a one-off)
Seat vibrates too much when flight attendants walk by
Need a system for flight attendants to know when to wake someone up for second meal instead of just forgoing 'Do Not Disturb'