My first elite status was with United MileagePlus, way back when I was a cheeky young kid flying around the country for graduate school interviews. I realized that devoting my loyalty to one airline would get me free checked bags and the occasional upgrade. I eventually worked my way up from Silver to 1K status, which I held for several years, but the truly awesome perks are afforded to United's Global Services members.
Global Services used to be a secretive, invitation-only tier for big spenders. It has more to do with your value to the company than how frequently you fly with United Airlines. But as more people earn the status (it's provided automatically to people with four million lifetime miles), some of the details have leaked out.
Qualification Requirements
As a baseline, understand that the usual top tier status, Premier 1K, requires that you earn 100,000 Premier Qualifying Miles and $15,000 Premier Qualifying Dollars. (You may also substitute the miles with 120 Premier Qualifying Segments.) The number of miles and dollars you earn on a flight depend on some specifics. Taxes usually aren't counted toward Premier Qualifying Dollars, and you can earn more or fewer Premier Qualifying Miles depending on whether you bought a first class ticket or a bargain seat in coach.
If you are the kind of person worried about whether you should buy coach or first class tickets, then you probably aren't the kind of person who's going to get Global Services. The tally of PQMs and PQDs goes out the window.
Rumor has it that you need to spend $50,000 per year, which means you are very likely paying for full fare coach and first class tickets on a regular basis. But more than that, you need to be very profitable to the airline. If you were to spend that much on tickets that earn United a slim margin, that is bad. You would be better off spending less money on more profitable routes.
Other people sometimes earn Global Services not because of how much they spend but because of how much they influence others to spend. Think about the person managing corporate travel agreements at a large company. That person might not have to fly much for his or her own job but could still receive Global Services as a perk for managing the contract for many other jet-setting executives.
Upgrade and Award Benefits
The most salient perks of Global Services status are the ability to request additional inventory for upgrades and awards. You will be ahead of all other customers on the upgrade waitlist, and your upgrade requests will clear as soon as 120 hours before departure instead of the 96 hours that Premier 1K members receive.
Furthermore, Global Services members play by different rules. Most elite members need to upgrade into PZ inventory (formerly called R). Even if business or first class seats are unsold, that PZ inventory needs to exist for an upgrade to clear. Global Services members clear into PN inventory, which is more likely to be available. Sometimes on the day of departure you'll even get an upgrade when PN is not available.
Award space is a slightly different story. Global Services members play by the same rules as other members, booking economy awards in XN and business class awards in IN. These are saver award spaces for all elite members, while non-elite members and partner airlines must book into X or I.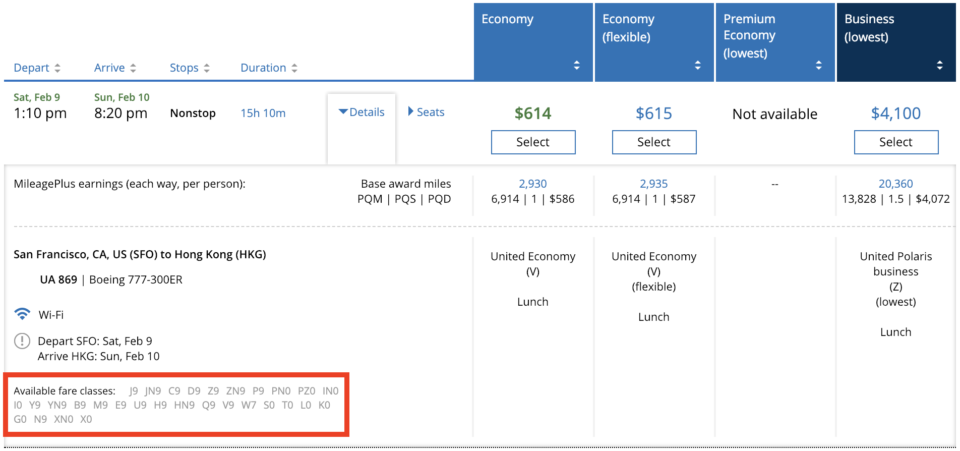 However, Global Services members can request additional award space if they don't see enough. I had a reader email me recently asking about how to look for award space using her father-in-law's Global Services miles, and my answer was simple: have him call up and ask for a seat. As long as there are seats available in T inventory (and sometimes PZ inventory), which is one of the cheapest economy fare classes, United will generally open up additional award space for the Global Services member to book an award with miles.
Benefits for Companions
Not all of the perks for Global Services members go to them. United also recognizes that people travel together. If a Global Services member books a paid ticket in business class for himself, for example, United promises to make available a saver award ticket for his or her companion. The only condition is that there must still be at least two seats left available for sale afterward.
I mentioned already that Global Services members get access to more upgrade inventory, and this also holds when they use their Global Premier Upgrades (GPUs) and Regional Premier Upgrades (RPUs) for another person. The Global Services member doesn't even need to be on the same flight.
The real kicker is the ability to upgrade an award ticket. Normally when someone asks me how to do this I tell them to cancel the economy class award and book a business class award instead. But Global Services members really can upgrade an economy class award! Tickets booked with XN inventory (remember that's the saver economy class award available to all elite members) can be upgraded to business class using a GPU. The condition is that both the GPU and the miles used to book the award must come from the Global Services member's account.
Agents Can Work Wonders
Personally, I've known Premier 1K agents to answer quickly, call me by name, and be very familiar with the rules and options available when I needed help rebooking or upgrading a ticket. While I've never had the experience of speaking to a Global Services agent (as far as I know), I assume its even better.
I overheard one guest at a hotel in Paris speaking to an agent on the phone about his upgrade request. It seemed that the agent was going to do the hard work of checking and re-checking until it was available and promised to call the traveler back when it cleared. The point is, these agents are there to help the customer, not just process requests as fast as possible.
First for Everything
Obviously, Global Services members get to board first and can even order their meal first when onboard. If choices are limited that means they get first dibs. If seated in economy, they even get a free snack (as do Premier 1K members).
If you've got a tight connection, you might even be greeted at the gate by an agent willing to drive you across the tarmac in a Mercedes-Benz. There's not exactly a queue, but nothing says "winning" like this special treat.
Special Global Reception check-in areas exist in the airport with their own dedicated security, and you should expect special treatment when cancelations or delays interrupt your travel. Remember, you're invited to Global Services status precisely because you're one of the most profitable travelers, not because you fly a lot, and United will do its best to keep your business.