I've had several people ask me recently how to search for upgrades on United Airlines. It's not immediately obvious because United no longer allows tools like Expert Flyer to access its inventory. However, United does have an in-house tool called "Expert Mode" that will display inventory for individual booking classes when you search for a flight. This post has been updated since the recent change to replace "R" with "PZ" for upgrade inventory.
For a good overview, read my my previous post: A Quick Introduction to United's Upgrade Policies
Enable Expert Mode by logging into your account and visit the Search Preferences page, where United will ask you to read a lengthy disclaimer and check a box to activate the feature on your account.
When you go to perform a search, you'll be able to see the number of seats available in each individual booking class. This can be useful for booking other ticket types, as well, but I'll only be discussing upgrades in this post. You'll want to focus on "PZ" space for upgrades that use miles, Regional Premier Upgrades, Global Premier Upgrades, or Complimentary Premier Upgrades. "PN" space is used for instant upgrades from Y, B, and M fares for elite members. You can find a complete list of the meaning of each booking class on cwsi.net.
I did a dummy search from San Francisco to Hong Kong. I checked a few results before finding this one. Click on the "Fare Class" link and you can see the word "PZ0" which means there are are 0 seats available in the PZ booking class. United counts up to 9 when it displays availability, so "J9" could indicate 9 seats or more in full-fare business class.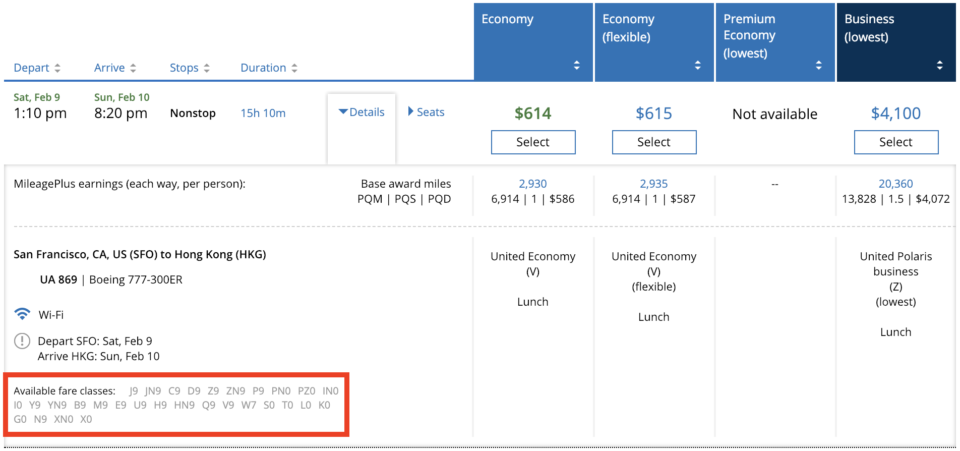 Because I didn't find any PZ space, I might want to look at some flights with a connection; the less convenient routes are more likely to have seats available. If I proceeded with this non-stop flight, my upgrade request would be placed on the waitlist, and I would be processed according to United's upgrade hierarchy: elite status, then fare class, then the time of request.
Depending on your tolerance for risk, this connecting itinerary may be preferable. You can confirm your upgrade from San Francisco to Osaka immediately, and the flight is operated with a Boeing 787 Dreamliner, which I consider very comfortable. However, the connecting flight from Osaka to Hong Kong is operated by ANA, which cannot be upgraded using a Global Premier Upgrade.
Some people really want the certainty of knowing their upgrade will clear. The fare I showed above is an V class fare for $614. This is already high enough to qualify for a Global Premier Upgrade, which requires a W fare or higher to redeem a Global Premier Upgrade on an international route. (Upgrades are easier to come by on domestic and a limited number of short international routes, when Regional Premier Upgrades can be used and there is no fare class restriction.)
But let's imagine I had found a flight where the default economy class option was much cheaper, like an L fare. To go back and search for a W fare on the same flights, click on the "Advanced Search" link at the bottom of the results page or at the bottom of the search box on the home page. Type "W" in the fare class box about halfway down the Advanced Search form.
You can also tell United you are looking for an upgrade, and it will highlight those flights with upgrade space available. Remember, the V fare I found earlier was already eligible, so the price hasn't changed but now you can see how much it would cost for the upgrade. The yellow icon means the flight is eligible for an upgrade but no upgrade is available right now.
The upgrade hierarchy is worth knowing because many flights, like this nonstop SFO-HKG option, do not have upgrade space available at the time you book. Faced with the risk that an upgrade won't clear, or perhaps just frustrated that United makes them purchase a more expensive fare, most people will probably focus on purchasing the cheapest upgradeable W fares. I suggest you take a look at V fares, too, because they have priority over W fares and are often not much more expensive.