Los Angeles International Airport used to be a mess but it has really improved in recent years. All the terminals have either been renovated or are in the process of being renovated and LAX is finally becoming the world-class airport it was intended to be. And the best part, airside (post-security) pedestrian tunnels have been recently built to allow for smoother connections between terminals. You can now walk freely between most of the terminals at LAX without having to clear through security multiple times. This is great news for passengers connecting from different airlines and for those with airport lounge access.
In February 2022, the new terminal 1.5 facility connecting terminals 1 and 2 was opened to the public. With this new addition, terminal 1 (Southwest, Sun Country, and others), terminal 2 (Delta and friends), and terminal 3 (more Delta and friends) are now all connected via an airside walkway. Passengers who have cleared security in any terminal can now walk back and forth between the terminals without having to clear through security again. And there's even an airside shuttle and car service, which can take passengers from terminals 1, 2 and 3 to/from the Tom Bradley International Terminal (TBIT).
Construction update: The airside connector between terminals 1 and 2 is currently closed but should be reopened sometime in summer 2023. The Delta shuttle bus to TBIT now departs from gate 24 and there is another shuttle bus from T1 to TBIT. For Allegiant, Air Transat, Breeze Airways, Cayman Airways, Lynx, Norse, Sun Country and Viva Aerobus passengers, you will check in at T1 but then board the shuttle bus to your departure gate at the TBIT West Gates.
Delta is currently building an airside bridge that will ultimately connect terminal 3 with TBIT but who knows when that project will be finished. However, once completed, I'm assuming Delta will most likely get rid of their shuttle service and passengers will have to walk from terminals 2 and 3 to TBIT.
On the south side of the airport, all the terminals are connected airside via an underground walkway. These terminals include terminal 4 (American Airlines), terminal 5 (more American Airlines, JetBlue, Spirit and others), terminal 6 (Air Canada, Alaska Airlines and others), terminals 7 & 8 (United Airlines), and the Tom Bradley International Terminal (TBIT/Terminal B).
Note: The Tom Bradley International Terminal goes by several different names. The international terminal can be referred to as TBIT, Terminal B, or just the "international terminal." Also, LAX recently unveiled its new "West Gates" addition. This new satellite building is connected to TBIT via an underground walkway. If you're departing from any gate in the 200s, be prepared for a walk as it will take you about 15 minutes to get from the main TBIT terminal to the West Gates area.
But for all intents and purposes, the West Gates area is still part of the international terminal and you won't need any special boarding passes or go through any additional security checks to go back and forth between the two. In this post, I will refer to the Tom Bradley International Terminal and the West Gates area as "TBIT" but on your boarding pass, you will most likely see it as "Terminal B."
Tom Bradley International Terminal Lounges
If you're reading this post, I'm assuming it's because you want to find out how long it will take you to get from the other terminals to TBIT. With brand-name shops, celebrity restaurants, and of course, world-class, airline lounges, TBIT is the crowning jewel of the LAX complex. And for premium cabin passengers, elite frequent fliers, and American Express Platinum Cardholders, having easy access to the lounges and getting back to your departure gate is what this post is all about.
For oneworld, SkyTeam, and Star Alliance elite passengers, TBIT is home to the Qantas oneworld, Korean Air/SkyTeam and Star Alliance Lounges. And for American Express Centurion and Platinum Card Holders, there's the Centurion Lounge. So if you want to visit one of these lounges and still make it back to your departure gate, here's how long it will take to get from one terminal to the other.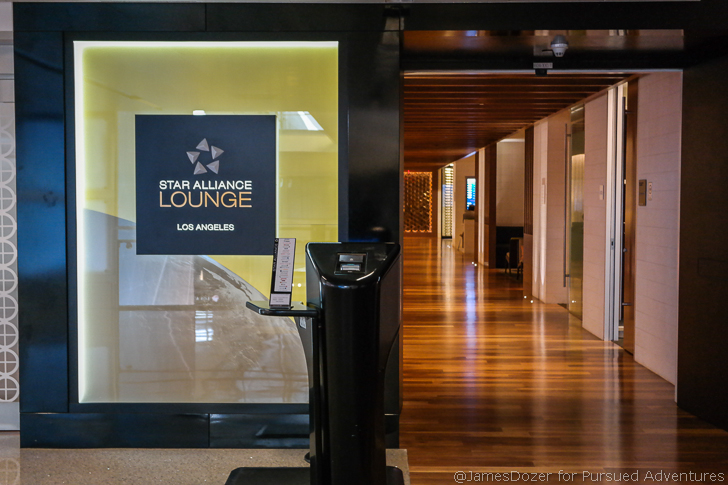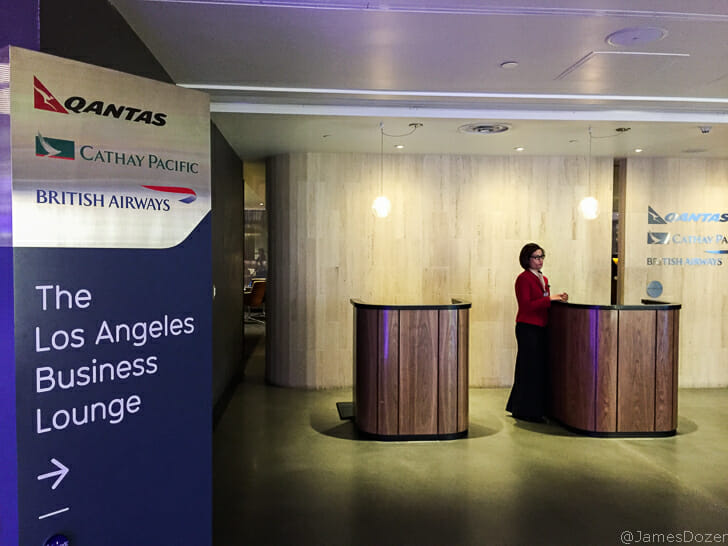 Changing Terminals at LAX
From terminals 1, 2 or 3, the Delta shuttle ride from terminal 2 to TBIT will only take a few minutes but waiting for the shuttle might take you much longer. In my experience, it usually takes about 20 to 30 minutes to get from terminal 2 to TBIT (and vice-versa) and then another five minutes to walk from the bus stop to the lounges.
For terminals 4 through 8, it will take you roughly 5 to 8 minutes per terminal; meaning it will take you 5 to 8 minutes to get from terminal 4 to terminal 5 and then another 5 to 8 minutes to get to terminal 6, etc.
From TBIT, this is how long it will take you to get to the other terminals and the tunnel will pop you out at the following gates:
5 to 8 minutes to get to terminal 4 (gate 40)
10 to 16 minutes to get to terminal 5 (gate 50)
15 to 24 minutes to get to terminal 6 (gate 64)
20 to 32 minutes to get to terminal 7 (gate 71A)
25 to 40 minutes to get to terminal 8 (gate 80).
But realistically, you'll be closer to the 5-minute mark than the 8-minute mark if you walk at a casual but brisk pace. The airside tunnels connecting the terminals are all clearly marked. Just look for these signs to point you in the right direction.
Pro tip: If you already have a boarding pass (mobile or print), you can just go straight to the TBIT TSA line to gain entry. Any boarding pass from any airline will allow you entry into any terminal. For example, just because you have a boarding pass for Southwest (terminal 1), it doesn't mean you can only enter through terminal 1. If you have bags to check, you must check them at the terminal of your carrier but you can use your boarding pass to get into any of the other terminals. But keep in mind, TBIT can be a nightmare during peak times. If you have TSA Pre or CLEAR, you can use the expedited security lanes on the far left-hand side of the terminal. Do not take the escalators on the right with everyone else.
Here's a detailed map of the airside connectors for terminals 4 -8 and TBIT.
Transferring from TBIT Arrivals to Another Airline
If you're arriving from an international flight, be advised that you are required to collect your bags and recheck them again with your connecting airline. This is standard for all international arrivals at any airport in the United States. When you land at your gate, you will deplane and walk to the arrivals hall. Again, this can take up to 20 minutes depending on which gate your plane parks at. You will then need to clear immigration, collect your bags and go through customs. Depending on how busy your arrival time is, it may take you up to an hour to clear this process. Global Entry and Mobile Passport will help expedite this process but waiting for your bags to arrive at the carousel may take up to 30 minutes as well.
If LAX is your final destination, you can just exit the airport but if you're connecting to another airline, follow the signs for transit passengers. Keep in mind that arriving passengers and departing passengers are separated at TBIT so you can't just get off your plane and go to your next gate. You have to go through customs and immigration, collect your bags, recheck them and go through security again before you can proceed to your departure gate.
Transferring Through LAX Bottom Line
LAX is definitely happening and it's for the better! I'm so glad that the City of Los Angeles and the major airlines have dedicated so much money to revitalizing and modernizing this incredible airport and making it the world-class facility that it was intended to be. With the new terminal 1.5 completed and the existing underground connectors, passengers can now transfer and connect to different airlines without having to clear security multiple times. All nine terminals at LAX are now connected, which will allow passengers to have better access to lounges and other airport facilities.
That's my advice for the day. Please let me know if you have any questions or comments. Thanks for reading!
Here are some other reviews you might enjoy.