Hip hip, hooray! The Star Alliance Lounge at LAX has reopened!! This is one of my favorite business class lounges and I'm happy to report that other than the mandatory mask-wearing, very little has changed about this amazing lounge because of Covid. All the services and amenities are still provided for all guests to enjoy and it doesn't look like they implemented any cost-saving measures either.
This is one of my favorite business class lounges and it's always a joy for me to visit before any long-haul flight. The lounge is a massive space with a beautiful indoor balcony, an incredible outdoor terrace, excellent food options and plenty of comfortable spaces to rest, relax and be productive before your flight.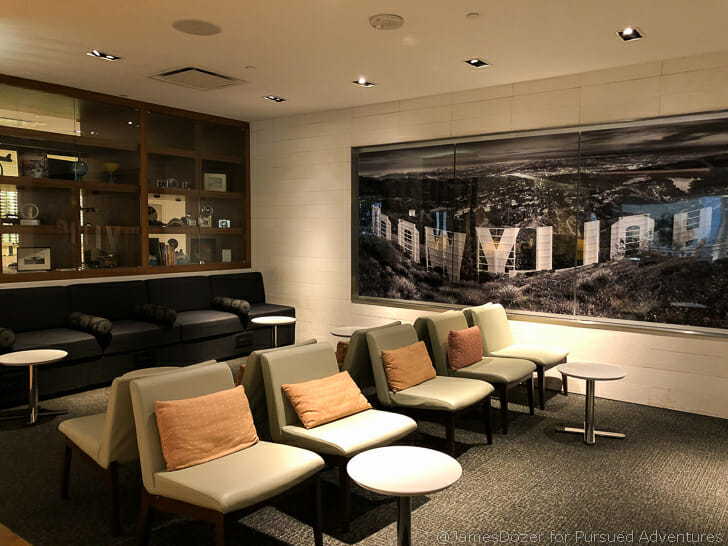 The lounge is located airside in the Tom Bradley International Terminal (TBIT). Once you pass through security, make a right-hand turn and take the elevators up to the sixth floor. The lounge is open to premium cabin passengers traveling on any Star Alliance partner flight, Star Alliance Gold members traveling in any class of service, and for the time being, oneworld premium cabin passengers and oneworld Sapphire/Emerald members traveling in any class of service. The lounge is open from 9:00 AM to 1:00 AM on Mondays and Tuesdays and from 7:00 AM to 1:00 AM, Tuesday through Sunday.
As you enter the lounge, there is a coat and luggage storage room to the right of the attendant desk. The storage room is unsecured but it is monitored by the front desk agents.
The lounge is smartly designed with a main seating area for relaxation and socialization and smaller, private rooms for additional peace and quiet. The main seating area offers a variety of comfortable seating options such as armchairs and couches to relax by yourself or socialize with your fellow passengers. Light curtains are used to divide the massive space and give the main seating area a sense of intimacy.
There is a dedicated workspace located in the back of the lounge and an enclosed library room for increased privacy and productivity. Electrical outlets are located by all the seating areas and password-protected WiFi is provided throughout the lounge.
If you want to chill out and relax in front of a TV, there is a small media room to catch up on the day's news or zone out with some mindless programming. There are no day rooms to lay down so if you want to shut your eyes for a bit, this would be the place to do it.
If you are connecting from another flight or just need to freshen up before your flight, shower suites are available on a first-come, first-served basis.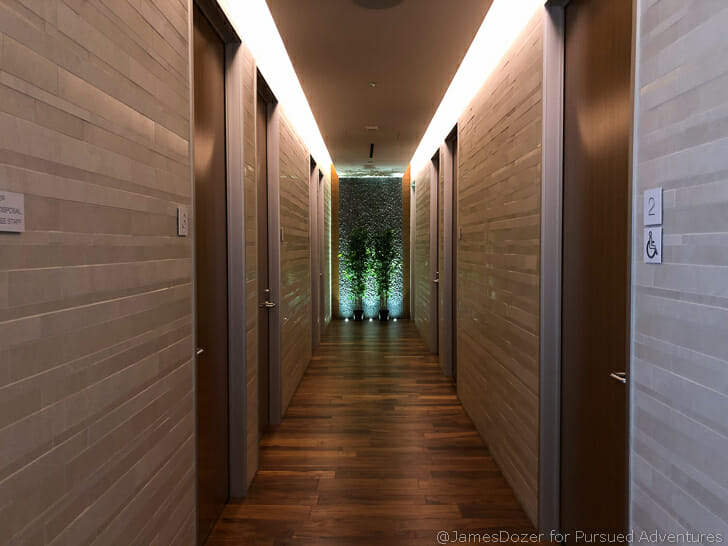 The dining room is located in the center of the lounge with plenty of seating for individuals, couples and groups to share a meal together.
The self-serve buffet station offers a great selection of hot and cold dishes for breakfast including scrambled eggs, bacon, sausages, waffles and smoothies.
During my visit, the pho (Vietnamese noodle soup) station was replaced with some packaged, instant noodle soup. However, Matthew over at Live and Let's Fly tells us that the noodle station is now back!
In the back of the dining area, there is a self-serve beverage station, espresso machine and a small selection of wines. If you're looking for something more substantial, a hosted bar is located in the center of the lounge with a wider selection of alcoholic drinks to choose from.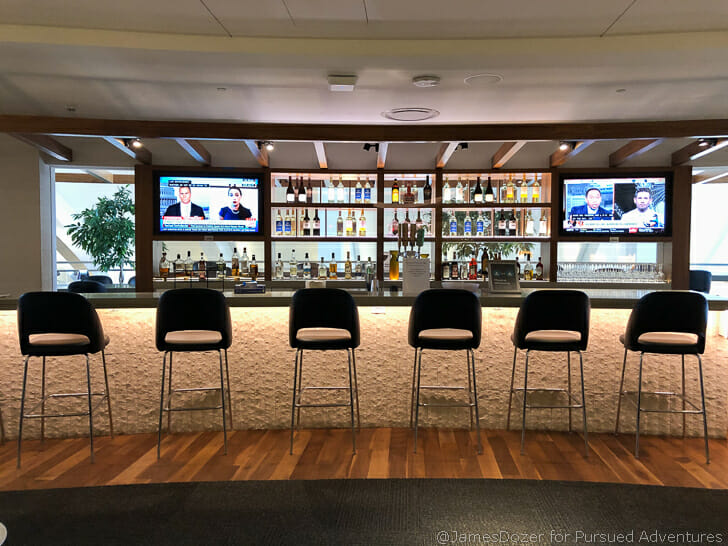 If the main seating area is a little too claustrophobic for you, then head over to the indoor balcony and enjoy some "fresh air" and people watching below. The indoor balcony overlooks the international departure terminal and it even has its own bar so you don't have to walk too far for a drink.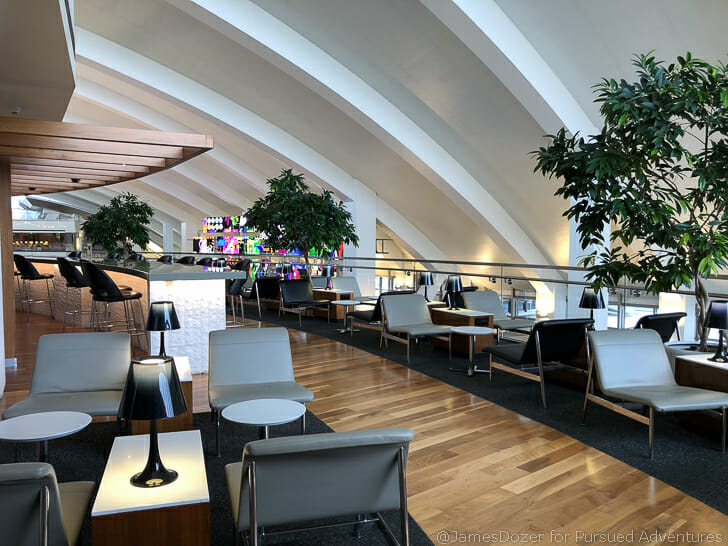 But my favorite part of the Star Alliance Lounge at LAX, and the reason why it's my favorite lounge in the entire Star Alliance network, is the impressive outdoor terrace. This incredible space is a perfect place to sit and relax, day or night, and enjoy a glass of wine or just watch the planes taking off nearby.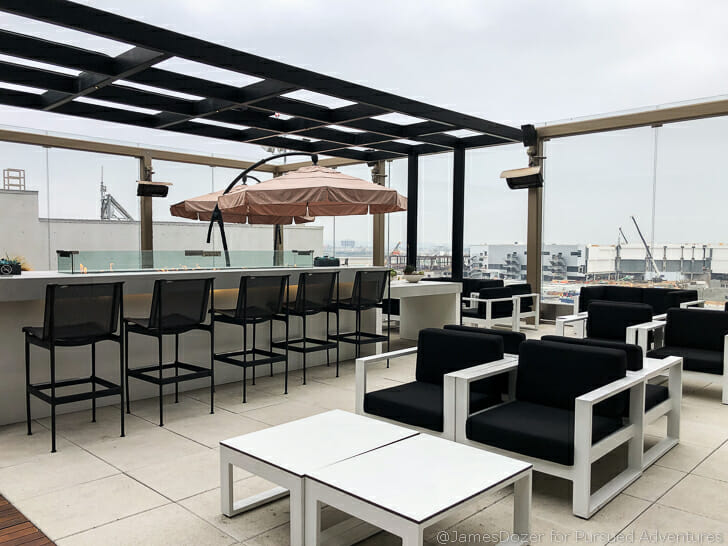 Star Alliance Lounge LAX Bottom Line
There is no doubt the Star Alliance Lounge LAX is one of the best business class lounges in the world and I'm so glad it has reopened. I have had the pleasure of visiting this lounge several times now and it still amazes me each and every time. The lounge is spacious and offers a variety of useable spaces for passengers to rest, relax or be productive before their flights and the outdoor terrace is a literal breath of fresh air.
Have you visited the Star Alliance Lounge LAX? If so, please share your thoughts with us in the comments section below. Thanks for reading!
The other reviews included in this series: