The United Club at Tokyo Narita Airport is located in terminal 1 near gate 31. The United Club and the Global First Lounge share the same entrance but the Global First Lounge is located upstairs and offers a quieter and more exclusive place to rest and stay productive before your flight. I wasn't privy to the Global First Lounge but an excellent review of it by our friend, Darren of Frequently Flying, can be found here.
The United Club at Tokyo Narita Airport is new and modern but still influenced by traditional Japanese design elements that represent this beautiful country. There are traditional Japanese paintings lining the walls and art pieces located throughout. The lounge is huge and offers plenty of seating areas to relax, work stations to keep you productive and shower rooms to freshen up before your flight. There are plenty of USB and electrical ports to keep your devices powered and wifi to keep you connected.
There are two food stations located on either side of the lounge. One side offers hot soup, noodles, sushi, edamame and a self-serve bar area with a decent selection of alcohol including wine, spirits and beer on tap. The other side has a selection of fresh fruit, cakes, crackers and other snacks. There's also an alcohol station, espresso machine and a soda fountain. Chilled glasses are provided in the refrigerator by the self-serve bar areas. The sushi bar is nothing impressive but is a nice compliment to the traditional snacks typically found in domestic United Clubs. There's a good selection of international newspapers and magazines and they're pretty good about making boarding and flight announcements in both English and Japanese.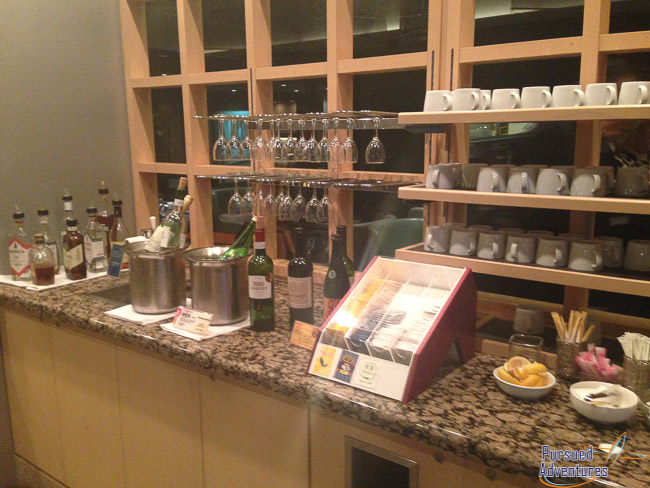 For a United Club, this is one of the best that I have ever visited. It's sleek, modern and spacious and makes me wish the other United Clubs would be this impressive. However, this lounge is the only United Club located at Tokyo Narita and it is always packed. There is a steady stream of flyers coming and going throughout the day and though spacious, you do have hunt for a premium seat or work station with views of the runway. But if do get one of the seats by the windows, there are some bitchin plane spotting of the wide body jets United flies to Narita including the 747s, 777s and 787s. I'm assuming because it's so packed, this lounge is always on the warm side and the wifi is slooooow. You actually get faster speeds stepping out of the lounge and using the airport's free wifi during peak times.
The United Club is open to those flying in business or first class cabins and those holding Gold (or higher) status, even if you're flying on an economy ticket. If you find that the lounge is too crowded for your taste and need a quieter place to relax and work, the Korean Airlines lounge is located near gate 26. It's open to Korean Airlines and SkyTeam premium cabin passengers and those holding Priority Pass membership. Though smaller, the KAL lounge is much less crowded and is exponentially quieter. And those holding Star Alliance Gold status can visit the ANA Lounge located at the other end of the terminal. It's a much nicer lounge with a better offering of food and beverages.
Other reports in this series:
The anatomy of my mileage run to Singapore
Lounge review: The Club at San Jose Airport
Hotel review: Fairmont Singapore
Lounge review: United Club, Tokyo
United Airlines Economy Class from Tokyo Narita to Los Angeles