Malaysia Airlines First Class Golden Lounge at Kuala Lumpur international airport is supposed to be Malaysia Airline's finest lounge; the 24 hour lounge offers both a business class and first class lounge and is located in the Satellite terminal, where all long haul flights operate from. I have reviewed the Business Class side of the Golden lounge, but last time I traveled through KUL I did not have access to the first class lounge, which is reserved for First Class passengers and OneWorld Emerald Elites, so this was my first time in the Malaysia Airlines First Class lounge. The lounge is a long narrow hallway, and was nearly empty the entire five hours I was there. I think I saw maybe 10 other people pass through the lounge. Although the lounge is medium to small in size, overall it's quite blasé and is lacking amenities and anything that makes it stands out. The large rectangular room is a far cry from a luxurious lounge and instead is designed for functionality and short stays.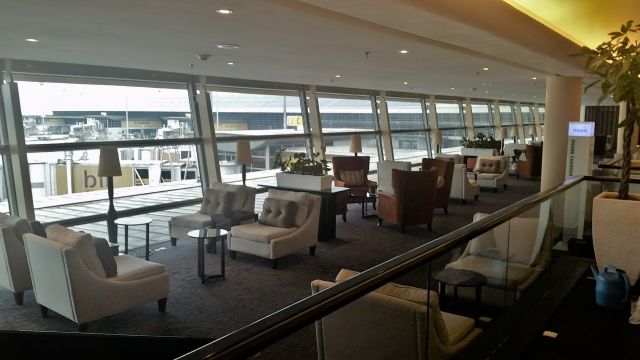 The lounge offers a restaurant, a mini buffet, sitting areas, showers, four private sleeping rooms, and a smoking room. Other than that, it does not offer first class spa services, over the top amenities, or anything that really makes the lounge stand out from other lounges worldwide. Compared to Malaysia's competitors further north in Thailand or south in Singapore, Malaysia Airlines First Class lounge is lacking.
First class dinning room & my meal from the al la cart menu
self serve buffet photos
Shower/Bathroom
The Malaysian Airlines First class lounge is nice, but it isn't anything to get excited about .The lounge does not have a bar and the alcohol selection is abysmal, in fact the bar is located in the business class lounge! Nothing about this lounge is special and leaves little to report on! If you're flying through Malaysia Airlines' largest hub in Kuala Lumpur, do not plan to arrive early or an extended layover here, as there is nothing distinctive about this lounge. Overall, the service is nice and the attendants are friendly and attentive, but the amenities are lacking. The only good thing about this lounge, are the tarmac views!
More from this trip
---