As a United Million Miler, with countless flights all over on United through the years, I haven't had much travel with them recently. Finally a fun trip later in 2021 was my first chance of a flight United's flagship Polaris business class cabin. Of course a global pandemic had something to do with a long break between long-haul flights on United, but also I haven't been flying United as my primary airline for a long while.  As part of a recent trip to burn some PTO and geek out on some flights, I finally was able to experience United Polaris.  As of late 2021, much of United's wide body fleet is equipped with Polaris seats. Thankfully this means there isn't too much wondering which type of seat will be on your flight.  On my trip, the aircraft is a Boeing 787-10, all of which came with Polaris seats installed.
For this leg, I was able to find a 'deal' costing 60,000 United miles plus $5.60 for this trip from Milwaukee to Amsterdam.  Originally this was booked via Houston, but United never (re-?) launched this route, so the ticket was changed to a connection in Newark. Not ideal, as I liked the longer flight and slightly later departure time from Houston as is my preference on trans-Atlantic flights, but flight schedules are limited, and I was happy to finally be on a long-haul flight after a while, and this trip would be fun.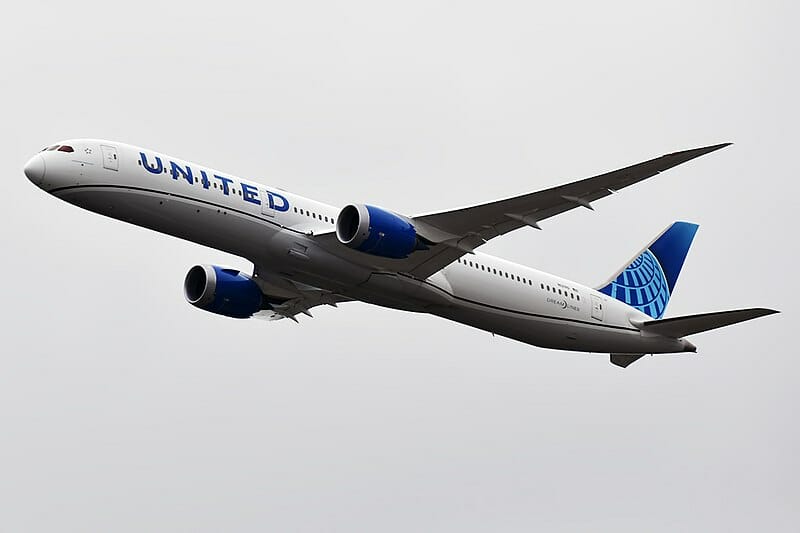 No Polaris lounges for me..
In November 2021, most United Polaris lounges weren't open. I was hoping they would be open by the time of my trip, but I missed it by a few weeks.  This meant I would only be able to access the United Clubs along my way.  When I arrived at the United Club near gate B6 at O'Hare, the agent was very cheerful and insisted I take some sweets they offer for Polaris qualified travelers, and also to print out a paper boarding card which meant open bar upstairs.  Okay, twist my arm.
Some decent bubbles, a drink I only rarely imbibe other than when traveling, but I thought a good way to get into the spirit of things. Was hoping to make a return visit to the excellent United Polaris Lounge at O'Hare, over in the C concourse, but no luck on this trip. The busy, but spacious and still nice B6 lounge would work for a relatively short layover. Not even my favorite O'Hare United Club, but it was just convenient for my flights, and perfectly fine place to spend my time at O'Hare.
From Chicago, I flew to Newark, and experienced a flight on what is now the flagship of the United fleet, a 777-300ER for the first time. I sat in Premium Plus, since the saver level space never opened up for the Polaris cabin on this domestic leg.  My lowly gold status on United (and more importantly no Explorer card) means no complimentary upgrades on domestic flights. Premium economy is basically a domestic first class seat, usually with nicer finishes, so for the short hop to Newark, it was better than most other options. Once at Newark I realized how good the O'Hare lounge situation is by comparison. Thankfully this has somewhat been remedied since my trip since the Polaris lounge is finally open.
In Newark, there is only one open club in this concourse (near C74), and it was packed with a line out the door.  Not sure why I waited, but maybe we'll say for blog research.  It was crowded, and rather dingy. Crazy to me that a single club is the only option at a hub with multiple international departures plus a lot of domestic traffic.  I didn't stay long, and then headed to my gate.  Unfortunately, the flight was delayed.
Polaris on the 787-10
A very light load meant we boarded fast, but lack of information made this rather annoying.  Ultimately, we ended up pushing 30 minutes late, and then had nearly an hour of taxi time before departing.  Flight time was pretty short, but not enough to make up for the delays at Newark, and we landed in Amsterdam almost an hour late.
One of the emptiest flights I can remember, with 31/44 seats in Polaris, similar ratio in Premium Plus, and under 40 people in economy.  Wow.  Seat map shown below:
This being my first flight on the largest version of the 787, it was strange to have such an empty boarding area. Grateful for few open seats in business class, especially around me. Service was friendly, but not overly so.  I'd say above average for an American carrier. The Polaris seat is nice, certainly private, particularly in the true window seat such as I had in seat 1A. It is a bit narrow at the shoulders, but the bulkhead seat has more foot room than other seats. Individual seats are private, but the cabin design is efficient, especially on the 787, without much wasted space. Makes for a pretty dense cabin configuration
Apologies for the limited photos. I didn't board early, and especially with the boarding delay, and was walking around the terminal rather than just waiting when boarding finally began. I ended up being among the last to board the Polaris cabin.
I knew what the Polaris seat was like, but this was my first time sitting in it. It is comfortable, both sitting and for sleeping, and a massive improvement on the previous generation seats that United has been flying. The seat serves its purpose, but to me, it isn't in the top tier of business class seats flying today.
Anyway as for the Polaris seat, the finishes are nice, and seat design is clearly well thought out. There are some seats better than others. For solo travelers, definitely try to get a solo seat in odd rows which are closer to the windows, further from the aisle, and more private. If it matters to you, these face parallel to the plane, as opposed to even numbered rows which face at an angle. All seats require the use of a shoulder strap for taxi, takeoff and landing.
The side table (and footrest for passenger behind) is spacious, and covered in faux marble. There is a small storage area, IFE remote, and AC and USB-A power port, along with a headphone jack. There is a lamp that looks classy, and a more functional reading light with 3 brightness settings. The amenity kit was waiting when I sat down. Here is a review of the Polaris amenity kit I was provided.
The IFE monitor is large enough, with a small storage shelf below, along with another USB-A port for charging. I didn't spend a lot of time looking at entertainment options, but the menu is extensive
Amol has also review of his flight on Polaris on an international flight, and I borrowed a few of his photos, since the seat is basically the same, despite the narrower cabin on the 787 compared to the 777. Comparing his review also shows how service has been cut back even despite pandemic related cuts. No more wine flight. Also, of course no glassware and all service on a single tray.  For me, I preferred this quick dining as the main focus of this flight was to maximize sleep time.
Despite service cuts in other areas, bedding in Polaris is pretty impressive.  No mattress pad or pajamas on this short flight, but pillows, Saks Fifth Avenue duvet, day blankets  are at each seat. The gel pillow is nice.  I used it as lumbar support when sitting, then for my head when sleeping
United Polaris meal service
Years ago, United use to offer an "express dining" option, I would have taken this option if it was given. In the name of pandemic precautions, all meal are offered this way. Meaning, everything on one tray. Oddly, there were no printed menus. Options were chicken, beef, salmon or vegetarian pasta as I recall. I went with the salmon, served with a coconut curry sauce.  Don't usually eat fish on planes, but the savory sauce was enough to make me choose that, as those flavors seem to hold up best at altitude.  Even in the relatively lower pressure on the 787.
The meal is served on a single tray, with a wrapped pretzel roll (warm), salad, cold nuts, and ice cream. Not exactly fancy, but fine. Each item is wrapped, but I uncovered them for the photo.  Refills are only in new (plastic) cups. Thankfully, glasses have returned since the time of my flight.
I'm not on this flight for the meal experience, so while it is a bit disappointing, especially since I couldn't visit a Polaris lounge before departure for a better meal, what was served was sufficient. After the meal, I quickly reclined my seat, and was able to sleep most of the rest of the way, and I skipped the pre arrival meal. Sleep is much more important to me on a sub 8 hour trans-Atlantic overnight flight.
Final thoughts
Overall, the Polaris seat is a huge improvement on past versions. Service is coming back, but some cuts for when Polaris was first launched remain.  No more wine tasting, no bloody mary options, no sweets, no Polaris bear. Thankfully, as of today, there are few wide-bodies flying international routes without a reconfigured Polaris cabin.  Exceptions are the 767-400 fleet, and a few 787-9 that are still in the older configuration.
We arrived late into Amsterdam, fog covered the windows. My first time in Amsterdam in a long time and good to be back. This fun trip was off to a good start.