My wife and I have flown Asiana's old, angled lie-flat business class several times out of Seattle, which was tolerable for its convenience but not very pleasant. A year ago I switched to the A380 out of Los Angeles for a first-class trip to Siem Reap. (Here's Omar's review of a similar Asiana first class flight in the other direction.) Both first and business class space on this route are abundant, and I have United Airlines miles to burn.
On this trip we were heading to Shanghai, Kyoto, and the big island of Hawaii — just going where the award space took us, and checking off a few items on our bucket list. I'll add a trip report index once finished.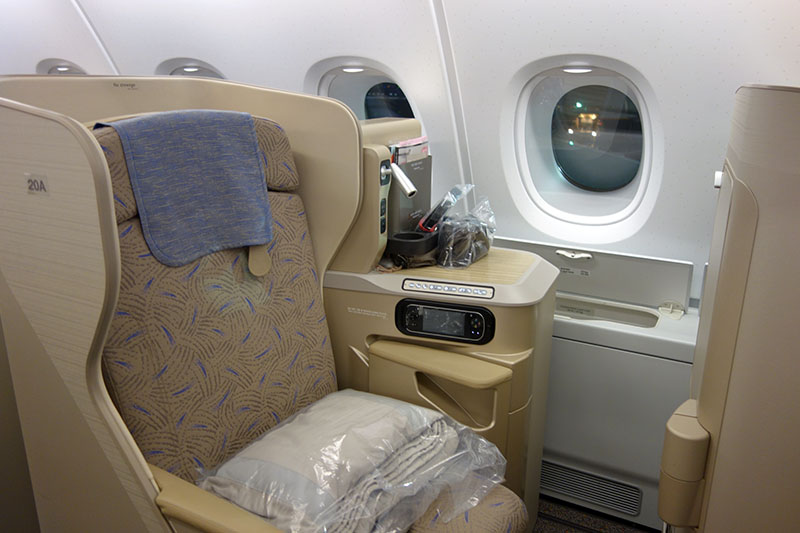 Tickets for the first leg cost 80,000 United miles and $14.50 in taxes and fees per person, which I consider reasonable for such a consistent option to reach Asia. It's not as refined as Cathay Pacific or Singapore Airlines, but Asiana still has better service and food than most carriers. There are both morning and red-eye flights available on this route. We took the morning flight last time, and it was completely impossible for me to get any sleep. This time we left just after midnight.
OZ 203
Departing from Los Angeles (LAX) at 12:20 AM
Arriving at Seoul-Incheon (ICN) at 5:10 AM + 1 day
Check In
The downside to flying out of LAX, besides the congestion, is that I usually end up booking a separate one-way positioning flight on Alaska Airlines. I left just under three hours to connect since I was worried about potential delays and was unsure about the security requirements when changing terminals.
There is an underground tunnel connecting terminals 8 through 4 at LAX (Alaska flies out of T6), with a bridge connecting T4 to the Tom Bradley International Terminal. James has discussed this before. Because we always carry on, we just walked to the Star Alliance business class lounge at TBIT and found an Asiana agent there able to issue boarding passes without re-clearing security. Just show your itinerary to the agent at the entrance and they'll waive you in.
Related Posts
We arrived at our flight just a few minutes before boarding and made it to our seats. Although I've heard they have upgraded the Seattle flights to a true lie-flat option, I was still glad to fly on the A380 again to compare it directly to my previous trip in first class.
Seat Configuration
Asiana's Business Smartium Class (that's really what it's called) consists of a 1-2-1 configuration along the first two thirds of the upper deck. Premium economy was behind us, and first class and regular economy were on the lower deck. A sitting room located at front of the upper deck doesn't offer any real amenities, and, as on our previous flight, it was only used by parents with infants. The one feature is the lavatory on the left side, which is very spacious if you need a place to change clothes at the start or end of the trip.
We settled into seats 19D and 19F. I specifically requested these to get away from the galley and was warned twice that they were not suitable for a couple because the arm rests were in the middle, separating the seats. The seats do offer plenty of privacy from the person sitting next to you, but my wife and I were able to converse just fine when necessary.
Business Smartium offers a large flat screen display (although first class has a whopping 32-inch screen) and a spacious footwell, which are all I really need to get comfortable on a long flight. I'm about 6'1" and didn't feel constrained at all when sleeping. The cabin does get warm, so I dressed appropriately, and leaving late at night helped a lot.
Unfortunately, there's no storage beneath the footwell. I had to keep my bag in the bin above me and reach up there every time I wanted something. I kept my spectacles and a few other things in the small open cubby above the center arm rest.
The amenity kit has all the basics, including a toothbrush, hand lotion, eye mask, socks, and tissues. Shaving kits are in the lavatory. I was disappointed by the noise-canceling headphones, which were somewhat flimsy, but the set I got later on JAL was even worse. Point is, if this is something that matters to you then you should really invest in your own pair and travel with them. I usually travel with my own eye mask for the same reason.
Meal Service
I usually pick the Western meal on flights to Asia, though I try to avoid the beef since so many carriers make it tough and unpalatable.
I'm not sure what I expected when I ordered the chicken with puff pastry — maybe it would just be placed on top or to the side? — but what I got was closer to a chicken pot pie. That turned out to be perfect. It tasted good and wasn't too large a portion for a late night flight. Desert was a simple mango cheesecake (and a little less impressive).
The Korean meal is almost always bibimbap if you're interested in being more adventurous. Megan's had it so often that it's what she looks forward to when she hears we're taking another trip on Asiana.
Some of the less common alcoholic beverages included:
Sandeman Sherry Medium Dry
Chivas Regal 18 Scotch Whisky
Ballantine's 17 Scotch Whisky
Camus XO Cognac
Korean Rice Wine "Makegolli"
Korean Traditional Grain Wine "Hansan Sogokju"
OB, Cass, Hite, and Max beers
The wine list included:
Laurent Perrier Brut Champagne
Aaldering Sauvignon Blanc 2015
Champy Bourgogne Chardonnay 2014
Chateau Cissac 2012, 2014
Noble Vines 667 Pinot Noir 2014
Codillera Syrah 2012
I had the pinot and was happy. Megan went with the Chateau Cissac. Personally, I find French wines are too delicate to taste like much in the dry air at altitude. Whether that was the reason or not, Megan agreed that she also liked my pinot better and switched halfway through her meal.
I finished my movie with a glass of Ballantine's and slept for a good six hours before waking up over Japan. The flight attendant quickly noticed I was alert and brought over a coffee before starting the breakfast service about an hour later. That included a substantial fruit plate, pastries, and an omelet with sausage, potatoes, and spinach. I also saw yogurt on the menu and on some tables, but I guess you have to request it.
Entertainment options were plentiful enough. I have never run out of movies to watch on an Asiana flight, although it is annoying that they switch to a silly film on stretching exercises at 30 minutes before landing. I'd prefer to watch my own show from gate to gate.
Summary
My wife and I were pleased with our business class flight to Seoul on Asiana. It was much better than our previous trips out of Seattle in their older business class seat, and the experience was on par with my last trip in first class. I wasn't overly impressed with Asiana's first class and don't value the uber-privacy of an enclosed suite. Business class was definitely the way to go and cost much less.
But, I would make an effort next time to change my seat assignment. The large side table provided privacy from the passenger next to me (my wife) and left me very exposed to the aisle. The arm rest actually goes all the way down when the bed is reclined in sleep mode, and there's no way to bring it up manually. That means I was essentially sleeping inches from the aisle. On the other hand, if you are next to another passenger who isn't your spouse, you'll be inches away from playing footsie.
It seems you have to choose one extreme or the other in the middle seats. Fortunately, Business Smartium does provide an excellent option for those sitting along the window, with privacy from the large side table and the addition of extra storage cubbies along the window.