For the return portion of my reverse roundtrip from Europe, I selected Air France's Skyteam partner, Delta. Yes, initially, I planned to fly Delta to the US and then Air France back. But as I noted in my Air France Premium Economy report, a Delta schedule change necessitated mixing that up. It ended up all for the better, as it enabled me to switch to Delta A330-900neo Premium Select. The brand new plane and the restoration of full meal service (finally) provided a good opportunity to see how Delta's PE product stacks up.
As a reminder, I originated this roundtrip in Europe, for a cash cost of €1206, booked through Delta. (You really don't want to know what this costs in SkyPesos…) To get from Dallas to Minneapolis, I flew in Comfort+ on an A319. I previously reviewed Comfort+ on the A320 family, and little has changed. Thus, I don't plan on reviewing it again.
Delta (DL) Flight 232
Friday, May 19, 2023
Depart: Minneapolis – St. Paul International Airport (MSP), Terminal 1, Gate G4, 17:05, 30m late
Arrive: Paris – Charles de Gaulle Airport (CDG), Terminal 2E, Gate K49, 08:23 (+1), 28m late
Duration: 8 hours 18 minutes
Seat: 21A
Equipment: Airbus A330-900neo
Check-In and Boarding
The check-in festivities began earlier that morning in Dallas. Though the agent wasn't particularly friendly, she did at least get me on my way quickly. (I found her particularly rude when she barked an order to attach carry-on tags to my laptop and backpack.) I had plenty of time to kill in Minneapolis with a 3 1/2 hour layover. However, Premium Select doesn't include SkyClub access.  And I'm one of the few that hasn't drunk the Amex Plat Kool-Aid. So I headed over to Stone Arch for a burger, cheese curds, and a beer.
The beer was a Schell's Firebrick amber lager. It's a nice malty but crisp amber if dark beer's your thing. If not, Stone Arch has quite the selection of Minnesota craft beers to choose from.
After stuffing myself, I headed to the gate early to find a seat to stretch out. Before doing so, I headed to the window to grab a photo of our plane. The A330-900neo sure is a pretty plane.
Boarding began on time, and once aboard, I turned right to the Premium Select cabin. Unfortunately, just like on Air France, an on-time boarding failed to translate to an on-time departure. Though we were ready to go at 4:30, paperwork related to a "minor maintenance problem" kept us parked an additional 35 minutes. We finally pushed back at 5:05, about half an hour behind schedule.
Delta A330-900neo Premium Select – Seating and Interior
Delta's Premium Select cabin on the A330-900neo consists of 28 seats in a 2-3-2 configuration. Seats measure 18.5″ wide, with 38″ of pitch. That provides and additional 6-7″ of pitch and 1/2″ of width over standard coach. This new plane, delivered in September, 2022, still looked mostly new inside. The one exception – the grey headrests, already starting to show some signs of wear.
There is one other thing I find interesting, though ultimately unimportant. Delta probably does the least to differentiate the look of its Premium Economy seats. Aside from the oversized armrests, they look pretty much exactly the same as standard coach seats.
Legroom is certainly much better than coach, though for some reason, it felt tighter than other PE products. Though seat pitches matches that on Air France's 777, legroom felt less spacious. Maybe it's because the footwell isn't quite as tall? In any event, it's still fine.
Seat controls consist of three buttons on the side of the seat. You can adjust both recline and leg support. Also, unlike many other Premium Economy products, the footrest extends out from the leg support. I find this far preferable to the footrests that typically hang down from the seatback in front.
While certainly not lie-flat by any means, the legrest does create a recliner-style experience similar to Business Class of yesteryear. In fully reclined/relaxed mode, it's a reasonably comfortable setup, and provides adequate thigh support for longer distances.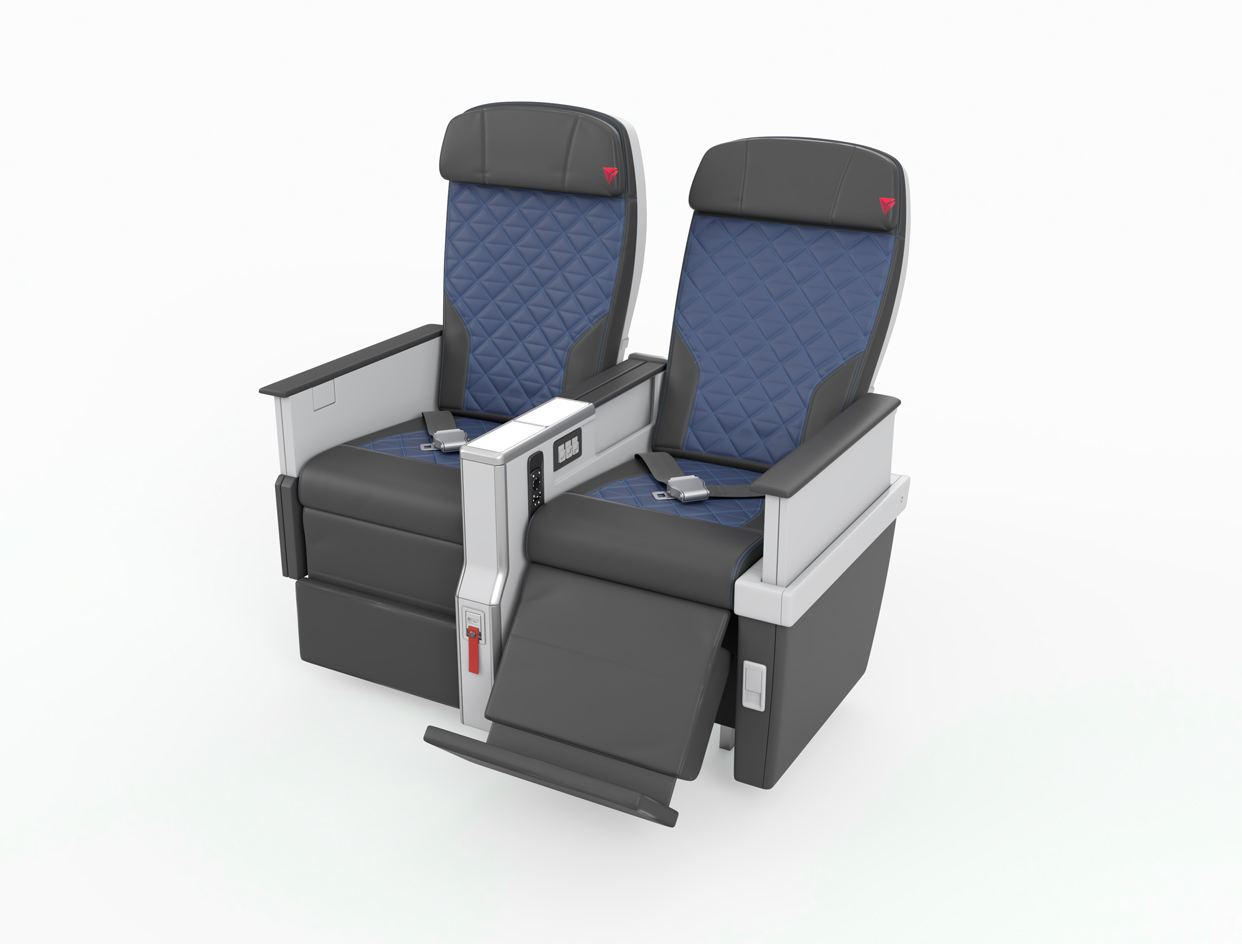 As far as seat storage, it's slim pickins, aside from a small compartment next to the seat controls for a tablet or book.
Amenities include a nice big pillow, but a very coach-esque blanket.
Delta describes the pillow as "memory foam". I'm not sure that's entirely accurate, but it did prove comfortable for sleeping. Combined with good padding on the seats, and a comfortable legrest, these seats are conducive to good sleeping. With my own neck pillow to stop the usual neck pain when sleeping semi-upright, I managed a good 5 1/2 hours of sleep. That's quite good for a seat that isn't lie-flat.
Delta also offers a "Someone Somewhere" amenity kit in Premium Select. It's not bad at all for Premium Economy, containing a dental kit, lip balm, eye mask, socks, and earplugs.
As for the rest of the cabin, there's a giant Delta sign up front.
Meanwhile, a nice feature of the A330-900neo are the oversized overhead bins. Premium Select customers receive a dedicated set in the mini-cabin. These are the expanded variety where you can (should) stick wheeled carry-ons on their side, allowing for additional bag storage.
Finally, the A330-900neo does indeed seem quieter at cruising altitude than the standard A330. It's not A350 or 787-level quietness, but enough to still make a difference, in my opinion.
Overall, I found Premium Select seating remarkably similar to domestic First Class. Heck, the seats even look similar to the Delta's new A321neo First Class, sans the winged headrests. It's definitely a step-up comfort wise from standard coach, and compares favorably to other Premium Economy products.
Delta A330-900neo Premium Select – In-Flight Entertainment
In most Premium Select cabins, including on the A330-900neo, Delta offer 13.3″ IFE monitors at each seat. I know seatback IFE vs. BYOD is a controversial subject these days, but I still greatly prefer larger screens to having to watch on a phone. Delta's new screens provide excellent resolution, and access to the extensive "Delta Studio" content. Note to unauthorized seat switchers: the welcome screen clearly displays the seat number. So don't even try to play dumb if you try and take someone else's window seat…
One interesting selection is a channel dedicated to Paramount+, including the remake of Beavis and Butt-head.
Anyway, I found episodes of Anthony Bourdain: No Reservations on the menu, and decided to watch for a bit. At least that was the plan. Unfortunately, the IFE proved extremely glitchy on this flight. Several times, the system froze up and quit working entirely, requiring a hard reset. It's not good when this screen pops up on a long Transatlantic flight.
Like SkyTeam partner Air France, Delta also offers noise-cancelling headphones in Premium Select. These weren't bad, about on par with what Air France offered on my flight from Paris to Dallas.
One word of warning: if you're on one of the ancient 757-200s, you DON'T get either the larger monitor or fancy headphones.
The A330-900neo features a sophisticated moving map, the same as the new setup on the A321neo and A220. There's even a screen displaying the specs of the new A330-900 aircraft.
For charging, each Premium Select seat provides two options. The first is an integrated 110v and USB charger in the seatback between seats.
The second is an additional USB port in the IFE screen.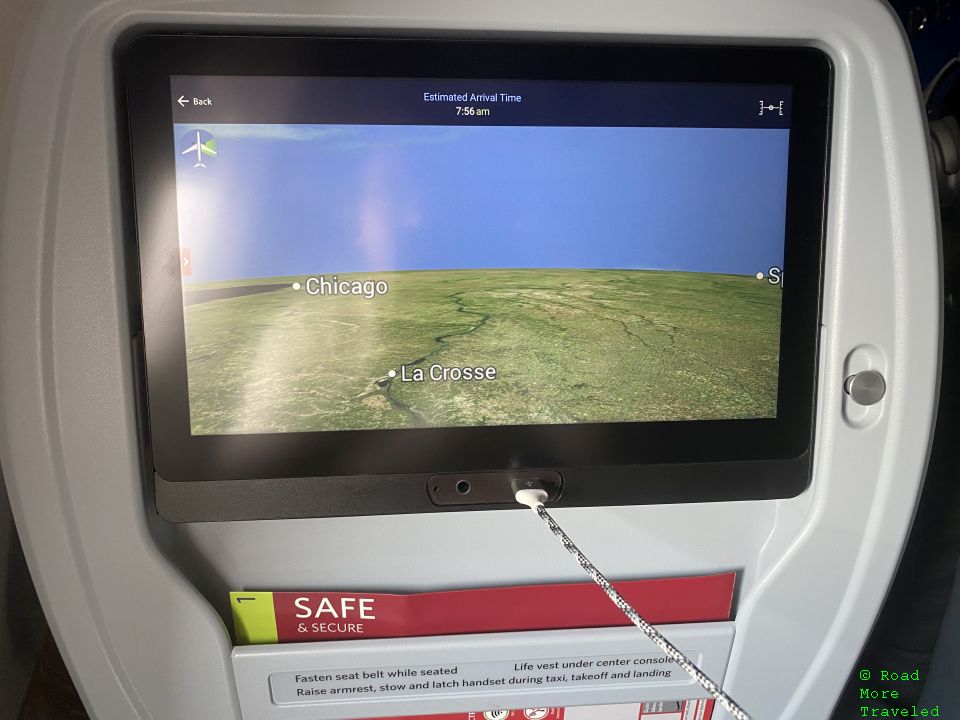 While the location of the 110v port between seats is convenient in terms of easily plugging in a device, there is one noticeable drawback. That is, in the window seat, you have to be really careful when trying to climb over your neighbor to get to the aisle. Fail to pay attention, and it's easy to get tangled up in your neighbor's power cord.
Meanwhile, as a T-Mobile customer, I received free standard full-flight WiFi on this flight. It worked fine even during periods when the IFE crapped out. While not lightning fast, speeds seemed much better than the clunky GoGo system Delta previously used. Note that Delta eventually plans to offer free WiFi to all SkyMiles members.
Delta A330-900neo Premium Select – Food, Beverage, & Service
Delta provides partial menus at each seat, describing the Premium Select dinner selections for the flight.
However, you can scan the QR code for the full menu.
Meal service began promptly 15 minutes after take-off. To start, the flight attendants offered a packaged moist towelette.
About 10 minutes later, the FAs came through with a small snack, and offered a drink. For the snack, we were offered Cooper's Gourmet Cheese Biscuits. Cooper's is a Georgia-based snack company, and these were quite tasty, if a bit too salty.
The first drink service is a tad unique – a choice of sparkling wine or water. My guess is you can ask for something else, though I decided to try the sparking wine.
The Betty is a California brut, perhaps best known for its availability in a can. I must say, this actually isn't as terrible as you might think. It's fruity but fairly dry; certainly drinkable on its own, and satisfactory for Premium Economy. Good enough for a sparkling wine selfie, anyway.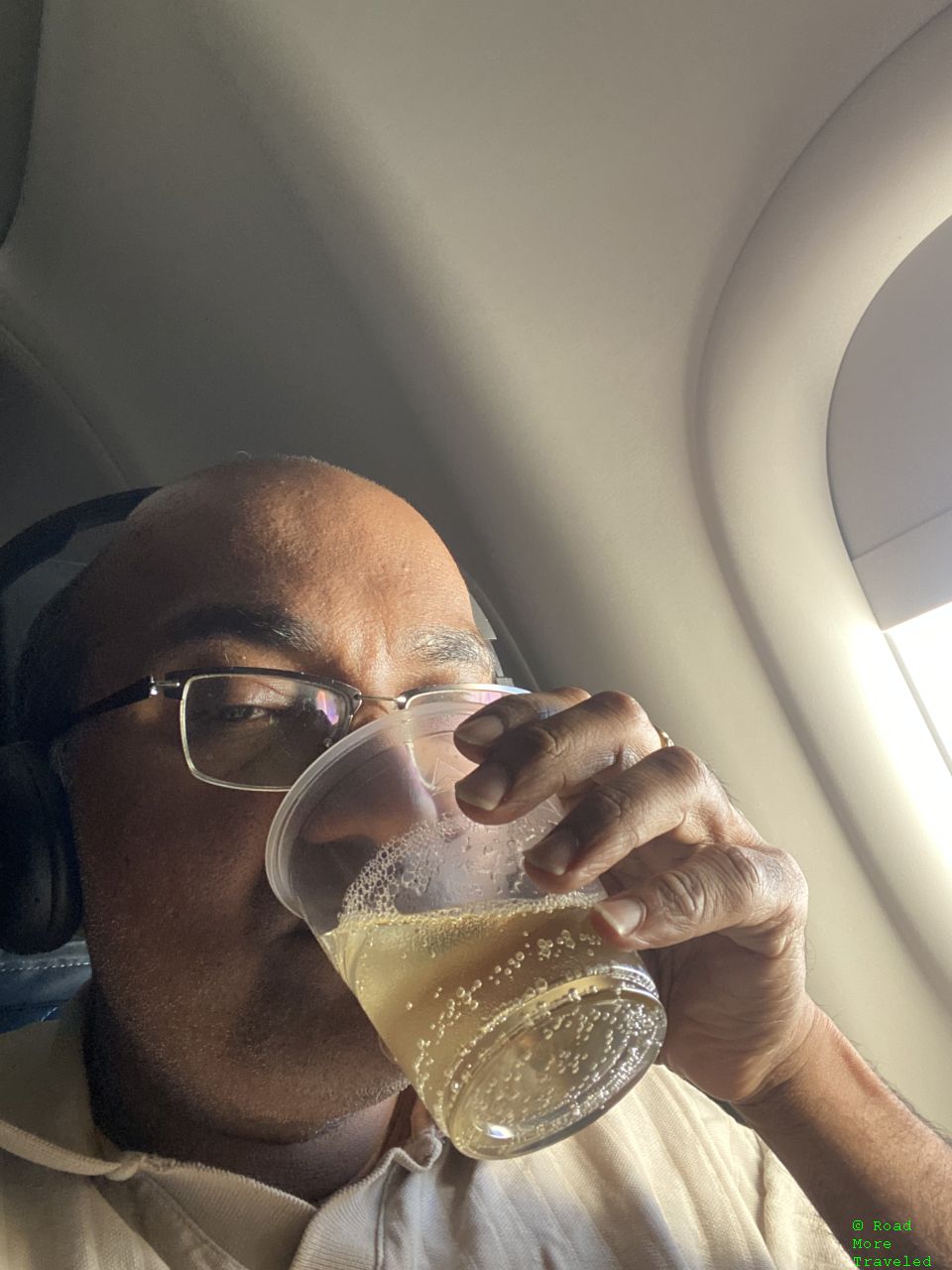 Here, the service slowed down noticeably, with a nearly 40 minute wait for the main course. I ordered the roasted chicken, accompanied with a mozzarella and couscous salad and a lemon blondie.
I ordered a glass of white wine to go with the chicken.
Delta recently reintroduced upgraded meal service in Premium Select after a lengthy hiatus. However, this flight illustrates the somewhat confused nature of PE meal service, not necessarily unique to Delta. On the one hand, Delta provides upgraded snacks, sparkling wine, sets the tray table with a tablecloth, and drinks served in real glassware with the meal. On the other hand, the sparkling wine comes in a plastic cup, with the main meal presented like an economy meal. Seems like Delta can't decide whether to make the experience truly premium or not.
Anyway, sloppy presentation aside, the meal was generally tasty. On the appetizer, I don't usually care for pesto. But the light usage in the appetizer made for a tangy sauce that complemented the mozzarella and tomatoes well. The chicken, meanwhile, had a really nice skin, and the cauliflower/potato mash tasted like true mashed potatoes. I forgot to ask what kind of wine was on the cart, but whatever I had was unmemorable.
Despite the slow-walking of the main course, overall, the FAs conducted the meal service in a reasonable amount of item. From start to finish, it took just about an hour, leaving some 6 1/2 hours until arrival. I ended up sleeping through breakfast service, waking up just 25 minutes from landing.
I found service on board generally – fine. The FAs were kind and helpful, if not particularly proactive. For example, they didn't hand out water bottles either before take-off or after dinner service. Then again, I generally say that in coach or Premium Economy, if you don't remember the service, that's really what you want, because it meant nothing went wrong.
Flightseeing
A smoky, overcast evening in Minneapolis meant not much to see on departure. I woke up just as we crossed the coast of France, though, with brilliant sunshine as the Atlantic met continental Europe.
Despite a partial overcast, it was a beautiful Saturday morning over the French countryside, and through the northern suburbs of Paris.
After landing in Paris, we did enjoy a little planespotting on the way to the gate. First up was a gorgeous Air France A350-900.
Our long taxi then took us past the regional terminal (2G), and a Hop! E190 at a remote stand. I'd later make the long schlep to 2G to catch my onward flight.
Now headed towards the main terminal, we passed an easyJet A320 in its rather in-your-face orange and white livery.
Finally getting closer, we passed a Kenya Airways 787, along with a tail parade of several other exotic planes behind it.
Premium Select passengers to receive SkyPriority benefits, which includes priority passport control at Charles de Gaulle. In typical CDG fashion, though, it was kind of a mess. We first all got directed to the main line, then a few minutes later, a big horde of people started heading to another line, which turned out to be the SkyPriority line. Anyway, it ended up taking less than half an hour to get through the e-gates. With nearly 6 hours to connect, I leisurely made my way over to Terminal 2G to await my flight to Sevilla.
Final Thoughts
Overall, Delta A330-900neo Premium Select compares favorably to the other Premium Economy products I've sampled. It provides a comfortable seat and good meal service, with enough goodies to put it in the "Business Lite" category of products. The problem with Delta's product, though, is often price. At €1,200 for a round-trip, that's certainly a price worth paying for the extra comfort. But looking at a random 7-day round-trip in late October from Dallas to Paris, Premium Select commands a more than $1,300 premium over Main Cabin, or $800 over Comfort+.
That's an awful lot for what you get. But then again, American wants a $2,000 premium over Main Cabin, and United wants $700-1,200. That price point gets hard to justify, especially for multiple passengers.