One of my favorite part of traveling is experiencing new airlines and new products. On a recent trip Cairo, I opted to fly an EgyptAir business class on the A320NEO. Only my second time on EgyptAir. Last time I flew Egypt Air was 2014 on a domestic flight to meet up with my Nile river cruise. This time, my experience was a 5 hour hop from London was a great way to experience EgyptAir business class. EgyptAir does fly a widebody 777 daily between Cairo and London with their long-haul product, but today I was on the baby bus.
EgyptAir Business Seats
Overall, I was very impressed when first boarding the plane. Honestly, I went in with low expectations of EgyptAir business class. Yet, the brand new A320neo had a beautiful, updated business class cabin with large recliners. The gray on blue was a bit drab, but overall, it was nice and clean. Sitting down in numerical row 10, but really row 3, the very first thing I noticed was how large the business-class seats are. Not only did it feel wider, but the space between seats was massive.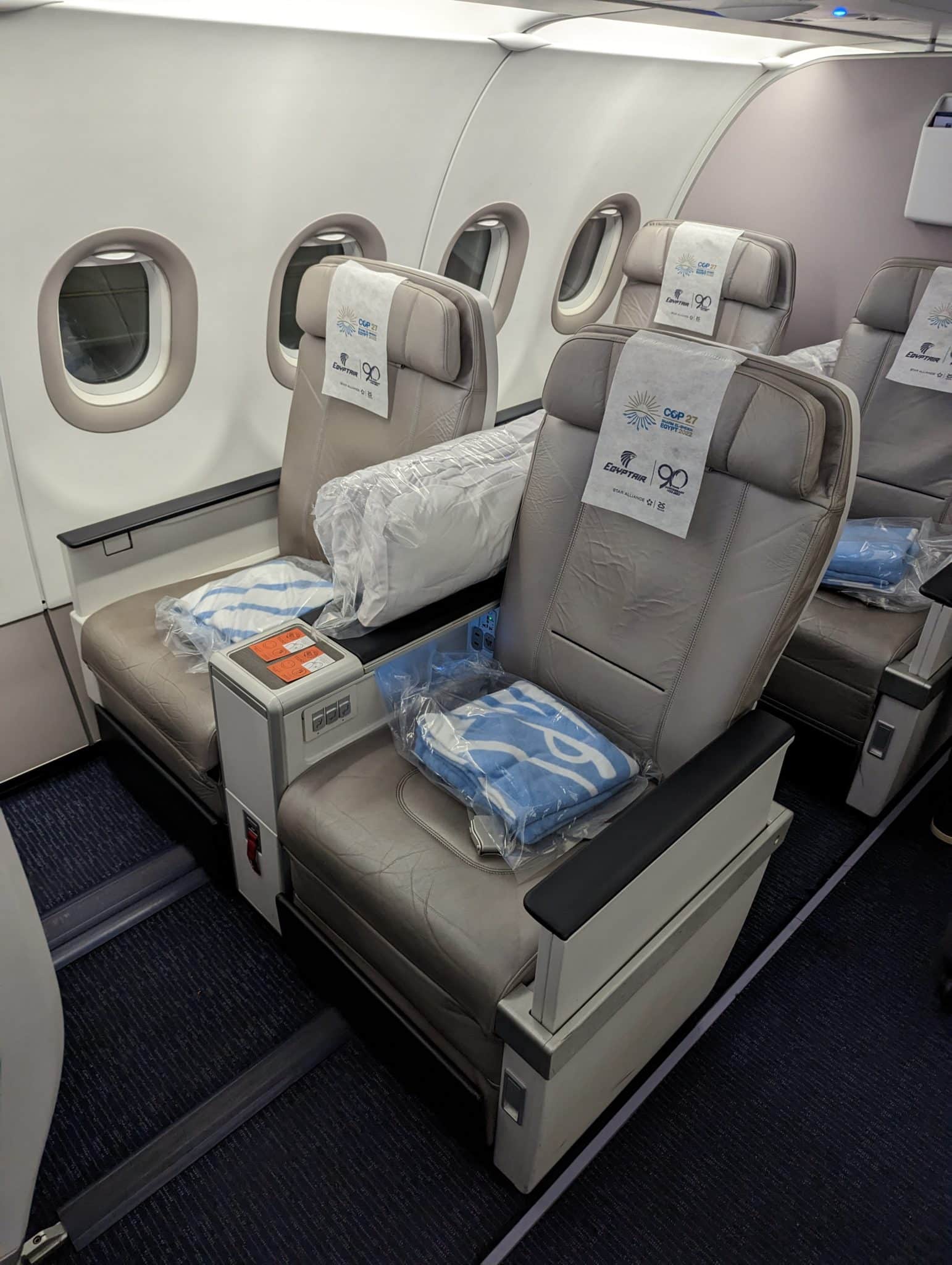 The recliners provide more recline than domestic first in the United States. Between the leg rest and the recline, the seats act as cradle. Still not very comfortable for sleeping on the red-eye flight, but much better than what we see on other carriers.
Each row has 4 seats. Two on each side of the aisle. Seats are 24 inches wide and have a massive 48 inches of pitch. Seats also feature a whopping 10 inches of recline and a 13 inch TV in each seatback. Cheap headphones are provided to guests. Jackets were never offer to be hung up. But I guess that's why they build the hook into the seat.
Seats feature built-in storage in the armrest. The armrest lifts for easy access to the power plug, remote, and more. For a narrow body, EgyptAir business class wins in comfort. Or at least ties with Etihad and Qatar. Also the easy push button options for the seat controls don't require any electronics, which means less breakable parts.
Each seat also had fleece blanket and an amenity kit was provided for each guests in business class. I really like how much of the amenity kit was made from sustainable products. Even the pen was made from paper. The brushes all from wood. I just wish there was less plastic wrapping.
EgyptAir Business Class Meals & Service
Leaving London after 10pm, I honestly was not expecting much on this 5-hour flight to Cairo. Also, having low expectations, EgyptAir business class surprised me repeatedly. Shortly after boarding and before take off, the female flight attendant working first class brought through welcome beverages and a hot towel. The welcome beverage was either juice or water. No alcohol is available on EgyptAir flights.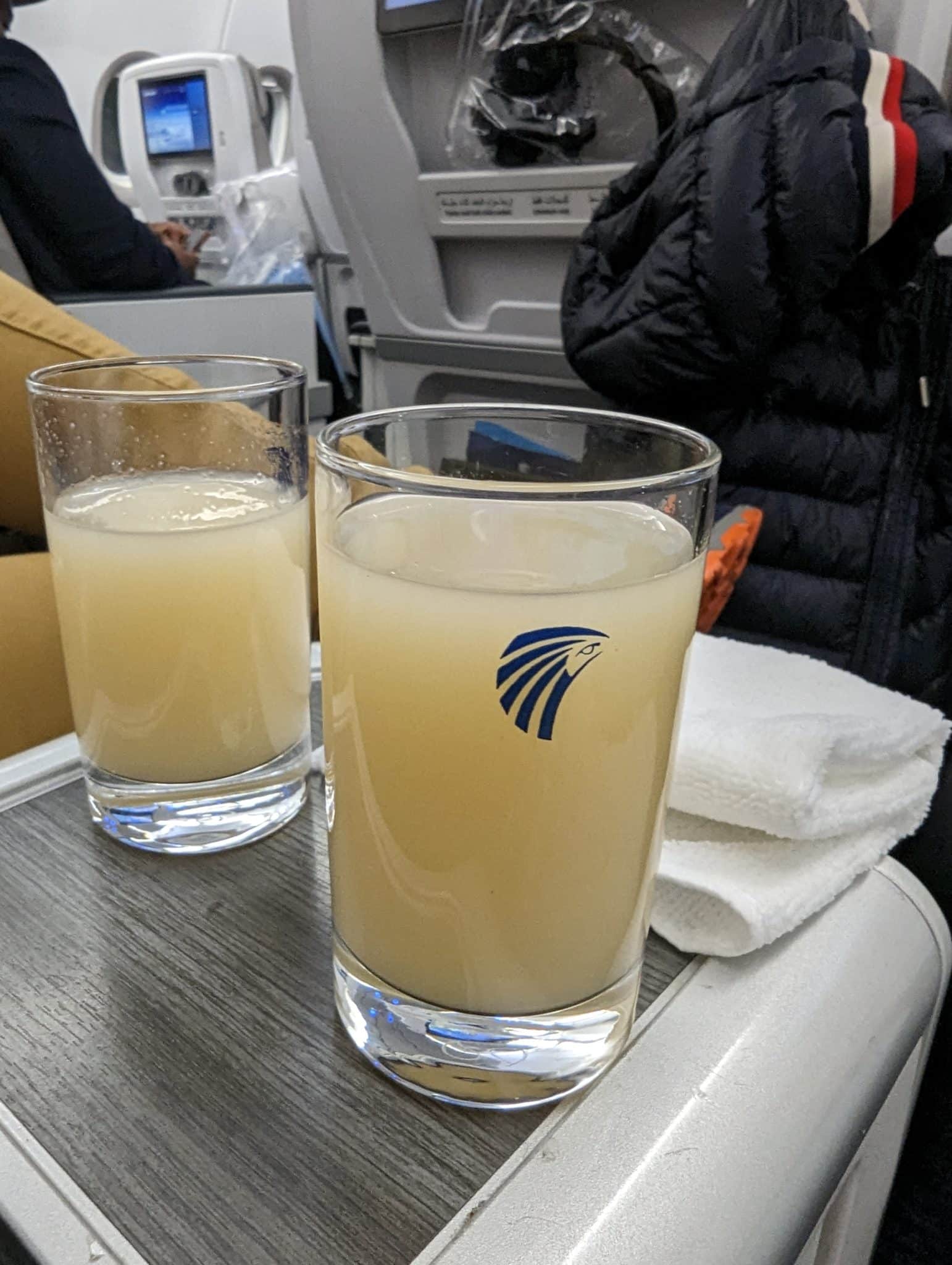 After take-off, approximately 50 minutes into flight, the female flight attendant came through again with meal service. The male purser was helping in the galley prepping the food. First, we had our option of beverages. Soda, water, and juices are available along with coffee and tea. Then, she handed us a tray with cheese and crackers, salad, and traditional Egyptian mezza.
After she was done serving the cabin, she came back through a second time. This time using an open trolley; all three dinner options were on display. The options tonight included shrimp, chicken, or beef. No menus were provided but you could see the food before making a selection.
My Chicken and polenta were delicious. My partners beef lacked complexity and flavor. I won with my choice for dinner.
The salad lacked any dressing. Also I found the crackers served with the cheese to taste like soggy cardboard. A hard pass. Although the mezza, delicious!
After dinner, the busy female flight attendant cleaned up our trays and then came through with another cart of food. This time dessert! Our options were chocolate mousse cake, apple strudel, or fresh fruit.
Once meal service was completed and the cabin cleaned up the flight attendants reverted to the galleys to never be seen again. When people did ring the call light, the flight attendants appeared within seconds and provided whatever guests needed. Flight attendants were both friendly, but not proactive. Only reactive.
EgyptAir Alcohol Policy
There is a lot of rumors online about EgyptAir's alcohol policy. Most people say that EgyptAir does not serve Alcohol. This is true. There is no alcohol provisioned for any EgyptAir flight. Yet, what is different in my experience is that they will also not serve you alcohol. Even if you bring it yourself.
After taking off from London, I had a small chat with the flight attendant working first class and the purser. I had bought a bottle of wine at duty free and I was hoping that I could enjoy it with dinner. They both told me the official policy of the airline is to not serve any alcohol. "Specifically for the safety of the aircraft." The Purser did say though, that they are allowed to offer ice only. So, if someone wants to drink, they can. They just cannot serve it. 🤷‍♂️
Thankfully, I had purchased wine with a twist off cap, not expecting them to have a bottle opener. They told me to enjoy the wine and then brought my partner and I two glasses. We enjoyed the wine, serving ourselves throughout the flight.
This policy surprised me, as there's no way to monitor how much someone is drinking if they are serving themselves. Furthermore, many airlines in the United States safety and boarding announcements remind you that serving yourself alcohol is not allowed.
Bottom Line
EgyptAir is not a luxury carrier by any means. Yet their product and experience are actually very good. Some of their neighbors in the region are of higher quality. Yet, I believe the food was very good for an airplane and there was a lot of it. Although there are still some covid measures in place such as the appetizers coming covered, the service was nice. I really enjoyed being able to pick my meal from the cart. There were also enough meals that everyone received what they wanted. No need for a second option.
For those who don't drink Alcohol, EgyptAir is a valid choice and offers a good onboard experience. If you think a flight is not a flight without Alcohol, then maybe bring your own. EgyptAir wasn't a rockstar of an airline, but the service was sufficient, and everything was just fine. The big 3 gulf carriers offer a more premium experience and even Turkish is better. Yet, despite EygptAir losing my luggage, I had a nice 5-hour flight and I would fly them between Europe and Cairo again. They offer a better seat and product than European carriers, sans alcohol.