The Hilton Zurich Airport is located five minutes away from Zurich International Airport. To get to the hotel from the airport, exit out of the arrivals hall and follow the signs for "Hotelbus." The "Hotelbus" stop is located in between Arrival Halls 1 and 2. The shuttle bus from the airport to the Hilton Zurich Airport is free but the ride back from the hotel to the airport will cost you 5 Swiss Francs. The shuttle bus also stops at the Apart Hotel which is located right next door to the Hilton Zurich Airport. Here's the shuttle schedule.
The Hilton Zurich Airport is slightly cheaper than any other hotel in central Zurich but will be less convenient for exploring the city. To get from the Hilton Zurich Airport to central Zurich, you can take the train from the airport or order an Uber. The train will cost you 13.60 Swiss Francs for a 24 hour pass and an Uber will cost you approximately 30 Swiss Francs each way.
The Hilton Zurich Airport is a great hotel if you have an overnight layover at Zurich Airport or an early morning flight but I wouldn't recommend it if you are planning on exploring central Zurich. There is nothing to see or do around here nor are there any places to eat. There is a small gift shop in the lobby if you need to pick up some last minute souvenirs but that's about it.
The Hilton Zurich Airport is your standard airport hotel. It's a no frills airport hotel so don't expect a resort-like complex. There are no grounds to explore, pool bars to order drinks at or tennis courts to get your heart pumping. But if you need to get some work done, there is a business center located on the 4th floor (main floor) with desktop computers and a printer and a fitness center located on the 2nd floor to get a quick workout in.
The fitness center is a mediocre space with a small collection of cardio and strength equipment. There are no windows or views outside which make the space feel a little claustrophobic and "basement-like." There are some cardio machines, resistance equipment and a bench with some free weights. There are no pools or Jacuzzis but there is an indoor sauna and steam room located in the fitness center locker room and a nice jogging trail next to the hotel.
HHonors Gold member (and above) will receive complimentary upgrades when available, free internet, access to the Executive Lounge and free breakfast in the hotel restaurant. On this trip, I booked a standard twin guestroom and was assigned room 416 upon check-in. Room 416 is a standard twin guestroom located on the main floor of the hotel.
There room featured two twin-size beds, a sitting area, LCD TV and work desk. Storage-wise, there were plenty of drawers and closet space for us to unpack and store all of your belongings.
The décor of the room was nothing special, a bit bland actually, but the room was clean and comfortable. The large floor to ceiling window let in a lot of natural lighting and provided cool views of airplanes taking off at Zurich Airport. Noise-wise, I could not hear people next door or outside the room but did hear some slight jet engine noise from the airport. If you are sensitive to noise, I would bring some earplugs or request a room facing away from the airport.
The enclosed bathroom was pretty standard with a single sink, toilet and a shower/tub combo. As with all Hilton Hotels, Peter Thomas Roth bath and body products were provided for your use. Note: be careful of this shower! Because the tub sits about a foot higher than the floor, my friend Andrew and I both nearly slipped and fell getting out of the tub. Make sure to set the floor mat down (even though it will get soaked from the shower).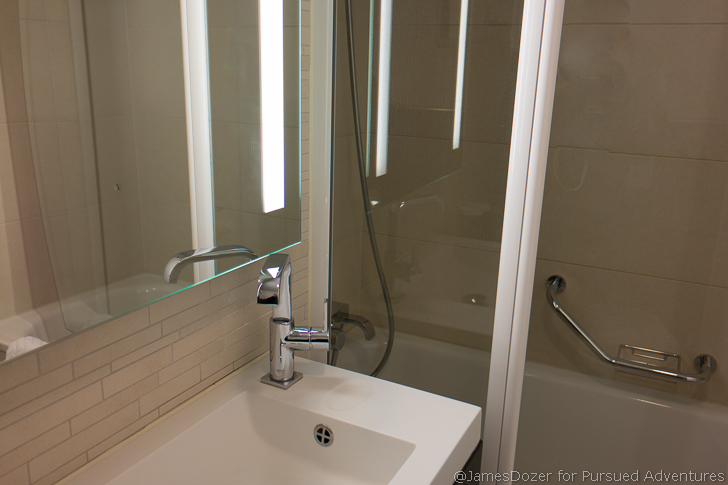 Other room amenities included an in-room safe, mini-bar, coffee maker, bathrobes, slippers and an iron/ironing board. If you forgot your travel adapter at home, there is a wall hub of international electrical outlets located by the desk to charge your devices. WiFi was provided throughout the hotel and in the guest rooms but this was one of the most unreliable hotel Wifi networks I have ever experienced. The WiFi cut out several times a day and sometimes took me a few minutes to re-connect. If you need to get some serious work done, upgrade to the premium WiFi connection.
The hotel restaurant and bar were nothing special. The food was good enough but expect to pay Zurich prices for everything. We're talking $28 for a simple club sandwich and fries and $17 for a caprese salad. For breakfast, we skipped the lounge and had breakfast in the restaurant. The breakfast buffet spread was pretty good with a decent selection of hot and cold items including eggs, sausages, fruits, pastries and an omelet station. During peak times, service was very slow and tables took a long time to be bused.
The Executive Lounge is located to the left of the restaurant and is open from 6:30 AM to 10:00 PM daily. Breakfast is provided from 6:30 Am to 10:30 AM (11:00 on weekends), afternoon tea is served from 3:00 to 5:00 PM and an evening reception is provided from 6:30 PM to 8:30 PM. The lounge is not very big but does have a dining area and a lounge area in the back with some awesome views of planes departing Zurich Airport.
Hilton Zurich Airport bottom line
Overall, my friend Andrew and I had a decent stay at the Hilton Zurich Airport. Like I mentioned several times above, the Hilton Zurich Airport is just your standard airport hotel. The rooms are clean and comfortable, the staff is helpful and the amenities are typical for an airport hotel. I did appreciate the fitness center with sauna and steam room and the close proximity to Zurich Airport is convenient but the 5 Swiss Francs for a return shuttle is a little ridiculous. For an airport hotel, shuttle service should be complimentary both ways. I wouldn't mind staying here again in the future if I'm connecting on a long layover but this is not a hotel I would recommend for exploring central Zurich.
What do you think of the Hilton Zurich Hotel? Have you stayed here before? If so, please share your thoughts with us in the comments section below.
The other reviews in this series include:
Air France Business Class Lounge San Francisco
British Airways Terraces Lounge San Francisco
Four Points Sheraton Namsan Seoul
Korean Air First Class Lounge
Korean Air First Class, Boeing 747-8 Seoul to Hong Kong
Courtyard Marriott Hong Kong
Turkish Airlines, Airbus A321 Zurich to Istanbul
Turkish Airlines CIP Lounge