This Korean Air 747-8 First Class flight review (and Korean Air 747-8 Business Class preview) is part of my trip to Seoul and Hong Kong with my friend Andrew. Of all the flights on this trip, this Korean Air Boeing 747-8 First Class flight was the one I was most excited about. As a huge AVGEEK, the Queen of the Skies will always hold a special place in my heart and it always makes me happy to be flying in one. For this segment of the trip, we both transferred 80,000 Chase Ultimate Reward Points to book a one-way, Korean Air First Class trip from San Francisco to Hong Kong (with a free stopover in Seoul). You can read more about how we booked our trip using a Korean Air SkyPass award here. 
Korean Air First Class lounge services at SFO
At SFO, Korean Air contracts with the British Airways Terraces Lounge for their First and Business Class passengers. The British Airways Terraces Lounge was very underwhelming, to say the least so we visited the Air France Lounge using my Priority Pass membership instead. Between the two lounges, the Air France Lounge was smaller and more crowded but offered better food options than the British Airways Terraces Lounge. My review for both lounges will be forthcoming. If you look out the window of the Air France Lounge, you can see the beautiful Korean Air Boeing 747-8 parked in the distance.
Korean Air 747-8 First Class review
I hope you guys like a lot of pictures because you're gonna get a lot of them in this post.
Flight: KE24
Aircraft: Boeing 747-8 (74H)
San Francisco (SFO) to Seoul (ICN)
Depart: 11:30 AM (11:35 AM actual)
Arrive: 5:30 PM next day (4:57 PM actual)
Duration: 12hrs 22mns
Seats: 2J First Class
Approximately 10 minutes prior to boarding time, we left the Air France Lounge and made our way to gate A9 where our bird was waiting. I took a couple of pictures of the beautiful Boeing 747-8 before heading downstairs to wait for boarding to be called. Boarding started at 1110 hours with First and Business Class passengers and Sky Priority members followed by everyone else.
The Korean Air First Class cabin is located in the nose of the Boeing 747-8. The First Class cabin is configured with only 6 seats in a 1 x 1 layout but unlike on their Airbus A380s, there is no onboard bar or communal social area. On this trip, I was seated in 2J, a window seat on the right side of the plane and Andrew was seated in 2A. There was a third passenger seated in 1J.
This aircraft features Korean Air's new Kosmo 2.0 First Class Suites. These fully enclosed suites are spacious, have a ton of storage spaces and offer an incredible amount of privacy. The suites themselves are elegantly designed but the cabin as a whole feels a little sterile and boring. Other than their Tiffany Blue upholstery, there are no design elements or pops of color to showcase this beautiful cabin. But with only 6 suites and no overhead bins in the First Class cabin, the entire space feels very exclusive, private and incredibly spacious.
Each individual suite features a large, personal locker with enough storage room for your carry-on luggage, personal items, clothes and everything else. You can also store carry-on items underneath the ottoman and your personal items such as your laptops, tablets, cell phones and eyeglasses can be secured in any of the storage bins at the seat. Suites in row 1 are smaller than the other suites and do not have personal lockers. Instead, they share a closet in between the two suites.
The Korean Air 747-8 Kosmo 2.0 suites are smartly designed and feature several sources of ambient lighting to provide a calming space to rest, relax and work, a personal air vent to provide better temperature control and a fixed tray with an edged lip to keep your cell phone handy. The seats are massive and offer a whopping 83 inches of pitch. The seats are soft and comfortable and the individual parts of the seat can be controlled to allow for maximum comfort and relaxation. Quick seat controls are located on the armrest and more specific controls can be found underneath the remote control cover.
The tray table folds out from the side and is large and sturdy enough for two people to dine together. However, the tray table is fixed and cannot be pushed back and forth. Instead of pulling the tray table closer to you, you actually move your seat forward to the tray table. And since the tray table is immovable, it makes it a little hard to get in and out of your seat when the tray table is out.
Another design flaw of the Kosmo 2.0 suite is the poor placement of the electrical outlet. The electrical outlet is located underneath the ottoman and is not anywhere near the seat itself. I found this to be incredibly annoying during flight as it was extremely hard to access when my tray table was out.
There are two lavatories located behind the First Class cabin. The lavatories are more spacious than standard lavatories and have a separate seat for changing. A Jurlique branded bottle of lotion, mouthwash and shaving kits are provided for use during flight.
Korean Air 747-8 Business Class
The main Business Class Cabin is located behind the First Class Cabin with 26 seats in a 2 x 2 x 2 layout. These new Korean Air 747-8 Business Class seats offer a ton of privacy and direct-aisle access for all passengers. They seem to be pretty spacious and are a huge improvement over their current Business Class seats.
The seats along the left and right sides of the aircraft are staggered from each other to provide increased privacy and direct-aisle access for all passengers. These seats are great for solo travelers and I would recommend them if you are traveling by yourself.
The center row of seats are adjacent to each other but have a full length, privacy divider to separate the two seats. These seats are great for couples traveling together but are still private enough for solo travelers.
Upstairs in the hump, there are 22 Business Class seats in a staggered 2 x 2 layout. The upper deck of the Boeing 747-8s have been significantly improved over the Boeing 747-400s. The cabin is longer and more spacious and the overhead bins have been improved to fit larger bags. Window seat passengers still have the benefit of large side bins along the windows.
I didn't spend much time in Business Class but the new seats look great and are much improved over their current Business Class seats. They are spacious, private and offer direct-aisle access for all passengers. To compare this with their current Business Class seat, you can read my Korean Air A380 Business Class trip report here.
Okay, back to First Class.
As I settled into my seat, the Purser came by to introduce herself and welcome us onboard. The flight attendants then came by to offer us amenity kits, pajamas and Bose branded noise-canceling headphones.
The amenity kit was packed full of products and was presented with an additional bottle of "pure water" facial mist. Inside, there were "DAVI by Mondavi" branded tubes of body lotion, face cream, cooling eye gel, after shave lotion and lip balm and comfort items including eyeshades, earplugs, dental hygiene kit and a shoe horn. I appreciated the amount and variety of products provided but I'm personally not a fan of the DAVI branded items. I think Korean Air should have gone with a true health and beauty brand such as L'Occitane, Kiehl's, Bulgari, etc. and not with a company that specializes in wines for their First Class amenity kits.
The Gianfranco Ferre branded pajamas were soft and comfortable. The long-sleeve, button up shirt and oversize, drawstring bottom were nice during flight but not something that I would re-use again.
The flight attendants then came by with a non-alcoholic, pre-departure beverage and a small ramekin of macadamia nuts. No nut rage here.
Once all the passengers were boarded, the Captain came on the PA to welcome us all on-board. He provided us with our flying time and advised us of some expected turbulence along the way. We then pushed back from the gate, taxied to the runway and took off to the north where we had an awesome view of the Golden Gate bridge.
After takeoff, the flight attendant came by to take our meal orders. Andrew and I opted to eat together so we could hang out and I could take pictures of his food. Here are the drink and lunch menus.
Lunch service started with a glass of Perrier-Jouet Belle Epoque champagne and a small serving of bruschetta.
Our table was then set and I ordered the caviar to start. Of all the First Class caviar services I have had, this ranks as my second favorite (after my Japan Airlines First Class flight). The glass tin of caviar was beautifully presented over a chilled ice cup with a mother of pearl spoon and side condiments. The personal size tin of caviar was the perfect amount; it tasted fresh and the flavors were wonderful. Andrew was scared of the caviar so he went with with mango and shrimp ceviche.
Next came a bowl of champignon cream soup which was delicious and full of flavor.
The soup was followed by a salad course. The salad plate was nothing special but was personally prepared at our seats. It was a nice touch.
For my main course, I went with the Korean Bibimbap which was served with a plate of Bulgogi beef and side condiments. I often hear people complain that Bibimbap should not be served as a First Class meal but I genuinely loved it. It's a true Korean dish that perfectly represents Korean culture and cuisine. The plates were beautifully presented; the flavors were wonderful and the portion was filling. Andrew ordered the grilled beef tenderloin and he liked it.
Our plates were then cleared and the flight attendant came by with a fruit and cheese tray. I skipped the cheese but got a fruit plate.
And to top it all off, a raspberry mousse and ice cream dessert was brought out along with a coffee and tea service.
If you guys couldn't tell by the pictures, Korean Air was not messing around with this lunch service. There was so much food and it was all delicious! The catering was top notch and the plates were all beautifully presented. The meal was appropriately paced and the service was very attentive. Our glasses were refilled constantly and nothing sat on our table for longer than a few minutes. I was really impressed with this meal service.
After our plates were taken away and the table was cleared, the flight attendant came by with large bottles of water and landing cards. The cabin lights were dimmed and the window shades of all the unoccupied suites were closed.
I then went back to my seat to watch a movie and work for a bit. Entertainment-wise, the 24-inch HD monitor was bright and crystal clear and the IFE system was loaded with a decent selection of movies including Ghostbusters, Star Trek and Finding Dory; TV shows; music entertainment and video games.
Seeing that I was working at my seat, the flight attendant came by to advise me she had proactively set up my bed in 1A for me. That way, I could work at my seat and sleep in 1A at my leisure. She even set up Andrew's bed in 3A for him and then closed my sliding door to give me some privacy. Absolutely amazing!
The turn-down service included a memory foam, mattress pad and two blankets (one light and one thick for our preference). I eventually crawled into bed and slept for a solid 4 hours. The mattress pad was great and I actually slept longer than I wanted.
You guys, I really can't praise these flight attendants enough. They were polished, attentive and proactive in taking care of the passengers. I literally did not have to ask for a single thing as they were always at my seat to offer their assistance without being over-bearing. This was a fantastic crew! I didn't need anything else but mid-flight snacks of ramen and cookies were available.
About two hours outsides of Incheon, the cabin lights were turned on and the flight attendants came by to take our pre-arrival meal orders. I ordered the seafood udon. It was served with a side salad and a fruit plate.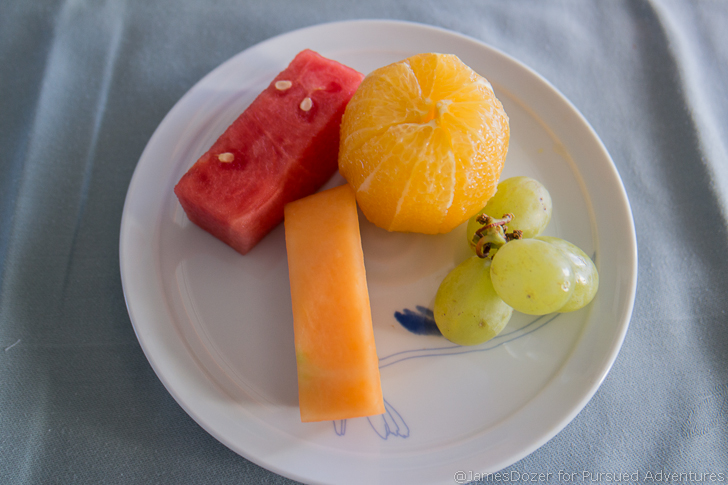 Korean Air 747-8 First Class bottom line
I had some high expectations for this Korean Air 747-8 First Class flight and Korean Air exceeded all of them. These new Kosmo 2.0 suites are fantastic. The seats are comfortable, spacious and incredibly private. The catering was filling and delicious and the service was friendly and attentive. I really enjoyed my Korean Air 747-8 First Class experience and I would recommend them to everyone. Good job Korean Air!
What do you think? Have you flown Korean Air First Class or their new Boeing 747-8 yet? If so, please let me know your thoughts in the comments section below. Thanks!
The other reviews in this series include:
British Airways Terraces Lounge San Francisco