There was only one hotel I really considered when taking my short trip to Bangkok last month: Le Meridien, which has been praised by several other bloggers. I did stop by the Grand Hyatt and would probably spend a few nights there if I returned with Megan, that is, if the new Park Hyatt isn't yet completed. But that isn't scheduled until 2014, and I hope to return before then.
I booked three nights at Le Meridien using 21,000 Starpoints (7,000 per night) vs. a daily rate of about $150 including tax. I'm pretty happy with that outcome. There was a promotion for Le Meridien at the time, but not for the dates I was visiting. So I was getting about 3 cents per point, close to my valuation even though maybe I could have saved them for some better purpose.
I arrived very late — around 5 AM — due to the delay during my connection at Tokyo-Narita. Originally I was scheduled to arrive at the hotel around midnight, which wouldn't have been too bad. Fortunately the lobby was still well-staffed and my check-in was efficient. There was some difficulty getting elite night credit for all three nights since the system registered my check-in as beginning the following day, but that was cleared up with a quick email to SPG.
My room was on a high floor with a city view toward Silom (the opposite side faces some empty lots and a large temple; except for the temple, it wasn't very attractive). The layout was very nice, with modern furnishings and plenty of space. I had a bit of trouble finding the light switches, but I appreciated that there were master switches next to each side of the bed. I lowered the blackout curtains and took a six-hour nap.
When I woke, I took a look at the nice coffee and tea collection and French press provided instead of the usual in-room percolator, but I didn't use it during my stay because I ordered room service both mornings.
The bathroom was very large, with just about everything I could want. I liked having a separate shower and tub, which I know seems required for most high-end hotels but remains a relative scarce in my experience in the U.S. Even when you do find separate amenities, often the tub is not much bigger than a standard tub/shower combo. We all know that isn't enough space to spread out, but I was quite happy with the larger tub provided.
The sliding doors around the tub helped opened up the room a bit, but (importantly) they were wood, not glass, so it would not create any potential awkwardness if you were sharing the room with someone else. There was even a rack behind the tub for hanging a bathrobe! I appreciated the attention to detail.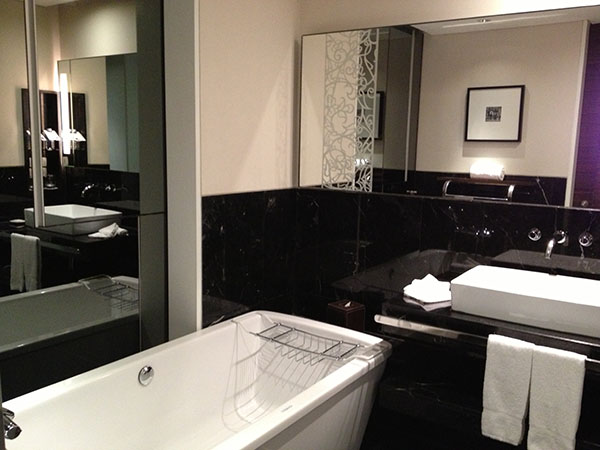 After breakfast, I lounged a bit by the window to catch up on email, though the desk wasn't bad, either. My one disappointment was that the power outlet was difficult to access using my oversized charger, but that's Apple's fault for making them so darn big. Eventually I headed out to explore the nearby park and shopping areas, and the concierge provided a few helpful maps on my way out. There were always plenty of employees to volunteer assistance, and when returning by taxi one evening, they were able to quickly run in and provide change for a 500 baht note.
I didn't dine in the restaurants or partake of the spa services during this visit. (A menu was provided at check-in with a list of prices if I wanted to redeem Starpoints, but all were a bad deal.) The only two meals I ate were my roomservice breakfasts, which were ample and good, but not excellent. I shouldn't really be surprised that Thailand is not the place to get an English breakfast, but I was so impressed by the food at the clubs at the Grand Hyatt Singapore and Grand Hyatt Hong Kong that maybe my standards were a little higher. I will say these were the best tater tots I have ever had, and that I had never seen so many condiments on one tray.
Each afternoon I also spent an hour or so at the pool, followed by a trip to the gym. The deck area was busy but not crowded, and the water was pleasantly cool. Swimming over to the area near the building, the tile floor is raised to create a curved shelf to lounge on. I liked the atmosphere, which was just enough to create a sense of luxury given the relatively small footprint of the hotel. Overall I think this is an expertly designed property.
I apologize for not having more pictures of the public areas. Usually I was in a rush on my way out or my way in, but you can find plenty from Ben's earlier review. With a good balance of style, service, and price, I wouldn't mind choosing this hotel for every visit to Bangkok!
What did I do? See my trip reports from my two days in Bangkok: