At Munich International Airport (MUC), Lufthansa operates from Terminal 2 with all international flights bound for the U.S. departing from gates L24 through L30. This sterile area is located behind a documents verification checkpoint, which is a terrible setup at there are no restaurants or other services offered in this area. Once you go through, you're kind of stuck. There are restrooms and some food carts available but there really isn't much else to help pass the time.
Flight: LH452
Aircraft: Airbus A380-800
Munich (MUC) to Los Angeles (LAX)
Depart: 12:05 PM on Wednesday
Arrive: 3:05 PM same day
Duration: 12hrs
Seat: 65D Economy Class
For business class and Star Alliance Gold members, the Lufthansa Senator/Business Class Lounges are located outside of the sterile area and the only Priority Pass Lounge is located in Terminal 1. Boarding for our 12:05 PM flight began at approximately 11:35 AM with premium cabin passengers, followed by premium and economy class passengers.
These Airbus A380s are the flagship of Lufthansa's fleet but sadly; they are starting to show their age a bit. They are configured with eight seats in first class, 78 seats in business class, 52 seats in premium economy and 371 seats in economy class. There is a small section of 35 "preferred" economy class seats located in the rear of the upper deck but the bulk of the economy class seats are located on the lower deck.
Economy class seats on the upper deck are configured in a 2-4-2 layout whereas seats on the lower deck are configured in a 3-4-3 layout. According to SeatGuru, each seat measures 18.2 inches in width and provides 31 inches of pitch. All economy class seats are equipped with a personal in-flight entertainment system, overhead reading lamp, coat hook and a USB port located underneath the armrest. There are no electrical outlets or personal air vents provided.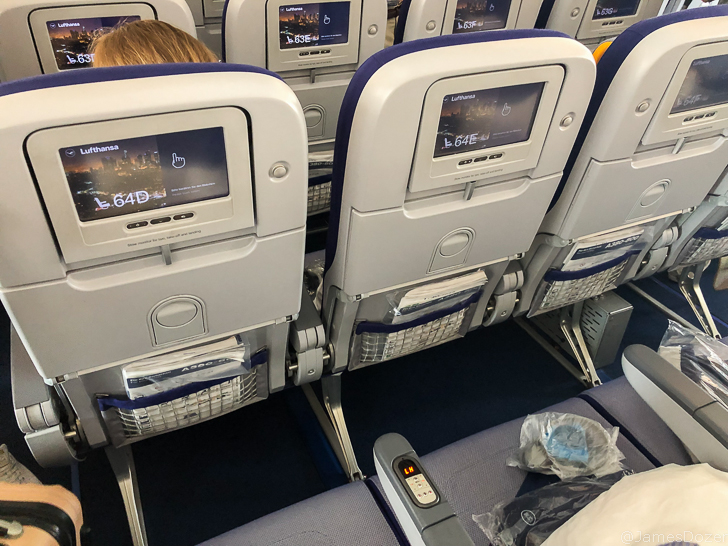 Entertainment-wise, the Lufthansa World entertainment system was loaded with a decent selection of Hollywood, European and Indian/Bollywood movies, TV shows, video games and music entertainment. Live TV (CNN, Euro news and sports), an interactive flight map and an aircraft camera were also provided. The video screen didn't have the best resolution and the entertainment provided wasn't the most robust but it kept me entertained enough for this 12-hour flight.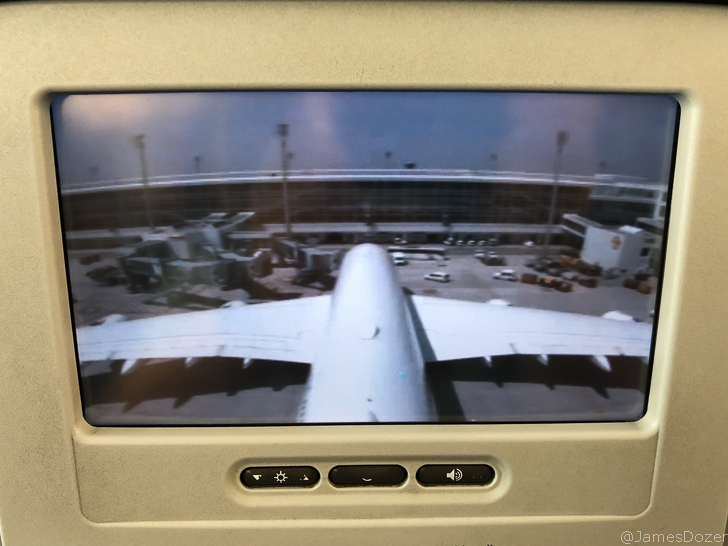 WiFi was provided on this flight and it was decently priced. I paid for the flight pass and used it for a majority of the flight. Speeds were decent for working and surfing the internet and service was only unavailable once that I noticed somewhere over the Northwestern Passages. Prices started at $20 for a flight pass and $34 for a 24-hour pass.
On this flight, I was seated in seat 65D, an aisle seat located in the center column of seats. Waiting at my seat were a pillow, blanket and set of cheap plastic headphones.
Storage-wise, these seats were not great. There was no place to store a laptop, iPad, tablet or anything else larger than a cell phone and the seatback pocket was only large enough to hold your smaller personal items such as eyeglasses, cellphone and passport.
As the final passengers were boarded, the Captain came on the PA to make his welcome announcements. He welcomed us on-board, advised us of a slight delay and provided us with our estimated flight path and time. We then pushed back from the gate and made our way to the runway for our flight to Los Angeles.
Once we reached our cruising altitude, the seatbelt signs were turned off and the crew prepared for our meal service.  Lunch started with a hot towel and beverage service, which was accompanied by a package of crackers.
After that, the trolley came down the aisle with our main meal. The flights attendant asked if we preferred a beef or pasta dish. No menu cards were handed out and no further description of the menu was provided.
I went with the beef dish, which was served with a side of rice, a small salad, bread roll, and a raspberry cake dessert.
For an economy class meal, I was very happy with this meal service. I thought the flavors were good and the entire service was appropriately paced. Service-wise, this crew was friendly and proactive. The meal service was quick and efficient and they came around several times to refill drinks. They were friendly and attentive and also walked the cabin several times mid-flight with trays of water and juice.
After a quick pass of the duty-free cart, the cabin lights were dimmed and the window shades were asked to be lowered. I then checked out the lavatories to see if they were any different than other aircraft. They weren't.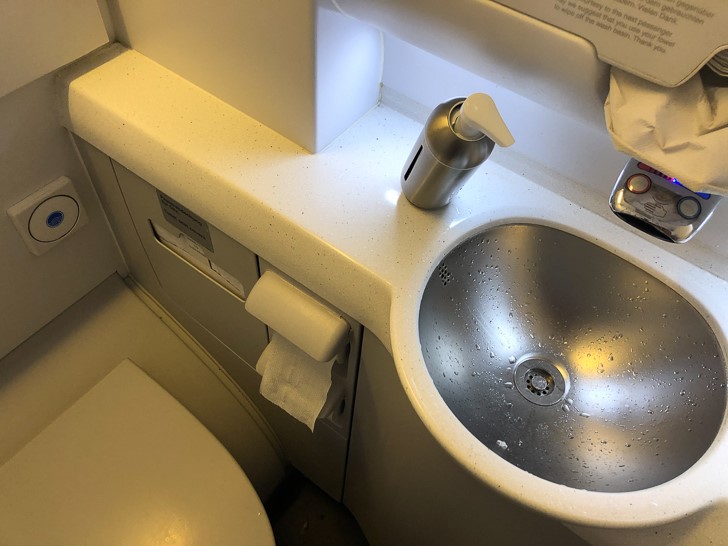 Once I got back to my seat, I did some work on my laptop, watched a couple of movies and surfed the Internet for a bit. Comfort-wise, these seats were not bad. They were appropriately padded and had a nice recline of approximately 6 inches.
In between meals, water, juices, candy and leftover bread were available for self-service in the galleys. About an hour and a half prior to our arrival into Los Angeles, the cabin lights were turned on and our pre-arrival meal was served.
With a 3:05 PM arrival, we were served a lunch instead of breakfast. Our options were chicken or pasta and I went with the chicken dish, which was served with a side of rice, bread roll and a cup of fruit. It didn't look that appealing but it was actually pretty good.
Lufthansa A380 Economy Class Bottom Line
This was a decent flight experience with Lufthansa Economy Class from Munich to Los Angeles. The Airbus A380s are always a joy to fly but this 9-year old aircraft was definitely starting to show its age. The seat was comfortable but the personal entertainment system was old with poor resolution and sound. But on the positive side, the food was good and the service was attentive.
Have you flown on Lufthansa's A380 economy class? If so, please share your thoughts with us in the comments section below. Thanks for reading!
The other trip reports in this series include:
Sheraton Munich