At LAX, Austrian Airlines operates from the Tom Bradley International Terminal. The check-in counters are located in zone C and they open three hours prior to departure time. I arrived shortly after the counters opened and found the check-in process to be easy and efficient. The check-in agents were all very friendly but keep in mind; they were also VERY strict with weighing bags, both checked and carry-on, for compliance.
Business class passengers and Star Alliance Gold members are invited to use the Star Alliance Lounge prior to departure. If you have Priority Pass, you can visit either the Korean Airlines Lounge or the PF Chang's restaurant for some food and drinks before your flight.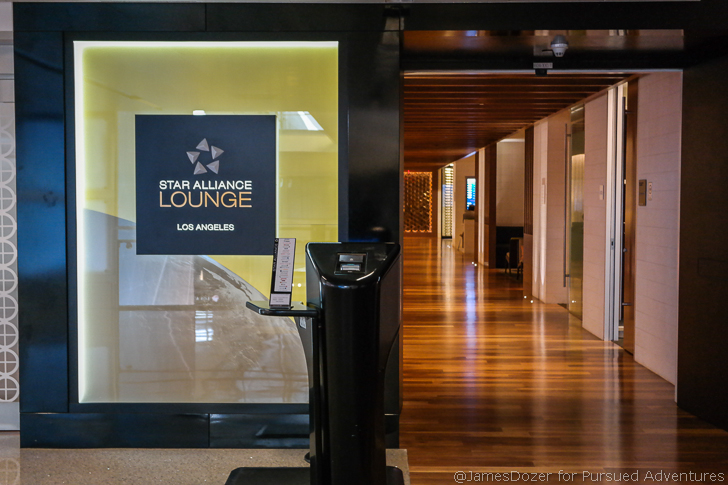 A few minutes prior to boarding time, I left the Korean Air Lounge and made my way to gate 130, where my aircraft was waiting. I quickly snapped a few pictures of the beautiful bird and got in line with the other economy class passengers. Boarding for our 3:15 PM flight began at approximately 2:45 PM.
Flight: OS82
Aircraft: Boeing 777-200
Los Angeles (LAX) to Vienna (VIE)
Depart: 3:15 PM on Monday
Arrive: 12:00 PM next day
Duration: 11hrs 45mns
Seat: 36A, Economy Class
Austrian Airlines operates a refurbished Boeing 777-200 on this route. In economy class, there are 244 seats configured in a 3-4-3 layout. These seats measure 17.3 inches in width and provide 31 inches of pitch. Each seat is equipped with a personal in-flight entertainment system, USB port, overhead reading lamp and a coat hook. No electrical outlets or overhead vents are provided.
Entertainment-wise, the MyAustrian entertainment system was loaded with a good selection of new Hollywood, European and Asian movies, TV shows, video games and music entertainment. WiFi was not provided on this aircraft.
On this flight, I was seated in seat 36A, a window seat located on the left side of the aircraft. Unlike the other seats, the outside seats in rows 36 through 40 benefit from being two-seaters (2-4-2 layout). These seats are perfect for couples traveling together or those just wanting more space to spread out. In addition to the extra shoulder and hip room, you also get an extra seatback pocket to store your belongings. However, keep in mind that the seats don't line up exactly with the seats in front of you.
Waiting at my seat were a pillow, blanket and a set of earbuds. The blanket was standard but the pillow was actually nice and plush (for an economy class pillow).
As the final passengers were boarded, the Captain came on the PA to make his welcome announcements. He welcomed us on-board and provided us with the details of our flight. We then pushed back from the gate and made our way to runway 25R for our 11 hours and 10-minute flight to Vienna. Taking off from LAX is always a joy to see from the window seat.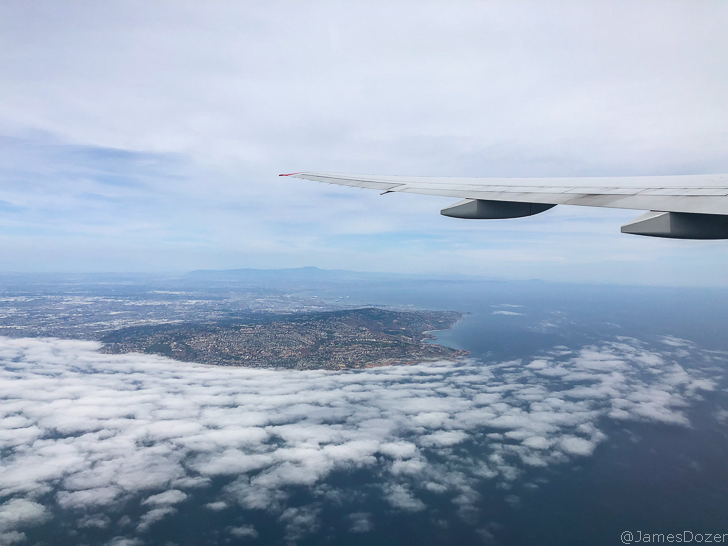 Once we reached our cruising altitude, the seatbelts signs were turned off and the flight attendants prepared for our meal service. Two rounds of drinks were served along with a package of rosemary crackers.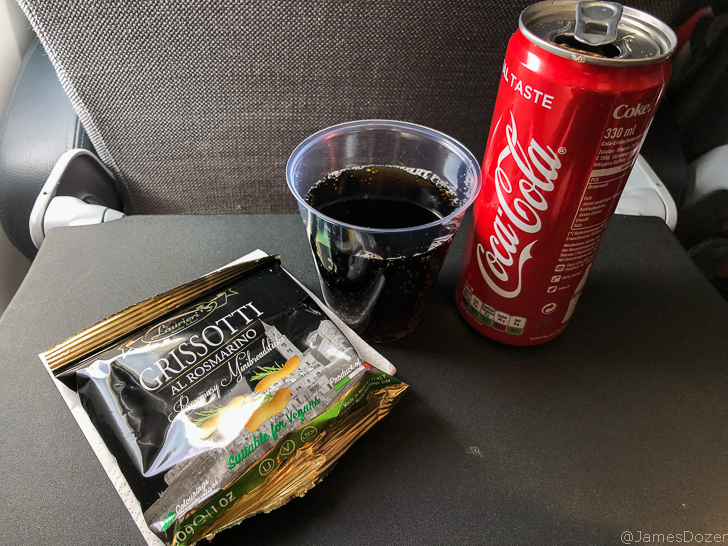 About two hours into the flight, lunch was served. As the trolley came down the aisle, the flight attendant asked if we preferred a chicken or pasta dish. No menu cards were handed out and no further description was provided.
Wanting some protein, I went with the chicken dish. The baked chicken was served with rice and veggies, along with a cucumber salad, bread roll and a piece of cheesecake. I was really looking forward to this meal as Austrian uses the same Do&Co catering as Turkish Airlines but unfortunately, I found this meal to be quite mediocre. The chicken was dry, the veggies were soggy and the sauce was lacking in flavor.
During the meal service, the flight attendants came by to refill drinks and offer coffee/tea before our trays were removed. After lunch, I went to the lavatory and changed out of my street clothes. The lavatories were standard size and did not provide any additional amenities such as comfort items or personal hygiene products.
Once I got back to my seat, I did a little bit of work on my laptop and then watched a couple of mindless action movies. Comfort-wise, these seats were not bad. The widow seat offered additional shoulder/elbow room due to the curvature of the plane and the recline was pretty good too, offering approximately five inches of recline.
In between meals, water, juice and other light snacks were made available in the galleys. The flight attendants also walked the cabin frequently and made several passes with the snack and beverage cart during flight.
About two hours prior to our arrival into Vienna, breakfast was served. There was only one option available, some sort of egg quiche thing, served with hash browns, a bread roll and fruit cup. It wasn't the best meal but then again, most airplane breakfasts aren't.
Austrian Airlines Economy Class Bottom Line
Overall, this was a good flight experience with Austrian Airlines Economy Class. The seats were nice and comfortable, the service was attentive and the entertainment onboard was plentiful. I wished the food was better but other than that, I couldn't fault them for anything else. The overall experience was pleasant and I wouldn't hesitate to fly them again.
Have you flown with Austrian Airlines Economy Class? If so, please share your thoughts with us in the comments section below. Thanks for reading!
The other trip reports in this series include:
Sheraton Munich