When looking for awards for summer travel to Europe, 3 business class seats is often a challenge. Thankfully for the return flights from Spain, we found space on Swiss on their A330. This isn't the newest product, or the best seat, but it worked great for our needs. The staggered seat isn't my favorite, with minimal privacy, especially if traveling alone. Since there are 3 of us, the configuration was an ideal combination of space and comfort. We used Aeroplan miles for this trip, boosted thanks to a transfer bonus from AMEX. A total of 165,000 miles plus CAD$212 for 3 of us in Business Class from Barcelona to Zurich to Chicago.
Swiss A330 Business Class Zurich to Chicago
Flight: LX8
Zurich (ZRH) to Chicago O'Hare (ORD)
Depart: 12:55 PM
Arrive: 3:45 PM
Duration: 9 hours 50 minutes
Seats: 7K Business Class
After a quick visit to the Swiss Senator lounge in Concourse E, we made our way to our departure gate. The Swiss A330 has 3 cabins; First, Business, and Economy. We sat in row 12, seats A, D and G. Swiss charges a premium for some seats, mostly the solo seats. I took 12A, and while it is a throne seat, the Swiss agent allowed us to sit together. While 12A is somewhat private, without a seat mate, the foot cubby is very small. This is my biggest issue with this staggered style of seat. To me, it seems that the K seats on the right side of the cabin would be the most desirable, being more private, so these have an additional charge. The cabin was almost full, so I was glad to get us 3 seats together without having a stranger as a seat mate.
The Swiss business class seat is old, but remains in good shape and is well-maintained. I found it comfortable enough, but the IFE monitor is quite small. When reclined fully in bed mode, I barely had room for my feet in the tiny cubby, and the narrowness makes it seem claustrophobic. A newer business class seat is available on the Swiss 77W fleet, which James reviewed before, but they still use a similar staggered configuration.
Here is a seat map from the Swiss website:

Swiss Business Class service pre-departure
While the seat design is far from my favorite, for a daytime flight, I found it plenty comfortable. What stood out for me was the excellent the flight attendants service on board. After our visit to the Swiss Senator Lounge, we were among the last to board in Business Class. At our seat were some Swiss-branded headphones (but as usual, I mostly used my own), a Victorinox amenity kit. a pillow, and a blanket. There was  hanger (see top photo) for a coat, but I didn't have one in the warm summer, and it stayed in a magazine holder at the seat the whole flight.
The seat is comfortable for lounging, and easy to adjust to countless positions. The staggered seat is the same as multiple other seats, including American, Austrian and others on the 767, and Brussels on their A330s.  Touchscreen seat controls that are intuitive to adjust. One odd thing with this seat is the seat cannot move if the table is deployed. There is a USB power port under the monitor, and another 110v universal AC plug.
Swiss Business Class meal service
Once underway, service began with a drink service and a ramekin of nuts. I had a cocktail that they were also offering pre-departure, something with Campari in it.
Swiss designs their menus around regional foods around their home country.  For our flight, the menu is based around cuisine from the Italian-speaking Canton of Ticino.
Here is the menu for our flight:
Drinks:
I don't typically eat that much beef, but this flight was a clear exception to that. I had beef for my starter and the main course. The meal tray included a small green salad, and selections from a bread basket.
The beef tenderloin arrived cooked to an excellent medium rare temperature. Very tasty, and I appreciate that it was placed on top of a sauce, rather than slathered in it. The polenta and vegetables were solid as well. This is excellent in flight main course for business class. Along with the meal I had some sparkling water and the French red wine from Bordeaux.
The portions were not huge, but I ended up eating more than planned for dessert.  I went with the cheese plate, then they came back around with strawberry mousse. Twist my arm, I had both…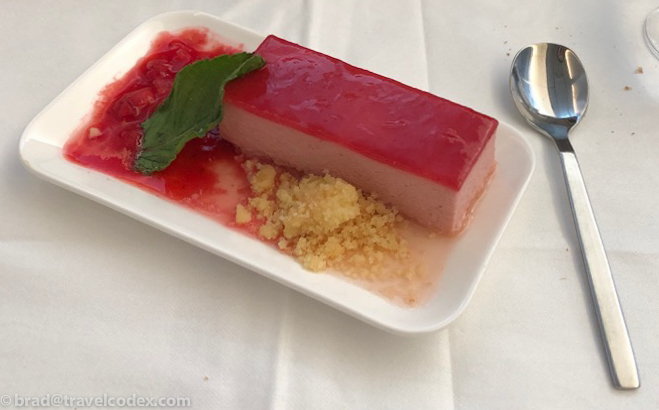 After the meal service, flight attendants distributed bottles of water, and then the lights dimmed.  I didn't sleep much, but did recline my seat and rest for a short while.
Swiss Business Class "Movie Snack"
The monitor in this seat is small, but the content is pretty decent. Several hours after the main meal, between napping and exploring the in flight entertainment, I noticed the flight attendants were bringing a cart back down the aisle. Now they were serving Movenpick ice cream in cones and dishes. I was still quite full from the meal, but my daughter couldn't pass up chocolate ice cream in a waffle cone. Even her small portion was too large for her to finish, so I got to have a 3rd dessert.
Swiss Business Class pre-arrival meal
Around 2 hours before arrival in Chicago, another meal service is offered. Not sure how I ate more on this flight, but I guess I was at least somewhat hungry again.
This meal was served on a tray, with another selection from the bread basket, plus a fruit salad and a choice between a cold barley salad with chicken or some pasta. I also had a Swiss beer with this meal. This Helles was refreshing enough if a little boring.
Swiss Business Class Bottom Line
The seat is old, and nothing special, normally the seat is key to business class. Despite that, am happy with this flight. I was glad to try Swiss long haul. Swiss shines from the service standpoint, and I'm happy with the fact that we had 3 award seats in the summer time. I won't go out of my way to seek out Swiss business class again, but I certainly wouldn't avoid it.
I've flown Lufthansa business class several times, including the outbound of this trip. Swiss business class surpasses Lufthansa in several ways. Even this old staggered business class configuration is more private than the current Lufthansa Business Class seat. Meals certainly were better than what Lufthansa typically offers. In all, this was a nice way to finish off a great family trip to Europe.
What about you? How was your Swiss business class experience?