Thai Airways A380 first class aka Thai Royal First is one of my favorite first class experiences. Thai Airways isn't the best by any means but if you're lucky enough to fly Thai Airways Royal First on their Airbus A380, you'll be in for a treat. From their buggy transports to hour long massages, Thai Airways A380 first class passengers are treated like royalty. The ground services are seamless and personalized, the hard product is fantastic and the overall experience is an absolute joy.
Thai Airways A380 First Class, Bangkok to Paris
Flight: TG 930
Aircraft: Airbus A380
Bangkok (BKK) to Paris (CDG)
Depart: 12:10 AM on Thursday (12:42 AM actual)
Arrive: 6:50 AM on Thursday (6:30 AM actual)
Duration: 12hr 40mn
Seat: 3K First Class
From the Royal First Lounge, all the passengers on my flight were transported via buggy to our gate. The ride took approximately 15 minutes and included a pass through a dedicated security check. As we arrived at gate C7, boarding was well under way with business and economy Class passengers about halfway boarded. Our escort directed us to the first class boarding lane and wished us a good flight. Economy class passengers boarded through the door 2L and premium cabin passengers boarded through the upper deck.
Thai Airways A380 first class is configured with 12 seats in a 1 x 2 x 1 layout on the upper deck. Upon walking into the cabin, my first impression was just how beautiful the space was. The cabin was bright and airy and the color palette was soft and subtle. The materials used complimented each and there were just enough pops of color to feel elegant and classy yet warm and inviting. I was really impressed by how beautiful this cabin was and was so glad they didn't overuse the color purple in their design aesthetic.
Unfortunately, Thai Airways A380 first class seats are not fully-enclosed suites. They are open seats but have high walls and are slightly staggered from each other to provide increased privacy between the passengers. The window seats are perfect for solo travelers and the middle seats are great for couples traveling together. There is a full-length divider between the two middle seats to provide additional privacy if the two passengers are not traveling together.
On this trip, I was seated in 3K, a window seat on the right side of the aircraft. Waiting at my seat were a pair of slippers, Thai branded noise cancelling headphones, two pillows and a Rimowa branded amenity kit. I stored my carry-on in the overhead bin and sat down to explore the seat.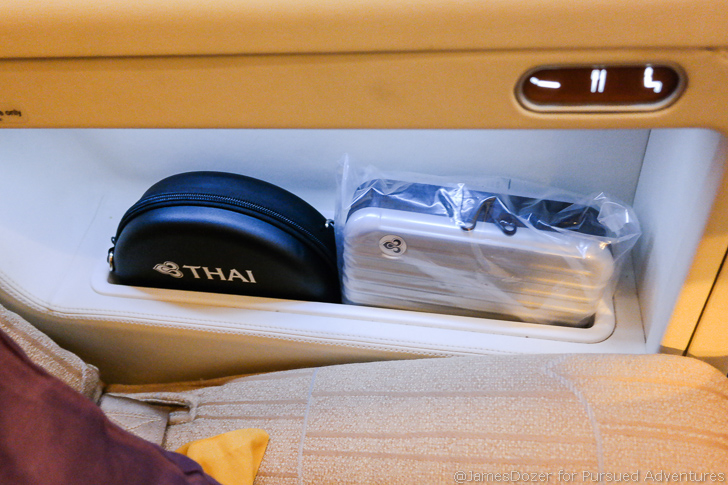 Storage-wise, there are bins everywhere to store your belongings. In addition to the overhead storage bins and the space underneath the ottomans, each window seat offers three deep bins along the windows for additional storage. The window seat bins are wide enough for a purse or laptop bag and smaller items such as passports and cell phones can be stored in the storage pockets at the seat. However, the window seats lack overhead storage bins directly above their seats and center seats lack the storage bins along the windows.
Additionally, there is a personal closet with hangers for your clothes to be hung at each individual seat.
Thai Airways first class seats on the Airbus A380s offer a whopping 26.5 inches of width and 82 inches of pitch. Each seat is equipped with three personal reading lamps, a universal power outlet and two USB ports. The sliding tray table is large enough for two passengers to dine together and can be pushed out of the way to provide easy access in/out of your seat.
Once I was settled in my seat, the flight attendant came by to introduce herself and offered me a hot towel, glass of 2003 Dom Perignon, pajamas and the menu. No nuts were served on this flight.
If you guys know me, you know that I love amenity kits and there are no better amenity kits than the Rimowa amenity kits. The Rimowa amenity kits are sleek, beautiful and can be re-purposed for future use. But really, they're just cool collector's items for aviation geeks. Inside, there are body and beauty products by L'Occitane (lip balm, hand lotion and body spray), eye shades, ear plugs, socks, a comb, mouthwash bottle and dental hygiene kit.
The Thai Royal First branded pajamas were soft, lightweight and comfortable. I appreciated the neutral colors and simple design of the long sleeve V-neck shirt and drawstring bottoms. The pajamas were presented in their own cloth case which can be re-purposed as a laptop case/sleeve.
There are three lavatories for first class passengers. There are two smaller ones to the rear of the first class cabin and one gigantic one to the front. The forward lavatory is impressive with enough space and room for a shower if they wanted. . . . There is a separate vanity/seating area for changing into your pajamas (away from the sink and toilet so you don't have to worry about wet floors) and the lavatories are complimented with additional facial products and dental hygiene kits.
Next to the forward lavatory are the stairs to the lower deck, a magazine/newspaper rack and the first class lounge area. In theory, this lounge area is for first class passengers to socialize and hang out with each other but in reality, is more of a wasted space. None of the passengers used this space and the passengers that knew each other just gathered around each other's seats. I don't think I ever saw one person hanging out in the lounge area.
Once we were airborne and the seatbelt signs were turned off, I went to the lavatory to change into my pajamas. When I came back, the flight attendant came by to set my table and offered me another glass of Dom.
Supper started with a caviar service which was served from a cart and plated at my seat. The caviar was definitely tasty but not as beautifully presented as the other airlines such as Korean Air or Japan Airlines. Doesn't it just look sad?
The caviar service was followed by a salmon roe appetizer.
For my main course, I chose the traditional Thai dish, prawns with sweet chili sauce, Hom Mali rice, and loofah with eggs and dried shrimp.
After the main course, my plates were cleared and the flight attendants came by with the fruit, cheese and dessert cart. I passed on the cheese, had some fruit and ordered the trio of pate-a-choux dessert.
Overall, the food was pretty tasty. The portions were on the lighter side but appropriate for a late night, supper service. No soup or salad courses were served on this flight.
After my table was cleared, the flight attendant asked if I wanted my bed made. I wasn't sleepy yet but agreed because I wanted to watch TV in bed. The turn down service included a mattress pad, duvet and a pillow. Needless to say, the bed was extremely comfortable and I slept for a solid six hours. I actually slept longer than I wanted to and didn't get to enjoy a mid-flight snack. By the time I woke up, it was almost breakfast time.
The in-flight entertainment system is fantastic. The monitor is gigantic, the HD resolution is clear and crisp and the system is loaded with a good selection of on-demand movies, TV shows, music and games as well as a moving map and a tail camera. WiFi was available on this flight but it was super expensive so I did not use it. Rates were $4.50 for 3 MB of data or $14.50 for 10 MB of data.
About an hour and a half outside of Paris, the flight attendants came by to set our tables and prepare for our pre-arrival meal service. Breakfast started with a fruit plate, yogurt, smoothie and cereal. For my main course, I chose the frittata with sausage, potatoes and spinach plate. Breakfast actually wasn't that tasty but I ate every bit of it because I was starving.
After breakfast, the flight attendants came by to thank us for flying with Thai Airways and wished us a safe onward journey. They also presented us with a set of Thai Airways A380 playing cards as a parting gift.
Thai Airways A380 First Class overall thoughts
Overall, I thoroughly enjoyed my first Thai Airways A380 first class experience and would definitely fly them again. Even though the seats were not fully enclosed suites, I still found them to be spacious and private. The seats were extremely comfortable for lounging and provided an incredible sleep experience.
The flight attendants were friendly and the service was great. They weren't super polished but everything was said with a smile and I couldn't have asked for anything more. They anticipated my needs and proactively took care of all the passengers. It's always nice when I don't have to ask for anything and I appreciated that. The food wasn't the most plentiful or beautifully presented but it was tasty. If you are booked on this flight, I would advise filling up in the lounge beforehand.
The Airbus A380 is a fantastic plane and I think Thai Airways has done a great job with the configuration and layout. However, keep in mind that Thai Airways is notorious for last-minute, equipment swaps. They swap out more planes on more flights than any other airline I know. So if you are booking this trip specifically to fly the Airbus A380, just know that it's not guaranteed.
Have you flown Thai A380 first class before? If so, tell me your thoughts in the comments section below. Thanks for reading!
Let's connect on Facebook, Twitter and Instagram! Or follow my adventures on Snapchat @JamesDozer. 
Here are some Thai Airways related posts that you might enjoy:
Thai Airway Boeing 747-400 Business Class, Hong Kong to Bangkok
EVA Air Lounge Bangkok
Singapore Air SilverKris Lounge Bangkok