I just flew the world's longest Boeing 787 Dreamliner flight. . . on United. . . in economy class and it actually wasn't that bad! I mean, it wasn't easy by any means but with a great entertainment system, decent food and a great crew, United sure made this long-ass, er I mean long-haul flight pretty tolerable. In this post, I will combine both my outbound (UA1) and inbound (UA2) San Francisco to Singapore flights into one review. I'll talk about the seats, food and service on-board and share a few items I always pack to make my flights more enjoyable.
United 787 economy class, San Francisco to Singapore (UA1)
At San Francisco, United uses the United Club for their Star Alliance Gold members. If you want a quieter space and better food options, check out the Singapore Airlines SilverKris Lounge around the corner instead.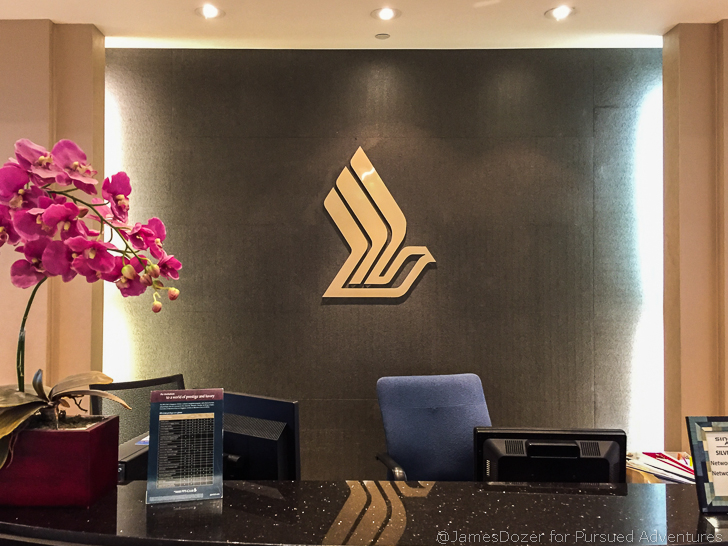 At approximately 9:45 PM, I left the Singapore Air SilverKris Lounge and made my way to gate G92 where my bird was waiting. Boarding was well underway for economy class passengers and I just jumped in line with everyone else. I made my way down the jet bridge and entered the plane through door 2L.
Flight: UA1
Aircraft: Boeing 787-9 Dreamliner
San Francisco to Singapore
Depart: 10:35 PM on Monday
Arrive: 6:45 AM +2 on Wednesday
Duration: 17hr 10mn
Seat: 34F Economy Class
At over 17 hours, this would be the longest non-stop flight I have ever flown. On this leg, I was seated in seat 34F, an aisle seat in the middle column of seats. I normally choose window seats but on this flight, I specifically chose this seat so that I could get up and out of my seat as often as possible without bothering anyone else (or being bothered by anyone else). Lucky for me, I had an older couple seated next to me. The wife was seated in the aisle seat and the husband was seated in the middle seat and he made her move every time he needed to get up.
This flight was nearly full with only a handful of empty middle seats throughout the cabin. There was nowhere else for me to move to and the flight attendants kept track of which Economy Plus seats were empty. If you want to try to sneak up there, they will gladly sell you an "upgrade" on their handheld devices or send you back to your seat.
These are standard economy class seats with 17.3 inches of width, 32 inches of pitch and 3 inches of recline. These new slimline seats do not provide the most padding for your rear-end so grab an extra pillow from an empty seat if you can. Waiting at our seats were a blanket and a thin pillow and the flight attendants later came by with earbuds for passengers who needed them.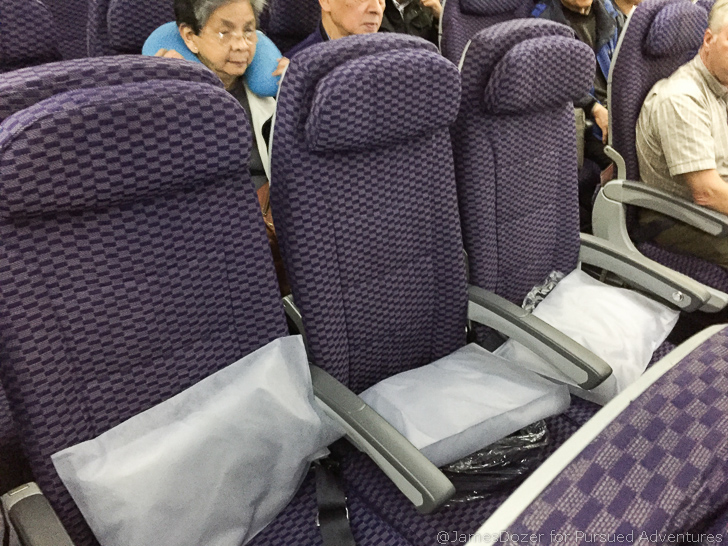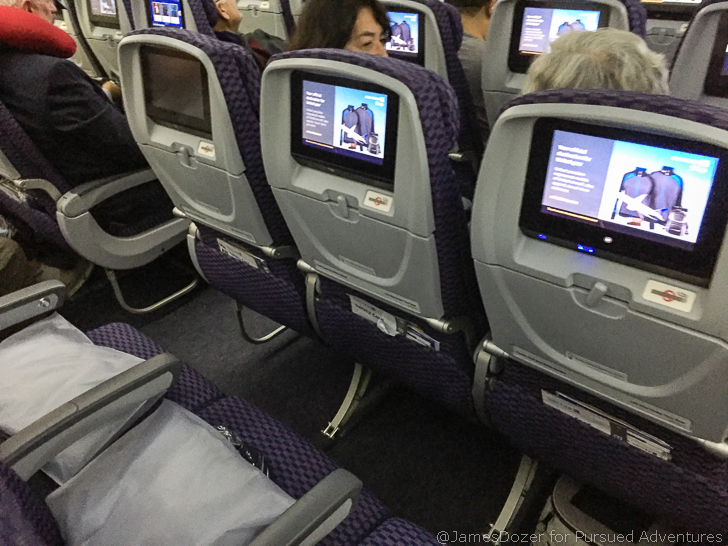 Storage-wise, Dreamliners have huge overhead bins so all your items can go up above. At the seat, you can store your personal item underneath the seat in front of you and smaller electronics can be stored in the seatback pocket.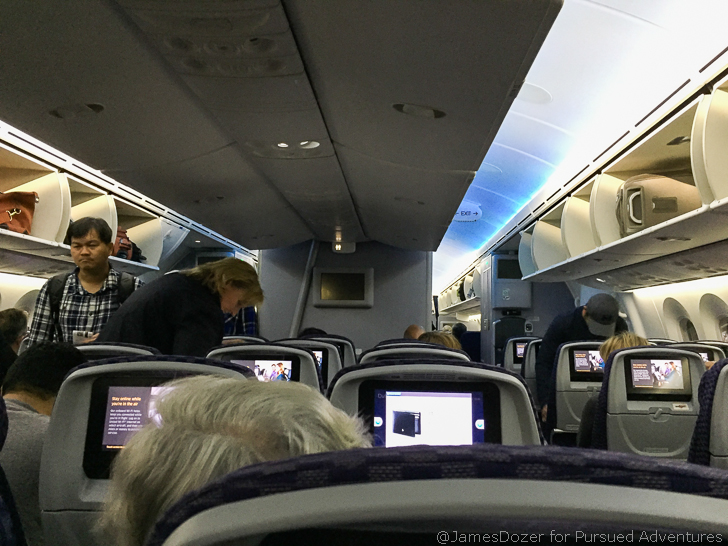 Each seat is equipped with a personal, in-flight entertainment system, USB port, air vent and two universal electrical outlets per three seats. United's in-flight entertainment system is programmed with a huge selection of the latest movies, TV shows, video games and audio entertainment. With hundreds of hours worth of on-demand entertainment, United can keep you entertained for even the longest of long-haul flights. All caught up on movies? Challenge your neighbor to a game of Battleship, get caught up on the latest TV shows or just chill out with some good tunes and the airshow.
Need to stay productive? All of United's Dreamliners are equipped with satellite-based WiFi. On this flight, WiFi was priced at $8.99 for one hour, $14.99 for two hours and $29.99 for the full flight. I'm not sure but it looks like the prices have gone up recently as I don't remember paying this much for WiFi before (that or it was just more expensive because this was a longer flight?). That being said, the WiFi cut out often during flight and wasn't that reliable so purchase at your own risk.
This flight departed pretty late but I was glad to see a full dinner was served just after takeoff. It's hard to fall asleep on an empty stomach and I always welcome a meal service to help pass the time. Our dinner options tonight included chicken with rice or fried noodles. No menus were distributed and no further description of the meal options were provided but chicken is always a safe bet. The chicken with rice option was served with a side quinoa salad and a bread roll. It was actually pretty tasty.
Dinner was followed by bottles of water and a mango sorbet dessert. Alcohol-wise, beer and wine are complimentary during meal services but spirits and liquors are not.
United has really improved on their meals as of late and I'm happy to see healthier food options such as the quinoa salad. They don't always photograph well but they generally taste pretty good. About halfway through the flight, the crew came around with a light snack and beverage service. The light snack included a cold ham and cheese sandwich and a bag of M&Ms.
For such a long flight, I thought this was kind of a disappointment. The sandwich wasn't tasty and would have been better served as a hot food item. However, the flight attendants did do a good job of walking the cabin frequently with trays of water for all the passengers. Leftover sandwiches and snack mixes were left in the galley for those still hungry and plenty of water was also available to keep passengers from getting too dehydrated. For those looking for a more substantial snack, tapas boxes were available for purchase. I ended up purchasing one about 12 hours into the flight.
About two hours before arrival into Singapore, a breakfast meal was served. Our choices were a cheese omelet or pancakes. As much as I wanted some protein, the pancakes sounded delicious. The pancakes were served with a side of fruit and a bread roll. The pancakes were a little on the soggy side but the flavors were quite good.
So what did I do for the other 14 hours of the flight? I'm not gonna lie. This wasn't an easy flight. I watched 4 movies during the flight, got some work done on my laptop and slept for a solid 6 hours thanks to my GoSleep Travel Sleep Mask. The great entertainment system and available WiFi made the flight more enjoyable and productive but the hard seat, lack of recline and warm cabin made the flight less comfortable. I drank a lot of water, got up out of my seat often and did many laps around the cabin to keep the blood flowing throughout my body (and probably ate too many snack mix packets).
Because this was a red-eye flight, most passengers fell asleep also and there really wasn't much activity going on during the flight. The window were forced dimmed and the cabin lights were kept off for the majority of the flight.
United 787 economy class, Singapore to San Francisco (UA2)
At Singapore Changi, United Business Class and Star Alliance Gold members are invited to use the SATS Premier Lounge in Terminal 2. This is a decent lounge with hot food options, plenty of seating and showers to freshen up if you are connecting from another flight. After staying here for a bit, I walked over to the Singapore Airlines KrisFlyer Gold Lounge to check it out. I'll have a full review of it coming up in a few days but I can tell you it was a huge disappointment.
At approximately 8:45 AM, I left the Singapore Airlines KrisFlyer Gold Lounge and made my way to gate E22 (terminal 2). From the lounge, the walk to the gate was not very far but Singapore Changi Airport has full security screenings at the individual gates instead of at a central location. If you are connecting through Singapore, always make sure you leave with enough time to go through security at the departure gate before boarding. And don't buy any bottles of water before the security check. They will only make you pour it out.
Flight: UA2
Boeing 787-9 Dreamliner
Singapore to San Francisco
Depart: 9:45 AM on Wednesday
Arrive: 8:25 AM same day
Duration: 14hr 40mn
Seat: 41F Economy Class
On this leg, I was seated in seat 41F, an aisle seat in the last row of seats. This flight was also packed but I was lucky enough to have the middle seat next to me empty.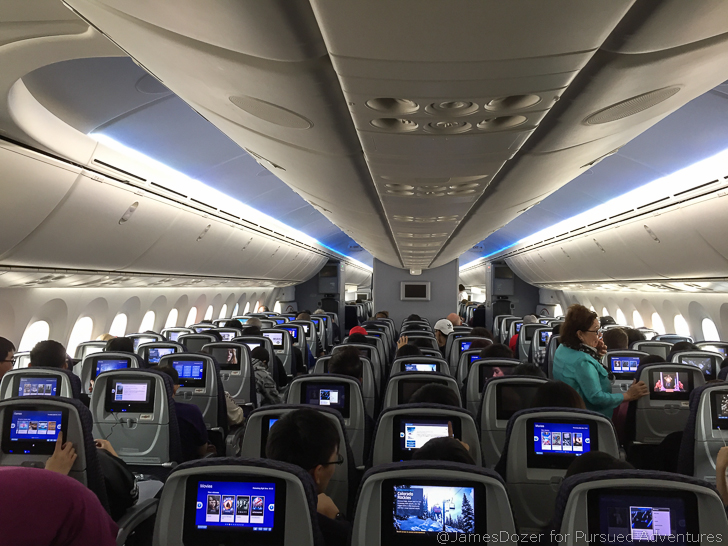 Just like on the outbound flight, two full meals and a light snack were served on this flight. As we hit our cruising altitude, the flight attendants came by with a pre-meal, Asian style snack mix package, followed by a beverage service.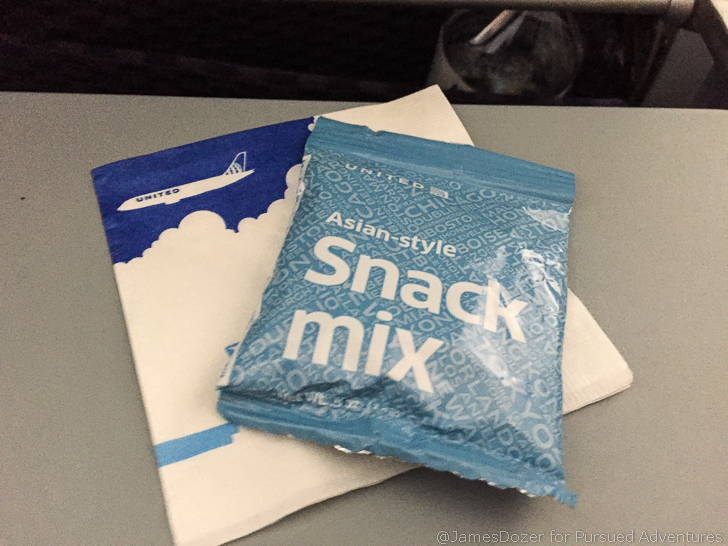 Lunch started with a meal option of chicken or pasta. I chose the chicken with rice. It was served with a side noodle salad and a bread roll.
Lunch was followed by small bottles of waters, a coffee/tea service and chocolate ice cream.
And midway through the flight, a cold snack was served. This turkey sandwich snack was cold but tasted 10 times better than the ham and cheese sandwich on my outbound flight. It was also served with some candy and a beverage.
And lastly, about 2 hours before arrival into San Francisco, a breakfast was served. Our two options were an omelet or fried noodles. I chose the omelet, which was served with a side of fruit and a cookie.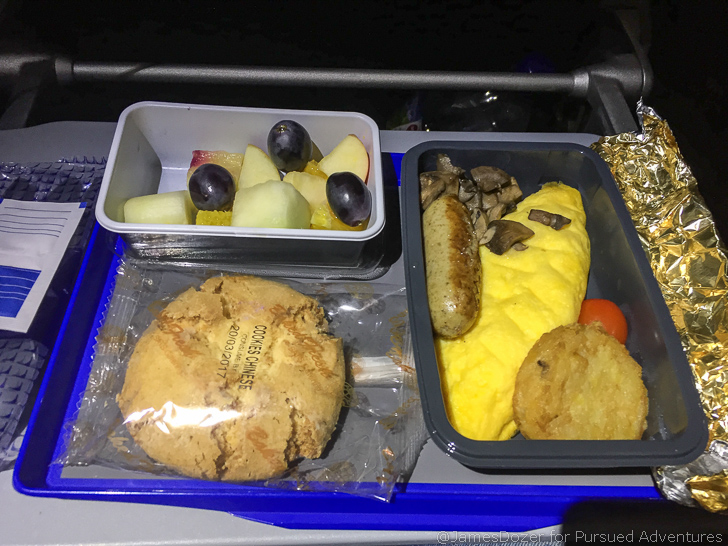 Now, the crew on the outbound was pretty good but the crew on this return leg was fantastic. Seriously, they were one of the nicest, friendliest and most personable crews I have ever encountered on any airline. They were helpful, attentive and really went out of their way to make sure all the passengers were taken care of. Every time I walked to the bathroom or by one of them, they inquired if I needed anything and they were super proactive during flight with beverages and other services.
This was a much shorter flight (thanks to the tailwinds) and a much more enjoyable experience due to the friendliness of the crew. I ended up watching a couple more movies but really got a lot more work done on my laptop (WiFi was priced the same). Because this was a daytime flight, more people were awake, chatting with one another and the cabin was a bit noisier. The cabin lights and windows were still dimmed during flight but it wasn't as completely dark as it was on the outbound flight.
United 787 economy class overall thoughts
I didn't really know how I would handle this ultra-longhaul flight but I can say that it wasn't that bad (or as bad as you would expect it to be). The seats were not the best and could use a little more width and padding. The mid-flight snack needs to be improved to a hot snack and the cabin was kept a little too warm but everything else was pretty tolerable to good. The in-flight entertainment was fantastic. There was enough entertainment to keep you occupied for even the longest of Dreamliner flights and the friendliness of the crew exceeded my expectations and made my flight pleasant and enjoyable.
And if you're gonna do an ultra-longhaul flight, the Dreamliner is the plane to do it in. With a quieter cabin, larger windows, higher humidity level and higher cabin pressurization, you will feel more relaxed and less tired upon arrival to your destination.
What's in my travel bag?
As I stated above, this wasn't an easy flight but I packed accordingly to make this flight as comfortable as possible. I have flown United's economy class many times before so I knew what to expect and knew what I needed to pack to overcome United's shortcomings. On this flight, I wanted to get some sleep and with United's lack of recline on their economy class seats, I knew my head would be bobbing back and forth all night and I would wake up with neck pain and a splitting headache.
So to help me sleep more comfortably, I packed my GoSleep 2-in-1 travel sleep mask in my carry-on bag. It looks a little funny but trust me, I get more restful sleep with this product than with any other sleep gimmick on the market. Especially on planes with limited recline like this one, the GoSleep travel sleep mask will gently support your neck and head and prevent your head from bobbing back and forth during sleep. When I use this, I find that I sleep longer and wake up more rested without any neck pain. You can click on the image below for more information.
And remember how I said these new slimline seats suck because they don't provide enough padding? Well, I found the perfect solution for this problem and it's an inflatable seat cushion. This self-inflating seat cushion is perfect for economy class seats and will give your rear-end a bit of relief from the hard seat. If you have sciatica issues or problems with leg numbness during flight, you really need to give this seat cushion a try.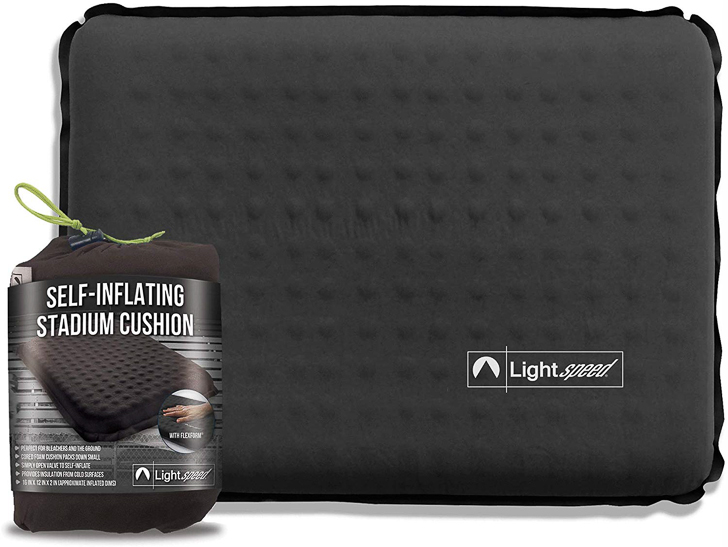 This next item is kind of a gimmick but if you're like me, you always think airplane cabins are too hot (especially on Asian and European carriers). This was recommended to me by someone in the "I love sitting in first/business" Facebook group and after using it a couple of times, I never leave home without it now. It's a simple USB micro-fan that plugs directly into the USB port of any IFE system. The USB fan is quiet and puts out just enough power to cool you down in a hot cabin. This was a life-saver for me on this flight.
And lastly, on flights that do not provide seat-back entertainment, or if I'm trying to get caught up on TV shows on my iPad, I'll pack my Airhook with me. This handy device is a mount for any personal electronic device such as a cell phone or tablet. It attaches to the back of any seat-back tray table and moves your personal electronic device up from the tray table to a higher viewing platform. This helps reduce neck strain and makes watching shows on your device more comfortable because you're viewing from a more "eye-level" position. It also comes with a beverage cup holder and a headphones hook.
So these are the four items I always pack in my carry-on bag to make my flights more comfortable and enjoyable. Do you have any travel gadgets that you always fly with? If so, please share them with me in the comments section below. Thanks for reading!
Here are some related posts that you might enjoy.
Singapore Airlines KrisFlyer Gold Lounge at Singapore
This post contains references to products from one or more of our advertisers. We may receive compensation when you click on links to those products.